UFC Fight Night 33 Results: Grades for Every Main Card Fighter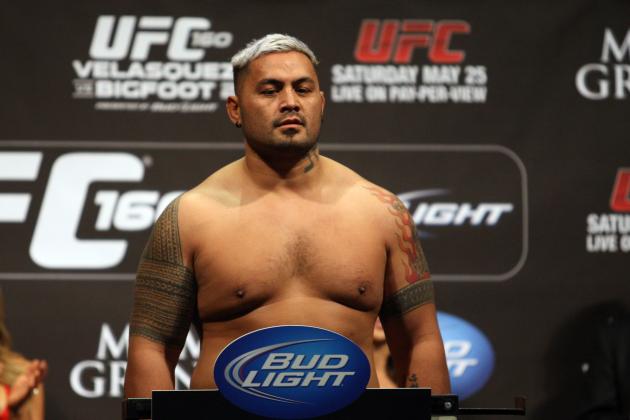 Bruce Fedyck-USA TODAY Sports

If you stayed in Friday night to watch UFC Fight Night 33, you made a great decision. Seriously, you made a good life choice as a fight fan and human being.
In addition to some good knockouts and insight into the future, you were treated to a Fight of the Year candidate between Mark Hunt and Antonio Silva. While the fight went to a draw, it was a justifiable decision that had fight fans cheering and in awe as to what they just saw.
So, let's grade the performances of each man and woman on the main card from Brisbane Entertainment Centre in Brisbane, Australia.
Begin Slideshow

»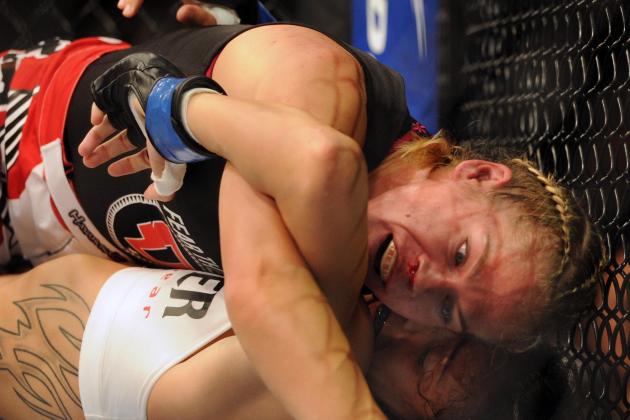 Jayne Kamin-Oncea-USA TODAY Spor
Kedzie came out on the short end of the stick.
Bethe Correia
If Bethe Correia's mean mug at the weigh-ins was an indication of how bad ass she'd be in the cage, she'd have run roughshod over Julie Kedzie. However, that was not the case, as she took a close decision over MMA vet Julie Kedzie.
Correia used a more balanced attack against Kedzie, using takedowns, well-timed striking and some good clinch work. That being said, even though she beat a good vet, she needs to improve big time in her next outing.
Grade: B-
Julie Kedzie
It looks like the line has come to an end for a great MMA pioneer in Kedzie. While she will definitely find work with Invicta or somewhere else, she is likely done with the UFC after her second straight loss in the company.
Although Kedzie had her moments, she was not sharp enough against the debuting Brazilian. She landed some good shots but did not diversify her attack enough to earn the judges' nod, though it was close.
That being said, I hope the UFC gives her one more chance just based on how exciting she is.
Grade: C+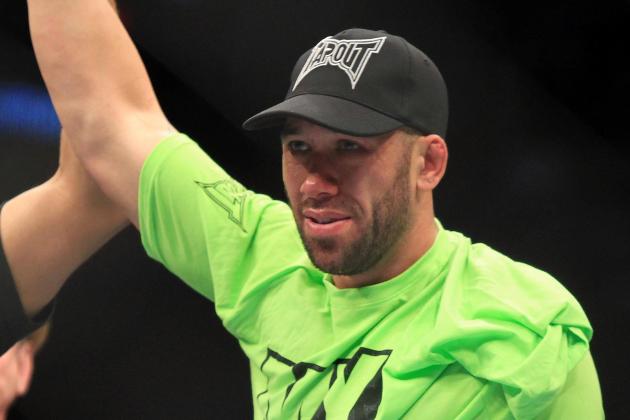 Pat Lovell-USA TODAY Sports
It was a tough night for Dylan Andrews.
Dylan Andrews
Things went from bad to worse for Dylan Andrews in his fight against Clint Hester. After getting beat up on the ground in the second frame, he threw a punch that ended up in his shoulder getting separated.
Up until that point, he wasn't doing well anyway. You have to feel bad for him getting that injury, and he won't get too low of a grade for toughing out the rest of the round with one arm.
Grade: C-
Clint Hester
Hester looks like he improved big time in his fight with Andrews. Not only did he show off superior striking as expected, but he took Andrews to the ground and beat him up there.
I, for one, didn't expect Hester to even mess around on the ground. Instead, he threw a bevy of ground-and-pound and roughed up Andrews all the way until the doctor stoppage.
Grade: A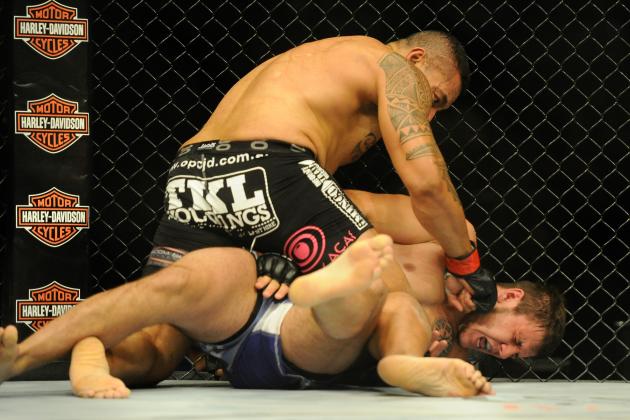 Benny Sieu-USA TODAY Sports
Soa Palelei reversed a lackluster return to the UFC with a stoppage.
Pat Barry
Maybe it was the travel. Maybe he's just not good enough. Whatever the reason is, Pat Barry basically got nothing going before getting his lights turned off against Soa Palelei.
He will always be a top-notch striker, but his ground game was again exploited in this fight. Once Palelei dragged him to the ground, he methodically gained the mount and bashed Barry's face in.
That might be the last time you see Pat in the UFC, at least for a while.
Grade: F
Soa Palelei
That's the Palelei I had been waiting for that terrorized the Australian regional scene. When he is still fresh, he is stronger and more powerful than most men in the division.
The game plan was simple: ground Barry, pound Barry and get your hand raised. He did just that, bouncing Barry's head off the mat like a basketball in a scary-good performance.
Grade: A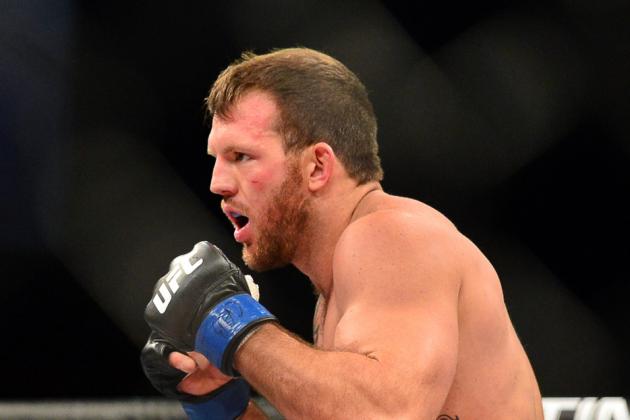 Jason Silva-USA TODAY Sports
Bader was rarely, if ever, in trouble.
Ryan Bader
Ryan Bader got back on track in Australia by destroying Anthony Perosh. Of course, it was an advantageous matchup, but he put nothing to risk.
Plant the Aussie, smash him up and get the win; that's what Bader does.
Grade: A
Anthony Perosh
I know Perosh asked for that fight, but that was as bad of a matchup as he could have had. He's a ground fighter with decent-at-best takedowns going up against a superior striker with top-notch wrestling.
I can't give him an F only because he absorbed so much punishment and stuck around. Literally, I thought he wouldn't make it to the first bell.
That being said, he did virtually nothing.
Grade: D-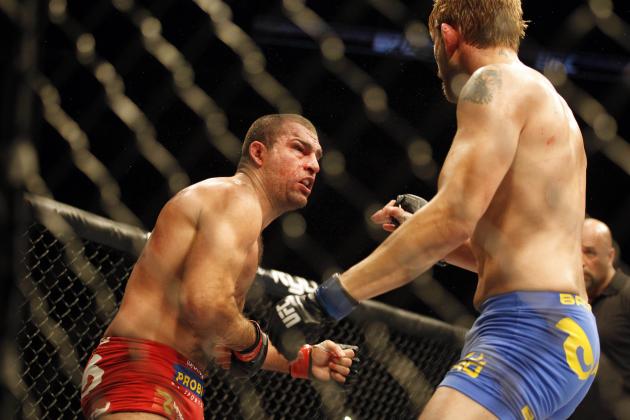 Joe Nicholson-USA TODAY Sports
Shogun was in vintage form.
Mauricio Rua
Shogun should retire. He doesn't have it anymore. He gets beat up too much.
That was not the case this night. A vintage performance was turned in by Shogun Rua, as he blistered James Te Huna with a nuclear assault of a left hand.
Te Huna was out before he hit the mat. His unconscious body flopped around like a carp on a sandy shore.
That'll stave retirement talks for now.
Grade: A+
James Te Huna
Never, I repeat never, keep your hands down around Rua. You may end up like Te Huna in Australia.
He didn't get much time to work, as the Brazilian plastered him with a brutal punch. He doesn't get an F, but it was certainly close given he kept his hands down leading up to the moment he was finished.
Grade: D-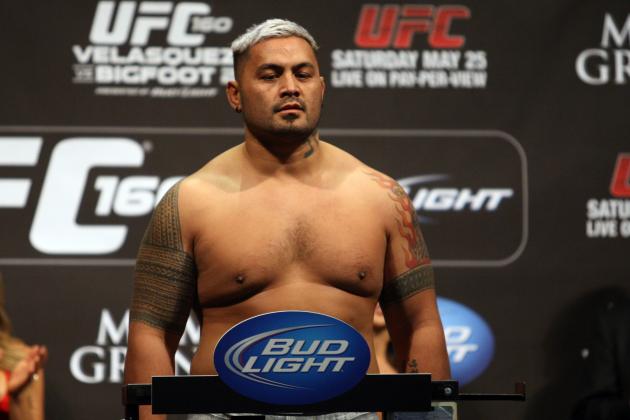 Bruce Fedyck-USA TODAY Sports

Mark Hunt/Antonio Silva
This may be a cop-out, but I will group these guys together and give them both an A+. That fight was unreal.
In a human, rock-em-sock-em robots type of bout that saw two warriors swing their fists like they were meat cleavers in a butcher shop.
I was okay with the draw, too. I couldn't decide who won that fight. Literally, that might be the only time I was happy a draw was called.
That immediately goes in the running for Fight of the Year, and both men enter the Manly Man of the Year Award. That was simply amazing.
Grade: A+