Rob Ford Opposes Washington Redskins Name Change, Goes on U.S. Sports Radio Show
Use your ← → (arrow) keys to browse more stories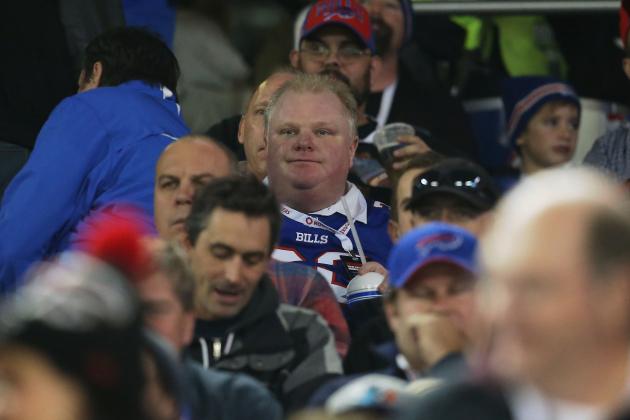 Tom Szczerbowski/Getty Images

Rejoice, Dan Snyder—Rob Ford has come to your rescue.
The Toronto mayor has taken a stand on American football, stating that he doesn't believe the Washington Redskins should change their name.
The statement was made on Wednesday, according to Josh Visser and Natalie Alcoba of the National Post (h/t Rick Chandler of SportsGrid.com). Ford hashed out his line of reasoning, stating that changing the Redskins' name would snowball into a mass renaming of sports franchises.
"To me, that's ridiculous," Ford said. "What are we going to call the Cleveland Indians? The Cleveland Aboriginals? Where do we start? The Skins are the Skins and I stick with the Washington Redskins."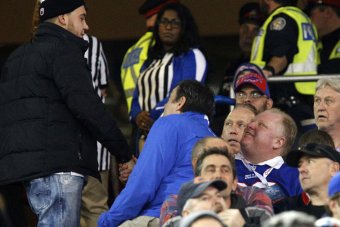 Kevin Hoffman-USA TODAY Sports
These are piping hot sports takes, people. You don't get sports'd by a politician this hard every week—or do you?
According to the National Post's story, Ford will potentially be appearing as a weekly regular on The Sports Junkies—a popular show on Washington, D.C. radio station 106.7 The Fan.
Ford's first stint with the Junkies occurred Thursday morning. The mayor spoke about American football, however, the hosts did throw a hardball question his way about his now-infamous crack smoking incident.
The mayor called the recent allegations concerning his alleged attempt to buy incriminating video of his drug use an "outright lie" and said he wanted to keep things to sports.
"I'm here to talk football, guys," Ford said.
There you have it, sports fans—Rob Ford is here to talk gridiron and pick winners in the NFL. He may have become an international celebrity due to his recent controversies, but the man still wants to talk sports.
Get excited, Washington D.C.—the Rob Ford Experience might be coming through your speakers on a weekly basis.
Join me on Twitter for more sports news.