The danger might be diluted, the violence might be scaled back, but the current version of the TLC match is still one of WWE's most enthralling offerings every year.
The spots look different, but they are still stunning. WWE has managed to find ways to extend Superstars' careers while maintaining the integrity of the Tables, Ladders & Chairs match.
One can't say the same thing about the Hell in a Cell match.
While the TLC match remains effective today, the PG Era has all but defanged Hell in a Cell. More and more of those bouts are unimpressive. At WrestleMania XXVIII, Triple H and Undertaker had the first Hell in a Cell clash to earn four or more stars from Wrestling Observer, h/t ProFightDB.com, since Undertaker vs. Edge at SummerSlam 2008.
Compare that with TLC which has produced a number of classics long after the Attitude Era was over.
Highest-Rated TLC Matches of the PG Era

| | | |
| --- | --- | --- |
| Wrestlers | Event | Star Rating (from Dave Meltzer) |
| CM Punk vs. Jeff Hardy | SummerSlam 2009 | 4.25 out of 5 |
| Alberto Del Rio vs. Edge vs. Kane vs. Rey Mysterio | TLC 2010 | 4.25 |
| CM Punk vs. The Miz vs. Alberto Del Rio | TLC 2011 | 4.25 |
| Ryback, Team Hell No vs. The Shield | TLC 2012 | 4.5 |
Wrestling Observer, via ProFightDB.com
The difference is in expectations. Fans go into a Hell in a Cell battle remembering Mick Foley plunging off the roof of the cage or Undertaker and Brock Lesnar smearing the mat red with blood.
TLC matches don't have the same history. Insane, career-threatening bumps were a part of the early TLC bouts, but blood, barbed wire and fire weren't their key components.
The chair shots that The Dudley Boyz, Edge and Christian and The Hardy Boyz were dishing out in the first few TLC contests still exist. They've simply been redirected.
The 2x4 wrapped in barbed wire and the bag of thumbtacks are gone from modern Hell in a Cell action. Today's TLC sees chairs clang against spines rather than skulls. That's a far less jarring transition.
As for the ladder and table portions of that match, they haven't gone away.
Look back at D-Generation X's win over Chris Jericho and Big Show at TLC 2009. This occurred during the PG Era, but there is still plenty of violence to savor.
Just about everyone involved was smashed against a ladder. Big Show and Jericho trapped Michaels and Triple H in between a ladder and smacked them with a chair. Jericho fell off Big Show's shoulders and crashed onto a table outside the ring.
The spots are markedly less wild than what we saw at WrestleMania X-Seven, but exciting nonetheless.
When Michaels spilled off a ladder, he fell onto Big Show and not through a table. Had this been the early '00s, Michaels would have fallen through two tables or else bent a ladder in half with his torso.
The current version of the TLC match doesn't rob us of those spots; it simply decreases their frequency.
The first few TLC matches had a higher percentage of jaw-dropping moments. We don't need that many to be captivated, though.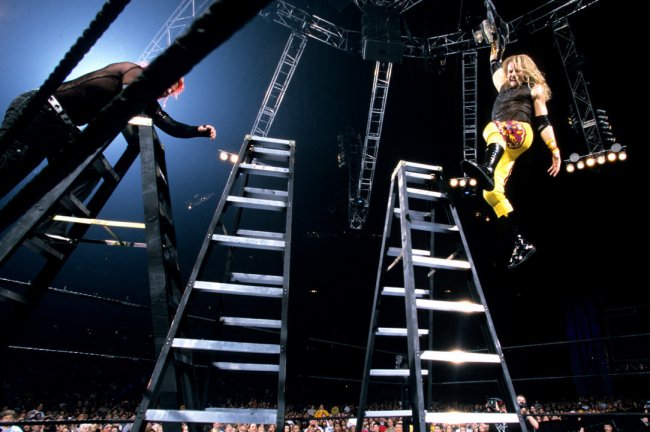 WWE.com
When the Hardys, the Dudleys and Edge and Christian set the bar for TLC bouts, they filled it too high to realistically surpass.
How much further do you go from what they did? Wrestlers leaping from taller ladders every year doesn't equal better matches. Filling a match with more collisions of steel and flesh isn't the only way to increase the contest's entertainment value.
CM Punk vs. Jeff Hardy at SummerSlam 2009 provided us with one instance of breathtaking daredevilry. Hardy's flight from ladder to table was more than enough to provide the exclamation point on a great match.
At TLC 2011, the biggest moment of the night didn't put anyone at risk of sustaining a neck injury.
Alberto Del Rio and The Miz handcuffed the WWE champ CM Punk to the turnbuckle, seemingly taking him out of the matchup for good. Punk surprised his foes and the fans by twisting his way out, channeling his inner Harry Houdini.
It wasn't as if the Superstars didn't make full use of the tables, ladders and chairs as well, though. Just ask Ricardo Rodriguez if TLC has maintained its destructive edge.
Del Rio, Rey Mysterio, Edge and Kane gave us further proof of that at TLC 2010.
Edge speared Kane off the ring apron, sending him flying through a table. Del Rio ended the night plummeting off a ladder into a table.
In the Attitude and Ruthless Aggression Eras, these kind of bumps were more prevalent than they are today.
The PG rating hasn't taken the chair out of the wrestler's hands or pulled them off ladders, though. It has only served to make those moments more special.
TLC matches are one of the times that WWE fans are assured of seeing WWE push the boundaries of the PG rating.
Comparing today's TLC matches to those that thrilled over a decade ago is like comparing bare-knuckle boxing to the version where the fighters wear gloves. Now, the current product is not as brutal as the one from the past, but let's not kid ourselves that it's not violent enough.