For the first time since the Philadelphia Eagles' 2013 season commenced, LeSean McCoy did not end the week as the NFL's leading rusher. With the Detroit Lions coming to town, it's not looking like he'll be back on top when Week 14 concludes either.
The Lions' third-ranked run defense has not conceded over 40 yards on the ground to a team in its last four games. The unit is holding offenses to an 82.7 average this season. That figure is cut in half to 40.5 over the last six games and plummets again to 23.0 for the last two.
Detroit Lions Run Defense

| | | | |
| --- | --- | --- | --- |
| YDS/GM | YDS/CAR | TD | 1ST% |
| 82.7 (3rd) | 3.7 (t-4th) | 5 (6th) | 13.8 (1st) |
NFL.com
All of that is another way of saying Nick Foles better be sharp on Sunday.
Foles did not play as well as his stat line (21/34, 237 YDS, 3 TD, 0 INT) would indicate he did in the recent win over the Arizona Cardinals. The second-year passer completed just one of seven attempts and was sacked three times for a net loss of 11 yards on the Philly's final six possessions, not to mention the interception that was erased by a questionable holding penalty against the defense.
The Eagles converted just two first downs without the aid of officials over the contest's final 25 minutes. Had Foles' mistake stood, Arizona would've had the ball on Philadelphia's 43-yard line, down by three with four minutes, 45 seconds remaining in the fourth quarter. That situation is not likely to end well.
Offensive coordinator Pat Shurmur discussed the quarterback's performance when he met the media on Tuesday, via PhiladelphiaEagles.com:
I thought Nick played well. I mean, he obviously contributed in a positive way to us winning. He had a handful of things, some of them obvious to all of us, that, you know, he would like to have back.

But those corrections are easier to make when you win the football game than when you lose. So he's like everybody on the team. We made a heck of a lot of mistakes in that game, especially on offense. And we've got to get it corrected.
The good news is the Lions are susceptible to one of the very strengths that catapulted Foles into the national spotlight in the first place. This week, the name of the game should be bombs away.
Detroit's Cornerbacks vs. Philadelphia's Wide Receivers
Nick Foles is tied for fourth with 11 completions of 40 yards or more this season. The Lions defense has allowed 13 completions of 40 yards or more, tied for third. They sound like a match.
Detroit's cornerbacks have taken their lumps this season, especially Chris Houston, who has a reputation around the league for biting on double moves. Houston was actually benched during a game against Cincinnati back in October, but he's back in the lineup and still giving up huge plays. The seventh-year veteran was beaten again for an 85-yard touchdown by Tampa Bay's Tiquan Underwood not two weeks ago.
Houston missed the Lions' game on Thanksgiving with a foot injury, and it's currently unclear if he'll be ready for Sunday according to Josh Katzenstein of The Detroit News. If he can't go, rookie Darius Slay is expected to take his place on the outside.
Nick Foles' Deep Passing (attempts over 20 yards)

| | | | | |
| --- | --- | --- | --- | --- |
| ATT | CMP | YDS | TD | INT |
| 34 | 16 | 549 | 12 (1st) | 0 (1st) |
Pro Football Focus (subscription)
Either way, it makes for an enticing matchup with DeSean Jackson and Riley Cooper, the main benefactors of Foles' penchant for throwing the deep ball. Jackson is tied for second with seven receptions over 40 yards, and Cooper is hot on his heels with five.
Fireworks are bound to be set off when the Eagles offense attacks the Lions down the field. And remember: Philadelphia is 5-1 this season when Jackson scores a touchdown.
Megatron vs. Philadelphia's Defense
Calvin Johnson Last Three Years

| | | | | |
| --- | --- | --- | --- | --- |
| YR | REC | YDS | AVG | TD |
| 2011 | 96 (4th) | 1681 (1st) | 17.5 (10th) | 16 (3rd) |
| 2012 | 122 (1st) | 1964 (1st) | 16.1 (8th) | 5 |
| 2013 | 72 (5th) | 1299 (1st) | 18.0 (4th) | 12 (1st) |
Pro-Football-Reference.com
If you're reading this, then you're probably already aware we may be witness to the greatest wide receiver to ever play pro football until Calvin Johnson's career is all said and done. With 1,299 yards, he's working his third straight receiving title, while also leading all skill-position players with 12 touchdowns.
Well, everybody knows that the best way to stop a wide receiver is get to the quarterback before he can throw the football. Unfortunately, Matt Stafford doesn't make that easy. Eagles head coach Chip Kelly discussed the the fifth-year signal-caller's underrated talent at Wednesday's news conference, via PhiladelphiaEagles.com:
The one thing with Matt Stafford is how quickly he gets the ball out of his hands. He's got one of the quickest triggers in the league where he can get the ball out.

He's been with that system since he's been there. He has a great understanding of what they're doing. He knows where his receivers are. If you try to blitz him...I don't know why he doesn't get enough credit. I think he's one of the top quarterbacks in this league.
According to Pro Football Focus (subscription only), Stafford's release time (2.39 seconds) this season is almost identical to that of Cardinals QB Carson Palmer (2.35 seconds)—only three players are faster—yet the Birds defense got to Palmer to the tune of five sacks and three turnovers in the win on Sunday.
The difference is protection. Palmer's line can't protect him even for that short span, and thus he's one of the most-pressured field generals in the NFL, on 41.5 percent of his dropbacks per PFF. Stafford, on the other hand, is one of the least-rushed at 28.5 percent of the time.
So defensive coordinator Bill Davis can dial up all the blitzes he wants, but unless he can make Stafford hold on to the ball for a moment longer, it won't matter. That's where coverage comes in.
On Wednesday, I broke down a few of the various coverages the Eagles might employ against Johnson this week, but there was one in particular I believe could be successful at slowing down Detroit's aerial attack.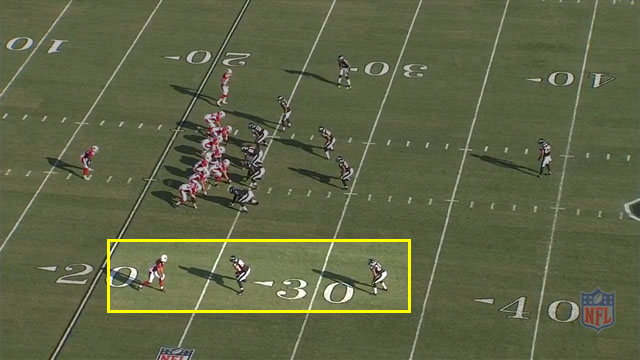 NFL Game Rewind
This look where the outside linebacker covers the receiver at the line of scrimmage while the cornerback sits over the top could buy Philadelphia's pass rush the time it needs to make the passer uncomfortable. It's going to be much harder for Johnson to run through a jam when it's somebody closer to his size (6'5", 236 lbs), somebody like Connor Barwin (6'4", 264 lbs).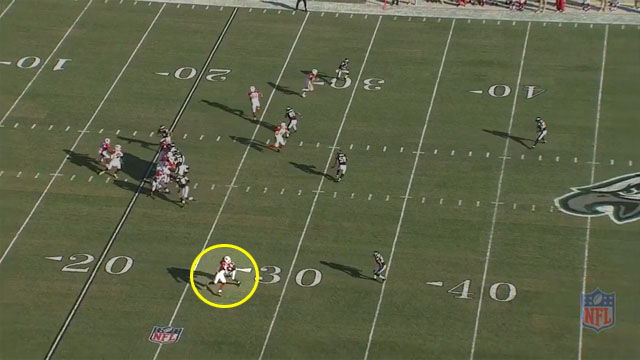 NFL Game Rewind
The linebacker's press coverage is designed to re-route the wide receiver to the outside at the snap, which is good because Johnson does most of his damage over the middle. According to PFF's game charting, almost half of his targets are between the numbers.
The only thing Davis might want to consider doing differently is dropping another linebacker into a shallow zone over the middle shaded toward the wideout, which would allow the cornerback-safety hybrid to sit back on deeper routes. Otherwise, if the defense misses a tackle or bites on a double move, there is nobody left to stop him.
Of course, there is no stopping Johnson, but the Eagles have got to try to contain him. Yes, this completely glosses over the fact that the Lions have several other weapons that can burn a defense, but none of them are remotely as dangerous as Megatron.