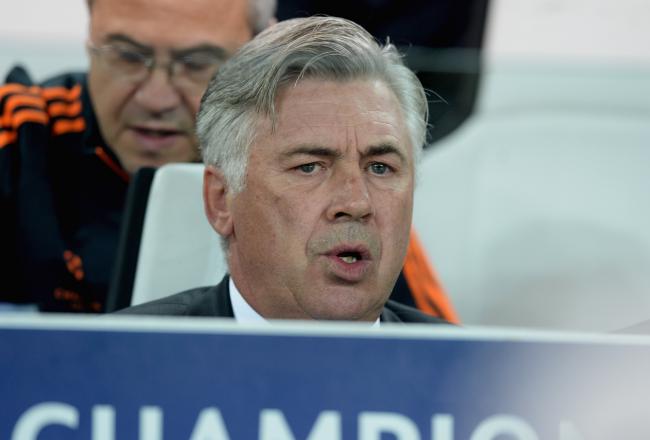 Claudio Villa/Getty Images
There are just two matches left in La Liga before the winter break and Real Madrid—providing they don't slip up against Osasuna or Valencia—should go into it, at the very least, in touching distance of Barcelona and Atletico Madrid.
It is a stark contrast to this time last year, when Jose Mourinho's side had all but conceded the title.
But how are Carlo Ancelotti's Los Blancos side shaping up in comparison to how they looked under the former regime?
For now, much better than they were two months ago, at least. It shouldn't be forgotten that Mourinho did win the title off a rampant Barcelona side in 2012, even if they did relinquish it so easily last season.
"We need to have a more clear idea of how to play," Ancelotti said (via Goal.com) after the defeat at the Bernabeu to Atletico earlier in the season, and they've certainly developed an idea recently.
Since another defeat, this time at Camp Nou against Barcelona, Los Blancos have won six out of seven matches, scoring 30 goals in the process; if it's entertainment the Bernabeu fans want, that's what they've been getting.
The Italian's vision for how he wants his side to play is evident, even if the aesthetics are not, in terms of style of football, necessarily there yet.
Ancelotti clearly favours a more possession-based team, led by ball players like Xabi Alonso, Luka Modric and Isco, while also trying to keep that explosiveness offered by the likes of Cristiano Ronaldo and Gareth Bale.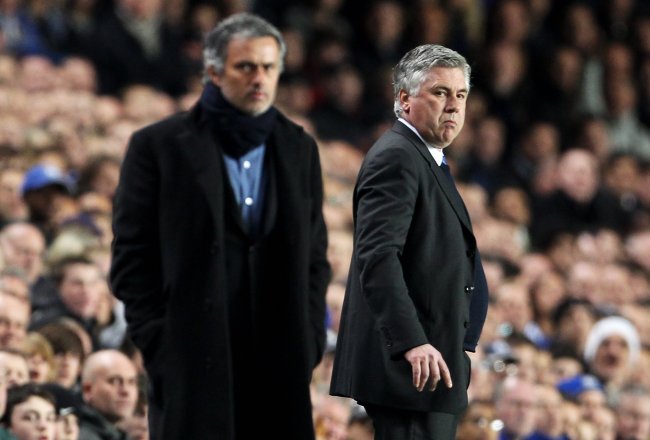 Phil Cole/Getty Images
It is not the counter-attacking Madrid we saw under Mourinho, but it is not completely different yet—changes take time.
Marca suggests that the most impressive aspect of his job so far "[H]as been managing to pull off the tough task of eliminating the tension at Real Madrid."
He inherited a dressing room which was "damaging to morale," and it seems as though he has restored harmony among his squad—even though that hasn't meant restoring Iker Casillas as his permanent No. 1.
Injuries have also prevented the 54-year-old from a speedy transition from the Mourinho era.
Alonso has only recently returned—Bale too—while Raphael Varane has missed large chunks of the season and, just as Ancelotti's midfield was becoming clearer, Sami Khedira was ruled out for six months.
Statistics on Squawka reveal that Ancelotti's side, surprisingly, have enjoyed less possession in league games than Mourinho's incumbent last year.
On average, Madrid maintain 52 percent possession in each La Liga outing in comparison to 53 percent last season. However, with the ball, they have been much more dangerous.
They are creating nearly 16 chances every game (vs. 14 last season) and have already scored 44 goals in their 15 league matches, coming at an average of over 2.9 goals in each match (vs. 2.7 last season).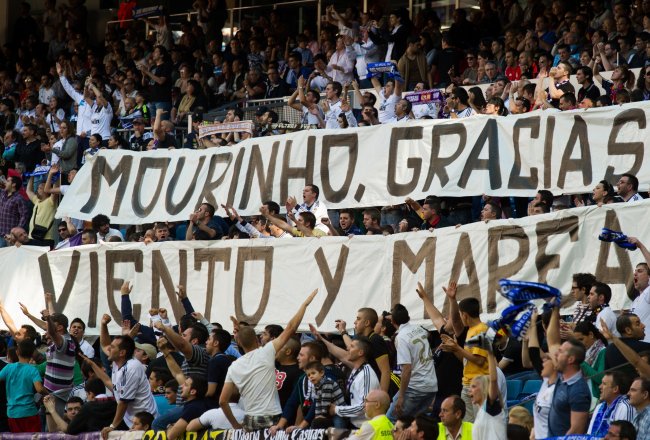 Denis Doyle/Getty Images
The increase in goals and chances comes from Ancelotti's want for his players to be much quicker in their use of the ball. It's something he has preached since preseason, as Alvaro Morata told Real Madrid's official website:
"[Ancelotti] wants us take good care of the ball, play very fast and try to create our own style of playing."
One major factor in that style becoming more evident has been the return of Alonso, who has helped the balance in the Madrid midfield which seemed missing in the early stages of the season.
Ancelotti admitted as much when he spoke with esRadio this week (h/t football-espana.net):
"Alonso has been key. He's very important and his quality and experience is vital. In the middle it is about skill intelligence, tactical know-how and it is not as physical—age doesn't matter."
Stamping your print on a side is not an easy thing to do—see David Moyes at Manchester United—so the fact Ancelotti has begun to do that, while also restoring harmony in the dressing room and keeping pace with the top two, should be deemed as impressive so far.
It's early days to make comparisons with Mourinho's reign, although former Italian international and Monaco manager Marco Simone recently told Goal.com that "Ancelotti will have more success than Mourinho."
The way things are shaping up, there are few arguments to be had at the moment.