The Best XI in the History of the World Cup: Starring Pele, Zidane and Maradona
Use your ← → (arrow) keys to browse more stories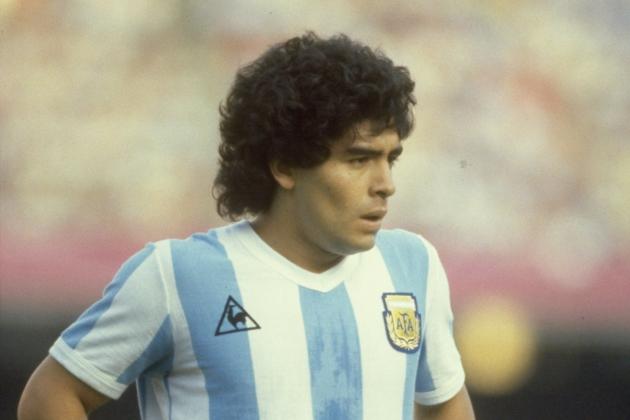 Steve Powell/Getty Images

With the 2014 FIFA World Cup edging ever closer, we've turned the pages of history to source a best-ever XI to grace the tournament.
Our selections are based on what these players have achieved and managed at the finals themselves, so if you didn't show up on the world's biggest stage, you're not in with a shout.
The preliminary shortlist, in which all potential names for the XI were placed, was 45-strong; we've picked our lineup based on everything we can source, and all players are fully retired from the game.
Does your opinion differ? Start the conversation by adding your XI into the comments below!
Goalkeeper: Lev Yashin, USSR
Having never managed to win the World Cup, Yashin is the odd one out in our XI, but don't let that cloud just how superbly he played during his outings with the Soviet Union.
He was known by the world as "The Black Spider" and to his fans as "The Black Panther" courtesy of his all-black goalkeeping kit, cat-like reflexes and the perception that, to make the kind of saves he was able to pull off, he must have had eight legs.
Yashin was commanding, supporting, and agile and flung himself all over the goal to make impossible stops.
Alternative: Dino Zoff, Italy
Right-back: Cafu, Brazil
The sight of Cafu flying down the right wing to join in yet another Brazilian attack never got old.
There are few who can claim to have gleaned more success from the World Cup than the former Milan stalwart has, with two winners' medals (1994, 2002) and one runners-up medal (1998) sitting proudly in his trophy cabinet.
Whether he was playing in a two-man defence (as a full-back) or a three-man defence (as a wing-back), he was stunning, showed immense consistency and wore his heart on his sleeve as captain.
His professionalism and high work rate set the standard for everyone else in the team to follow.
Alternative: Carlos Alberto, Brazil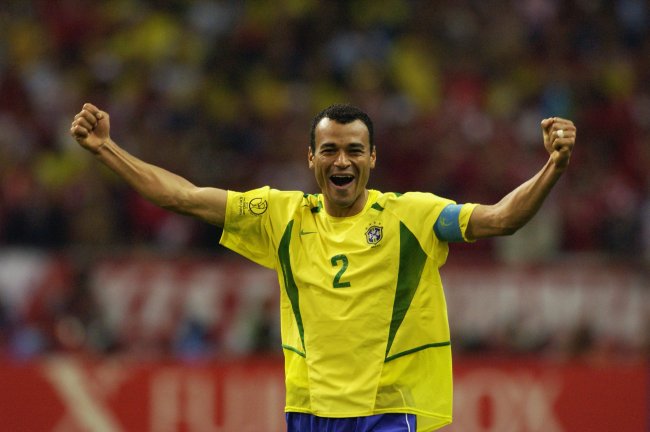 Stu Forster/Getty Images
Centre-back: Franz Beckenbauer, West Germany
Beckenbauer is one of the finest players Germany will ever produce, and such was his dominance on the field, he earned the nickname "Der Kaiser" (The Emperor).
He split time between defence and midfield, excelling in each role, and has been accredited with bringing the legendary libero role to the fore during his time on the world's biggest stage.
The long-time Bayern Munich man lifted one World Cup in 1974 as a player, then returned 16 years later to win it as a manager at Italia 90.
Alternative: Bobby Moore, England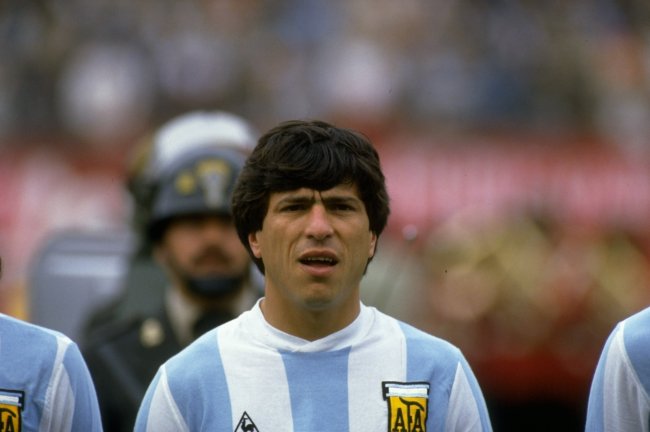 David Cannon/Getty Images
Centre-back: Daniel Passarella, Argentina
Daniel Passarella, like many top-tier Argentines, moved to Europe early on and excelled in Serie A to launch his reputation.
He captained his nation to the 1978 World Cup on home soil and won it, lifting the trophy for the first time in the country's history following a long, excruciating wait.
He was also in the squad for the 1986 event and received a winners' medal despite not playing a single game (illness), making a contentious mark on the tournament's storied history.
His nickname, in some parts of the world, quickly became "El Kaiser"—a tribute to his Beckenbauer-esque organisational, defensive and goalscoring skills. How apt that they partner up here.
Alternative: Gaetano Scirea, Italy
Left-back: Roberto Carlos, Brazil
Roberto Carlos was a man who endorsed an entirely new generation to the left-back position.
Like Cafu on the opposite side of the pitch, Carlos was incredible at bombing forward from defence and joining in attacks. His crossing from deep, long-range shooting and immense free-kick prowess assured him a place in the starting XI at all times.
He is one of few players in history to take his club form (for Real Madrid) and translate it directly to the international stage, with his game hardly changing a jot.
Alternative: Andreas Brehme, Germany
Defensive Midfield: Obdulio Varela, Uruguay
Legend has it that Varela gave a rousing team talk to inspire Uruguay to a shock victory over Brazil in the 1950 World Cup final.
The Selecao were both hosts and heavy favourites for what would have been their first-ever title, but "El Negro Jefe's" commanding performance stifled the multi-faceted attack.
Varela plied his trade in the old-fashioned centre-half role—the link between defence and midfield—and there are no better candidates to bring solidity and stability to our offensive-minded formation.
Alternative: Lothar Matthaus, Germany
Central Midfield: Zinedine Zidane, France
"Zizou," as he is affectionately known in France, blew the chance to become an undisputed World Cup legend by getting sent off in the 2006 final.
He had led Les Blues to glory on home soil in 1998, scoring in the final to down Brazil 3-0, and after a flurry of retirements, answered Raymond Domenech's call to return in 2005.
He assisted in driving France to the final, but was red-carded for headbutting Marco Materazzi in extra time. It is this, not the incredibly silky skills and clutch goals, that people widely remember him for.
Alternative: Didi, Brazil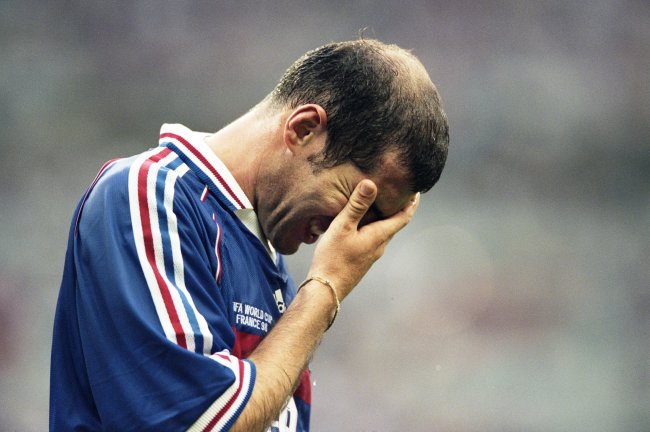 Shaun Botterill/Getty Images
Wing: Jairzinho, Brazil
Jairzinho was an absolutely electric outlet capable of playing on either wing in Brazil's free-flowing 4-2-4 formation.
He was immensely quick, very precise in his movements and dazzled many a defender with his dribbling. A key part of the World Cup-winning 1970 side, he managed to score in every game on the way to the final in Mexico City.
Picking between Jairzinho and fellow countryman Garrincha was a tough call here, but we've opted for the frizzy-haired star on account of him edging it with his showings throughout the finals.
He totted up 33 goals in 81 appearances for the Selecao despite having to share the load with a supreme array of other attacking talents.
Alternative: Garrincha, Brazil
Wing: Diego Maradona, Argentina
Love him or hate him, adore or despise him, it's impossible to suggest Maradona was anything other than scintillating during his World Cup years.
He was as instrumental as it's possible to be to La Albiceleste's 1986 World Cup win, and while many will remember him for his "Hand of God" moment against England, he scored what is possibly the goal of the century in the very same game.
He was captain of his team during their victorious run and led by the examples he set on the pitch: dogged commitment, incredible skill levels and popping up at the right time to make the difference.
Alternative: Johan Cruyff, Netherlands
Forward: Pele, Brazil
Pele remains one of the great players to have ever lived and was a rare shoo-in for this XI.
He won the World Cup with Brazil a whopping three times (1958, 1962, 1970) and scored 12 total goals at an assortment of finals.
The 1970s side is one of the finest in world footballing history, and it's foundation was the free-flowing movement of Pele and his colleagues Tostao, Rivelino and Jairzinho.
His ratio of 77 goals in 92 games remains one of the finest ever recorded.
Alternative: Gerd Mueller, Germany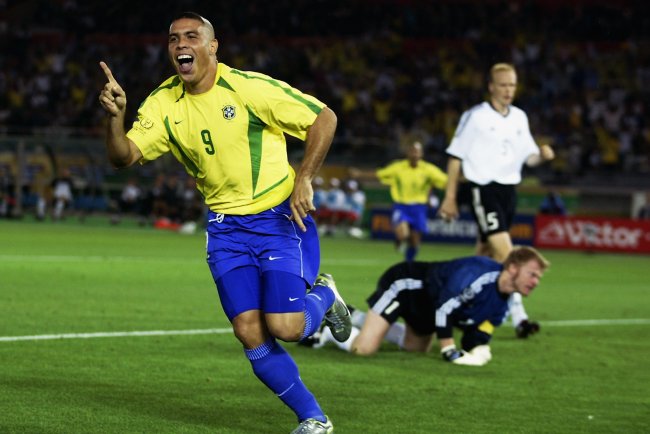 David Cannon/Getty Images
Forward: Ronaldo, Brazil
It's difficult to argue with Ronaldo's World Cup record, and when you peruse his achievements, it highlights what a bitter shame it was for his career to end in anonymity.
The player now dubbed "Fat Ronaldo" was a goalscoring machine in his prime, firing Brazil to victory in the 2002 World Cup in South Korea/Japan on the back of an astonishing eight goals.
He won the Golden Shoe that year and came in second in the race for the Golden Ball (MVP) Award, while four years earlier he had led the Selecao to the 1998 final only to suffer a seizure before the event.
At one stage, he became the all-time record goalscorer in the competition, a record he still holds by one over another candidate for this XI: Miroslav Klose.
Alternative: Ferenc Puskas, Hungary
Formation: 4-2-2-2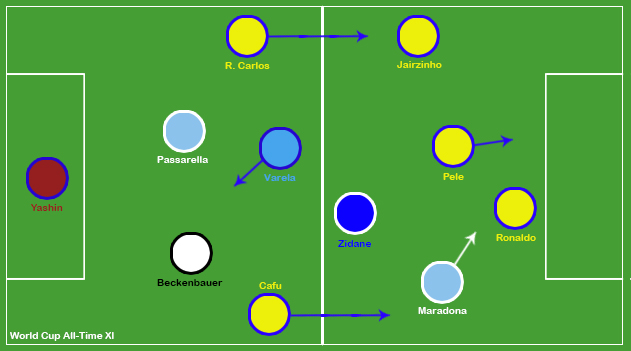 B/R Tighe