Buying or Selling Houston Rockets' Most Surprising Stats After NBA's First Month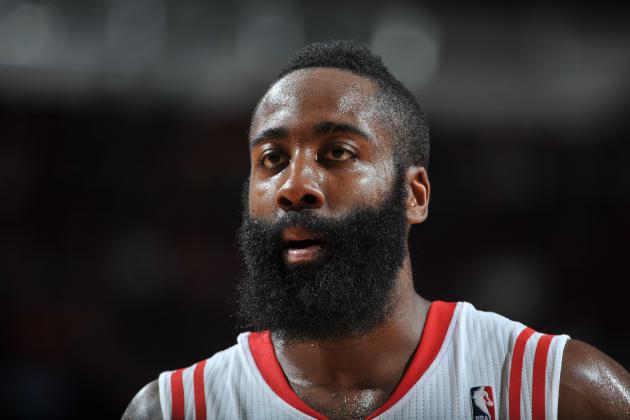 Garrett Ellwood/Getty Images

Depending on your level of optimism, some of the Houston Rockets' first-month statistics are either an aberration or a sign of things to come. In truth, the numbers don't tell the entire story because everything is skewed by such a small sample size.
The early portion of the season is typically overreaction theater. Hot starts lead to champions being crowned in December and individual hardware handed out as early Christmas presents. In a world dominated by the Internet and social media, so much focus is put on the here and now.
Analyzing in the moment can be misleading. For instance, the Rockets' 13-7 record is good for fifth-best in the Western Conference. However, a look at the team's schedule will turn up very few quality wins.
Through 20 games, the Rockets are still an enigma. They are a young and talented team still trying to find themselves. We won't truly know how this team stacks up until the season progresses further.
However, in sticking with the theme of living in the here and now, let's take a look at some of the team's most surprising statistics (both as a group and individually) through the first month of the season. Can we trust that these numbers will hold up? Or are we in for a drastic turn?
Begin Slideshow

»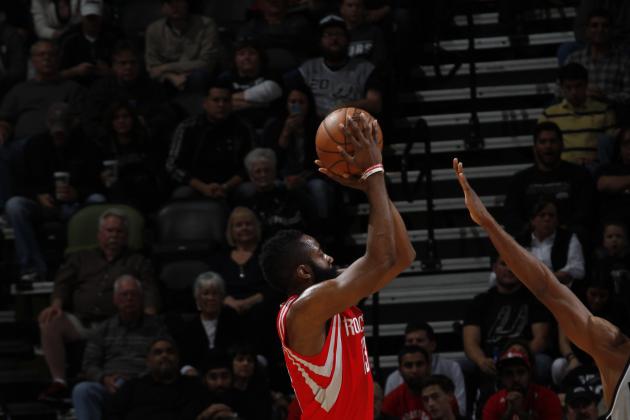 Chris Covatta/Getty Images

It is amazing that James Harden is the NBA's fifth-leading scorer (23.8 PPG) despite his struggles with his outside shooting. This season, "The Beard" is shooting a putrid 29 percent from behind the arc. That's way down from his career 36 percent from three-point range.
In his last four games, Harden is 6-for-25 from deep (24 percent). That includes his abysmal 0-for-10 performance in a loss to Phoenix on Dec. 4. Rather than settle on attacking the basket, he has opted to unsuccessfully shoot is way out of this slump.
Here's why I think things will turn around for Harden. First, he hasn't been the same since injuring his foot earlier in the season. He's toughed it out the last few games, but he still doesn't look comfortable out there.
I'm willing to suspend judgement on Harden's shooting woes until he's fully healthy. A player with his talent and track record doesn't just forget how to shoot the long ball. Once he's back to 100 percent, I expect his three-point numbers to improve.
In the meantime, he should stick to getting to the rim and drawing fouls. The team can't afford for him to keep shooting them out of games like he did against the Suns.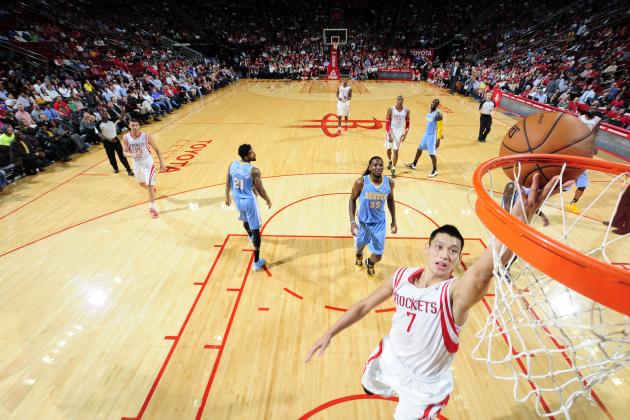 Bill Baptist/Getty Images

It's tough to buy too much into Jeremy Lin's hot start as, according to Jonathan Feigen of The Houston Chronicle, Lin will miss at least two weeks with a Grade 1 knee sprain. Linsanity has missed the last four games and played just four minutes in the team's Nov. 27 clash with the Atlanta Hawks.

Still, the improvement in Lin's offensive numbers aren't a fluke. Lin spent the offseason tweaking his jumper and working on his game. He's also seemed to have found a comfort zone as the team's offensive spark off the bench.
The result is the Harvard product averaging 15.3 points per game. He's shooting 50 percent from the field and 39 percent from behind the arc, which are both up from his career averages. Ironically, Lin has been able to shine brighter while receiving less of the limelight.
It will be interesting to see how he bounces back once his knee heals, but the road is paved for this to be the best season of Lin's short career.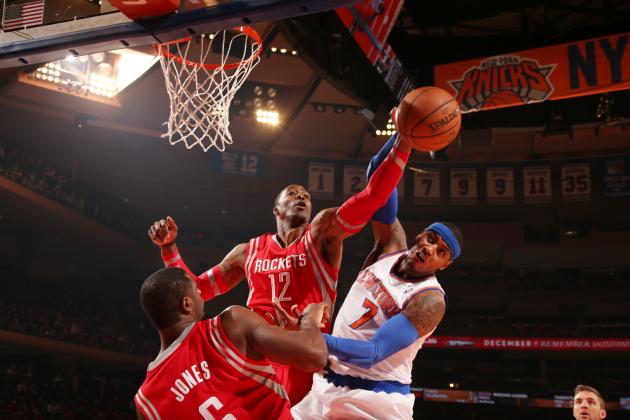 Nathaniel S. Butler/Getty Images

The Houston Rockets brought Dwight Howard in to be an intimidating presence in the paint on both ends of the court. Offensively, he's kept up his end of the bargain. He's averaging 16.6 points per game while shooting close to 56 percent from the field.
On the flip side, the three-time Defensive Player of the Year hasn't shown the same knack for sending away shots. Through 20 games, D12 has as many blocks (35) as assists. He leads the team with 1.8 swats per game, but he has forward Terrence Jones nipping at his heels (1.2 blocks per game).
Howard hasn't blocked a shot in his last four contests and he has a total of six in his last eight games. Like James Harden, it's hard to believe the slump will continue for a man with this kind of track record. Unlike Harden, though, Howard can't lean on an injury as an excuse.
Howard's the only Rocket to play in every game this season and he's been remarkably healthy while logging around 33 minutes per game. The key for the big man will be confidence.
Pressure has never been Howard's best friend and his return to greatness will come when he feels less of the weight on his shoulders. Even if it takes another sit-down with "The Dream", Howard will return to being one of the game's elite rim protectors sooner rather than later.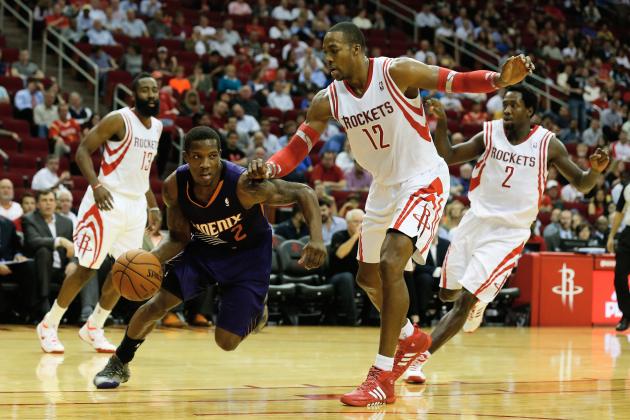 Scott Halleran/Getty Images

After finishing 28th in points allowed per game last season, the Houston Rockets made fixing their defense a top priority in the offseason.
They added one of the NBA's best defensive centers in Dwight Howard. James Harden and Chandler Parsons spent the summer working on conditioning to become more well-rounded players. The team also opted for the defensive-minded Patrick Beverley at point guard, presumably, to help stop the ball.
With all that commitment to impeding opponents from scoring, where do the Rockets rank in points allowed per game this year? Twenty-seventh.
In fact, their 102.8 points allowed per game is slightly up from last year's 102.5 points per game (granted, we're comparing 20 games to an entire season).
There are few reasons behind the lack of improvement. The Dwight Howard-Omer Asik tandem didn't work out quite like the team had hoped and the idea was scrapped after a couple weeks. Asik now finds himself dealing with a thigh injury on the trading block.
The team is also near the bottom when it comes to forcing turnovers while leading the league in turnovers per game. As mentioned in the previous slide, Howard hasn't been the shot-blocking force of years past and he's looked like Dikembe Mutombo compared to Asik (seven blocks in 17 games).
While a move up the ranks is possible, the chances of Houston being an upper-echelon defensive team this season are slim. At best, they are a team capable of getting a few stops, but will rely heavily on their high-octane offense.
That doesn't mean they can't still contend for a title. Few teams have enough defenders to match Houston's offensive firepower. However, despite all the work spent on fixing a problem area, the defense is still an issue and it doesn't look like it will go away any time soon.
Bill Baptist/Getty Images

According to ESPN's Michael Wallace, Terrence Jones spent the summer working on his jumper in an effort to be a better fit playing next to Dwight Howard. In years past, the big man has excelled playing next to a forward that can space the floor.
After inheriting the role of Howard's sidekick from Omer Asik, Jones has shown that all of his hard work has paid off. He's averaging 9.5 points and 6.4 rebounds per game while contributing 1.2 blocks per contest as well.
More importantly, Jones is converting nearly 42 percent of his attempts from behind the arc. In fairness, the former Kentucky standout is only taking a couple of threes each game, so the high percentage is a bit skewed.
Still, he's shot well enough to consider the deep ball one of many in his bag of tricks. He'll never be Ryan Anderson on the perimeter, but he can hurt you if don't respect him from outside.
It will be tough for Jones to stay above 40 percent from deep as the season progresses. Although, as long as he doesn't fall in love with his jumper (a la Antoine Walker and Larry Johnson later in his career), it isn't impossible for him to stick around his career 35 percent from behind the arc.
Regardless, Jones has turned heads as a poor man's "stretch 4", which has made an impressive offense even more devastating.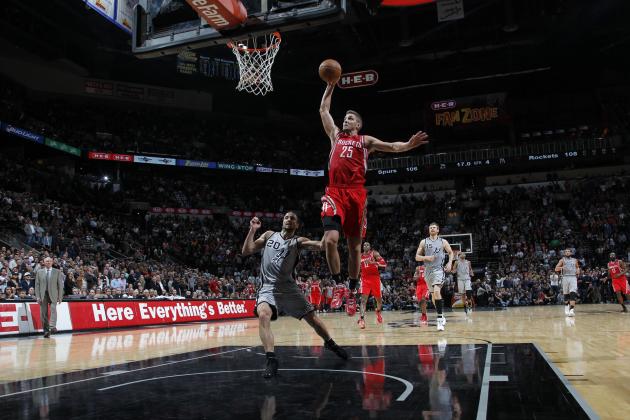 Chris Covatta/Getty Images

When Dwight Howard arrived in Houston, the question became who would be losing touches to the superstar big man? The presumed answer was Chandler Parsons, since Howard was now assuming Parsons' role as Houston's No. 2 option.
Instead, a month into the season, the numbers suggest that Howard has become the third wheel. Parsons' 17.2 points a night is second-best on the team (behind James Harden), as is his average of just over 12 field-goal attempts per game.
Meanwhile, Howard is scoring 16.6 points per night while taking two less shots per contest than Parsons. In Howard's defense, he makes up for his lack of touches with a steady dose of free throws (even if he's only hitting half of them).
Parsons' current standing above Howard in the pecking order (at least, statistically) can be attributed to a couple things. For one, Parsons benefited more from James Harden's toe injury. With "The Beard" out, someone had to fill the void on the outside. That certainly wasn't going to be Howard.
Second, it's tough to have a ton of shot attempts when you're getting fouled as soon as the ball touches your hands. If Dwight Howard shoots better than 55 percent from the charity stripe, we aren't having this conversation.
As it stands now, Howard is healthy while Parsons is suffering from back spasms that have kept him out of the last two games. Inevitably, Howard's role on offense will continue to grow as he busts out of his current slump.
When that happens, Parsons will return to being a very good third wheel.