5 Elite Wrestlers Who Need to Evolve as Strikers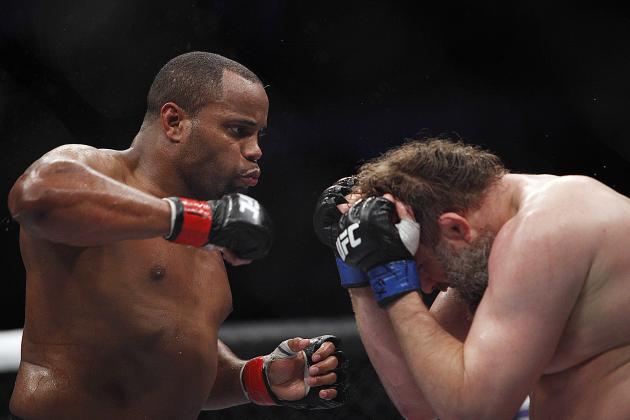 Andrew Richardson-USA TODAY Spor

Wrestling is one of the most useful and strong foundations any mixed martial artist can possess.
It helps fighters maintain their sense of balance, creates worlds of opportunities on the open canvas and instills fear into unsuspecting strikers.
However, as hard as it is to defend shots from world-class takedown machines, it's just as hard for them to leave their comfort zones and let their repertoires blossom.
Here are five elite wrestlers who must craft their striking in order to maintain success, longevity and popularity in today's sport.
Begin Slideshow

»
Joe Camporeale-USA TODAY Sports

While some people might not consider Gray Maynard an elite wrestler, the fact remains that the majority of the former top contender's big wins have been fueled by a powerful ground game.
Remember, Maynard was able to defeat Frankie Edgar the first time around on the back of nine takedowns, while he only mustered 19 total strikes through three rounds.
However, over his last few fights, including two first-round knockout defeats, he's been unable to muster any offense. That includes not only his ground game but also his striking.
For his size, it seems like the 34-year-old is a formidable puncher on all levels, but Maynard hasn't recorded a knockout victory since 2007.
That's bad news. For a bulky lightweight, he's often unable to match an opponent's speed and precision.
A drop down to featherweight could be in the mix. Anyone up for Edgar vs. Maynard IV?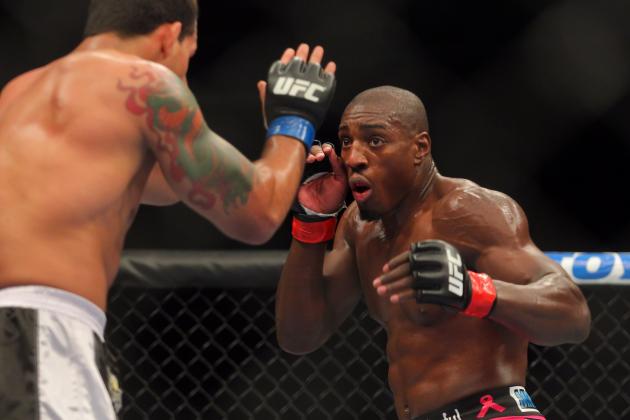 Brad Penner-USA TODAY Sports

As one of the most decorated wrestlers currently under the Zuffa banner, Phil Davis is able to do things most mixed martial artists can't.
On the back of excellent takedowns and thriving submissions, he has earned an 8-1-1 record inside the Octagon since making his arrival back in early 2010.
With that said, in a division dictated by the pound-for-pound best fighter in the world, Davis has struggled to implement any worthwhile striking.
Sure, "Mr. Wonderful" was able to defend Lyoto Machida and his ultra-accurate attacks, but without a knockout or TKO finish on his promotional resume, there's cause for concern.
It's not that Davis isn't strong or athletic enough to pester opponents with dangerous punches and kicks. It's more or less his robotic movement. He's sometimes unable to match the fluidity of some other striking mainstays.
But if he can continue to pad his footwork and evolve as far as his angling is concerned, there's no doubt he'll fight for a title by the end of 2014.
Mark J. Rebilas-USA TODAY Sports

Everybody looks at Chael Sonnen's first fight with Anderson Silva and says, "Look, I told you he could punch."
But people fail to realize that was Sonnen's most prolific striking display of his career. And he wasn't even able to put the former champ away.
While his efforts in that fight should not be discredited, it's safe to say we'll never see him that good again on his feet.
Sonnen has outpointed guys like Michael Bisping, Brian Stann, Nate Marquardt and Yushin Okami throughout his career, but those were all off numerous takedowns.
So even though "The American Gangster" can pressure and impose his will with the best of him, he isn't that calculated or technically sound.
He'll often boast about a background in amateur boxing, but this is the pros. That's like saying you can defend a penetrating LeBron James because you once blocked that guy at the YMCA.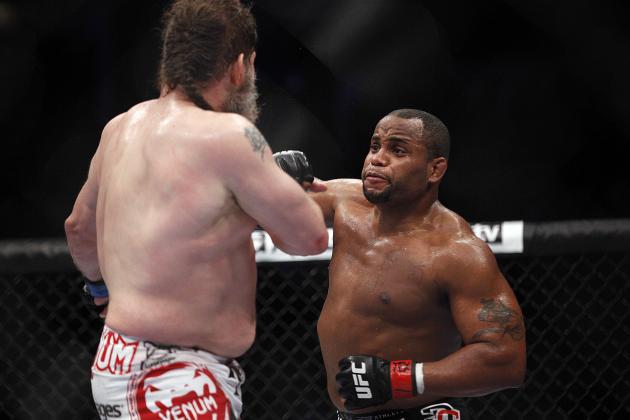 Andrew Richardson-USA TODAY Spor

Daniel Cormier is quickly evolving into one of the most dangerous fighters in the sport.
He's young enough, humble enough and smart enough to take ungodly athleticism and transform it into a complete mixed martial arts wrecking ball.
Currently regarded as one of the best wrestlers in the game, "DC" has already beaten some of the biggest heavyweights around through just 13 career bouts.
He's done it by implementing crushing takedowns, constant pressure and smoldering strength. But in a promotion that employs the best of the best in the world, when does that success run thin?
For Cormier to advance up the UFC ranks and eventually challenge Jon Jones for light heavyweight supremacy, he has to evolve as a striker.
We saw a lot of improvement from the former Strikeforce standout when he battered Roy Nelson on the feet for three straight rounds, but "Big Country" isn't as versatile as they come. He throws one punch and one punch only.
Despite elite wrestling that can be credited as the fuel behind Cain Velasquez's ferocious ground game, Cormier still has much to prove. If he can mix in some head kicks, in-clinch combos and useful faints, Jones might be in trouble.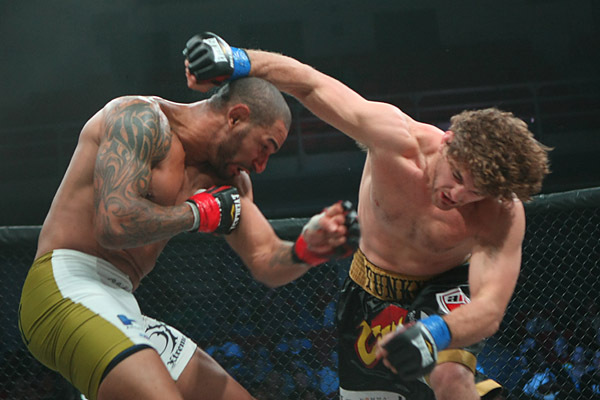 Sherdog.com

Ben Askren's striking is so obnoxiously nonexistent that this was practically the only photo on the Internet in which he's throwing a punch while standing.
That overall lack of versatility ultimately cost the former Bellator welterweight champion a spot on the UFC roster.
But despite his inability to hit a soft pillow stapled to his bedroom wall, Askren's fights aren't all that boring. Sure, they often make you scratch your head and grab a beer more quickly than usual, but he's pretty darn dominant.
It's even more dumbfounding that Askren is so pedestrian on his feet considering he trains alongside UFC lightweight king Anthony Pettis.
In any case, "Funky" is undefeated in his professional career for a reason. But until he starts making opponents pay with his striking, Askren will continue to wane in obscurity as the newest rumored addition to ONE FC, according to Anton Tabuena of BloodyElbow.com.
For more UFC news and coverage, Follow @DHiergesell