Emirates Stadium, London
Wednesday night was a big night for Nicklas Bendtner. Fortunately for both the Dane and Arsenal, it began with a goal and ended with the warm applause of a supportive home crowd.
Going into the game, Arsene Wenger had stated his intention to rotate his starting XI. Olivier Giroud needed a rest more than most. With Theo Walcott not yet fully fit and Lukas Podolski still sidelined with a thigh problem, Bendtner was the obvious choice.
Nevertheless, there was still a degree of surprise and trepidation when he was actually named in the starting line-up. The history between Arsenal and Bendtner is littered with calamity and controversy. Arsenal are in the midst of a race for the Premier League title, and the last thing they needed was for a poor showing from Bendtner to trip them up just as they hit their stride.
Nicklas Bendtner starts his first Premier League game for #Arsenal since March 2011

— Ed Aarons (@ed_aarons) December 4, 2013
There was a lot on the line for the Dane, too. Score, and he might glimpse the chance of redemption. Perform poorly, and there was the risk he might attract the boos of an Arsenal crowd that can be quick to grow frustrated. When Bendtner failed to impress against Chelsea earlier this season, his inevitable substitution was met with a chorus of jeers.
Furthermore, he had not one but two managers to impress. Bendtner needed to make a good impression not only on Arsene Wenger but also on Steve Bruce, who openly declared his admiration for the forward in the summer and could yet offer him an escape route in January or beyond.
Fortunately, the fears of Bendtner and the Arsenal supporters were swiftly allayed when the Dane met an excellent Carl Jenkinson cross to nod Arsenal into an early lead.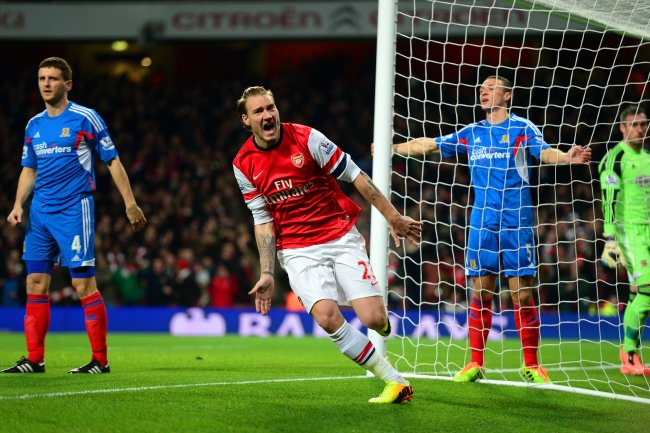 Jamie McDonald/Getty Images
Jenkinson was one of several other players brought into the side. Mathieu Flamini, Tomas Rosicky and Nacho Monreal were also used to freshen up the XI. However, Arsenal remained consistent and in control.
Arsenal only conceded one goal in November, and having kept another clean sheet Wednesday night, they will be increasingly confident in their ability to keep the opposition at bay. The understanding between Wojciech Szczesny, Per Mertesacker and Laurent Koscielny was evident throughout the game. It's telling that Wenger did not dare to replace any of that trio: They offer the Gunners stability and security.
The second goal came from a more familiar source, as Aaron Ramsey played a delicious through ball into Mesut Ozil, who tucked home with the class one would expect. Ozil was tremendous on the night, clearly enjoying his electric interplay with Ramsey, Rosicky and Santi Cazorla.
Match-winning moments from Ramsey and Ozil have become customary.
Bendtner's contribution, however, was the pleasant surprise of Arsenal's evening.
James McNicholas is Bleacher Report's lead Arsenal correspondent and will be following the club from a London base throughout the 2013/14 season. Follow him on Twitter here.