Fantasy Football Week 14: Early Advice for Your Roster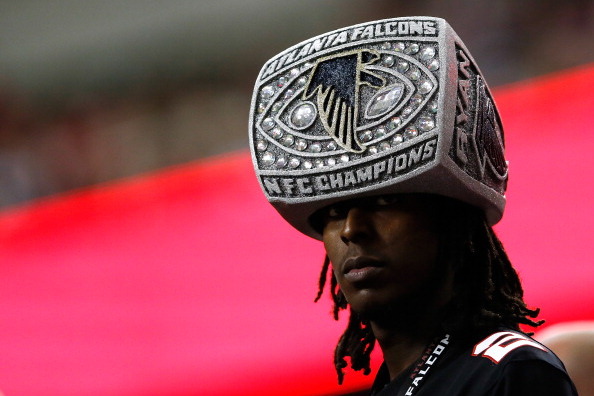 Kevin C. Cox/Getty Images

Fantasy football playoffs are upon most of us.
If you're reading, you've made it or you might have a problem with obsession. I'm in 10 leagues (mostly dynasty) and made the playoffs in eight of them—not a bad success ratio, especially when the year has been this weird.
Well, we're not done yet—we've got a little further to go so we can talk junk all offseason and hopefully buy some beer with the winnings. We've got the usual "matchups we like" as well as some updates on a few injuries to important fantasy playoffs. We've also got some thoughts on how to approach the fantasy playoffs and your roster during them. Let's get started.
*All statistics are drawn from NFL.com or ESPN.com unless otherwise noted.
Begin Slideshow

»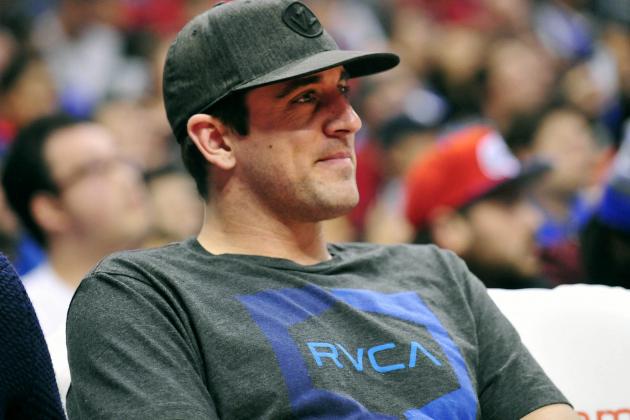 Gary A. Vasquez-USA TODAY Sports

While we have some good news regarding banged-up and injured players, let's start off with bad news.
According to Pro Football Talk's Darin Gantt, Green Bay Packers quarterback Aaron Rodgers isn't cleared to play yet and is pretty disappointed about it.
As he told ESPN's Jason Wilde on his regular Tuesday appearance on Wilde's show, he wants to be out there whether his team is still in the playoff hunt or not.
This isn't much help to his fantasy owners, though. While we have been holding on and hoping Rodgers would make an appearance in the fantasy playoffs, here we are in the first round and it sounds like that's just not going to be the case.
In fact, it sounds as though he may not even play the rest of the year. Maybe that's just Rodgers sounding down because, well, he really wants to be playing.
It's important to note, though, that time is running short for fantasy owners. Even if he emerges in Week 16 (championship week for most fantasy leagues) against a decent Pittsburgh Steelers team, how much rust will he have? Will he be worth starting?
This also tough for owners who have other Packers offensive players, particularly if the team keeps quarterback Matt Flynn under center. As bad as quarterback Scott Tolzien was against the Minnesota Vikings, Flynn was a magnitude worse against the Detroit Lions the next week.
Flynn obliterated the relative value of virtually every other offensive player—Eddie Lacy found no running room, Jordy Nelson saw just four targets and Jarrett Boykin saw three.
James Jones performed well, but a lot of that was despite Flynn.
At least this week they face a poor Atlanta Falcons team, but you definitely have to worry about having Packers in your lineup. As long as Rodgers is out, Nelson, Lacy, Boykin and even Jones need to be downgraded by at least one spot in your starting lineup.
Meanwhile, Percy Harvin owners must be about to throw their hands up in exasperation.
After supposedly being ready to go a few weeks back and appearing in Week 11, Harvin has been absent since and continues to deal with lingering issues with his hip.
Ian Rapoport of NFL Network said the team is waiting to see how he responds to a cortisone injection and could hold him out until the playoffs.
If that didn't make his fantasy GMs flinch, this will: Liz Mathews of 710 ESPN in Seattle reports that head coach Pete Carroll told the station that Harvin "had a little procedure last week." Mike Garafolo of FOX Sports 1 cautioned that he could still play this Sunday—in other words, don't panic yet.
That could mean the "procedure" Carroll mentioned was Harvin having his hip drained, but with the Seahawks playing it close to the vest, we don't know.
As with Rodgers, you shouldn't drop Harvin right now, but we're getting to the point where his ability to help your team is gone. Furthermore, if Harvin plays this weekend and the team says his snaps will be limited, you might not be safe to start him given that last time they said that, they weren't kidding.
You can ill-afford another one-catch, 17-yard performance.
Our last piece of frustrating injury news comes in regard to Chicago Bears quarterback Jay Cutler.
According to ESPN Chicago's Michael C. Wright, Cutler still doesn't have full medical clearance to practice and may not be ready for Monday night's game against the Dallas Cowboys.
Unlike the situation with Rodgers and Flynn in Green Bay, Josh McCown has been playing well enough that he's not hurting the fantasy output for the rest of the offense.
However, if you were holding Cutler in the hopes he might give you a burst through the playoffs, the lingering ankle injury is disappointing and his upside isn't nearly as high as Rodgers'.
Which means you might be more prone to pull the trigger and dump him if your quarterback situation is stable.
Now, here's the good news.
While Houston Texans running back Ben Tate is still dealing with a rib injury and was limited in Tuesday's practice per HoustonTexans.com, his 102 yards and three touchdowns against the New England Patriots is a sign that he can still be productive despite it.
He'll continue to be a solid No. 2 running back play most weeks, one of several players in this offense who have value despite the terrible season the Texans are suffering through as a whole.
It sounds very much like Steelers rookie running back Le'Veon Bell will be good to go this Sunday, though according to Post-Gazette writer Ed Bouchette, he still needs to go through all the concussion tests. He has a solid matchup against the Miami Dolphins this week.
While he didn't do a ton, San Francisco 49ers receiver Michael Crabtree looked just fine Sunday, and it appears as though he isn't going to struggle with any setbacks post-Achilles injury.
He will gradually see his snaps and targets increase, and while this week against Seattle may hamper his value (consider him a No. 3 or 4 receiver), circle Week 16 against the Atlanta Falcons for a big game.
Just in time for a fantasy championship.
File this under "hopeful."
Denver Broncos tight end Julius Thomas missed the last two games but did practice Wednesday, though he was officially "limited."
Prior to the knee injury which has sidelined him, Thomas had scored touchdowns in seven of nine games this season, only being shut out Week 4 and Week 8.
We'll know more Thursday and Friday, but hopefully he'll feel up enough to play against the Tennessee Titans.
On the downside, if the Broncos lock up the No. 1 seed before the end of the season, he could get shut down so he is 100 percent by the playoffs.
Finally, Oakland Raiders running back Rashad Jennings has passed the NFL's concussion protocol and practiced fully on Wednesday. This week is a so-so matchup against a strong Jets run defense, but he's worth a start as a No. 2 running back based on his previous work.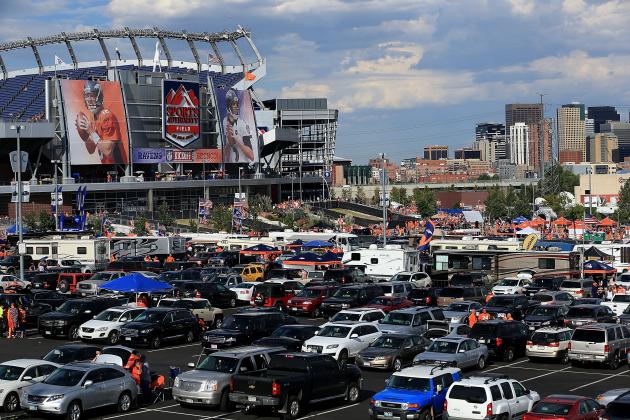 Doug Pensinger/Getty Images

How do you approach the playoffs? Well, pretty much the same way you approach the season, but with less margin for error and more pressure.
After all, in most leagues, you win or you're out.
Of course, those are head-to-head leagues—total-points leagues are a different animal.
A few things will inform your moves. Is your waiver wire still open? Can you make bids during the playoffs? Did you get a bye week? Do your playoffs end in Week 16 (good!) or Week 17 (terrible!)?
There are a few things that, regardless of the answers to the above questions, remain the same.
First of all, start your studs. Sure, Frank Gore's matchup this week isn't good (Seattle). Neither is Adrian Peterson's (Baltimore).
Don't get cute, though—put those guys in. You might want to be more conservative with your depth players if you have poor matchups for your studs, but you never, ever bench them in the playoffs.
Next, make sure you keep an eye on players heating up or cooling off on your roster. We'll get into that a bit in the next slide, but it's not as simple as plugging in some of these players. You need to do more.
If you can grab players off the waiver wire, don't overreact. For every guy who gets hot in the next week or so, there will be a dozen who have great games and then go back to sucking. Don't drop a consistent performer for a one-week wonder.
Finally, stop tinkering. I know you are tinkering with your lineup right now, as you read this. So stop it. Do your research, set your lineup and go enjoy some football.
Yes, watch the injury reports, check to make sure nobody is arrested or suspended and adjust your lineup based on that information. But if you've been tinkering since Tuesday morning, set your lineup and let it go.
That move you don't make is probably the one which would have sunk your season.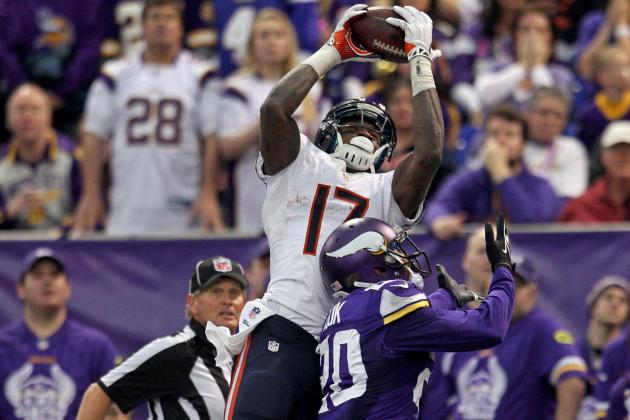 Brace Hemmelgarn-USA TODAY Sports

Over the past four weeks, Chicago Bears wide receiver Alshon Jeffery has been pretty hot. Cleveland Browns wide receiver Josh Gordon has been insanely hot.
Will they keep it up?
The most important thing you'll do with you bench players is decide who is heating up, why and whether they'll keep it up.
Right now, it doesn't look like Jeffery and Gordon are cooling off. Of course, you don't expect 200-plus yards every week because you aren't insane, but they both look like players who won't be going away.
The big question for both might be quarterback—can Gordon perform if Caleb Hanie or Alex Tanney is his quarterback? Will Jeffery put up the targets he is getting now if Jay Cutler returns?
The way Gordon is playing, when you watch the games again, he seems like a good bet to stay productive regardless of the players throwing him the ball. Gordon has been effective in part because of his ability to split zones.
He may have games in which he struggles a bit if defenses adjust to him, but he's proven he can ball no matter who throws him the ball.
Meanwhile, Jeffery saw plenty of targets with Cutler under center.
So both seem like they should continue to be solid bets in your lineup.
Of course, there are more players in the same column. San Diego's Keenan Allen, Kansas City's Alex Smith and the New York Giants' Andre Brown are just a few of the players heating up coming into the fantasy playoffs.
How do you know if they'll keep it up?
Take a look at the schedule. What are their matchups like? What kind of teams were they successful against in the last few games and why?
Has anything changed on the offense? Is it likely to change again?
You don't have time to watch every game, so a lot of reading is required before the games start. Fantasy experts, beat writers and other media analysts—all the things you've been doing for 13 previous weeks.
Just now, your margin for error has shrunk to zero.
Don't just focus on this week—think all the way through the fantasy championship.
Know who you can rely on and make sure you can make moves if you think you can't.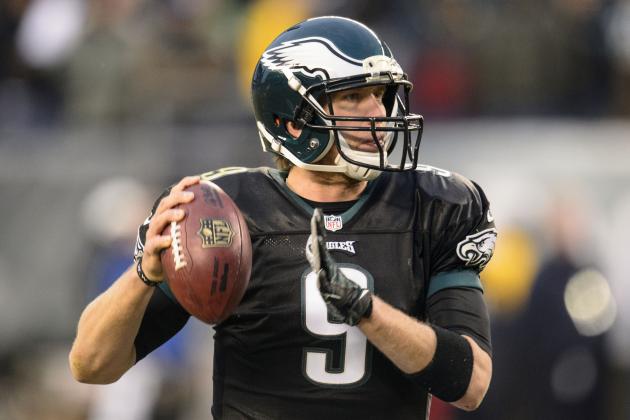 Howard Smith-USA TODAY Sports

Nick Foles vs. Detroit Lions
Philadelphia Eagles quarterback Nick Foles is on quite the tear right now. Since taking over as starter in Week 9, he has thrown for 1,169 yards, 13 touchdowns and absolutely no interceptions.
That's production you can count on.
While we'd rather see him throwing for over 300 yards a game, his multiple touchdowns in all four games but one make up for the 292.25 yards he is producing.
The Detroit Lions' front seven is tough but aside from shutting down Matt Flynn (which was as much about Flynn as it was about the defense), it has allowed plenty of touchdowns and a great many yards.
That No. 26 pass defense ranking is well deserved.
Foles isn't throwing interceptions, is usually scoring multiple touchdowns and faces a defense featuring a secondary which isn't terribly good.
Keep in mind also that Foles has a great stretch of defenses for the fantasy playoffs. After Detroit come the vulnerable Minnesota Vikings and underperforming Chicago Bears units.
You can ride him all the way until the championship is yours.
Carson Palmer vs. St. Louis Rams
While Arizona Cardinals quarterback Carson Palmer threw a pair of interceptions last week against the Philadelphia Eagles, that was more than offset by the 302 yards and three touchdowns he also tossed.
This was the first game in some time in which he felt heavy pressure (the Eagles notched five sacks), and while he will probably see more this week (the St. Louis Rams are tied for the fifth-most sacks in the NFL with 37), he'll also put up some good points.
The secondary hasn't quite been the same since Cortland Finnegan was placed on injured reserve, and over the last three games, it has allowed plenty of passing yards.
San Francisco's Colin Kaepernick threw for 275 yards and a touchdown, Chicago's Josh McCown threw for 352 yards and two touchdowns and Indianapolis' Andrew Luck tossed the ball for 353 yards and a touchdown.
Alex Smith at Washington
While Washington's defense can get after a quarterback, it still has issues in the secondary.
Sure, Kansas City Chiefs quarterback Alex Smith lacks great weapons to throw to (Dwayne Bowe has been far from great in 2013), but he's put up No. 1 fantasy quarterback numbers the last three weeks.
You can check out more of my thoughts on Smith in the Start/Sit article from Tuesday, but suffice it to say that while Smith isn't a great quarterback—he'll never be Aaron Rodgers or Tom Brady—he is a red-hot fantasy quarterback right now.
If you lack a top-tier stud, Smith will get you through Week 1 of your fantasy playoffs.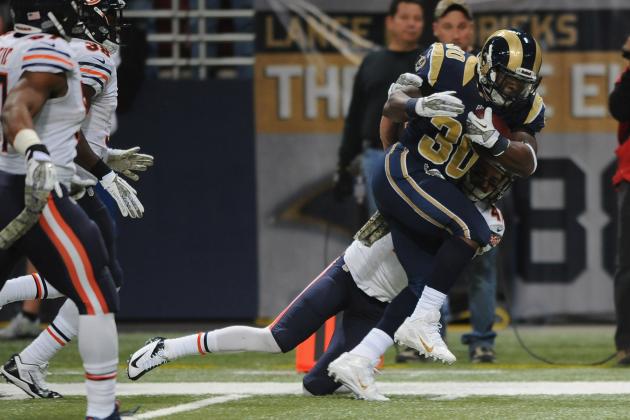 Michael Thomas/Getty Images

Zac Stacy at Arizona Cardinals
While last week's game against the San Francisco 49ers lacked a touchdown, St. Louis Rams rookie running back Zac Stacy still put up decent points against a tough run defense in a game that the Rams trailed throughout.
This week is another difficult matchup, as the Arizona Cardinals don't give up many rushing yards or touchdowns.
Still, the Rams have committed to Stacy, and he has shown he can carry the load. We know he should get plenty of carries, and hopefully the offense will start targeting him a little more again as well.
Stacy is the type of player who will put up some low-end No. 2 running back or solid No. 3 back numbers. He's got great upside, though, and should be a staple in your lineups.
Andre Brown at San Diego Chargers
New York Giants running back Andre Brown didn't quite put up the yards he had the two previous games, but his pair of touchdowns was certainly welcome. Since coming back from his broken leg, Brown is averaging 83.3 rushing yards and has scored three times in four games.
The San Diego Chargers are ranked No. 22 in the NFL against the run, allowing 10 touchdowns to date and a chunk 4.9 yards-per-carry average.
That combination puts Brown in the No. 1 running back column this week, and he should notch plenty of yards—and possibly a score—in a very solid Week 14 matchup.
Giovani Bernard/BenJarvus Green-Ellis vs. Indianapolis Colts
Both Cincinnati Bengals running backs are getting plenty of touches in the offense right now. Veteran BenJarvus Green-Ellis gets only carries, though, while rookie Giovani Bernard also gets targets in the passing game.
Both of them getting snaps is hurting their overall production both from an NFL and a fantasy standpoint, but overall they can both be in lineups.
Especially against a weak Colts run defense.
I'd consider Bernard a low-end No. 2 running back (maybe a tad higher in a point-per-reception league), while Green-Ellis is more of a low-end No. 3 or flex option.
Both have upside this week, even though the Colts have played the run a bit better of late.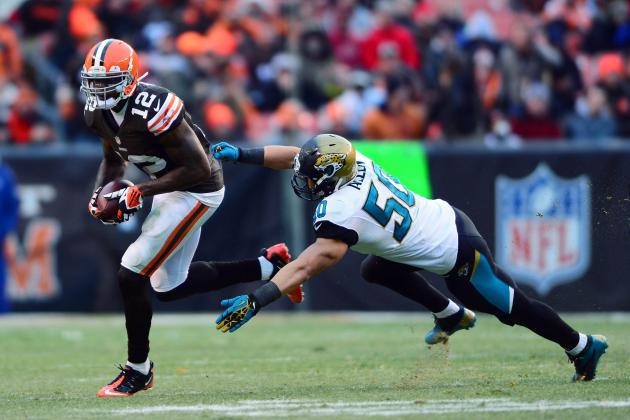 Andrew Weber-USA TODAY Sports

Josh Gordon at New England Patriots
You have to be a little concerned by the chaos at quarterback.
Quarterback Brandon Weeden is dealing with a concussion, as is Jason Campbell, via Cleveland.com.
If they are both out, it actually gets worse (you didn't think it could, did you?). The starter would either be recently signed Caleb Hanie, who last played in 2011 for the Chicago Bears, or Alex Tanney, a guy better known for a YouTube video than his ability.
Gordon is coming off back-to-back 200-plus-yard games—something never before done in NFL history. While part of his success last week came because the Jacksonville Jaguars didn't adjust to a simple "dig" route, Gordon has made some fantastic plays and is red-hot.
The New England defense can be tough, but Houston Texans receiver Andre Johnson just dropped 121 yards on it—the right receiver can definitely beat it.
Gordon is that guy and will be a top-five receiver this week, possibly falling to about No. 10 if Hanie/Tanney are throwing him the ball.
Keenan Allen vs. New York Giants
San Diego Chargers rookie receiver Keenan Allen is coming off back-to-back 100-yard games against a pair of tough defenses. Both the Kansas City Chiefs and Cincinnati Bengals play tough against the pass, but Allen was not to be denied either time.
What's even more positive is the 22 targets Allen has seen over those two games, of which has has caught 77.3 percent.
He's getting a high number of targets and making the most out of them.
The New York Giants are tough on receivers and quarterbacks lately—they've definitely been playing better than their No. 20 ranking implies.
However, Allen is virtually matchup-proof at this point. He has proven he can overcome tight coverage and double coverage and is getting fed by head coach Mike McCoy's game plan and quarterback Philip Rivers arm.
He's a solid No. 2 fantasy wide receiver every week from here on out regardless of matchup.
Harry Douglas at Green Bay Packers
The Green Bay Packers are a team reeling, like a boxer hit one too many times in the head. They're just staggering around hoping they can catch a break before they hit the mat.
Defensively, this team is not doing well. While it can get pressure on the quarterback, its secondary isn't doing enough to shut down the top receivers of opposing teams.
And it will get after Matt Ryan and make his life hard, but that won't stop Douglas from getting his.
Ryan has targeted Douglas 35 times over the last three games, with Douglas gaining 286 yards and a touchdown on 21 catches. That's a solid 60 percent catch rate—Ryan knows if he can get the ball near Douglas, the receiver will bring the ball down.
The Packers may get to Ryan—they'll probably even limit his overall day—but he'll get the ball to Douglas often enough for the Falcons receiver to continue to be a good choice as a No. 3 fantasy receiver.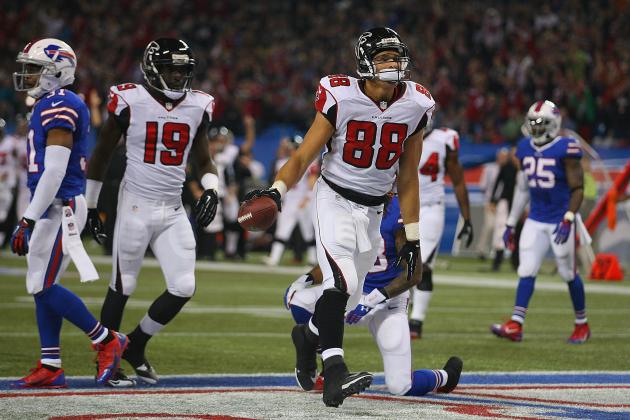 Rick Stewart/Getty Images

Tony Gonzalez at Green Bay Packers
This hasn't been much of a victory lap in the career of Atlanta Falcons tight end Tony Gonzalez.
The team has been in the tank all year, Julio Jones is done for the season, Matt Ryan isn't so much "Matty Ice" as he is "Matty Meltdown" and most of Gonzalez's stats are below par.
As mentioned in the slide on Harry Douglas, Green Bay's secondary isn't all that great.
Gonzalez is getting a consistent number of targets, and as Roddy White and Douglas have success, defenses will have to shift their way, leaving more room for Gonzalez to finally have success.
Last week's win against the Buffalo Bills was one of Gonzalez's better games in some time—expect him to build on it this week for a very productive first-round play in your playoffs.
Coby Fleener at Cincinnati Bengals
Indianapolis Colts tight end Coby Fleener had a down Week 13, but then again, so did the Colts' passing offense as a whole. When your quarterback only throws for 200 yards and an interception, nobody's numbers will look good.
Fleener should bounce back this week, along with the rest of the offense.
That's despite a tough matchup with the Cincinnati Bengals, ranked No. 8 in the NFL against the pass.
Both the Tennessee Titans and Arizona Cardinals feature solid defenses, and Fleener had solid games against them.
If the offensive line can keep quarterback Andrew Luck upright, Fleener is a good matchup start or No. 2 tight end for leagues which need two starters at the position.
Heath Miller vs. Miami Dolphins
Pittsburgh Steelers tight end Heath Miller looked like he was going to have an off year until he hit Week 11 and saw 10 targets, eight of which he caught.
While the yardage total was just 67 yards, he followed that performance up with 15 targets, 13 catches and 127 yards in two games.
On top of that, he's catching 73.3 percent of his targets—he's not just getting the ball thrown to him, but he's also making catches.
Quarterback Ben Roethlisberger has only targeted wide receiver Antonio Brown more frequently over the last three games (although Miller is a distant second to Brown).
He has become very comfortable with Miller again, and while we'd like to see a few more red-zone targets, Miller's production has been decent.
The Miami Dolphins have been solid against the pass, generating 16 interceptions while allowing just a dozen touchdowns through the air.
While that may be a bit intimidating, Miller is a tough matchup in his own right, and between the targets and the pass-centric slant of the offense, they Steelers will need him to come up big.
Miller's a low-end No. 1 tight end this week despite the matchup and, if you lack one of the big guys, shouldn't let you down this week.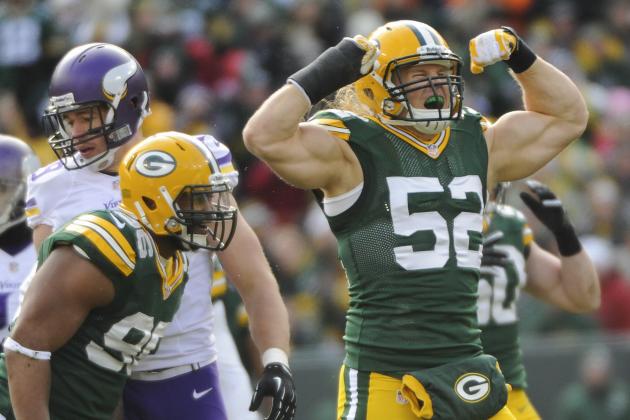 Benny Sieu-USA TODAY Sports

Green Bay Packers vs. Atlanta Falcons
The Green Bay Packers defense hasn't been very good this season. That it's better than it has been the last few years is really more of a sign of how bad it's been the last few years, not how good or bad it is this year.
On the plus side, this is a defense which is ranked No. 3 in sacks generated with 38 (tied with New Orleans).
The Falcons have allowed just 30 sacks, but let up six against the Buffalo Bills last weekend, five to the New Orleans Saints in Week 12 and three against the Tampa Bay Buccaneers.
That's 14 sacks in just three weeks—not a trend going in the right direction.
And while Matt Ryan has been sharper the last two weeks, he was throwing up interceptions at a crisp clip prior to that.
From Week 8 through Week 11, Ryan tossed nine interceptions—that's three-quarters of his interception total for the year.
Ryan can be pressured into bad mistakes, and this offensive line is making it easy to pressure him lately.
If you're going to play the Packers as a matchup defense, this is a matchup to get it into your lineup.
Oakland Raiders at New York Jets
Last week, New York Jets quarterback Geno Smith threw just one interception—a vast improvement worthy of a parade for a guy who had thrown five over the previous two games and 19 on the season.
On the downside (well, the other downside), he hasn't thrown a touchdown in the last five games (though he ran one in against New Orleans in Week 9).
Since the bye week (Week 10), the Jets offensive line hasn't been helping matters. It has allowed Smith to be sacked 11 times and hit 18. Mind you, some of that is Smith holding the ball too long, but the offensive line has been a real issue this season for the Jets.
Even for a middling defense like the Oakland Raiders, this is a tasty matchup.
Cincinnati Bengals vs. Indianapolis Colts
Indianapolis Colts quarterback Andrew Luck has had three subpar games in a row. He threw for 200 yards or fewer in both Weeks 12 and 13, didn't have passing touchdowns in Weeks 11 and 13 and threw interceptions in Weeks 12 and 13.
That's in part because his main wide receiver, Reggie Wayne, had a season-ending injury and his offensive line is letting him get hammered.
Over the last three games, Luck has been sacked seven times but has also been hit 20 times altogether.
That's bound to take a toll.
The Cincinnati Bengals have 36 sacks to date, ninth most in the NFL. On top of that, the defense has generated 13 interceptions while allowing just 13 touchdowns.
Luck is always dangerous and always has the potential to blow up a defense, but the last three weeks have shown there are things a good defense—like the one Cincinnati has—should be able to take advantage of.
Andrew Garda is a member of the Pro Football Writers Association. He is also a member of the fantasy football staff at FootballGuys.com and the NFL writer at CheeseheadTV.com. You can follow him at @andrew_garda on Twitter.