Dimitar Berbatov Is a January Risk Top Prem Clubs Might Be Reluctant to Take
Use your ← → (arrow) keys to browse more stories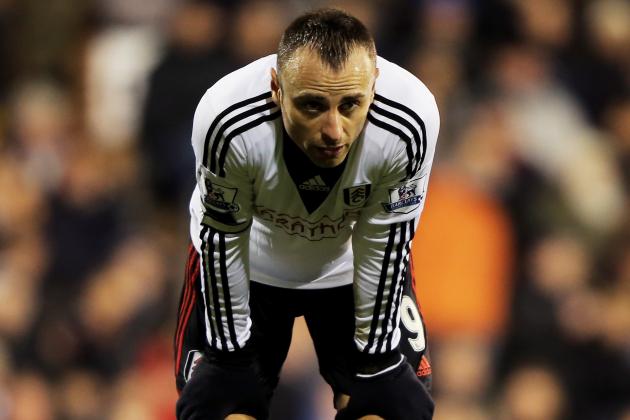 Ian Walton/Getty Images

Amid all the talk of January transfers and the possibility of big-money signings for teams at the top end of the Premier League, it's easy to forget that there are always several bargains about in January.
In some instances, those cut-price deals can be concluded to sign a player six months early who is coming to the end of his contract. Sure, it means a fee for a player who would be free in a few months' time—but you get the qualities of that player immediately, perhaps making a big difference in the remainder of the campaign.
Fulham striker Dimitar Berbatov is one player in such a position, with Darren Lewis of Mirror Football reporting that the Bulgarian wants to leave the Cottagers next month instead of seeing out his deal.
While his talents on the pitch are undoubted, there is still an element about Berbatov's style that means many of the top teams might not want to opt for him as their signing this winter.
Top Teams in Need of a Striker?
Look around the Premier League and it seems almost every side is in need of an extra attacker.
Arsenal only have the outward-bound Nicklas Bendtner as backup to usual start Olivier Giroud, while Chelsea continue to rotate their non-firing trio of Demba Ba, Fernando Torres and Samuel Eto'o.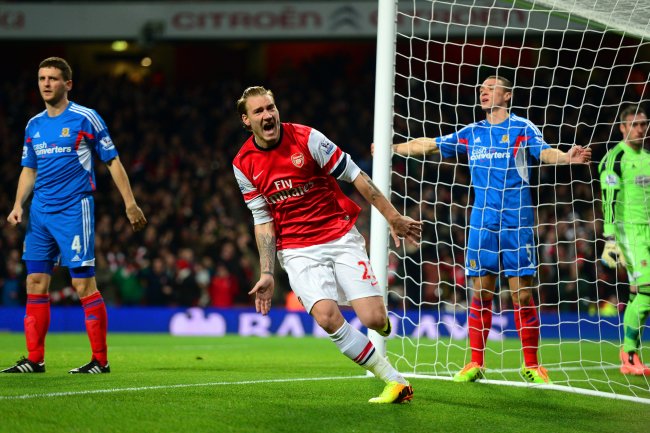 Jamie McDonald/Getty Images
Liverpool have key striker Daniel Sturridge injured, Spurs' big-money buy Roberto Soldado has been so poor in front of goal that they recently recalled Emmanuel Adebayor to the team and even Manchester United might be seen as missing goals and invention with Robin van Persie out, Danny Welbeck used in a variety of roles and Javier Hernandez largely out of favour.
Scroll further down the league table and Berbatov's track record in the Premier League should see him figure ahead of an awfully large number of regular starters in mid-table teams.
Berbatov's Bonuses...and Failings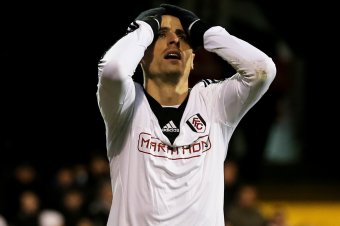 Ian Walton/Getty Images
Technically impressive, with great vision, a record of hitting double figures of goals most years and an ability to find space to create havoc in the final third...it almost seems as though Berbatov should have everything most managers look for in a forward.
However, he also has an innate look about him of a man who couldn't care less, at times.
That's not to suggest he doesn't—but it is unmistakably the aura he gives off on occasion. When the ball is lost five yards from him and he doesn't chase back to win it again, it makes the crowd restless. It can annoy team-mates who have to cover and chase twice as hard. It can infuriate the manager and can, worst of all, allow the opposition to break forward unchallenged.
Then again, that same lax attitude is perhaps why he is allowed by the opposition to drift unnoticed into space to create chances.
Richard Heathcote/Getty Images
So who takes the risk on him?
It will almost certainly be a team who want a "third" option; not necessarily someone who has to start every game to make the telling difference, but certainly a proven final-third option who can play with regularity and be more-or-less relied upon to contribute...but if he doesn't, can be replaced with another first-teamer.
Where Could He End Up?
The Mirror report states that Turkish top-flight side Trabzonspor are in the hunt, and where one leads, more rumours will surely follow.
Berbatov has been in the Premier League since joining Spurs in 2006-07 season, but he will turn 33 at the end of next month.
It could well be that the on-pitch attitude he gives off, in not particularly caring if he gets the ball or if his team are losing, is what turns English top-flight bosses off him this time in one of the tightest seasons on record.
A season of struggle awaits Fulham by the looks of things, and Berbatov wants no further part of it. And that might just sum up the man's outlook on the game to the extent that nobody wants to put the effort in with him any more, because they know they're unlikely to see it returned.