Don't Be Fooled, Luol Deng Is Not Part of Chicago Bulls' Uncertain Future
Use your ← → (arrow) keys to browse more stories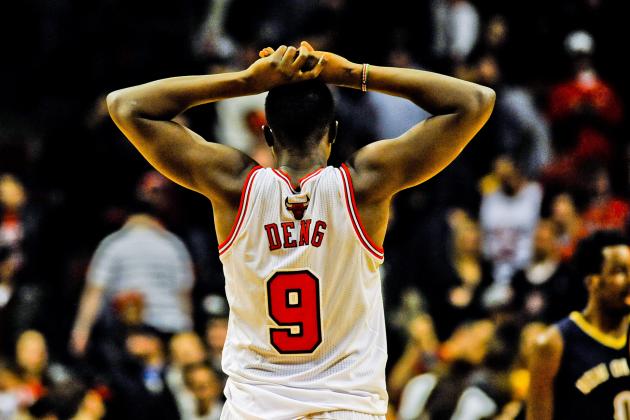 Matt Marton-USA TODAY Sports

Every good general manager knows how to lie through his teeth, and Gar Forman is doing just that with his comments about Luol Deng's future with the Chicago Bulls.
We're just working with smoke and mirrors as the Chicago Bulls attempt to prove to the world that they aren't ready to pull the plug on the Deng era. You know, the same small forward who has been unable to lead this team to the promised land in Derrick Rose's absence, and who wouldn't sign a contract extension during the offseason.

But that matters not, according to general manager Gar Forman, who went on the "The Waddle & Silvy Show" on ESPN Chicago 1000 to deliver the following quote, as relayed by ESPN Chicago's Nick Friedell:
We value Luol a lot, and Luol is a big piece of the success we've had the last several years though we haven't gotten to our ultimate goal. We think Luol is going to continue to be a big piece, a big part of what we're doing. I know a lot was said about that we couldn't come to an extension last summer but if you guys really study the NBA, especially since this new CBA—going into the CBA and since the new CBA has been in effect, it's very, very rare that extensions get done so the fact that one didn't get done was not an indicator of where we're at with Luol at all.
The fact that an extension wasn't signed might not matter, but the lack of friendliness between the two wasn't a good indicator of his future in the Windy City. Remember when NBC Sports' Bryan Crawford reported that Deng was unhappy at the lack of extension?
Not a good sign, even if ESPN's Chris Broussard later revealed that Deng would love to spend his whole career in a Bulls uniform. That report came before Rose's injury thrust both this season and the future into the realm of uncertainty, though.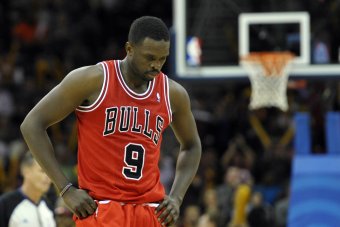 David Richard-USA TODAY Sports
Forman went on to explain that other front offices have been inquiring about Deng's services, but that no deal was by any means imminent. Whether the Bulls trade Deng or not—and they should, as it's better to maximize the returns rather than risk him walking this offseason for nothing—he's not long for Chicago.
A lot of the reasoning boils down to money, as ChicagoNow.com's Doug Thonus explained over the summer, long before Rose tore his meniscus and was knocked out for the entire season:
In the end, the reason Deng shouldn't be back next season is that he doesn't impact wins enough for the money he'll command. The Bulls paid the luxury tax last season and will pay again this season. They'll almost certainly look to skip a couple years of it in order to avoid the repeater tax, and when looking to trim some salary removing the guy who doesn't impact wins and is paid 14 million looks like the thing to do.
According to Spotrac.com, Deng is making $14.3 million to play for a reeling Chicago team during the 2013-14 season. He won't sign for nearly that much once he hits the open market, but it's likely that he commands an eight-figure salary.
And is that worth it when—as B/R's Ben Leibowitz points out—the Bulls already have $39 million tied up in Taj Gibson, Rose and Joakim Noah? And that number is assuming that Chicago does what is expected and uses the amnesty clause to free itself of Carlos Boozer's $16.8 million albatross of a contract. The team is already in danger of the dreaded repeater's tax, after all.
Deng is having a fantastic season. There's no doubt about that, as he's averaging 19.4 points, 7.2 rebounds and 4.1 assists per game while shooting 46 percent from the field. Even if his three-point stroke has completely abandoned him, he's been quite good.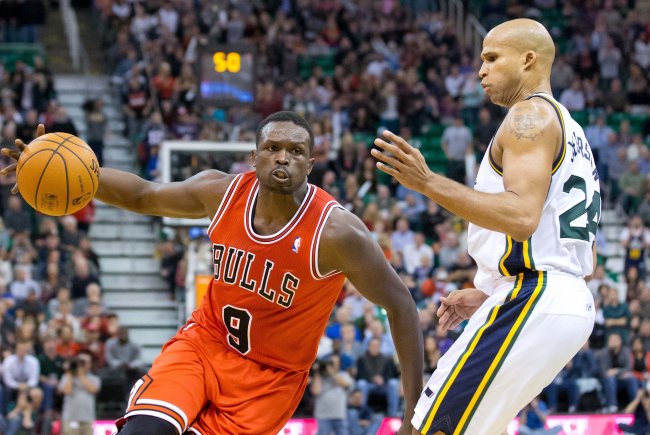 Russ Isabella-USA TODAY Sports
But there's a difference between good and valuable.
The 28-year-old small forward is putting up gaudy numbers because, in D-Rose's stead, he has to. No one else on the Bulls—other than Boozer—is capable of scoring in volume, especially as Jimmy Butler continues to nurse his turf toe injury.
With Deng as a premier offensive option, though, the Bulls can't win games. They struggled to remain in the upper echelon of the weak Eastern Conference last year, and they may even struggle to make the playoffs in 2013-14.
It's time for Chicago to move on, especially because Butler and Tony Snell look as though they could be the wing players of the future.
In a recent article, I laid out the plan for the Bulls to rebuild in the best way possible, starting with the 2014 offseason. Here are the simplified steps:
Let Deng walk (if they can't trade him).
Amnesty Boozer.
Bring Nikola

Mirotic

over to the NBA.
Trade

Taj

Gibson to a cap-rich team, getting little salary in return.
Draft a wing-based scoring threat in the stacked 2014 class.
Use 2014-15 for evaluation purposes.
Go after free agents during the 2015 offseason.
There isn't an easy solution as Chicago moves into the next era of Bulls basketball, but it's necessary to find one.
No guarantee exists that Rose will be anything close to his pre-injury self when he returns to action in 2014-15. There seemed to be an underlying assumption that he would look like an MVP candidate again after rehabbing the torn ACL, but that proved to be false. He struggled immensely, and there's no telling what he'll play like after missing yet another season.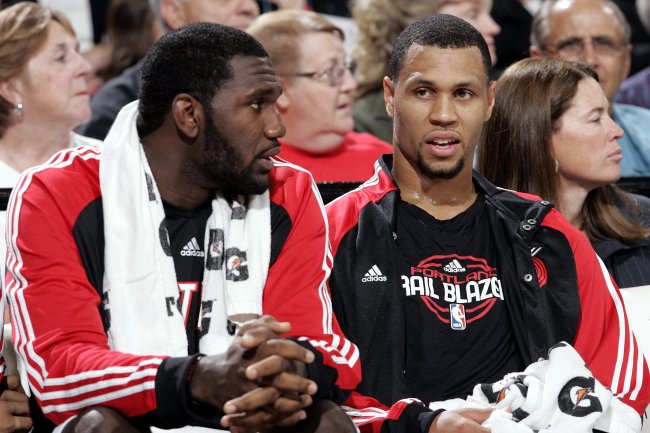 Sam Forencich/Getty Images
I hate to invoke names like Brandon Roy and Greg Oden, but the Bulls can't definitively say that he'll avoid falling down the recurring-injury rabbit hole. They'd like to believe he'll avoid it (we all would, even the staunchest fans of the Indiana Pacers and Miami Heat), but again, there's no guarantee.
Chicago can't act as though there is, and re-signing Deng is a completely non-tacit admission that the franchise isn't ready to move on. It's bringing back the same supporting cast, one that depends on a superstar who isn't yet proven to be, well, a superstar post-ACL and meniscus injuries.
Should Luol Deng be part of Chicago's future plans?
Certain teams are made to remain mediocre. The Atlanta Hawks and Milwaukee Bucks seem to be awfully good at doing exactly that. But the Bulls typically don't fall into that category.
Even if it requires letting go of a former All-Star, it's worth doing to avoid joining the mediocrity club.
The future is still uncertain for Chicago, but one thing is guaranteed: Letting go of Deng (whether via trade or free agency) is the right move. Now Bulls fans just have to hope Forman realizes that.