Week 14 is unquestionably pivotal when it comes to playoff positioning across the league. There is just one month remaining in the NFL's regular season, which means that essentially every game from here on out has high stakes attached to it.
That means the league hierarchy can change significantly from one week to the next. After all, there is so much parity outside of the league's top five or six teams that it's nearly impossible to predict how teams will perform from one week to the next.
With a hugely important slate of games looming in Week 14, here is an in-depth look at the NFL's pecking order as it currently stands.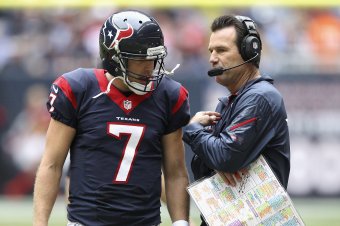 Bob Levey/Getty Images
32. Houston Texans (2-10)
The Texans have amazingly gone from being one of the league's best teams to one of the worst over the past year as they officially have last place in the NFL all to themselves right now.
They'll have a chance to gain a measure of revenge when they play the Jaguars on Thursday night after losing to them two weeks ago, but in theory they would be best off losing to solidify draft position in order to draft a new quarterback to replace the likes of Case Keenum and Matt Schaub.
31. Jacksonville Jaguars (3-9)
Jacksonville was clearly the worst team in the league for the bulk of the season, but after winning three of its past four games, this team is suddenly making a move up the rankings.
The Jags' defense was brutal in Week 13 as it was torched by the Browns' combo of Brandon Weeden and Josh Gordon. But they persevered to pick up the win and now have a chance to win another against Houston this week.
30. Tampa Bay Buccaneers (3-9)
Like the Jaguars, the Buccaneers seemed like they might be destined for a winless season after losing their first eight, but Tampa then went on a three-game winning streak before losing to the red-hot Panthers in Week 13.
If nothing else, the Bucs appear to have found a quarterback in the form of rookie Mike Glennon. He hasn't been dominant, but he has earned a full season as the starter assuming he doesn't implode down the stretch.
29. Washington Redskins (3-9)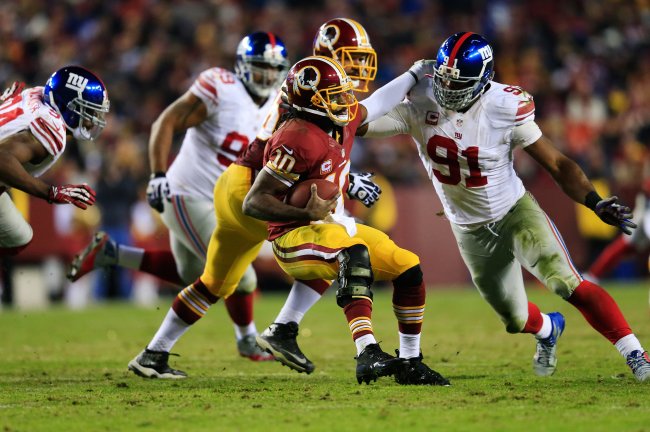 Rob Carr/Getty Images
Few teams have taken a bigger nosedive from last season to this one than the Redskins. Washington enjoyed a magical 2012 campaign thanks to the play of quarterback Robert Griffin III, but things have gone south quickly.
RG3 has become the scapegoat as many seem to forget that it takes most athletes more than a year to return to form after a knee injury. Adrian Peterson's amazing return last year led to unrealistic expectations for Griffin, and it has caused the fans and the media to turn on him.
28. Minnesota Vikings (3-8-1)
Speaking of Peterson, AD delivered a vintage performance in Week 13. He led the Vikings to a divisional win over the Bears with more than 200 rushing yards, and he became the third-fastest player to 10,000 career rushing yards in the process, according to the Pioneer Press.
Adrian Peterson up to 156 yards, eclipses 10,000 yards for his career in 101st game. Only Jim Brown and Eric Dickerson did it faster

— Pioneer Press (@VikingsNow) December 1, 2013
The rest of the team is suspect, but as long as Peterson continues to play at this level moving forward, Minnesota is going to play spoiler to the playoff hopes of quite a few teams.
27. Atlanta Falcons (3-9)
The Falcons probably had no business winning in Week 13, but thanks to late fumbles by Bills pass-catchers Stevie Johnson and Scott Chandler, Atlanta was able to pick up its third win of the season.
While Falcons fans probably needed that win in order to feel something positive about this nightmarish season, it could have cost Atlanta a chance at South Carolina defensive end Jadeveon Clowney in the NFL draft.
26. Cleveland Browns (4-8)
Cleveland's loss to Jacksonville in Week 13 was extremely disappointing since the Browns were still in the AFC playoff mix, but at least it is now apparent that the team boasts one of the best wide receivers in the entire league in the form of Josh Gordon.
Gordon is incredibly second in the league in receiving yardage despite playing in only 10 games, and he has registered consecutive 200-yard performances. Add in the fact that Cleveland has two first-round picks in the 2014 draft, and things are looking up.
25. New York Jets (5-7)
Although the Jets have a better record than some of the teams ranked ahead of them, that is insignificant. New York's offense is an absolute joke due to the play of rookie quarterback Geno Smith, and it's hard to imagine the Jets winning another game at this rate.
New York has managed to beat the Patriots and Saints this year because of its excellent defense, but if Gang Green can't move the ball more effectively, it isn't going to return to that form.
24. Oakland Raiders (4-8)
Undrafted rookie quarterback Matt McGloin hasn't been fantastic, but he has been surprising as the Raiders' starter over the past few weeks. Even though Oakland has been losing, McGloin has more than held his own.
Unfortunately for the Raiders, their defense still has a lot of holes, and they don't have a go-to guy on offense. This team is performing beyond its means and it is still at least a couple years away from contention.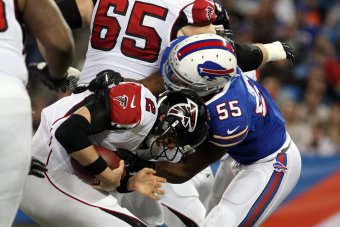 Timothy T. Ludwig-USA TODAY Spor
23. Buffalo Bills (4-8)
The stats suggest that the Bills should be vying for a playoff spot in the AFC, and they would be if not for an excruciating loss to Atlanta last week. The Bills are first in the NFL in sacks and fourth in rushing, yet they still haven't put it all together.
The continued development of rookie quarterback EJ Manuel is key. If he continues to progress down the stretch, then Buffalo will be a force to be reckoned with in 2014.
22. Green Bay Packers (5-6-1)
Is there any doubt that Aaron Rodgers is one of the NFL's most valuable players? When he plays, the Packers are a top team. When he doesn't, however, Green Bay is easily among the worst teams in the league.
Matt Flynn didn't perform as well as many hoped he would on Thanksgiving, and now the Packers are essentially in must-win mode for the rest of the season if they intend to make the playoffs.
21. New York Giants (5-7)
The Giants definitely deserve props for their resilience this season as they are 5-1 since an 0-6 start. However, they dug themselves too deep of a hole early in the year, and the odds of them digging out of it are quite slim.
New York's defense has played much better in recent weeks, and the return of running back Andre Brown from injury has worked wonders for the offense. If quarterback Eli Manning can get it together, the Giants still have a puncher's chance in the NFC East.
20. St. Louis Rams (5-7)
Although St. Louis isn't quite ready to make noise in the NFC, there is a lot of exciting talent on the roster. The offense is led by dynamic rookies such as running back Zac Stacy and wide receiver Tavon Austin, while the defense gets after the quarterback thanks to Robert Quinn and Chris Long.
They have been pesky opponents for contending teams like the Seahawks, Colts and Bears lately, and they will be a team to watch next season assuming they continue to make strides under Jeff Fisher.
19. Tennessee Titans (5-7)
The Titans' narrow losses to the Colts in two of the past three weeks have really damaged their playoff chances, but there is a lot to like about this team. The defense is solid as a whole, especially in the secondary, and the offense has a lot of great pieces as well.
Running back Chris Johnson is still dangerous, while Kendall Wright is developing into a legitimate No. 1 wide receiver. Although they have limitations with Ryan Fitzpatrick at quarterback, this isn't a team that others want to see on their schedule moving forward.
18. Miami Dolphins (6-6)
Miami could have easily gone into a tailspin after everything regarding the locker-room bullying scandal came out, but the Dolphins have continued to play hard for Joe Philbin. Because of that, they find themselves in a tie for the AFC's final playoff spot.
The Dolphins thoroughly outplayed the Jets in Week 13, but that isn't a big accomplishment these days. Quarterback Ryan Tannehill's play will be big down the stretch, and it will ultimately determine whether or not Miami is playing in January.
17. Pittsburgh Steelers (5-7)
Most had written the Steelers off after a brutal start to the season, but they have started to find themselves thanks to the play of quarterback Ben Roethlisberger. The emergence of rookie running back Le'Veon Bell has also been big, and although he suffered a concussion in Week 13, he seems like a good possibility to play this week, according to Ed Bouchette of the Pittsburgh Post-Gazette.
Le'Veon Bell will go through all tests, but looks good. McLendon, Woodley limited on Wed in practice

— Ed Bouchette (@EdBouchette) December 3, 2013
Pittsburgh will need him because it is in a must-win situation on Sunday against the Dolphins. A victory would give the Steelers new life in the playoff race.
16. San Diego Chargers (5-7)
By all rights, the Chargers should be a playoff team this season. Head coach Mike McCoy has done a fantastic job, quarterback Philip Rivers is experiencing a renaissance and San Diego has been competitive against some of the league's best teams.
The Chargers are in a very tough division, though, and they have a difficult schedule overall. They're definitely in the playoff mix since they're arguably the best team vying for the No. 6 spot in the AFC, but Rivers needs to play out of his mind in the season's final month.
15. Baltimore Ravens (6-6)
As far as the final playoff spot in the AFC goes, the Ravens currently control their own destiny. Baltimore scored a massive victory over Pittsburgh on Thanksgiving, and it is starting to play Ravens football again at the perfect time.
As good as the defense has been, quarterback Joe Flacco and running back Ray Rice need to get the offense going. Offense was a big reason for Baltimore's Super Bowl triumph last season, and it will have plenty to do with whether or not they make the playoffs this year.
14. Chicago Bears (6-6)
This season has been a bit of a role reversal for the Bears; their offense is humming, but their defense is hurting. Life after Brian Urlacher hasn't been pleasant for the NFL's No. 32 run defense, and Marc Trestman's offense has been unable to cover for all of their mistakes.
Explosive weapons like Matt Forte, Brandon Marshall and Alshon Jeffery make the Bears a joy to watch. However, they won't find a way to win the NFC North unless the defense starts playing like Bears fans have grown accustomed to.
13. Arizona Cardinals (7-5)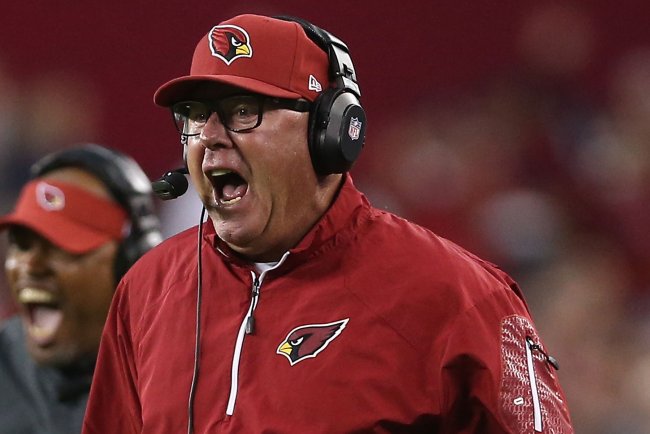 Christian Petersen/Getty Images
The Cardinals may not make the playoffs, and they may not be the most exciting team in the league, but you have to respect what they have accomplished. Despite all of their deficiencies, they find themselves one game out of a playoff spot in the competitive NFC.
Head coach Bruce Arians deserves a lot of credit, as does quarterback Carson Palmer for turning it on over the past several games. The Cards are a great home team, but they need to get it done on the road to reach the next level.
12. Philadelphia Eagles (7-5)
The Cardinals' playoff hopes took a hit in Week 13 due to the Eagles' ability to hold them off. Philly scored a massive victory at home, which allowed it to keep pace with the Cowboys atop the NFC East. One misstep could end the Eagles season, and they seem well aware of that.
The NFL's worst-kept secret is Eagles quarterback Nick Foles as everyone is now well aware of his exploits. With 19 touchdown passes and zero interceptions on the season, it is no wonder that Philadelphia has played its way back into contention.
11. Dallas Cowboys (7-5)
As good as the Eagles have been, they still need to get past the up-and-down Cowboys. As is usually the case, Dallas has a ton of talent, but it doesn't always translate to success. The Cowboys have shown their mettle in tight games over the past couple weeks, though, and quarterback Tony Romo is definitely coming of age.
The offense needs to be great since the defense isn't, but as long as Romo continues to play at this level, and DeMarco Murray continues to provide the Cowboys with a dangerous ground game, they will be a very dangerous team come playoff time.
10. Detroit Lions (7-5)
On Thanksgiving, the Lions showed what they are capable of when fully motivated as they destroyed the rival Packers in front of a national audience. Not only was the offense humming behind Matthew Stafford, Calvin Johnson and Reggie Bush, but the defense was also dominant against Rodgers-less Green Bay as well.
Detroit can be a tough, nasty team on the defensive side of the ball, and that was evident as Ndamukong Suh and Nick Fairley couldn't be stopped. The Lions have all the pieces necessary to contend come playoff time, but they simply need more consistency.
9. Indianapolis Colts (8-4)
Andy Lyons/Getty Images
Indianapolis is a tough team to figure out. The Colts have looked great at times in wins over the 49ers, Seahawks and Broncos, but they have also looked awful in blowout losses against the Rams and Cardinals. When everything comes together, though, Indy is definitely a team to be feared in the AFC.
Quarterback Andrew Luck continues to progress, and he suddenly has support in the running game now that Chuck Pagano has turned to Donald Brown rather than Trent Richardson. If the Colts can get back to midseason form over the next couple weeks, they are definitely capable of scoring some upsets come playoff time.
8. Cincinnati Bengals (8-4)
Much like the Colts, the Bengals are a very good team that isn't quite on the level of New England and Denver. With that said, Cincinnati did manage to beat the Patriots earlier in the season, so they can compete with the big boys. The Bengals have one of the league's best defenses and good balance on offense, which makes them a solid sleeper team.
The big question relates to whether or not their quarterback is good enough to win big games. Andy Dalton has shown flashes of brilliance, and he does have A.J. Green on the receiving end of many of his passes, but his inconsistency could do the Bengals in.
7. Kansas City Chiefs (9-3)
Are the Chiefs as good as they appeared to be when they started the season 9-0? No. It is no secret that they were aided significantly by an easy schedule. At the same time, though, they aren't as bad as their recent three-game losing streak might suggest. In fact, they haven't even played badly over the past three weeks.
The defense hasn't been as good against explosive offensive teams in the form of Denver and San Diego, but Kansas City's offense is performing much better behind quarterback Alex Smith. If Smith continues to play at a high level, the Chiefs will thrive down the stretch.
6. San Francisco 49ers (8-4)
Many expected the 49ers to run through the competition this season, and while that hasn't been the case, they have to feel good about holding a wild-card spot in the NFC. They only have a one-game lead over the Cardinals, but they are definitely in control. San Francisco's shaky offense has prevented it from playing up to its potential this year. That seems to be changing, though.
Quarterback Colin Kaepernick is playing with more confidence, and he now has a lot more help with wide receiver Michael Crabtree back in the fold. The receiving corps of Crabtree, Anquan Boldin and Vernon Davis along with the running of Frank Gore makes the Niners a complete team capable of going the distance.
5. Carolina Panthers (9-3)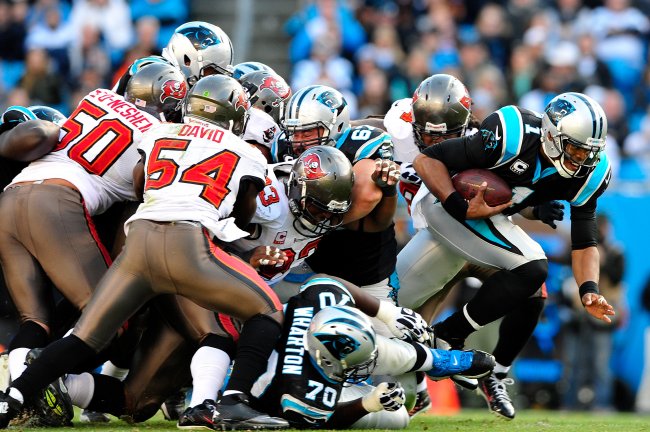 Grant Halverson/Getty Images
Some might call the Panthers a lite version of the Seahawks or 49ers, but it's entirely possible that they will prove to be better than both teams. After all, Carolina has already beaten San Francisco, and it pushed Seattle to the limit as well. With a defense that ranks among the best in the league in all categories, the Panthers have a chance to win against any team in any venue.
If quarterback Cam Newton continues to play at the high level that he has established, then the Panthers are going to be a very tough team to knock out. They're tied for first in the NFC South with the Saints, and they have a real chance to win the division.
4. New Orleans Saints (9-3)
NFL observers are understandably down on New Orleans after its loss to the Seahawks on Monday night, but the Saints are still among the best teams in the NFC. They certainly didn't show it in Seattle, though. Quarterback Drew Brees turned in what was easily his worst performance of the season as seen in this graphic courtesy of ESPN Stats & Info.
Drew Brees was 0-8 on passes thrown 15 yards or more downfield last night. Take a look at his zone chart. pic.twitter.com/v3wj7Z5kZ4

— ESPN Stats & Info (@ESPNStatsInfo) December 3, 2013
That showing was an outlier more than anything since Brees has been nothing short of spectacular as a Saint. Even though New Orleans looked terrible in Seattle, that doesn't mean that it is incapable of winning big games on the road or in poor weather.
3. New England Patriots (9-3)
Which team has the best chance of beating the Seahawks in the playoffs?
Death, taxes and the Patriots winning the AFC East. Those are seemingly the only constants in life, and the latter is once again on the verge of happening this year. New England boasts a commanding three-game lead in the division, and it hasn't shown any signs of slowing down.
The Pats had to battle in order to beat the Texans in Week 13, but they have taken out the Broncos and Saints this year, and with quarterback Tom Brady finally locked in, New England is an elite team.
2. Denver Broncos (10-2)
The Broncos' blown 24-point lead against the Patriots a couple weeks ago was definitely ugly, but that shouldn't cloud what Denver has accomplished this year. The Broncos' only two losses have been narrow defeats, and they are still on pace to have the most prolific offense in the history of the NFL behind quarterback Peyton Manning.
Manning answered questions about Denver's capability as a road team in Week 13 by throwing for over 400 yards and five touchdowns in a massive win over Kansas City. If the Broncos can hold onto the No. 1 seed in the AFC, it's hard to imagine anyone beating them come playoff time.
1. Seattle Seahawks (11-1)
It's impossible to leave Seattle out of the top spot after what it did to New Orleans on Monday. Absolutely everything was working for the Seahawks, and that has been the case for most of the season. The defense is spectacular, but perhaps even more importantly, the offense is trending toward an elite level as well.
Quarterback Russell Wilson is playing tremendous football, and it can be argued that he deserves to be in the MVP discussion along with Manning and Brees. Even though Wilson probably won't win it, his value to the Seahawks is immeasurable. Add in the fact that Seattle is in line for home-field advantage throughout the playoffs, and teams will be hard pressed to slow it down.
Follow @MikeChiari on Twitter