Why the Raiders Defense will be Top Ten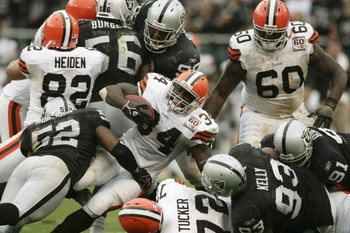 I recently posted an article called 10 Preseason Predictions for Oakland on bleacherreport.com. Prediction number two was that Oakland's Defense would rank in the top ten in the league this year. Today, I'm going to attempt to convince all the skeptics.
Let's start with the basics. Almost all the great defenses are supported by a strong running game. What do the 2008 Patriots, Giants, Redskins, Ravens, Titans, and Vikings all have in common? Give up…the answer is that all six of these teams ranked in the top ten in both rushing offense and overall defense. They all also bolstered winning records with the exception of Washington which finished 8-8.
The next question that I just know you want to ask is, 'Hey Bret, is a strong running game the only thing you need to have a good defense?' Hate to burst your bubble, but no, it is not the only thing.
The Raiders had the tenth ranked rushing attack in the league last year, but were only twenty-seventh in overall defense. On the flip-side of that, the Steelers ranked first in overall defense, and were only twenty-third in rushing offense.
The math doesn't always work out, but six out of ten isn't bad. With a sixty percent chance of the two statistics overlapping, Oakland shouldget it right at some point. Only Al Davis would have such bad luck to have his team in that bottom percentage in 2006, 2007, and 2008.
In 2006, Oakland's overall defense was ranked 3rd, the rushing offense was ranked 29th. In 2007, Oakland's rushing offense was ranked 6th, the defense was 22nd. Last season the rushing offense was 10th, the defense was 27th. Despite all this, my gut says this is the year they get these two statistics to overlap, and my grandmother always said you should go with your gut.
So, let us leave the past behind us, and let's talk about 2009. There is a new Defensive Coordinator in town by the name of John Marshall. The former Seattle/Carolina/San Francisco/Atlanta Defensive ring leader has an impressive résumé. Entering his 30th year as a coach, he has won two Super Bowl championships, and a national championship at the collegiate level.
In 2005, after being promoted from linebackers coach to defensive coordinator, Marshall's Seattle defense led the NFL in sacks (50) and only allowed one 100 yard rusher. They only allowed 5 rushing touchdowns. They also finished second in the league in defensive red-zone scoring (40.4%).
From 2005 to 2007, Seattle's defense ranked second in the league in sacks with 136. In 2007, they led the NFL in touchdown passes allowed (15) and ranked fourth in the NFL in interceptions (20).
Prior to Seattle, coach Marshall worked in Detroit as a defensive line coach in '02. Before Detroit he held a defensive coordinator/assistant head coach job in Carolina. From 1999 to 2001, Carolina's defense ranked fourth in the NFL with 105 takeaways.
In 1997, as the defensive coordinator for San Francisco, he headed the top rated defense in the NFL. They ranked second against the rush, second against the pass, and sent five players to the Pro Bowl.
Coming to Oakland, there may need to be a change in mentality. A different scheme is eminent. However, the players are very talented and well rounded. Through the draft over the past few years the Raiders have added a lot of depth. There will be some new faces, but hopefully, they can restore that old successful Raiders mentality.
You may be saying this defense was 27th last year, how are they supposed to crack the top ten with almost the same group of players as last year. To that I say you have to understand that there were a lot of changes throughout last year.
Coach Kiffen was fired during the bye week last year. The passing offense never really got started; this was not JaMarcus Russell's fault, mind you. The Raiders had several wide receivers hurt last year including Drew Carter, Ashley Lelie, Javon Walker, and Arman Shields.
Also, Coach Cable took over play calling late in the year from former offensive coordinator Greg Knapp. I don't really want to remind anyone of all timely false start and holding penalties, but there is that in addition to all the above.
Bottom line, the defense bolsters a ton of talent. There is good depth here at every position except maybe linebacker. Like I talked about in the beginning of this article, they will need help from the offense. Expect injuries and staffing changes to be limited this year.
With possibly the best running game in the league, the D should get plenty of rest. The passing game will get going this year as Russell settles in as a full time starter. If the wide receivers stay healthy, more than one will get a good shot at cracking that horrid 22 number in receptions.
I fully expect John Marshall to right this ship and get it back close to the form of the 2006 team. That is why the Raiders will be a Top Ten defense this year.
That said; let's break it down position by position. Keep in mind, this staring line-up is based on educated guessing, and is in no way a reflection of the coaching staff's final decision.
Starting at right defensive end
Standing 6'2" and weighing in at 260 lbs. out of Mississippi, 9 year pro Derrick Burgess. Recently plagued by injuries, Burgess is in a contract year. I expect him to come out and lay it all on the line hoping for that new contract for 2010. Burgess had two really good years back to back after joining the Raiders in 2005. I those two years alone, he recorded 27 sacks, 107 tackles, and 4 forced fumbles while playing in all 32 games. Let's just hope he can play at 75% of that level this year.
Starting at right defensive tackle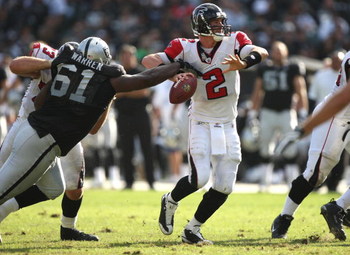 Standing 6'4" and weighing in at 325 lbs. out of Florida, 9 year pro Gerard Warren. The third pick of the 2001 draft, Warren has had some character issues in the past. His slate in Oakland is clean so far; keep up the good work Gerard. He has accumulated more career tackles than Burgess, playing the interior, and has 30 career sacks with 7 forced fumbles. Want to know more? Compare his stats to Albert Haynesworth's.
Starting at left defensive tackle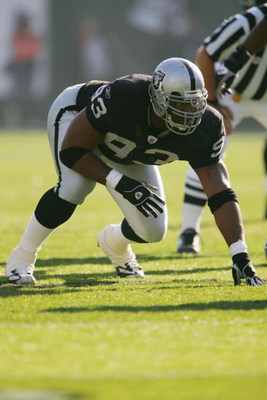 Standing 6'6" and weighing in at 300 lbs. out of Mississippi State, 6 year pro Tommy Kelly. Last year, Kelly served up a performance worthy of the top five for tackles and sacks by a defensive tackle. Despite fighting off injuries all last year, and being ripped by local media for underachieving following the signing of a large contact, expect Kelly to showcase his skills and not let the critics get the best of him. With 30 lbs. lighter Terdell Sands hopefully regaining his reputation from 2006 and 7 year pro William Joseph backing up the starters Oakland should be solid at DT.
Starting at left defensive end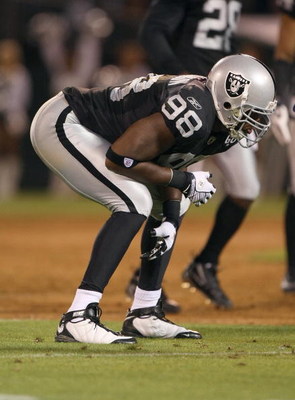 Standing 6'6" and weighing in at 280 lbs. out of Ohio State, 3 year pro Jay Richardson. Probably the biggest unknown on the defensive line, Richardson showed signs of improvement last year taking his tackle total up by 20 tackles and 2 sacks above the previous year,. With his size he should add some much needed run support this year. He may have to fight for his job if Burgess stays healthy and doesn't get traded, as last year 5th round pick Trevor Scott is coming on strong this offseason. Scott posted 5 sacks last year as a back-up.
Starting at weak side linebacker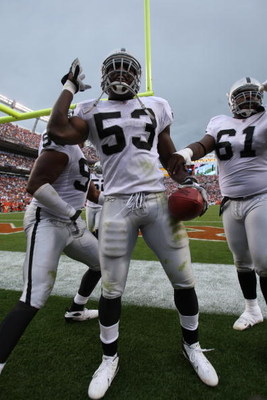 Standing 6'3" weighing in at 240 lbs. out of Texas-El Paso, 4 year pro Thomas Howard. He has shown his worth starting all 48 of his career games and racking up 245 solo tackles, 57 assists, 2 sacks, 2 forced fumbles and 7 interceptions plus 2 touchdowns. Nuff said.
Starting at middle linebacker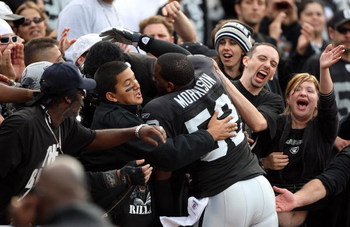 Standing 6'2" and weighing in at 240 lbs out of San Diego State, 5 year pro Kirk Morrison. Like Howard, he has started all of his games since his rookie year and has amassed 64 total starts. With 388 solo tackles, 111 assists, 3 sacks, 3 forced fumbles and 7 interceptions; he has definitely been a force in the middle. He is a fan favorite and arguably the heart and soul of this defense. Morrison is a legitimate MLB and offenses will have to game plan for him and Thomas Howard.
Starting strong side linebacker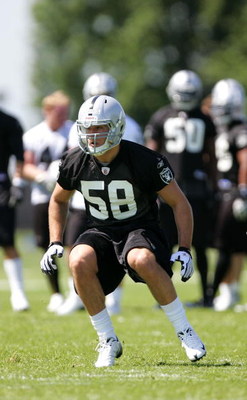 Are you ready for this? Standing 6'2" and weighing in at 232 lbs out of Oregon State, rookie OLB Slade Norris. Having played this position in the mini-camp, I am guessing that the staff would like for him to be a starter. Norris ran a 4.65 40 yard dash at his pro day. As a senior defensive end with the Beavers, he recorded 18.5 tackles for loss and 10 sacks. He has the speed, expect him to gain that needed 10 lbs. or so.
Starting at Cornerback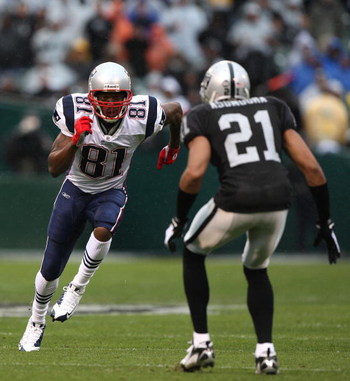 Standing 6'2" weighing in at 210 lbs. out of California, 7 year pro Nnamdi Asomugha. Number 21 is one of the best cornerbacks in the league, and has the reputation and skills to prove it. Quarterbacks don't want to throw at him, and coach's try to game-plan around avoiding his side of the field. Nuff said.
Starting at Free Safety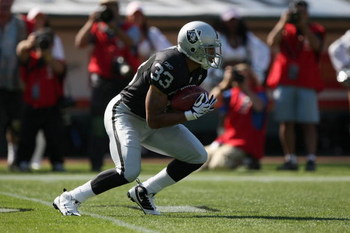 Standing 6'0" weighing in at 205 lbs. out of Connecticut, 2 year pro Tyvon Branch. He is very fast, with great range and is a vicious hitter. Tom Cable is very high on this 2nd year man although he didn't get a chance to show what he could do last year because of injury. Expect Hiram Eugene and Michael Huff to see a lot of reps at both safety spots.
Starting at Strong Safety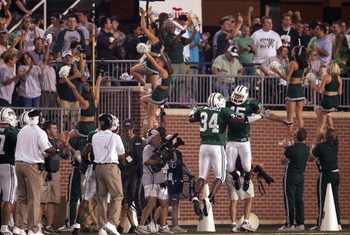 Standing 6'1" and weighing in at 216 lbs. out of Ohio, rookie safety Mike Mitchell. He is also very fast with great range, and knocks people out with great hitting abilities. Many people compare his style and attitude on the field to Ronnie Lott or Jack Tatum. I just have to reiterate if you haven't seen his highlight tape, go watch it now. This kid will be good for a long time, and he's motivated, thanks Kiper.
Starting at cornerback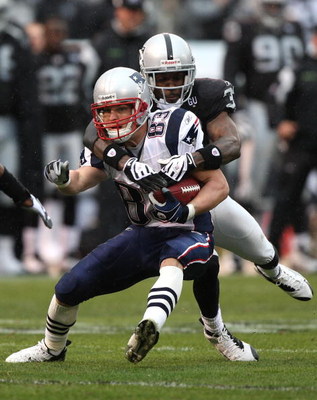 Standing 6'1" and weighing in at 200 lbs. out of Louisville, 7 year pro Chris Johnson. He supplanted DeAngelo Hall last year and started the second half of the year opposite Nnamdi. He finished the year with 35 tackles, 1 forced fumble and three interceptions. Expect that last number to increase by at least 3 interceptions as he will see a ton of balls headed his way this year. On a recent poll on my Profiling Chris Johnson article, 84.6% of people polled said that he is legit, and the other 15.4% said that he would make the Pro Bowl this year.
Keep Reading

Oakland Raiders: Like this team?