WWE's tag team division boasts the best comeback story, the most impressive rookies and the company's MVPs.
The bottom of the division is home to comedy-relief teams and also-rans, but the top of it is stacked with promising talent.
John Cena and Randy Orton may be the ones with their names on the marquee, but The Shield, The Wyatt Family, The Usos and Cody Rhodes and Goldust have been WWE's foundation as of late.
Tag team wrestling, like punk rock, boxing and the novel, has been proclaimed dead several times over. The art of tag teaming is not lost, though; it's thriving.
In recent years, pining for The Road Warriors, British Bulldog, The Hardy Boyz, Edge and Christian and other teams of the past has seemed to intensify. Fans all have their own definition of exactly when the good old days occurred, but they all tend to agree that they certainly aren't happening today.
That concept needs to be rethought.
WWE's best matches, best rising stars and most compelling stories of the second half of 2013 have come from the tag team division. Call it a resurgence or simply call it excellence; tag team wrestling is WWE's most entertaining offering for the moment.
WWE.com
Story
Goldust's resurrection has been one of the best things about WWE in 2013.
It has blended the power of nostalgia, redemption and inspiration into a single dramatic cocktail. Goldust came back to try and get his brother Cody's job back. While he failed to do that when Orton defeated him, he showed fans that he wasn't just going to be a novelty act.
Goldust moved quickly and fluidly, as if he'd spent his time away from WWE peeling away years from his age.
He and his brother teamed up at Battleground with employment and pride on the line. The moving victory, celebrated with their father and others, is the kind that makes professional wrestling such great entertainment.
The Rhodes boys followed that with one of the most memorable tag team title wins in recent memory.
In April of 2012, Primo and Epico defeated Kofi Kingston and Evan Bourne for the tag belts in underwhelming fashion. They did so with little story at a house show, involving two teams with which audiences weren't enamored.
The last three tag team champs, on the other hand, have been among the most entertaining and memorable members of the roster.
Goldust's story of making an unlikely and unexpected run has continued with him playing a key role in a number of great tag team matches. The Real Americans challenged Goldust and Rhodes for the championships in an excellent bout on SmackDown on Nov. 22.
The only match one could argue was more entertaining that night came from the tag division as well, when Rey Mysterio teamed with The Usos against The Shield.
Those bouts, along with several others, have featured a bevy of future megastars and world champs. The tag team division's powerhouses, mat wrestlers and memorable characters represent a future teeming with promise.
Promise
After being unsure of what to do with him, WWE has found a fitting home for Antonio Cesaro in the tag team division.
A wrestler many project to be a top star at some point now provides depth to the tag team scene. He and Jack Swagger have occasionally been asked to do silly things, such as inducing Titus O'Neil into vomiting, but they have also been dependable workers.
They've grown increasingly popular too. One could argue that Cesaro's Giant Swing is more popular with fans than Alberto Del Rio.
In addition to the Swiss Superstar, the tag division is also home to a cult-like group that has flourished since coming up from NXT. Just a few months after debuting on the main roster, Bray Wyatt has already challenged CM Punk as the best talker in the WWE.
He has completely slid into the skin of his creepy character, delivering unsettling, poetic ramblings.
On Monday Night's Raw, he had his best performance on the microphone to date. Wyatt tried to convince Bryan to join his "family," doling out quotable lines in the process.
"Together we can bring the machine to its knees, Bryan" - Bray Wyatt ...okay, that gave me chills. #RAW

— The Steel Cage (@thesteelcage) December 3, 2013
As much acclaim and attention as Wyatt has garnered, his clan is no one-man show. Luke Harper and Erick Rowan have been compelling as beastly brutes. Their matches have been brawl-filled bouts that have elevated their shows.
Against Punk and Bryan at Survivor Series, they delivered one of the night's best matches. On the following Raw, the entire Wyatt Family battled Punk and Bryan, prompting Jim Ross to toss out a choice bit of flattery.
This tag match will be tough to follow tonight on #wweraw Punk & Bryan are extraordinary. Wyatt's can be special.

— Jim Ross (@JRsBBQ) November 26, 2013
The Wyatt Family would be WWE's rookies of the year were it not for a trio of potential main eventers.
Consistency
The Shield have been great from day one.
They debuted at TLC 2012 in a fantastic match against Ryback and Team Hell No. Lately, they have been the rock WWE can lean on when it comes to both TV and pay-per-views.
The Shield have been involved in one of the best matches of Raw, SmackDown and pay-per-views for their entire run. That has been especially true of the last three pay-per-views.
While fans were grumbling about the booking of the main events and the way Bryan's quest for the WWE title went, The Shield were knocking out home runs.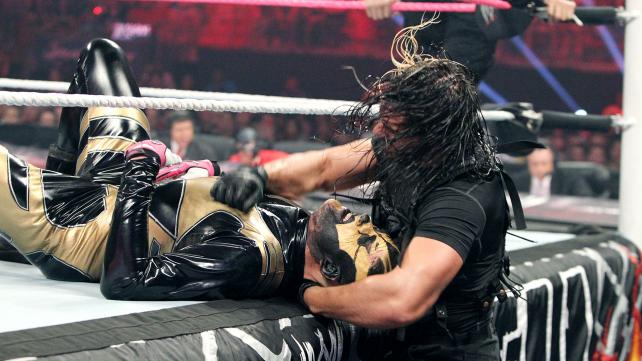 WWE.com
At Battleground, Roman Reigns and Seth Rollins delivered against Rhodes and Goldust. Dave Meltzer of Wrestling Observer, via ProFightDB.com, rated that match higher than everything else on the card.
Those was again true for Hell in a Cell, as Meltzer, via ProFightDB.com, awarded the three-team clash that opened the pay-per-view a higher rating than both the main event and John Cena's win over Alberto Del Rio.
Survivor Series' two best bouts were The Wyatt Family against Punk and Bryan and the traditional elimination tag team match that essentially served as a showcase for the tag division as well as Reigns' coming-out party.
When WWE has needed a reliable source of entertainment for a main event on Raw or SmackDown, it has continually turned to The Shield. Whether it's been two-on-two or 12-man action, tag team wrestling has been consistently great as of late.
There's a new golden age of tag teams in the making. WWE needs only to trim the fat and emphasize its more serious teams while relegating squads like Los Matadores to house shows.
Tag team wrestling continues to impress, as WWE's top teams all show that they are valuable pieces for the company. Curtis Axel and Ryback appear to be the newest additions to the field. Should they be booked as vicious heels and not easily toppled scrubs, those two could further deepen the division.
It's a division that for so long was WWE's weak point and has now emerged as one of the company's pillars.