Now that the cream of the crop have truly separated themselves from the pack, we finally have some clarity as to which teams will vie for BCS Bowl titles.
As a result, we also now have a much clearer idea of which teams will be playing in bowl games outside of the BCS series. As of now, there are a number of potential tilts that appear to be doozies.
Heading into the final two weeks of the 2013 college football regular season schedule, here's an updated look at which teams could be going head-to-head in the year's most intriguing non-BCS bowl games.
Alamo Bowl
It wouldn't be the postseason game Oregon was hoping for a couple of weeks ago, but the Ducks appear to be a solid bet to receive an invitation to the Alamo Bowl.
And, if the Ducks are tabbed to be the Pac-12's representative, they'll probably face a more than formidable foe in the University of Oklahoma Sooners.
Yes, the Sooners' in-state showdown against the No. 6 Cowboys will have an impact on whether they garner an invite to San Antonio, but this team, with two wins over top-25 opponents on the year, deserves to be here.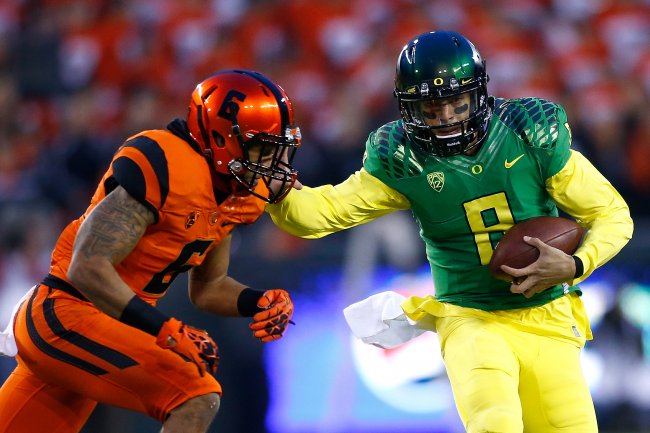 Jonathan Ferrey/Getty Images
While Oklahoma waits to see where the postseason will take them, the Ducks will be glued to the television when Arizona State takes on Stanford, as the outcome of that game will likely have an impact on where Marcus Mariota and company head this winter.
Assuming Stanford wins, Mariota, De'Anthony Thomas and the rest of the Ducks will be forced to try and salvage their season by beating a very respectable Oklahoma squad at the Alamo Bowl.
Cotton Bowl
Due to the undeniable depth of the SEC, the Cotton Bowl is bound to feature one of college football's brightest quarterbacks from the nation's most talented conference.
But will it be Zach Mettenberger, Connor Shaw or Johnny Manziel? Both teams have notched impressive wins and suffered demoralizing defeats, but it seems inevitable that LSU, South Carolina or Texas A&M will represent the conference in the Cotton Bowl this season.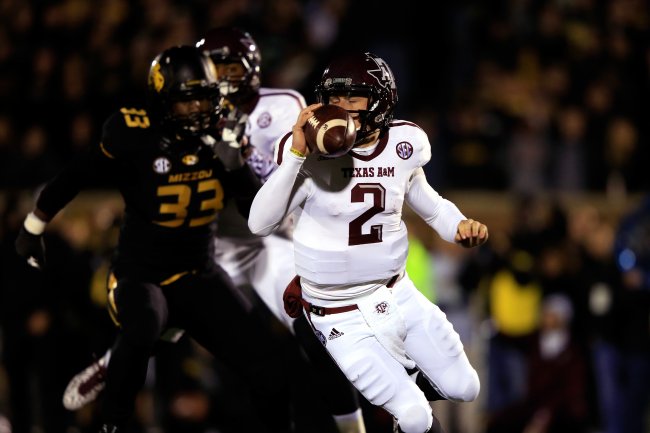 Jamie Squire/Getty Images
At 9-3, Les Miles' Tigers have to be considered at least a contender to earn the bid, even if LSU dropped games to Ole Miss, Alabama and Georgia in 2013.
After having smoked the Aggies 34-10 at home, No. 15 LSU's has a much better chance than Manziel's bunch, but Steve Spurrier and company may be the team to watch here.
With Spurrier's Gamecocks at 10-2, they're the front-runner to get the nod, but one cannot discount the financial benefit of having Manziel on the field, as the reigning Heisman winner is undoubtedly college football's most popular player.
That being said, as of now, it sounds like the University of South Carolina Gamecocks are the favorite to get the call to play in the storied Cotton Bowl.
Cotton Bowl CEO: "We would be very proud to have coach Spurrier in our game." Quotes from Cap One, Cotton & Outback. http://t.co/8jsTprJBfr

— Ryan Wood (@rwood_SC) December 3, 2013
Texas Bowl
If things go according to plan, one team will leave the Texas Bowl with a great deal of frustration.
That's because, as of now, the Texas Bowl will likely feature Minnesota and Texas Tech—two teams that have struggled mightily down the stretch this season.
For the Golden Gophers, a victory over a quality opponent like Texas Tech would at least begin to make up for the two-game losing streak that saw the team drop from the rankings after falling to Wisconsin and Michigan State.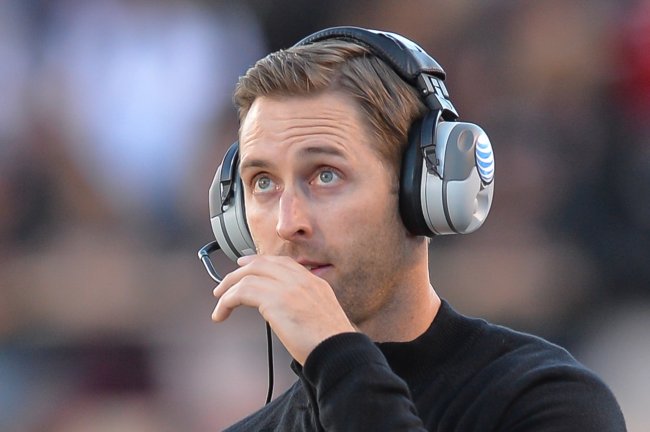 John Weast/Getty Images
At the other end of the field, the Red Raiders will be hungry to end what has been a disappointing season on a positive note, as Kliff Kingsbury's boys have dropped five straight after winning seven to start the year.
Last year, we saw these two teams put forth a very entertaining display during Texas Tech's 34-31 victory at Reliant Stadium, and it looks like we may see the same matchup again this year.