In the last 48 hours, the Oakland A's have been quite active, setting themselves up nicely to finally advance past the American League Division Series for only the second time since Billy Beane became general manager.
The A's official website has the scoop on the Dec. 2 wheelings and dealings. Oakland signed veteran pitcher Scott Kazmir, via Jane Lee/MLB.com, and then later the same day, the team swapped Jemile Weeks for All-Star closer Jim Johnson (also via Lee). Less than 24 hours later, Ken Rosenthal tweeted that the Texas Rangers sent outfielder Craig Gentry and pitcher Josh Lindblom to Oakland in exchange for Michael Choice and Chris Bostick.
But why stop there?
The A's then sent DH Seth Smith to the San Diego Padres for reliever Luke Gregerson, as reported by Oakland-area blogger Chris Kusiolek (h/t: MLBTradeRumors.com).
Two days. Five fresh faces welcomed in. Five bid adieu.
Many media members see the writing on the wall. San Jose Mercury News writer John Hickey makes it clear: "Beane is spending as if the A's time is now."
Susan Slusser of the San Francisco Chronicle echoes and expands upon Hickey's analysis:
But I believe it signals that the A's, after making the postseason in each of the last two years, believe the window might be closing soon and they are going for it in 2014. That's the only reason you'd give up a No. 1 draft pick like Choice for a platoon outfielder, especially when dealing with a division rival.
Will these moves be the upgrades Oakland needs to push itself deeper into the playoffs?
Scott Kazmir Signing
This kind of move is nothing new for the A's. Almost annually, they take on project pitchers in hopes they'll rebound and have a fantastic year in Oakland on their way to securing one more impressive contract.
They've done it with guys like Esteban Loaiza, Ben Sheets, Brandon McCarthy and Bartolo Colon.
Now it's Kazmir's turn.
The only difference is, Kazmir started his rebound last season with the Cleveland Indians. His "next big contract" may be the $22 million deal with Oakland. His big question mark is this: Can he continue the momentum from last year?
Kazmir will be 30 years old, which for pitchers these days isn't close to the end. And before 2013, he did string together four consecutive quality years.
Yet he has had his (recent) fair share of disastrous years, too.
Oakland has talented pitching already in Jarrod Parker and Sonny Gray at the top of the rotation and A.J. Griffin, Dan Straily and Tommy Milone at the back end. Kazmir should slide nicely into the spot Colon once occupied. He likely won't pitch as well as Colon did in 2013—that really was a miracle—but if Parker starts strong and Milone can rebound, the A's won't need Kazmir to be a 20-game winner.
Of course, it'd be nice...
Jemile Weeks (and a PTBNL) for Jim Johnson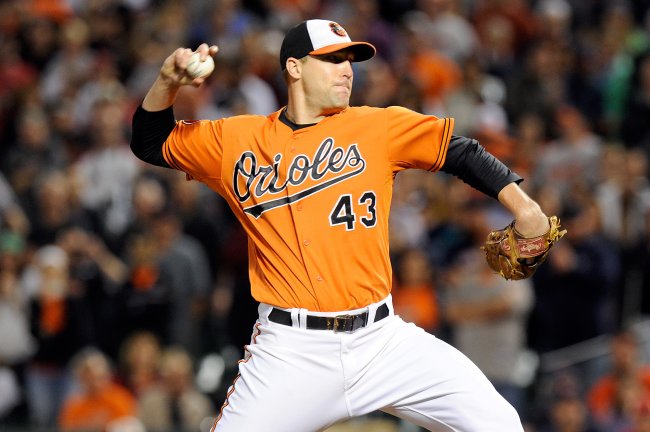 Greg Fiume/Getty Images
This move certainly has its pros and cons.
For starters, the A's seemed adamant that they couldn't afford All-Star closer Grant Balfour. Steve Adams of MLBTradeRumors.com projects Balfour to earn a two-year, $18 million contract. So taking on Johnson's $10 million is odd.
Furthermore, the move is boggling because popular belief saw the A's promoting from within for closing duties. According to Lee on Oct. 31:
Oakland's bullpen was one of the best in baseball this year, thanks in large part to Balfour. So should the right-hander depart via free agency, the A's will quickly enter the market for an impact arm to replace him. Don't count on them hiring a proven closer, though. Closing duties, in the event Balfour leaves, will likely go to Ryan Cook or Sean Doolittle, leaving the A's to pluck from outside options that will complement them.
The A's clearly backed off on both filling the role internally and saving on big-time closers.
Yet it's a good move in the sense that, as Lee said, the bullpen was one of the best in baseball, and now the 2014 edition will rival last season's. It could be even better. The 30-year-old former Oriole saved 101 games in two seasons compared to 35-year-old Balfour's 62.
Lastly, the fact that the A's got a stud closer for Weeks is pretty amazing.
The A's are the clear winner, for now, dependent on the player to be named later.
Michael Choice and Chris Bostick for Craig Gentry and Josh Lindblom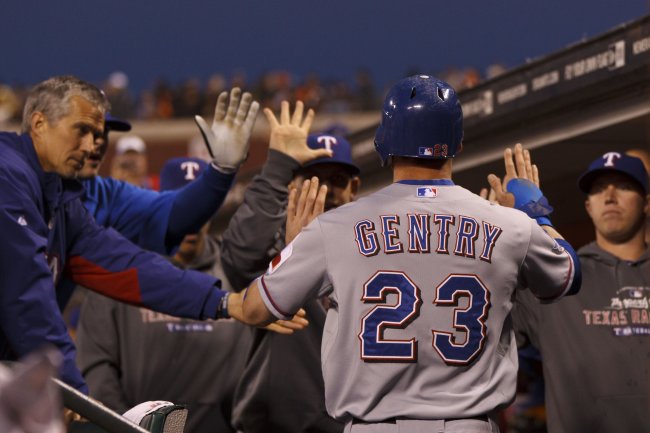 Jason O. Watson/Getty Images
Flat out, I'm not a fan of this trade.
Yoenis Cespedes, Coco Crisp and Josh Reddick are your starters. For injuries and rest, Choice should have been the fourth option. The 24-year-old hit .302 in the minors last season and .278 in nine Major League games. He's more than capable—and ready—to take that fourth outfield position.
So why go to Gentry?
Richard Durrett of ESPN Dallas/Fort Worth writes: "The Texas Rangers wanted more power in the outfield and the Oakland Athletics wanted more defense."
Reddick is a Gold Glove defender. Crisp and Cespedes hold their own just fine. The lineup needed a potent hitter for when these guys go cold or get banged up, not a defensive replacement.
Nothing against Gentry—he's a pretty good hitter.
He possesses a .280 career average, hitting near .300 against right-handed starters. And many will point to his .310 average against the A's or his .421 average at O.co Coliseum. He won't have that same luxury, though, with those pitchers now on his side.
Choice is too good of a prospect, he's young and he's already earned the right to be the fourth outfielder. It doesn't make sense to trade him for an older fourth outfielder. It's worse that he went to a divisional rival.
Bostick was a decently promising second baseman. In Single-A in 2013, he flashed a bit of everything with 14 home runs, 89 RBI and 25 stolen bases.
Lindblom is a journeyman reliever who has played for three teams in three years.
Seth Smith for Luke Gregerson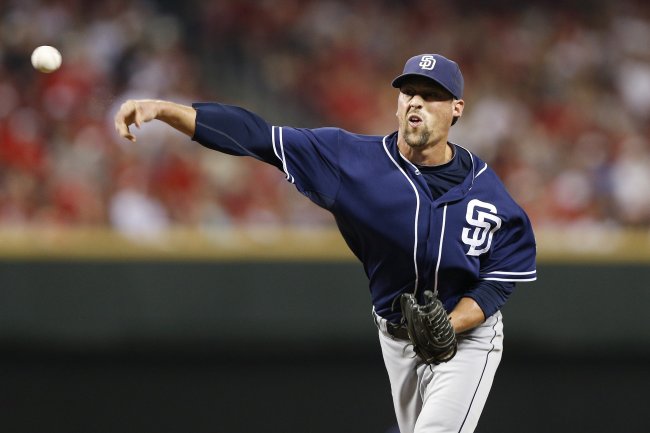 Joe Robbins/Getty Images
While I may not have been keen on the trade above, this one is a solid swap.
In two years with the Athletics, Smith was quite ho-hum, hitting .246. He also averaged 11 home runs, 46 RBI, 44 walks and 96 strikeouts. In a prior article, I pointed out Smith's 2013 production wasn't all that much better than Chris Young's.
Obviously, Gregerson won't jump into Smith's spot in the lineup.
But out of San Diego's bullpen, he locked down a 2.71 ERA. He only gave up three home runs and walked 18. He struck out 64.
Based on last year, Gregerson can do more damage for the A's than Smith. The downside of the trade is that for a team that needed hitters, it just got rid of one and hasn't really replaced him (unless you count Gentry). Likewise, the bullpen is quite full now.
Overall Impact and a Look Ahead to 2014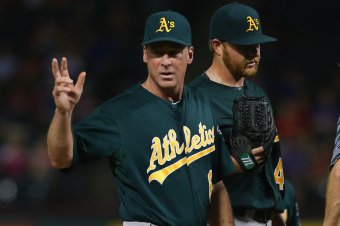 Ronald Martinez/Getty Images
Big-market rivals like the Detroit Tigers, Texas Rangers, New York Yankees and Los Angeles Angels are upgrading. To hang on to the AL West crown and go further into the postseason, the A's too must upgrade.
The next closer has big shoes to fill. Johnson will do just fine. Gregerson adds even more firepower to an already stout bullpen.
Gentry could easily be an upgrade over Chris Young. It'll be hard to hit worse. In the short term, this is an OK move. However, there's a chance Choice would have gotten the job done. And in the long run, this move could really come back to bite the A's.
Kazmir is a wild card.
The pitching is in fantastic shape, better on paper than it was a season ago. In 2013, A's pitching allowed an average of 3.86 runs per game. That number could certainly go down. However, hitting is still a question mark. In 2013, Oakland scored 4.73 runs per game (767 total divided by 162 games). That's with career years from Jed Lowrie and Josh Donaldson.
Stronger pitching and similar offense. That could spell an American League Championship Series berth. But it's going to take another bat to get them into—and win—the World Series. Another real big bat.
And it might just be the next piece, seeing as though the A's currently have one more major trade chip.
Sources: Yankees among many teams showing interest in A's starter Brett Anderson. A's likely to deal him at Winter Meetings.

— Jeff Passan (@JeffPassan) December 3, 2013
Crisp, Lowrie and Donaldson lead things off, equaling their 2013 output. Cespedes continues to grow as a hitter, offering the power in the lineup. Another strong bat and Moss behind him make it difficult to pitch around the Cuban Missle. Reddick rebounds, and the bottom of the lineup simply contributes when needed.
Then they don't go cold in the postseason.
If that happens, the 2014 Oakland Athletics have a better chance of winning the World Series than they did a season ago. They have a better chance than their AL West rivals and the majority of the American League altogether.
If that happens.