The No. 4 Syracuse Orange shook off a late first-half run by the Indiana Hoosiers and pulled away shortly after the half in a decisive 69-52 victory at the Carrier Dome.
Syracuse gives the ACC its first W of the Big Ten/ACC Challenge. The Orange defeat Indiana 69-52. #IUvsCUSE

— ESPN College BBall (@ESPNCBB) December 4, 2013
This entry in the Big Ten/ACC Challenge went to the hosting Syracuse squad, who was led by sharpshooting guard Trevor Cooney's 21 points and six three-point field goals.
ESPN Stats & Info highlighted Syracuse's nonconference dominance at home and how well it has fared against Indiana:
Syracuse has won 47 straight non-conference home games, now 5-1 all-time vs Indiana

— ESPN Stats & Info (@ESPNStatsInfo) December 4, 2013
Freshman Orange point guard Tyler Ennis stuffed the stat sheet in delivering 17 points, seven rebounds, eight assists and four steals with just one turnover.
Ennis' counterpart, Yogi Ferrell, continued showing improvement in making four shots from beyond the arc for 12 points, while freshman big man Noah Vonleh logged a team-high 17 points, six rebounds and three blocks.
It was Ferrell who keyed a 13-3 run that seemed impossible when the Orange raced out to a 10-0 lead to begin the game, putting the Hoosiers up 27-26 at one point and ultimately trailing 33-29 after 20 minutes:
Yogi Ferrell leads the Hoosiers on a 13-3 run. Indiana now leads 27-26. #IUvsCUSE

— ESPN College BBall (@ESPNCBB) December 4, 2013
However, this Hoosiers bunch is clearly missing the presence of departed NBA lottery picks Cody Zeller and Victor Oladipo.
It lacks the fluidity, ball movement and explosiveness on offense to operate at a high enough level to knock off a team of Syracuse's caliber on the road.
The Orange took control with a 17-1 run that commenced toward the beginning of the second half, and it was a stretch that Indiana could not quite recover from. Syracuse's 2-3 zone defense was suffocating, not allowing the inexperienced Hoosiers to gain any offensive traction.
Indiana has gone nearly 9 minutes without a FG. Cuse leads 54-36 with 9:19 left. #IUvsCUSE

— ESPN College BBall (@ESPNCBB) December 4, 2013
CBS personality Doug Gottlieb pointed out how Indiana had no true shooters, which is not good when facing the predominantly zone-oriented defense Jim Boeheim deploys:
Indiana has no pure shooters... How is that possible? #IUBB

— Doug Gottlieb (@GottliebShow) December 4, 2013
Confidence is a big part of shooting, and being thrown into a hostile environment could not have been good for an Indiana squad lacking leadership.
That resulted in the Hoosiers dishing out only six assists as a team—far below their already alarming average of 11 per contest entering this matchup.
Seth Greenberg of ESPN noted how some of the pieces still in place for Syracuse have helped Cooney improve from a 32.2 percent shooter last year to a lethal perimeter threat:
Cooney has improved as much as any player in the country. Confidence is powerful great job by Syracuse staff

— Seth Greenberg (@SethOnHoops) December 4, 2013
Indiana had been the No. 1 rebounding team in the nation, but the Orange's size, featuring Rakeem Christmas, C.J. Fair and DaJuan Coleman, gave Tom Crean's bunch trouble, forcing the Hoosiers into nine second-half turnovers.
Ferrell went into the lane, and whenever he tried to kick it out after he penetrated, he often gave the ball away. Meanwhile, Vonleh could not get enough going to help the Hoosiers mount any sort of rally.
After the game, Boeheim emphasized how impressed he was with his backcourt of Cooney and Ennis, per ESPN.com's Andy Katz:
Just interviewed Syracuse coach Jim Boeheim post here and he reiterated how the guards have exceeded expectations. Cuse 1-0 in Challenge.

— Andy Katz (@ESPNAndyKatz) December 4, 2013
Here is an overview of some key performers from Tuesday's contest, along with a quick look at what lies ahead for both of these marquee programs.
Grades
Trevor Cooney, G, Syracuse: A
The superb sophomore was a menace on the defensive end, too, jumping into passing lanes and snatching himself four steals to match Ennis for a game-high total.
SU assistant Gerry McNamara told me before the game that he sees himself in Trevor Cooney. He loves coaching him. Great motor. Work ethic.

— Andy Katz (@ESPNAndyKatz) December 4, 2013
Cooney's emergence in the early going is an encouraging sign and suggests that he will continue to blossom and remain a key cog in the success of one of college basketball's elite teams.
Yogi Ferrell, G, Indiana: B-

As a freshman, there was no pressure on Ferrell to be one of the big stars. Now, the Hoosiers don't have much choice but to look to him for leadership.
One silver lining from this game is that Ferrell is settling into his role a little more, keying a solid run near the end of the first half, and is improving his jumper:
Yogi Ferrell improving his consistency from deep will be such a key this year. More dangerous. Different PG than last year. Needs to be.

— Jeff Borzello (@jeffborzello) December 4, 2013
But that must become more of a consistent trend if Indiana is meant to even come close to replicating last year's success. Ferrell's defense also must continue to be a point of emphasis moving forward.
Tyler Ennis, G, Syracuse: A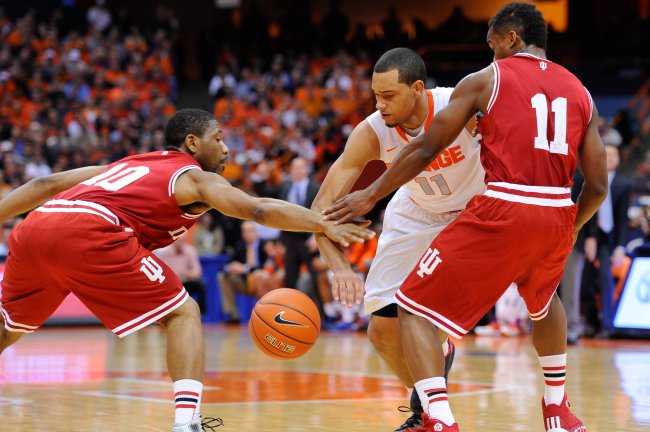 Rich Barnes/Getty Images
The first-year phenom is proving to be a viable successor to Michael Carter-Williams. Although he's not as tall, Ennis plays his own brand of basketball that is just as effective in running the show for the Orange.
Jimmy Dykes of ABC and ESPN declared Ennis the best freshman guard in the nation:
I thought it in Maui and continue to think Cuse Tyler Ennis best Frosh point guard in country so far. make your argument.... #askjimmy

— Jimmy Dykes (@JimmyDykesLive) December 4, 2013
Ennis did little to dismiss that notion, and it will be exciting to see what he does for the remainder of what looks to be a promising season.
Noah Vonleh, F, Indiana: B
The Hoosiers had to lean heavily on Vonleh if they were meant to have a shot at pulling off the improbable upset.
There's no question that the Orange had some difficulty handling Vonleh on the inside once he had the ball, as he wound up shooting 16 free throws and sinking 13 of them. Four turnovers also hurt his cause, though, and this is a learning experience for Vonleh and the rest of the Hoosiers.
What's Next?
Syracuse gets to stay in the Carrier Dome and in all likelihood extend its undefeated record against Binghamton on Dec. 7. The Hoosiers will head back to Bloomington for an easy home contest to face North Florida on the same date.