UFC Fight Night 33: Hunt vs. Bigfoot Fight Card, TV Info, Predictions and More
Use your ← → (arrow) keys to browse more stories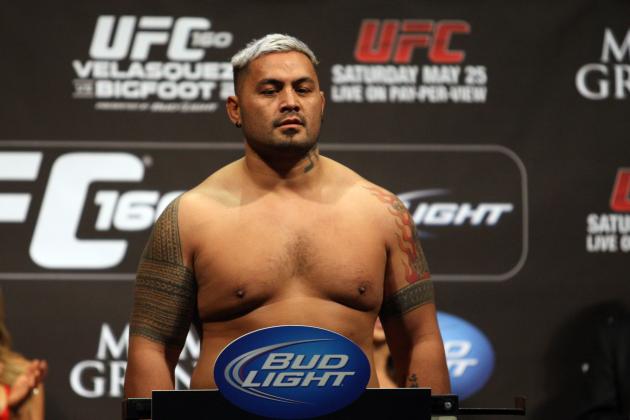 Bruce Fedyck-USA TODAY Sports

Any time two big, powerful heavyweights like Mark "Super Samoan" Hunt and Antonio "Bigfoot" Silva are set to clash, fans are going to take notice. Knockouts are what drives combat sports and there is a huge chance we'll see one of these big guys go to sleep on Friday night.
Hunt and Silva are the main event for UFC Fight Night 33 in Brisbane, Queensland, Australia, but the main card is stacked with notable fighters.
Take a look at the full card, predictions and the viewing information for the event. Just beyond the matchups below is deeper analysis on the fights that have a good chance to earn Fight Night bonuses.
Friday, Dec. 6
Main Card (Fox Sports 1 at 9 p.m. ET)
Mark Hunt vs. Antonio Silva
Shogun Rua vs. James Te Huna
Ryan Bader vs. Anthony Perosh
Pat Barry vs. Soa Palelei
Dylan Andrews vs. Clint Hester

Undercard (Fox Sports 2 at 7 p.m. ET)
Julie Kedzie vs. Bethe Correia
Takeya Mizugaki vs. Nam Phan
Nick Ring vs. Caio Magalhaes
Richie Vaculik vs. Justin Scoggins
Bruno Santos vs. Krzysztof Jotko

Undercard (Watch Online at 6:30 p.m. ET) click here to see viewing options.
Ben Wall vs. Alex Garcia
Submission of the Night: Alex Garcia Will Have a Memorable UFC Debut
The man they call "The Dominican Nightmare" will make a splash in the UFC. Garcia is just 26 years old and he has a very well-rounded game. I'm predicting that his submission prowess will be the aspect that shines on Saturday.
He is facing another fighter making his UFC debut. Ben "Manimal" Wall is undefeated and has scored two of his wins by submission. While that is an impressive beginning to his career, he doesn't have the experience of explosiveness in his takedowns that Garcia possesses.
Look for Garcia to overwhelm Wall with his speed and pursuit initially, but ultimately he'll get him to the ground and win by submission. The Dominican Nightmare is an exciting prospect who has real star potential. You might just remember this performance as the first time you saw him fight after he's won a title.
This guy has the goods.
KO of the Night: Mark Hunt's Power Will Overwhelm Bigfoot
It's kind of hard to pick between the main event and the Pat Barry vs. Soa Palelei fight, but I'd favor the main event because the KO is less likely to result from exhaustion. Palelei is strong as an ox, but his conditioning looked terrible against Nikita Krylov in his debut with the promotion at UFC 164.
Bigfoot is no easy win—unless, of course, you're Cain Velasquez—but the Brazilian isn't very fleet of foot. If Hunt's opponents aren't nimble, they're forced to stand in front of him. I'm convinced no fighter can simply stand in close quarters and outslug Hunt.
Junior dos Santos didn't do it. He moved around and showed his edge in athleticism to set up the decisive head kick. Silva doesn't have that option and he's going to pay the price for being too slow on Saturday.
Fight of the Night: The Villain Will Outlast Clint Hester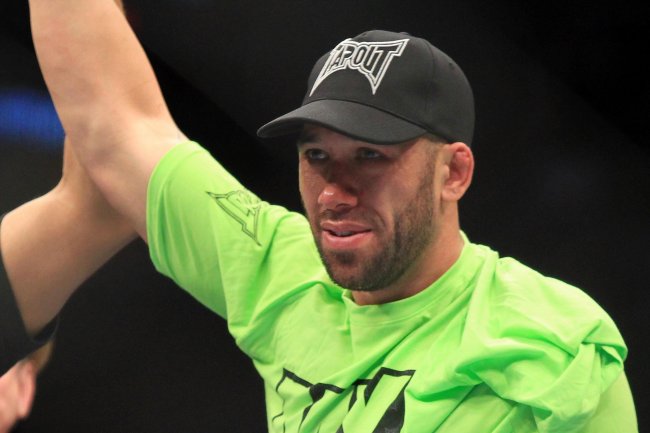 Pat Lovell-USA TODAY Sports
Fans should be excited to see this fight. Dylan "The Villain" Andrews is a rough customer from New Zealand who is well-rounded, but he loves to finish fights. He'll have to be careful against Hester, though.
The latter is an explosive athlete with elite power. Both men are veterans of The Ultimate Fighter Season 17. They were teammates on Jon Jones' team, but not on Saturday.
Hester was a bit of a disappointment during the show. After being Jones' first selection, he was eliminated in the first match in the tournament. Andrews, ever the overachiever, made it to the semifinals after being picked last. He was stopped by runner-up, Uriah Hall.
When Andrews and Hester battle on Saturday, the same bug that bit Hester at TUF will bite him again. Andrews' game is more well-rounded and he'll take Hester to the ground for a submission. Along the way, we should see some pretty exciting striking. No one can take Hester's strikes consistently, but Andrews is going to remind fans how tough he is in this one.
The Villain will persevere for the win.
Follow me for news and musings on MMA.