5 Reasons Stanford Basketball Could Surprise in the Pac-12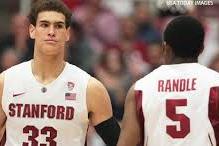 csnbayarea.com
Dwight Powell (33) and Chasson Randle (5)
Stanford basketball, once an annual powerhouse in the Pac-12, is going through a rough patch.
Five straight missed tournament appearances and a series of mediocre Pac-12 finishes have Stanford fans disillusioned and disinterested. This is a critical year for the Cardinal; however, this might be Johnny Dawkins' best team at Stanford.
Here are five reasons to think that Stanford will return to March Madness.
All statistics courtesy of ESPN.
Begin Slideshow

»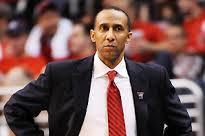 sportsillustrated.com
Johnny Dawkins knows his job is on the line.
This is Dawkins' last chance to take Stanford to the tournament.
After five consecutive seasons missing out on March Madness, Stanford fans are rapidly losing confidence in the former Duke assistant. Another season of disappointment would surely signal the end of the Dawkins era. Dawkins is on his last strike, and he knows he must deliver. His extra motivation might be exactly what the team needs.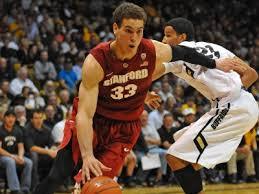 draftexpress.com
Dwight Powell (33)
Currently averaging 15.1 points, seven boards and four dimes per game, Powell is one of the top forwards in the Pac-12.
Frequently deployed as a 3, the 6'10" Powell creates matchup problems for smaller guards and slower forwards. A true triple threat, Powell can shoot the three, take players off the dribble or kick the ball out to one of Stanford's shooters.
Last year, Powell led Stanford with 14.9 points per game, and his all-around ability is improving visibly every game.
Powell's diverse skill set needs to be properly utilized if the Cardinal want to have a successful year.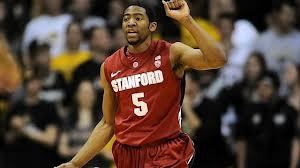 rantsports.com
Chasson Randle (5)
Four Stanford starters are averaging more than 11 PPG, led by guard Chasson (pronounced "chay-sin") Randle with 18.5. Anthony Brown, Powell and Josh Huestis round out the top four. Each is shooting above 46 percent from the floor, leading a balanced attack that also features scoring potential from the bench in the form of Aaron Bright and John Gage.
Stanford shoots 40 percent from three-point range and has a strong inside game to match.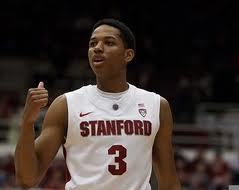 ruleoftree.com
Anthony Brown (3)
Guard/forward Anthony Brown played in only four games last season before injuring his hip and missing the rest of the season. The Cardinal sorely missed his scoring ability, as they averaged only 71 PPG.
This year, the Cardinal have improved to 82 PPG against a tough preseason schedule. Brown has led the charge, averaging 16.5 points and seven rebounds while shooting 59 percent from beyond the arc.
Easily Stanford's best shooter, Brown needs to be on his game to open up the interior for Stanford's powerful inside attack.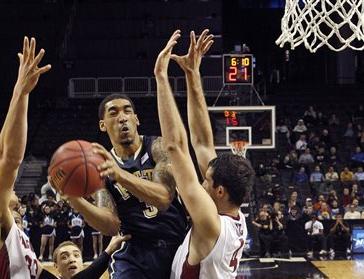 bigstory.ap.org
Nastic (right) and Powell (left) shut down a Pittsburgh attack
With 6'11'' Stefan Nastic, 6'7" shot-blocker Josh Huestis and 6'10" Dwight Powell controlling the paint, Stanford won't be getting pushed around on the low block.
Johnny Dawkins likes to start all three, creating serious matchup problems for smaller defensives—especially since Powell and Huestis can shoot the three. Huestis is especially dominant on the defensive end, averaging 2.4 blocks to go along with his 11.4 points and eight rebounds.
Despite Stanford's ability to shoot the long ball, it will be the success of the inside game that determines whether Stanford finally ends its tourney drought.