College Football Rankings 2013: Projecting Week 16's Top 25 Teams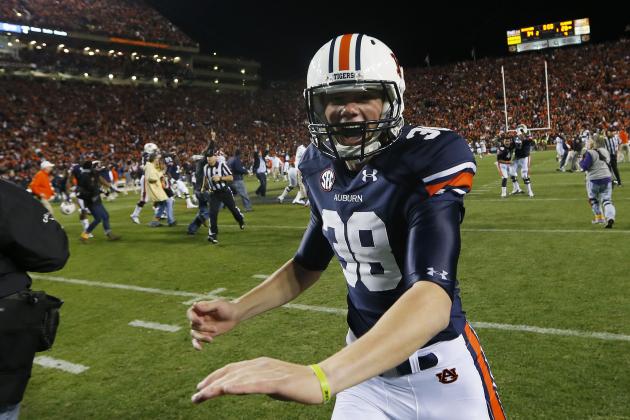 Kevin C. Cox/Getty Images

Championship week is officially here, giving teams just one more week—and in many cases, zero more games—to jockey for bowl position and try to get back into the final AP Poll.
The SEC, ACC, Pac-12 and Big Ten are the major conferences with championship games this weekend, and 75 percent of them have BCS National Championship implications. That is the sign of a fun season.
Even beyond that, games like the Bedlam Series might decide the fate of the Big 12, while the MAC Championship Game will decide if NIU makes its second consecutive BCS bowl. If it doesn't, another spot will open up for a deserving at-large team.
Her's a guess at how the AP Poll will look come Sunday.
Begin Slideshow

»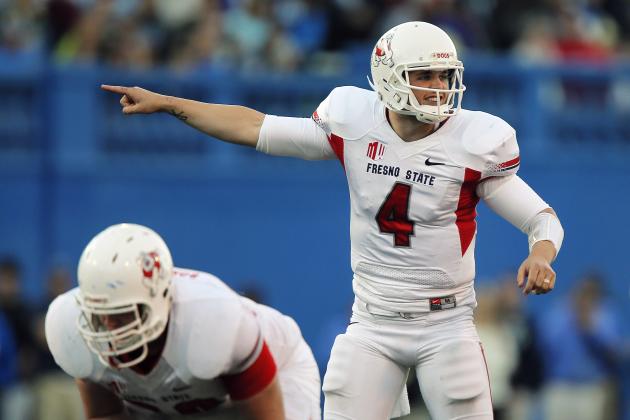 Brian Bahr/Getty Images

Texas
Mack Brown deserves credit for engineering a turnaround of sorts in Austin, but his defense will not be up to snuff at Baylor this week. As bad as the Bears have looked in recent games, they have yet to not destroy an opponent at home all season.
Fresno State
The Bulldogs' porous defense finally caught up with them last week against San Jose State, and I don't know if they have the fortitude to pick themselves up by the bootstraps. Even without Chuckie Keeton, Utah State has been playing good football all year—the Aggies are simply a better team than Fresno State, from top to bottom.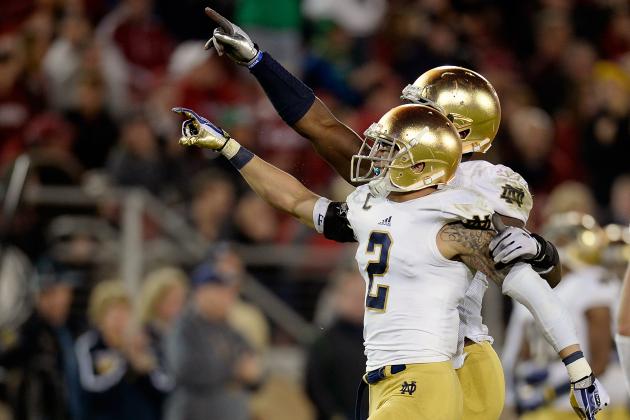 Thearon W. Henderson/Getty Images

Week 15 Opponent: N/A
Look on the bright side, Irish fans: Only one game left in the Tommy Rees era.
I kid, but only a little bit. Notre Dame hasn't been bad by any stretch this season, beating teams like Arizona State, Michigan State and USC, but it hasn't performed up to the lofty standard in South Bend.
With quarterback Everett Golson expected to return to the university next season, things should be trending upward for the Irish. The defense will have to rebuild after losing some very talented players, but youngsters like Jaylon Smith are good enough to pick up the slack.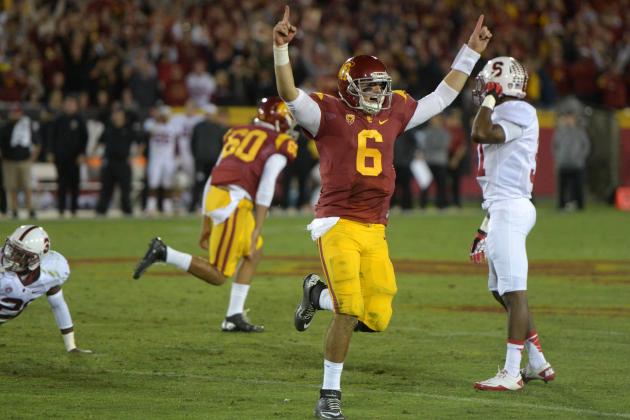 Kirby Lee-USA TODAY Sports

Week 15 Opponent: N/A
Ed Orgeron was not rewarded with a chance at the head coaching position after saving USC's season, and he responded, according to ESPN's Brett McMurphy, by handing in his indignant resignation.
Still, with teams in front of them losing in Week 15, the Trojans will sneak back into the penultimate AP rankings. With one more win in a bowl game, they will likely finish in the top 20, which would be a coup given how the season began.
Winning a bowl game, however, no matter whom it's against, will not be an easy task without Coach O. The seniors on this team will need to step up in a big way, getting the younger players duly motivated for action.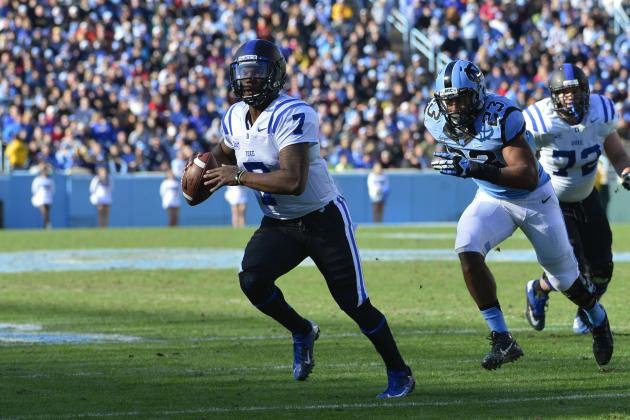 Bob Donnan-USA TODAY Sports

Week 15 Opponent: vs. Florida State (N)
Duke has little to no chance of beating Florida State this weekend in Charlotte, but that, weird as it sounds, is by no means an indictment of David Cutcliffe's team.
Almost everybody has little to no shot of beating Florida State on a neutral field—or anywhere, for that matter. The Seminoles are too big, too fast, too strong, too good.
The Blue Devils might come out and throw the kitchen sink at FSU, maybe using a couple of big or trick plays to hang around for the first quarter. But after a while, the cream will rise to the top.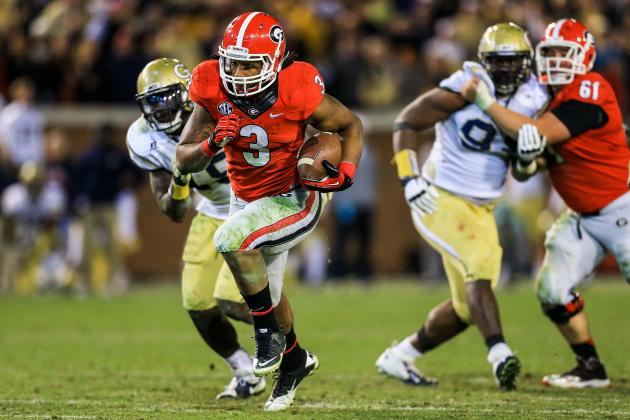 Daniel Shirey-USA TODAY Sports

Week 15 Opponent: N/A
Georgia has been one of the feel-good stories of the year, which is weird to say about a team that nearly made the BCS National Championship Game last season and was predicted to compete for another one in 2013.
Injuries, however, derailed the Bulldogs' quest for SEC competitiveness, and when Aaron Murray went down a couple of weeks ago, that appeared to be the last straw.
But backup QB Hutson Mason played admirably in his first start at rival Georgia Tech, mounting a huge comeback before leading the team to a wild overtime victory. Good for the 'Dawgs.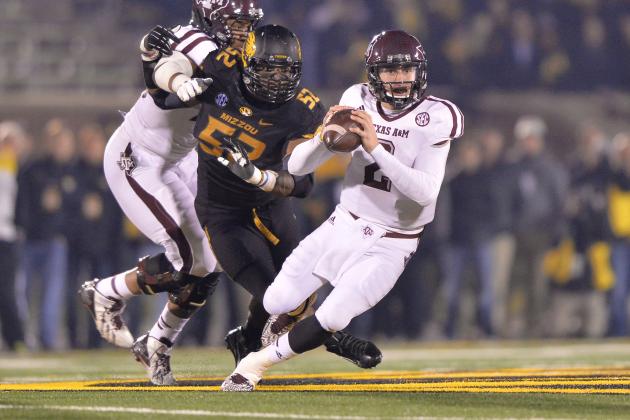 Peter G. Aiken-USA TODAY Sports

Week 15 Opponent: N/A
Texas A&M's offense looked like far from a powerhouse for the second consecutive week at Missouri, but the Aggies haven't exactly been "solved."
LSU and Missouri are two of the best teams in America; the former might have America's best defensive coordinator (John Chavis) and the latter might have America's best defensive line.
Johnny Manziel and Co. need to get better before the bowl game, but unless they play a similarly dominant defense, don't expect them to sputter—especially if, as some expect, the bowl is Manziel's final college game.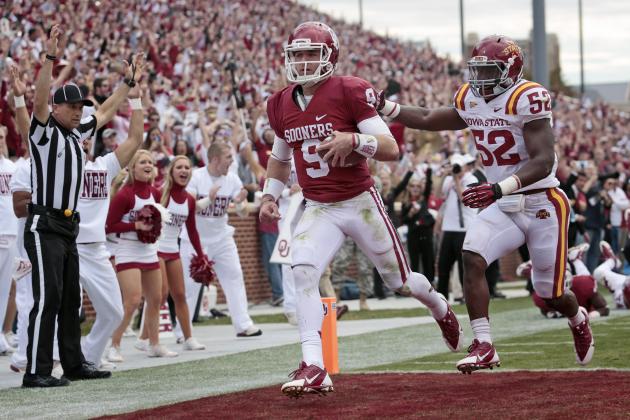 Brett Deering/Getty Images

Week 15 Opponent: at Oklahoma State
I don't know if Oklahoma has the offensive firepower to beat Oklahoma State in Stillwater, but Bedlam is a factory of weird results and close finishes, so I'm definitely not willing to rule it out.
If the Sooners want to stand a chance against the Cowboys, they will need to get the same production at quarterback as they did against Kansas State.
Trevor Knight finally looked like the guy he was billed to be a couple of weeks ago, but even Blake Bell had a couple of encouraging performances this year. Until one of those QBs shows some week-to-week consistency, it is hard to say whether OU has found a true answer at the position.
Mike McGinnis/Getty Images

Week 15 Opponent: N/A
Wisconsin's home loss to Penn State last week was one of the season's most inexplicable.
The game got lost in the fog last Saturday, because it ran adjacent to the Iron Bowl, but Penn State quarterback Christian Hackenberg walked into Camp-Randall Stadium and picked the Badgers apart for 60 minutes, playing by far the best game of his young (and promising) career.
The result was an out-of-their-element performance from the Badgers, who threw the ball more than 50 times. For the first time in Gary Andersen's tenure, Wisconsin fans were left scratching their heads.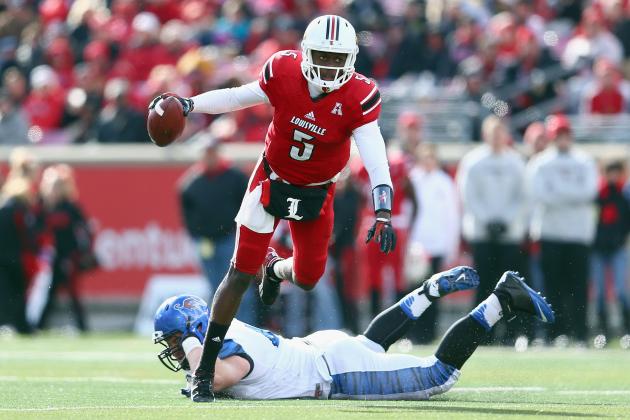 Andy Lyons/Getty Images

Week 15 Opponent: at Cincinnati
Louisville is a far better team than Cincinnati, which has lost games to Illinois (decisively) and South Florida this season.
Even on the road, the Cardinals should—should—have little problem taking care of the Bearcats. At least in a vacuum. Given the context, this game appears slightly more interesting.
Louisville has very little left to play for, except for the consolation prize of a one-loss season. Cincy still has a beggar's chance at winning the AAC and crashing the BCS, should UCF lose to SMU.
Will the Cardinals really show up to play? That could decide the outcome.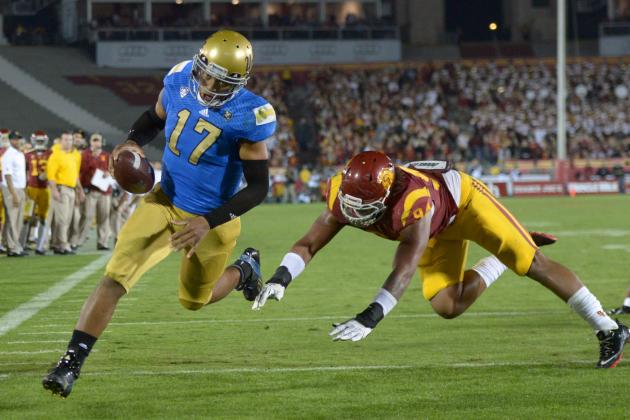 Kirby Lee-USA TODAY Sports

Week 15 Opponent: N/A
UCLA laid a second consecutive smackdown on USC last weekend, getting the best game of Brett Hundley's season at exactly the right time and beating the Trojans 35-14.
That wasn't even the best news of the week. Head coach Jim Mora spurned his alma mater—and supposed dream job at Washington—to sign a six-year extension with the Bruins, according to Bruce Feldman of CBS Sports.
Mora realizes what all UCLA fans realize: This program is trending upward, and it's doing so at a steep slope. If Hundley forgoes this NFL draft like Oregon's Marcus Mariota did, the Pac-12 will be stacked in 2014.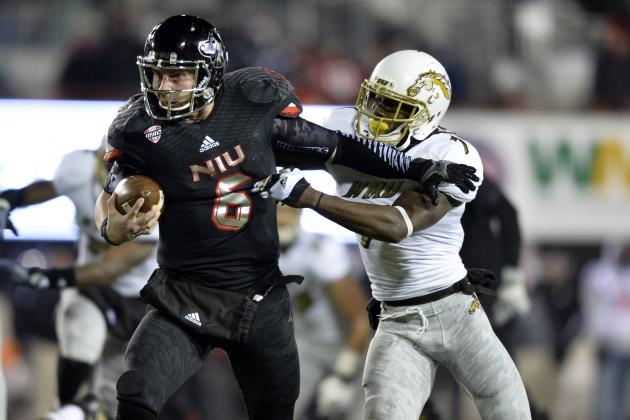 Brian Kersey/Getty Images

Week 15 Opponent: vs. Bowling Green (N)
I wouldn't be shocked at all if Northern Illinois lost to Bowling Green in the MAC Championship Game this week. The Eagles are that good.
But at this point, as I've learned the hard way, you'd have to be crazy to pick against the Huskies in a conference game. Jordan Lynch is almost always the best player on the field, and he refuses to let his team go down in defeat.
Having played a triad of very solid teams—Ball State, Toledo (on the road) and Bowling Green—over the past four weeks, NIU, should it finish undefeated, would be wholly deserving of a spot in the final BCS.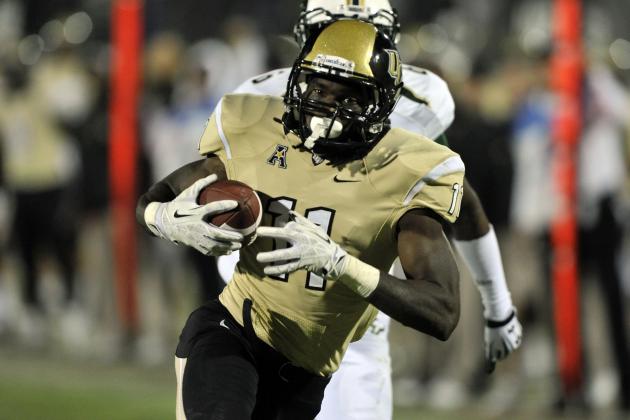 Brad Barr-USA TODAY Sports

Week 15 Opponent: at SMU
UCF didn't clinch the AAC last weekend as many, myself included, had falsely calculated. It simply eliminated Louisville from the discussion.
Because the Knights don't play Cincinnati, however, and because the Bearcats have only one conference loss, a first-place tie is still in play—a lot would just have to happen.
If Blake Bortles can lead his team to just one more win, this time over SMU on the road, his team will clinch a spot in the final BCS. If he can't, it would be hard to argue that this team deserves it.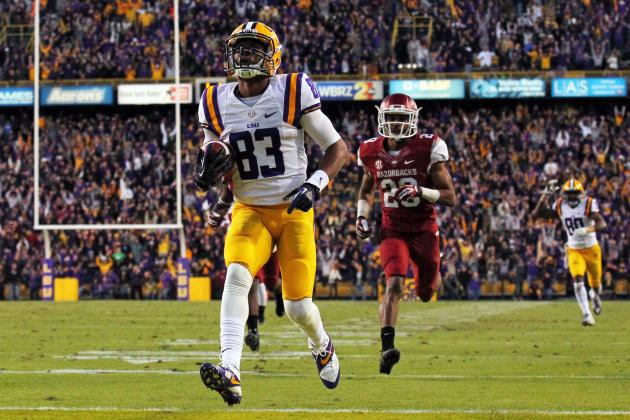 Crystal LoGiudice-USA TODAY Spor

Week 15 Opponent: N/A
Quarterback Zach Mettenberger tore his ACL in the win over Arkansas, a tragic way to end what had turned into a surprisingly magnificent season.
In his stead, freshman quarterback Anthony Jennings came into the lineup and led a game-winning 99-yard drive against the Razorbacks, giving him some forward momentum to become LSU's quarterback of the future.
Jennings will get a shot to impress in LSU's bowl game, against whomever that might be. The loss of Mettenberger will hurt the Tigers' appeal, but most bowl games would still be willing to lure in their massive and loyal fanbase.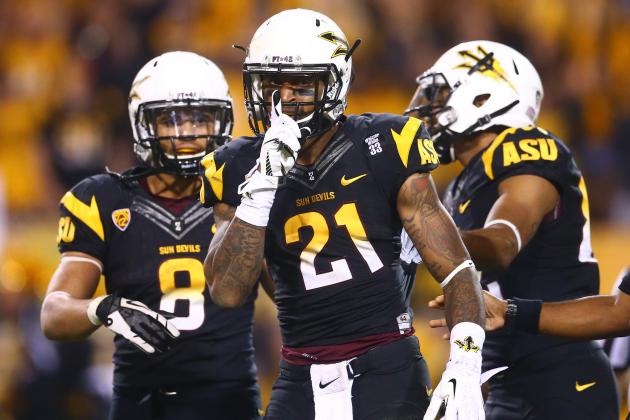 Mark J. Rebilas-USA TODAY Sports

Week 15 Opponent: vs. Stanford
Arizona State is peaking at exactly the right time, following up a road win over UCLA with a home thrashing—and I mean thrashing—of rival Arizona in Week 14.
Awaiting the Sun Devils in the Pac-12 Championship Game is a Stanford team that beat them thoroughly this September. The final score might have read 42-28, but the Cardinal were about four touchdowns better on the evening.
Saturday will be a good litmus test, a chance to see just how far Todd Graham's team has come. I think it's been pretty far, but not far enough. This will be the closest game of the weekend, but Stanford will eke it out.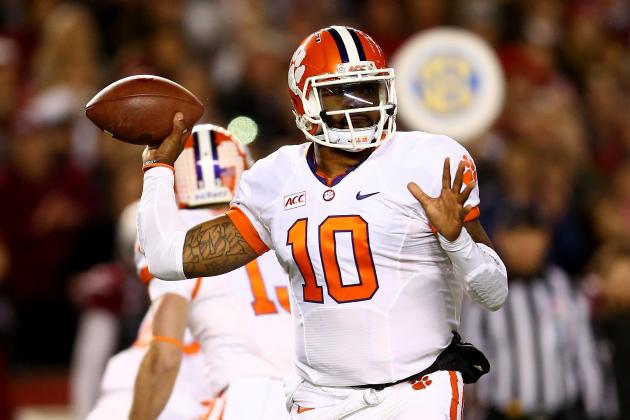 Streeter Lecka/Getty Images

Week 15 Opponent: N/A
Clemson got its first chance to redeem itself after the Florida State blowout, but it was unable to take advantage against South Carolina.
For most of the game, the Tigers acquitted themselves well, hanging around for all four quarters in a hostile environment (against a very good team). But turnovers and offensive line play cursed them down the stretch, allowing them to lose in ugly and visceral fashion.
At the end of the day, this team just is what it is: good enough to destroy lesser opponents, not good enough to beat better ones. That dichotomy has become the bedrock of Clemson football.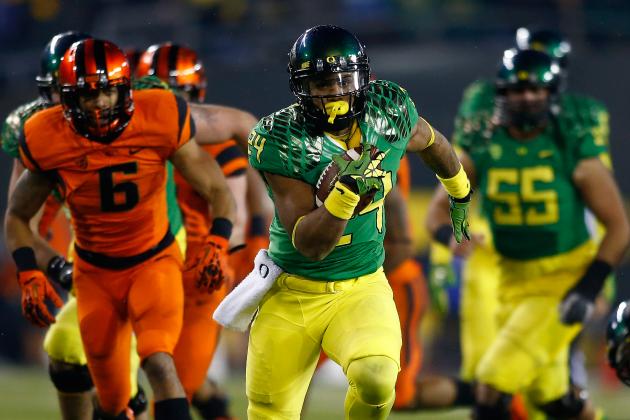 Jonathan Ferrey/Getty Images

Week 13 Opponent: N/A
Something is clearly rotten in the city of Eugene, but it's not clear where the stink is coming from (nor how to fix it).
At least, however, some good has come from the Ducks' ugly finish to the season. Ostensibly because they have some unfinished business to attend to: Quarterback Marcus Mariota and center Hronnis Grasu—two perennial All-Americans—both announced their decisions to forgo the 2014 NFL draft.
Coming back healthy next season will do wonders for Mariota, who will compete for another Heisman and national championship. For now, hopefully he can heal up during this next month and look more like his usual self in Oregon's bowl game.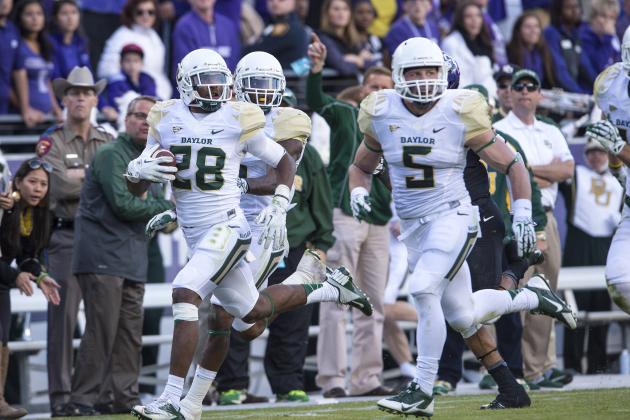 Jerome Miron-USA TODAY Sports

Week 15 Opponent: vs. Texas
Baylor has been exposed these past two weeks as woefully overrated. They were never one of the three or four best teams in college football.
But that doesn't make it bad. There's no denying the dominant form the Bears flashed early this season, and as the offense begins getting healthy, there are reasons to imagine it might return.
This team still hasn't been stymied at home yet in 2013, while Week 15 opponent Texas is prone to ugly blowouts. If Baylor can't get back on track this Saturday, there will officially be cause for concern.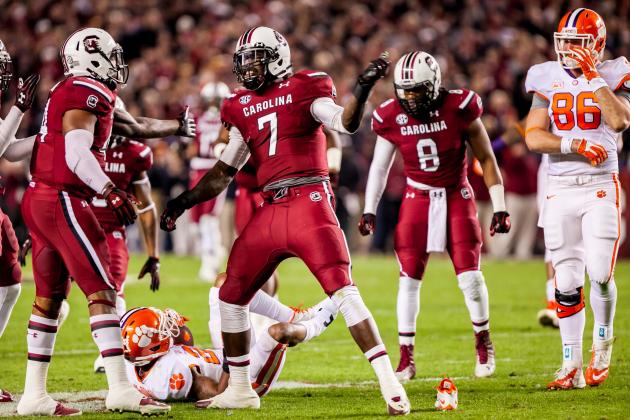 Jeff Blake-USA TODAY Sports

Week 15 Opponent: N/A
South Carolina was one of the biggest losers of Week 15, despite thoroughly beating the No. 6 team in America.
Wait…what?
It's true. Auburn's upset win over Alabama essentially sealed the Gamecocks' BCS fate, ensuring that they will be left on the outside looking in. Whoever wins the SEC Championship will join the Crimson Tide as entrants from the conference.
Steve Spurrier has to be kicking himself over the loss at Tennessee, which has again allowed a team that South Carolina beat during conference play to win the SEC East over it. That is not a fun trend.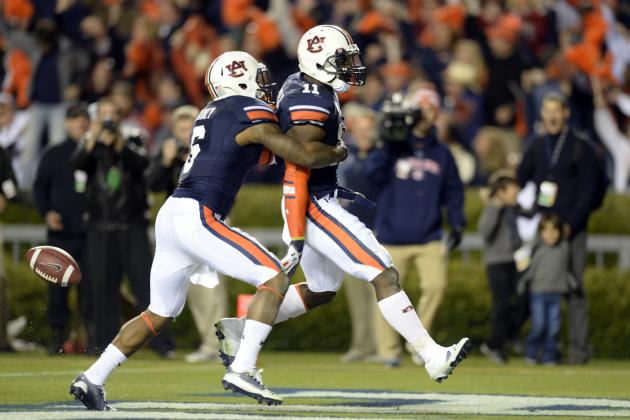 John David Mercer-USA TODAY Spor

Week 15 Opponent: vs. Missouri (N)
Please don't hate me, Auburn fans. I swear that I don't think your team is "bad," just slightly overrated.
Far be it from me to argue against destiny, but that's not what I see when I look at the Tigers. I see a great coach, a great running game, not much other personnel to speak of and a whole lot of luck.
Might Auburn beat Missouri in the SEC Championship Game? Sure. But will it? Based on everything I've seen (from both teams) this season, my answer would have to be no.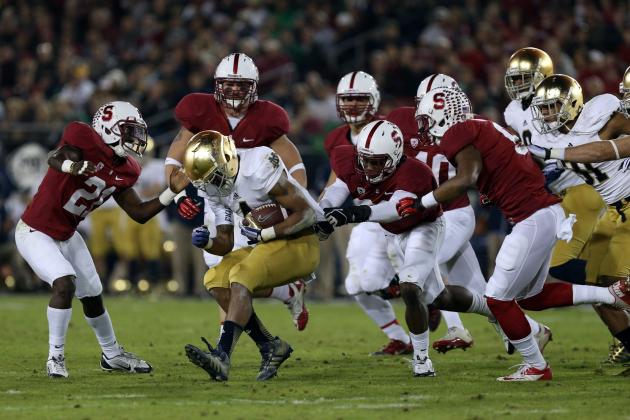 Kelley L Cox-USA TODAY Sports

Week 15 Opponent: at Arizona State
Stanford and Arizona State are trending in opposite directions—if not on the actual football field, then definitely in the court of public opinion.
The Cardinal are actually favored to lose this game by 3.5 points, despite beating Arizona State handily, 42-28, earlier this year. Their stock has dropped that far since September, even though a lot of the personnel is intact.
I wouldn't go so far as to bet my house on Stanford this Saturday. So long as Kevin Hogan is the quarterback, I will always proceed with caution. But I do expect this defense to step up and swallow an offense that, without running back Marion Grice, will struggle to replace its best player.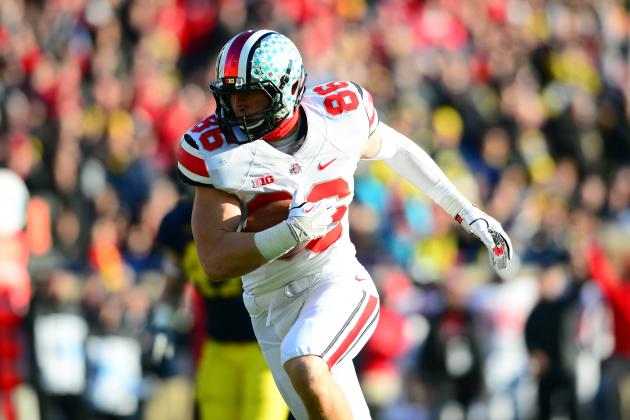 Andrew Weber-USA TODAY Sports

Week 15 Opponent: vs. Michigan State (N)
If you put Ohio State and Michigan State on a neutral field 10 times, I think that each team would win five games. It wouldn't surprise me at all if the Buckeyes came out on top, even if they did so by multiple scores.
But I'm willing to bet on a little bit of chaos. It's the final BCS, after all—shouldn't it go out in style? No one wants to see Nos. 1-2 remain the same from Week 15 to Week 16, right?
Michigan State's defense is a beast unlike any the Buckeyes have seen all season, a point that was reinforced when Penn State shredded through Wisconsin last weekend. If they can hold OSU under 28 points, the Spartans will win this football game in a nail-biter.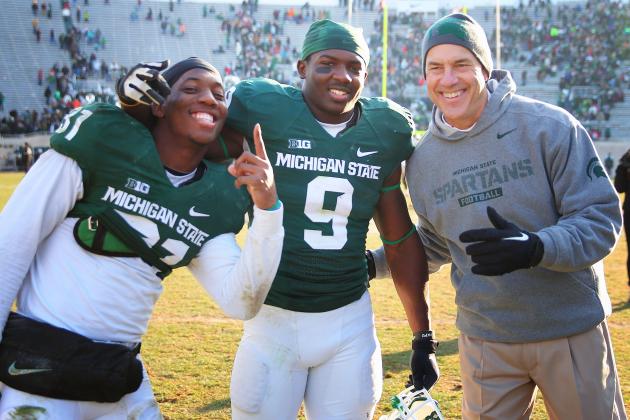 Mike Carter-USA TODAY Sports

Week 15 Opponent: vs. Ohio State (N)
If Sparty does indeed beat Ohio State this weekend and advance to the Rose Bowl, it will spend a great deal of time asking "what could have been."
MSU's only loss this season came 17-13 at Notre Dame in a game where the Irish did most of their damage on penalty yards, reaping the benefit of countless pass-interference calls that, on their home field, were dubious, to say the least.
The Spartans are that close to being undefeated right now, that close to having a shot to play for a national championship. But given the history of this program, a trip to the Rose Bowl should be nothing to scoff at.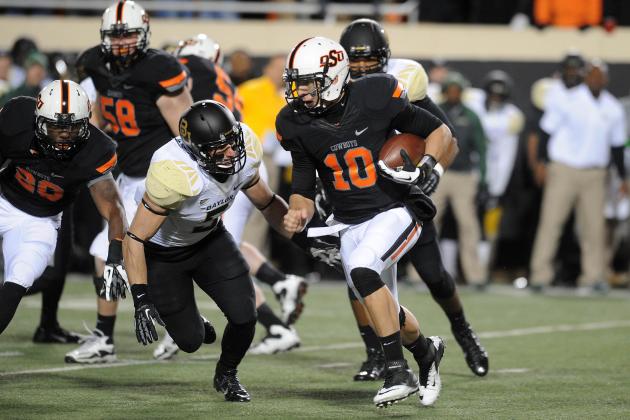 Mark D. Smith-USA TODAY Sports

Week 15 Opponent: vs. Oklahoma
Oklahoma State has been a team on a mission since losing a road game at West Virginia, beating down opponents with gusto, ease and style.
The apex of that mission came a couple of weeks ago, when it suffocated the Baylor offense and had its way with Baylor's defense. That gave the Cowboys control of their own Big 12 fate, needing just one more win over Oklahoma.
In Norman, I would give the Sooners a chance. That home field is strong enough to mask some of OU's glaring deficiencies. I expect a close one, but in Stillwater, I would be more shocked by a Sooners three-point victory than a Cowboys 30-point win.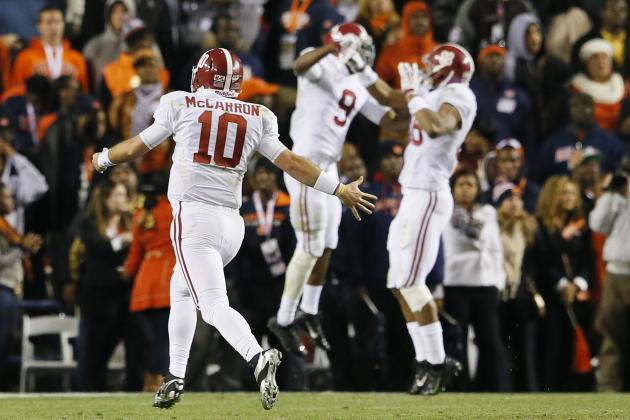 Kevin C. Cox/Getty Images

Week 15 Opponent: N/A
Alabama currently sits above the No. 2 team in these rankings, but after that team wins its conference championship game, it would be hard to justify leaving the Tide above it.
Nick Saban knows that he essentially sealed his own fate when he decided to kick that field goal at Jordan-Hare Stadium. It was a rare coaching gaffe from a man who's become something of a guru on the sidelines, and it cost his team dearly.
It's not the three-peat this program was looking for, but sometimes the cards just don't fall. Alabama always loses one game in the regular season, they just usually find a way to sneak into the title game despite it.
Eventually, that sort of luck was bound to run out.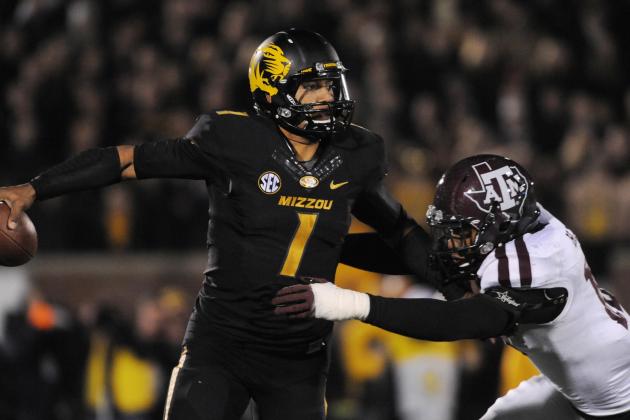 Denny Medley-USA TODAY Sports

Week 15 Opponent: vs. Auburn (N)
It feels weird to type this, and it would feel even weirder to watch, but Missouri, to my mind, is heading to Pasadena for the BCS National Championship Game.
Let that soak in.
Behind Florida State, the Tigers have been the most consistently dominant team in college football this year. They crushed South Carolina for three quarters before letting the game slip away in the fourth, and only Texas A&M has been able to stick with them outside of that game.
What makes this team special is balance. It can run the ball, pass the ball, stop the run and stop the pass with equal aplomb. That is the true mark of a championship football team, and it will push them right past Auburn on Saturday.
Week 15 Opponent: vs. Duke (N)
What more can one say about Florida State beyond what's already been said?
Quite simply, this has been one of the most dominant regular seasons we have ever seen a college football team string together—if not the single most. The Seminoles can convincingly call both their offense and defense the best in America.
There's no sense speculating on Jameis Winston's pending sexual assault case; like all Americans, he is innocent until proven guilty. Right now, charges being filed against him appear to be the only thing that could derail FSU's season.