Thanksgiving weekend featured some of the most exciting matchups of the 2013 NFL regular season, but Week 14 has a unique mixture of marquee divisional battles and potential playoff previews.
With Carolina taking on New Orleans, Seattle tangling with San Francisco and Philadelphia squaring off against Detroit, NFL fans will have more than enough high-profile football this weekend.
Here are the full predictions for every Week 14 matchup and previews for the three most important games.
Full Week 14 Schedule and Picks

| | | | |
| --- | --- | --- | --- |
| Date | Away Team | Home Team | Winner |
| Thursday, Dec. 5 | Houston Texans | Jacksonville Jaguars | Jaguars |
| Sunday, Dec. 8 | Indianapolis Colts | Cincinnati Bengals | Colts |
| Sunday, Dec. 8 | Atlanta Falcons | Green Bay Packers | Packers |
| Sunday, Dec. 8 | Cleveland Browns | New England Patriots | Patriots |
| Sunday, Dec. 8 | Oakland Raiders | New York Jets | Raiders |
| Sunday, Dec. 8 | Detroit Lions | Philadelphia Eagles | Eagles |
| Sunday, Dec. 8 | Miami Dolphins | Pittsburgh Steelers | Steelers |
| Sunday, Dec. 8 | Buffalo Bills | Tampa Bay Buccaneers | Bills |
| Sunday, Dec. 8 | Kansas City Chiefs | Washington Redskins | Chiefs |
| Sunday, Dec. 8 | Minnesota Vikings | Baltimore Ravens | Vikings |
| Sunday, Dec. 8 | Tennessee Titans | Denver Broncos | Broncos |
| Sunday, Dec. 8 | St. Louis Rams | Arizona Cardinals | Cardinals |
| Sunday, Dec. 8 | New York Giants | San Diego Chargers | Giants |
| Sunday, Dec. 8 | Seattle Seahawks | San Francisco 49ers | Seahawks |
| Sunday, Dec. 8 | Carolina Panthers | New Orleans Saints | Saints |
| Monday, Dec. 9 | Dallas Cowboys | Chicago Bears | Bears |
Source: NFL.com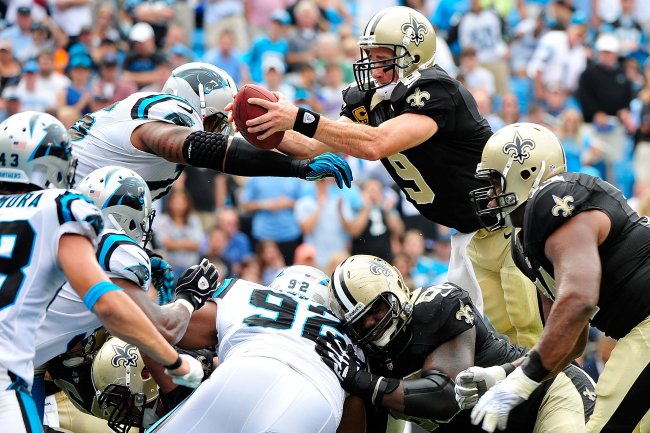 Grant Halverson/Getty Images
Carolina Panthers (9-3) at New Orleans Saints (9-3)
Sunday's biggest matchup happens when the lights go down and the Carolina Panthers take on the New Orleans Saints in a battle for the division lead in the NFC South.
New Orleans may be coming off a lopsided loss to Seattle, but Drew Brees and the offensive unit will bounce back with a victory. Despite only managing seven points Monday night, the Saints possess the league's third-ranked pass attack, averaging 302.8 yards per game.
Carolina deserves immense credit for the stout play of the its top-10 defense, but the Panthers have not played a team on the level of New Orleans yet. After being stifled for only 147 yards passing by the Seahawks in Week 13, Brees and the entire Saints offense will be looking for redemption.
Sunday will be the first of two divisional meetings over the next three weeks between these two teams. The home-field advantage will help New Orleans make up for the short week, and the Saints will steal a close win from their division rival.
The Panthers may steal Round 2 in Week 16, but New Orleans will squeeze out the win Sunday.
Predicted Final Score: New Orleans 24, Carolina 20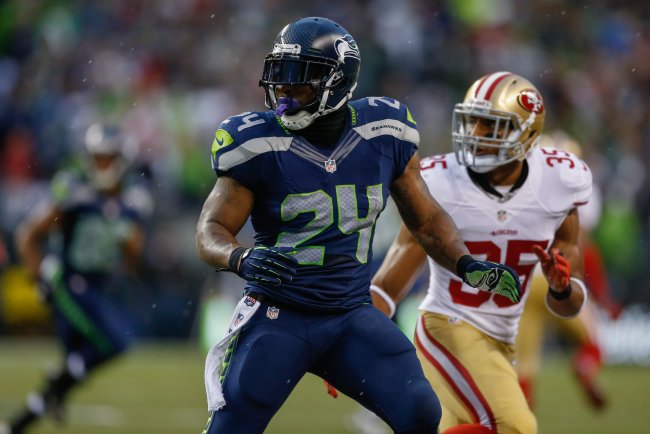 Otto Greule Jr/Getty Images
Seattle Seahawks (11-1) at San Francisco 49ers (8-4)
The Seattle Seahawks are coming off a huge victory over the Saints on Monday night and are riding a seven-game winning streak. Seattle will face a tough test against the San Francisco 49ers this weekend, but the Seahawks will prove they are the class of the NFC West.
Seattle will handle the 49ers just as it did New Orleans.
The Seahawks were absolutely devastating against Brees and the Saints offense, limiting them to just 188 total yards. Seattle boasts arguably the best secondary in the league and a front seven that will give running backs nightmares, and that's bad news for San Francisco.
Since returning from the bye, the 49ers have failed to find chemistry on offense. With an average of just under 20 points per game over the last four weeks, it's hard to imagine Colin Kaepernick and the offense regaining its elite form against the Seahawks.
San Francisco's defense is still talented enough to keep the score close, but the offense won't be able to solve Seattle's riddle. This will be a hard-fought division battle that further cements the Seahawks' spot as the top team in the NFC.
Predicted Final Score: Seattle 27, San Francisco 17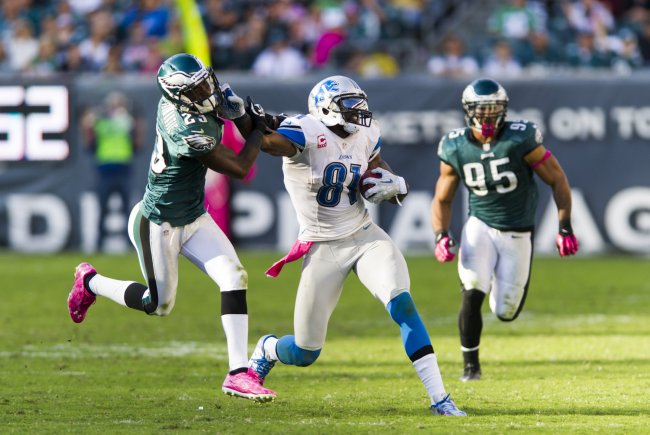 Howard Smith-USA TODAY Sports
Detroit Lions (7-5) at Philadelphia Eagles (7-5)
Philadelphia, with new head coach Chip Kelly, was written off as a team that was rebuilding the franchise, but the Eagles are a win over the Detroit Lions away from being a favorite to make the postseason.
The NFC East may be awful, but the Eagles have shown the talent to earn a postseason berth.
Which matchup are you most excited to watch?
Philadelphia has won four straight games, including a monumental win over the Cardinals last Sunday. While the Eagles only managed to eke out a 24-21 win over Arizona, the team proved it had the heart and the focus to lock down tough wins.
Detroit has been playing as inconsistently as possible. The offensive unit has stayed strong, led by skilled playmakers Calvin Johnson and Reggie Bush, but the defense has hemorrhaged big plays and points all season.
With Philadelphia thriving on the big plays, look for quarterback Nick Foles to spread the ball around by utilizing his receivers and skilled pass-catching running back LeSean McCoy. Detroit gives up 262.3 yards per game through the air, and that will be create more than enough room for Kelly's fast-paced offense to create havoc.
This will be a close game comprised of evenly matched teams, but the Eagles have been too consistent to take the loss Sunday.
Predicted Final Score: Philadelphia 30, Detroit 27