Major League Baseball always features a serious share of trade rumors during the year, and the 2013 offseason has been no exception.
With free agents starting to sign huge deals and teams already making blockbuster trades, the pressure on franchises that have stood still thus far will only continue to grow as the fans call for changes.
Here is the latest buzz surrounding the biggest names reportedly on the block.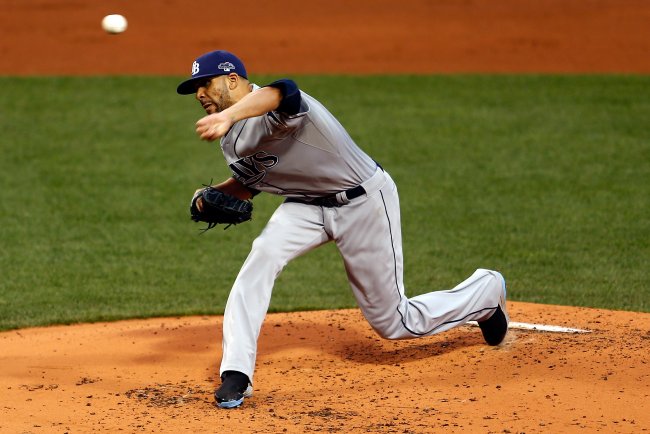 Jim Rogash/Getty Images
David Price, SP, Tampa Bay Rays
David Price is one of the best young starting pitchers in baseball today. The problem is that the Tampa Bay Rays are notoriously tight-fisted with money, and Price may walk away from Tampa Bay when he is eligible to become a free agent.
If the Rays don't plan on re-signing Price—that would be an awful decision for the future of the franchise—the team must trade him now. Tampa Bay could essentially hold a bidding war for his services and would have the time to work out the details of the deal during the layoff.
According to Andy Martino of the New York Daily News, the Texas Rangers are expected to make an offer for Price and could have the pieces to make a deal happen:
Texas is also known to like David Price, and is one of the clubs expected to make a run at trading for him this winter. The Rays are said to like Texas first baseman Mitch Moreland, who the Rangers no longer need, and could include in a larger Price deal.
Price has been amazing in his time with Tampa Bay, amassing 71 wins, a 3.19 ERA and a 1.16 WHIP in six seasons. He has been instrumental in the success of the Rays over that time and letting him go would be a tough sell for the franchise.
There is no question that Tampa Bay would get a healthy return on the trade, but whether or not the acquired players would live up to the high standards set by Price is something the Rays must consider.
Tampa Bay should re-sign Price to a long-term deal and build the franchise around him.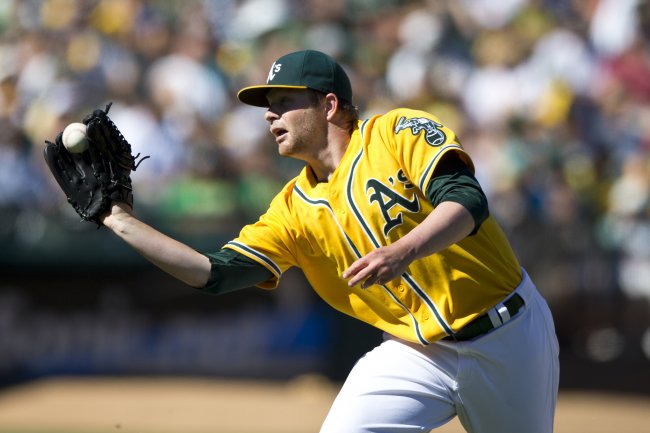 Jason O. Watson/Getty Images
Brett Anderson, SP, Oakland Athletics
The Oakland Athletics starting pitcher Brett Anderson came into the league in 2009 and put up impressive numbers, but he has failed to live up to those expectations. With a deep starting rotation in Oakland and the need to find efficiency for every dollar, the possibility of a trade continues to grow.
According to Buster Olney of ESPN, two teams are reportedly interested in the pitcher:
Oakland is said to be working through Brett Anderson trade possibilities; Seattle and Cleveland are among the interested teams.

— Buster Olney (@Buster_ESPN) December 3, 2013
Anderson came out in his rookie season and started 30 games. He pitched 175.1 innings, struck out 150 batters and had a 4.06 ERA, but he has not lived up to the hype, totaling only 11 starts over the last two seasons.
The young pitcher needs a fresh start.
Injuries have played a major role in his lack of success over the last four seasons, but a change of scenery could offer Anderson the inspiration to continue fighting on. After Tommy John Surgery in 2011, the pitcher needs all the confidence he can muster to return to his elite form.
Trading for Anderson would be an educated risk that could yield a huge return if the 25-year-old regains his rookie form, and a franchise with a deep farm system would be wise to make this deal.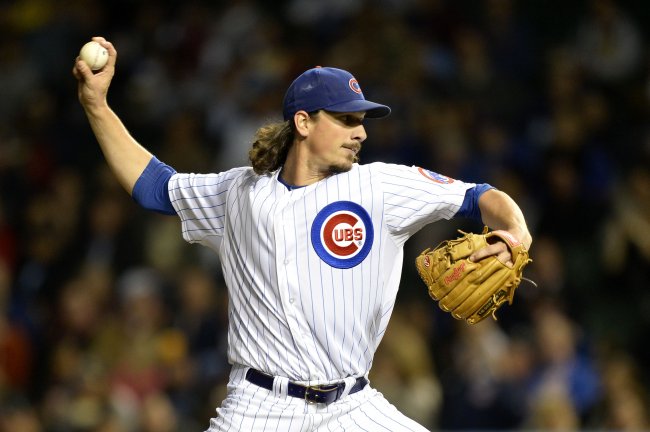 Brian Kersey/Getty Images
Jeff Samardzija, SP, Chicago Cubs
The Chicago Cubs and starting pitcher Jeff Samardzija have failed to reach a deal on a contract extension, and the likelihood that the franchise could trade the player is growing every day.
Per a report from David Kaplan of CSN Chicago, the feeding frenzy over Samardzija has begun:
The Cubs are shopping starter Jeff Samardzija and as many as eight teams have shown considerable interest in landing the right-hander, who is not eligible for free agency until after the 2015 season. The front office has had discussions with Samardzija's camp regarding a long-term contract extension, but the two sides are far apart financially.
Samardzija can be a franchise starting pitcher, but the Cubs haven't showed the willingness to pay him that way. If Chicago doesn't think a long-term deal is in its best interest, working out a trade now while his value is sky high would guarantee a big return.
If the Cubs wait until midseason or even next offseason to pull the trigger on a deal, injuries or a poor performance could hurt his overall value. Chicago must make a trade for Samardzija this offseason or sign him to a long-term contract as one of the top pitchers on the staff for years to come.