Manchester United's search for world-class talent will gain momentum as January approaches, but among numerous transfer rumours, Angel Di Maria's name represents a link of particular interest.
As reported by Spanish newspaper El Confidencial and via Ben Jefferson of the Express, Di Maria's allegiance with agent Jorge Mendes sees Monaco outlined as favourites for the player's signature, although United could also lure him to Old Trafford:
Mendes was heavily involved in seeing the latter make the move from Atletico Madrid to the Principality and also helped engineer moves to Monaco for Ricardo Carvalho, Joao Moutinho and James Rodriguez.

And it seems that they could soon be joined by Di Maria.
The Premier League champions shouldn't be ruled out of the running for a player who has struggled to assert himself since Gareth Bale's switch to the Bernabeu.
Di Maria's one goal in five games since Oct. 30 have been majorly eclipsed by the Welsh star, who has racked up eight in seven since the end of the same month, per WhoScored.com.
Bale is gathering momentum, meaning January is the perfect time for Di Maria to jump ship without it impacting his career too heavily.
The confidence-driven player needs to be shown faith in his abilities and, despite playing excellently prior to Bale's arrival, could find himself undertaking a key role in Moyes' United team, who are crying out for greater quality along the flanks.
Di Maria's versatility is key here.
Now Antonio Valencia appears to have hit a spell of form, United's right flank is tied up. The Ecuadorian's pace and power is unmatched throughout the squad and the Red Devils always look a better team when Valencia showcases his talents, but the same cannot be said for the left side.
Despite the introduction of Adnan Januzaj, who recently received a BBC Young Sports Personality of the Year nomination for a handful of exciting displays—per Ben Burrows of the Mirror—the likes of Nani and Ashley Young continually fail to meet expectations.
United are famed for utilising quick, skilful wingers throughout their history, but right now the current crop fall short. Di Maria has the pace, dribbling skill and goalscoring touch to stroll into a team that is more than equipped to highlight his talents, no matter which flank he may be deployed on.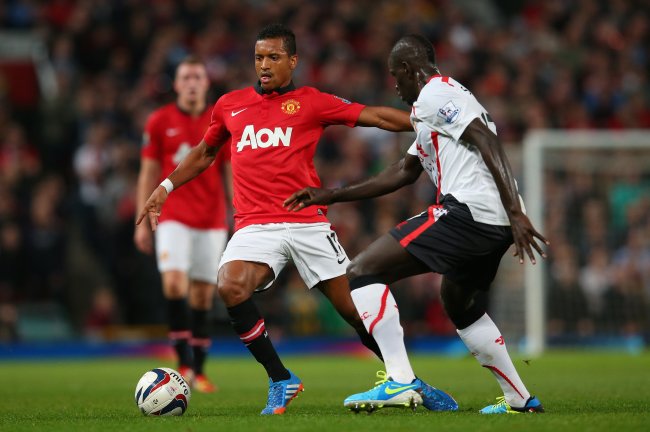 Julian Finney/Getty Images
His counter-attacking prowess and ability to accurately execute a pass far outweighs what United's flanks currently offer, as highlighted with the player's seven assists in 15 starts across all competitions this campaign, per WhoScored.com.
Di Maria has grown into a team player who is just as likely to pick out a pass as he to dribble around his closest opponent. He currently averages 2.1 key balls per game; a productive statistic that won't have escaped the unmistakable eyes of Moyes.
It's been long since United have been able to say they have too unselfish wingers. While Valencia does his utmost for the team, Nani and Young often prioritise themselves ahead of their colleagues.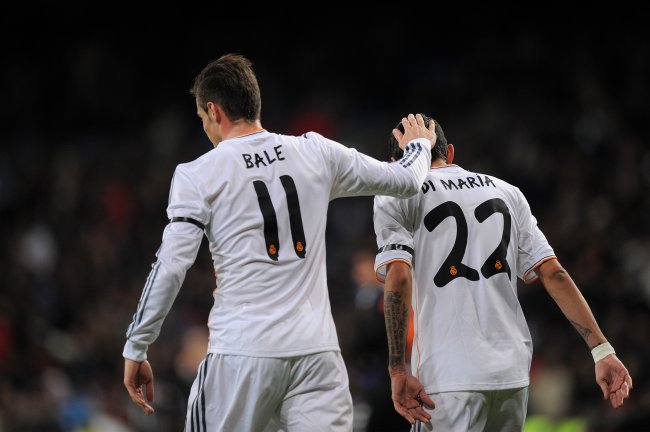 Denis Doyle/Getty Images
Perhaps it's a poor cross, extra step-over or turnover of possession; both have a tendency to play with tunnel vision.
Should Manchester United try to sign Angel Di Maria?
Moyes has tried to add a sense of spring to United's attack in the absence of Robin van Persie, reported by David Lynch of the Manchester Evening News. Recent matches against Bayer Leverkusen and Tottenham saw United deploy a solid central base that quickly explodes with width on the counter, providing Wayne Rooney enough time to burst into the box.
Di Maria is exactly the type of versatile player who can lead these breakaways, aiding the Red Devils' transitional trident not only with immense speed and trickery, but with the consistent quality to deliver an intelligent assist or stunning goal at the end of it.