Predicting the Next 5 Montreal Canadiens Prospects to Arrive in the NHL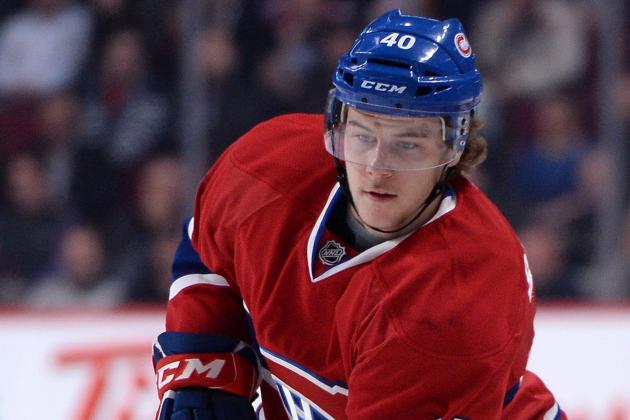 Francois Lacasse/Getty Images
When will Habs top prospect Nathan Beaulieu arrive?
The Montreal Canadiens have a lot of talented prospects who are all hoping to make the jump to the NHL in the near future. Patience will be key for most of these youngsters, however, as their time is not now.
Luckily for the Canadiens and their fans, Montreal is currently in a position where they can allow their prospects plenty of time to season in the AHL and junior ranks.
When healthy, as they are at the moment, the Canadiens are a very deep team with lots of NHL experience at both forward and defense.
Unless Montreal is to fall victim to another rash of injuries, the following players likely won't get called upon until next season at the earliest. Nonetheless, here is a prediction of the next five Montreal Canadiens prospects to arrive in the NHL.
Begin Slideshow

»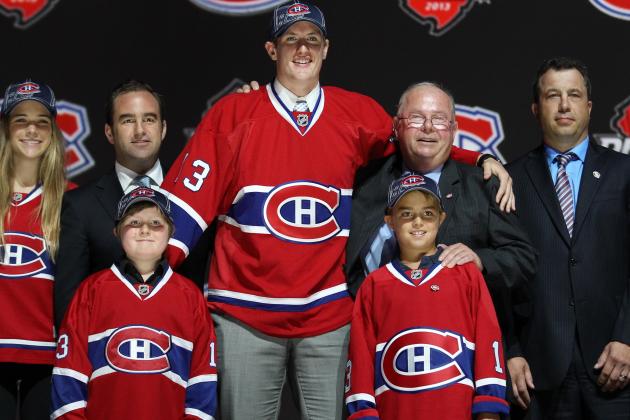 Ed Mulholland-USA TODAY Sports
Mike McCarron
Michael McCarron was Montreal's first-round selection this past summer, and there are high hopes surrounding the big man in Montreal.
Canadiens fans hope the 6'5", 229-pound winger will bring a size element to Montreal's forwards that hasn't been seen in many years. While he is still quite raw, McCarron has the tools to develop into a power forward in a top-six role.
That will likely be at least two years down the road, however.
McCarron will spend this season, and likely the next one, honing his skills with London of the Ontario Hockey League. He currently has three goals and nine points in 25 games as he struggles to adapt to the OHL game.
There isn't a lot of room for a forward to break into the Canadiens depth chart this year or next, and McCarron won't realistically be considered for a roster spot until at least 2015-16.
If he is able to develop into an NHL-caliber player by then, the thought of him lining up alongside Alex Galchenyuk and Brendan Gallagher has fans in Montreal quite excited.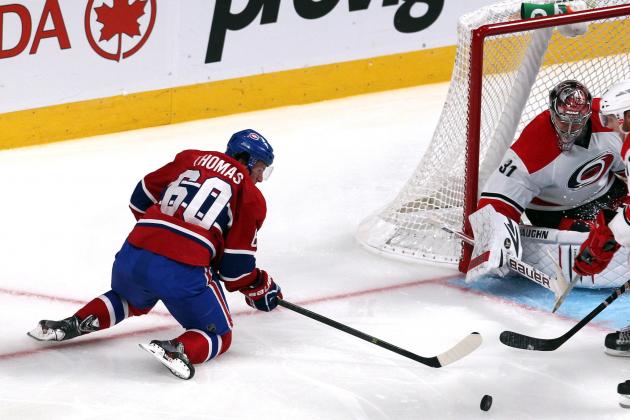 Jean-Yves Ahern-USA TODAY Sports
Christian Thomas
Montreal acquired Christian Thomas last summer in a trade with the New York Rangers for Danny Kristo. The former second-round pick from 2010 is the son of former Toronto Maple Leaf Steve Thomas.
Following the 2013-14 training camp where he skated with Tomas Plekanec and Rene Bourque early on, the 21-year-old disappeared with an undisclosed injury, at least according to Habs Eyes on the Prize. He finally made his Hamilton Bulldogs debut November 15.
Thomas, like his father, is undersized (5'9", 162 lbs), but he knows how to put the puck in the net. He scored 137 goals and had 257 points in a junior career that saw him play for both the London Knights and Oshawa Generals.
Last year, his first in the AHL, Thomas netted a very respectable 19 goals and 16 assists in 73 games as a 20-year-old. Through eight games this year, the Toronto native has eight points (2 G, 6 A) with Hamilton.
Though he's small and will need to gain strength in order to play in the NHL, general manager Marc Bergevin must see something he really likes in Christian Thomas' game. Trading Kristo, who now leads New York's AHL affiliate in scoring, to get him and having him start camp in a top-nine role prove that.
Now that Thomas is healthy, he'll likely be on Montreal's radar for a call-up later in the season, should the team need one. At the very least, he'll be given a chance to earn a roster spot in September of next year.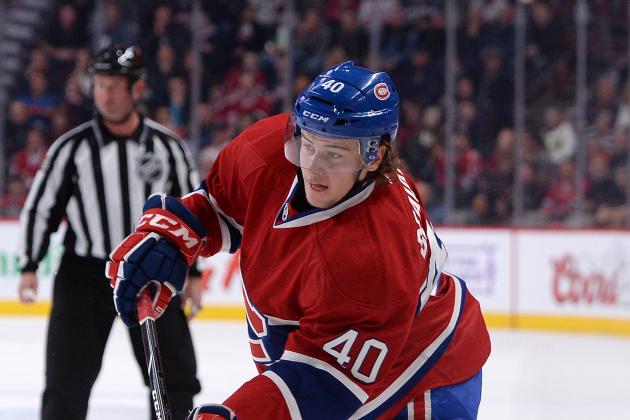 Francois Lacasse/Getty Images
Nathan Beaulieu
Nathan Beaulieu was chosen with the 17th pick in the 2011 NHL draft and has since worked his way to becoming Montreal's top prospect. Blessed with talent, the 20-year-old has an exciting future in Montreal.
The Strathroy, Ontario native has the offensive vision and skill that could make him a No. 1 power-play quarterback at some point in the not-too-distant future. But the rest of his game needs a bit more seasoning before he becomes a regular in the red, white and blue.
Beaulieu has been given 11 games to impress over the course of this season and last but has failed to earn a permanent spot in Montreal. Statistically, his NHL numbers are decent, with three assists and a rating of plus-seven, but he has failed to earn Michel Therrien's trust.
His play in the defensive zone is suspect, as the speed and strength of NHL forwards on the forecheck still seem to be a little too much for Beaulieu to handle. He'll likely spend the remainder of 2013-14 working on his defending in Hamilton.
Beaulieu has a ton of upside that could make him a fixture in Montreal for years to come. He'll be given the chance to compete for a top-six role with the Canadiens as early as next season.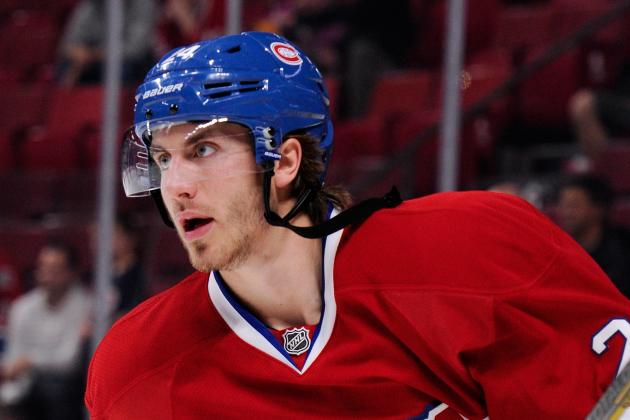 Richard Wolowicz/Getty Images
Jarred Tinordi
Jarred Tinordi might not be as skilled as Nathan Beaulieu, but the big man does seem like he's more NHL-ready at this point in his development.
Tinordi received an extended audition at the end of last season (and into the playoffs) as Alexei Emelin's replacement. He played in eight regular-season games and all five playoff games, finishing with three assists and a plus-two rating.
The 21-year-old was again given a chance to prove he belonged in Montreal to begin the 2013-14 season as the Canadiens defense came limping out of training camp. He failed to impress, however, and rotated games with Nathan Beaulieu until Douglas Murray returned to the lineup at the end of October.
Tinordi has the natural ability, and definitely the size, to play at the NHL level, but he hasn't quite put it all together yet. Barring any injuries in Montreal, he'll spend the rest of this season trying to become the top-four shutdown defenseman that scouts project him as.
Montreal currently has seven healthy defenseman, so Tinordi's arrival in Montreal isn't imminent. But with just two defenseman currently signed for next year, he could very well be a part of the 2014-15 equation.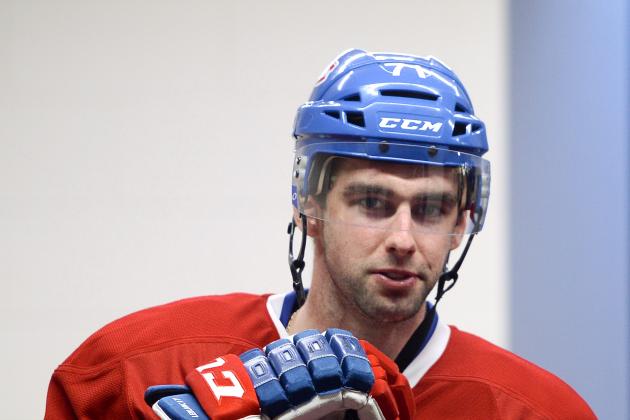 Francois Lacasse/Getty Images
Louis Leblanc
Alright, so it is a bit of a stretch to continue referring to Louis Leblanc as a prospect, but he does seem most likely to be the next regular Canadien at the NHL level.
The 22-year-old's prospect status could be debated as he has already played in 47 career games, including 42 back in 2011-12. By the NHL's definition, he has already played out his rookie season by exceeding 25 games in a single season.
But considering his age and the fact that he was a first-round pick back in 2009, there is still the feeling that the Canadiens consider him a prospect. They're still waiting for Leblanc to develop all the tools needed to be successful in the NHL.
Leblanc's lack of success in Montreal's previous two training camps was troubling. In both instances, he was let go early in camp and not given much of a chance to crack the roster. This, coupled with his awful AHL season in 2012-13, led many to believe that the organization had given up on him.
Yet Leblanc's play when called up earlier this year brought new hope.
While his 2013-14 stat line reads zero points in five games, Leblanc managed to impress. He skated hard, forechecked well and kept control of the puck in the offensive end—all things Michel Therrien asks his forwards to do.
Leblanc was sent back to Hamilton simply because Montreal was returning to health. The Canadiens are blessed with depth at forward, and until the injury bug bites again, there's just no room for Leblanc at the NHL level.
For now, Leblanc will continue to improve his game in Hamilton until the Habs need reinforcements. When they do, expect Marc Bergevin to call on Leblanc for help.