The 2013 version of the St. Louis Cardinals didn't need a whole lot of updating to be ready to defend their National League crown in 2014.
Cardinals GM John Mozeliak is one of the best in baseball when it comes to finding talent for a fair value via the draft or the trade market. This offseason was no different as he found an All-Star starting shortstop and a possible starting center fielder.
Here is an assessment of the Cardinals' moves so far this offseason.
Jhonny Peralta Signing
Once the Cardinals signed Jhonny Peralta, the firestorm in the media began. It started with fellow major leaguer Brad Ziegler and his Twitter account, blasting the Cardinals for the signing:
It pays to cheat...Thanks, owners, for encouraging PED use "@JimBowdenESPNxm: Peralta - Cards agree to 4-year deal: http://t.co/rkpdAO3QaL"

— Brad Ziegler (@BradZiegler) November 24, 2013
There have been a number of Cardinals fans who also weren't very happy with the signing, but the reality is Peralta will be the starting shortstop for the Cardinals for the next few years, so they're going to have to get used to the guy.
Peralta is a three-time All-Star who hit over .300 last year when he was deemed clean. I'm not defending PED use, but the guy owned up to his "crime" and took responsibility for his actions. He is also a decent defender and is much better swinging the stick than Pete Kozma or Daniel Descalso.
I think for what the market had to offer, Peralta was the one of the best options available. The Cardinals probably overpaid a bit, but for what was available, they got the best fit.
David Freese Trade/Peter Bourjos Acquisition
When hometown hero David Freese was traded last month, I was actually excited for him. Never will I forget the 2011 World Series and how David Freese absolutely took over in Game 6. But his struggles in 2013 made him expendable, and the Cardinals took advantage of their depth by dealing Freese and Fernando Salas to the Angels for Peter Bourjos and Randal Grichuk.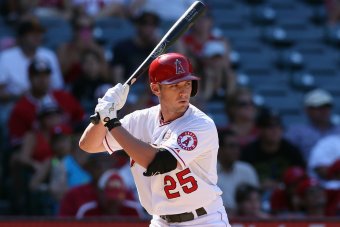 Jeff Gross/Getty Images
This move will give Freese a chance to reboot his career and have a fresh start, which he deserves. In exchange, the Cardinals got a guy in Peter Bourjos who can be an everyday center fielder.
Bourjos was an everyday player in 2011 and hit pretty well. He led the league with 11 triples, smacked 12 home runs and stole 22 bases. If Bourjos plays full-time, he'll hopefully be an upgrade from what Jon Jay provided in the field and at the plate.
Additionally, Bourjos isn't arbitration eligible until next offseason, and his earliest free-agent year will be 2017, so the Cardinals will have a few years with a nice budget on Bourjos to see what they have in him.
I think both sides walked away feeling like they were the winners in the deal.
Letting Carlos Beltran Walk
Carlos Beltran was everything the Cardinals could have asked for and more during his two-year stint in St. Louis. He outproduced Albert Pujols and led the Cardinals deep in the playoffs during his two seasons.
But Beltran is looking for a three-year deal to finish his career, and with him turning 37 in the first month of the season, it's a gamble for whichever team signs him. The Cardinals just weren't willing to take that risk, and I can't blame them. There is no question the Cardinals got the best of Beltran, and with Oscar Taveras in the wings, it was the right move.
I don't expect the Cardinals to make any other major offseason moves that will impact the Opening Day roster for 2014. They are set up well in the pitching department and have a fearsome lineup heading into 2014. Let the countdown begin.