Breaking down Blake Griffin's post game has become something of a basketball obsession. For a young player with his talent, nit-picking every aspect of his skill set is simply par for the course. But are the criticisms well-founded? And on what criteria are they built?
The first point to be made when talking about Griffin's post game is that, regardless of how appealing the results are visually, they are indisputably effective. According to mySynergySports (subscription required) he's averaging 0.85 points per post-up possession, making him the 30th most efficient post scorer in the league.
Griffin is shooting 45.3 percent from the field on post-up possessions and drawing a shooting foul on 17.3 percent of those possessions, both very healthy numbers and roughly comparable to his marks for the last two seasons.
But working in the post is still generally seen as a big hole in Griffin's game.
Over the past two years Sebastian Pruiti, Jared Dubin and Rob Mahoney have all taken a crack at analyzing his post game, coming to roughly the same conclusion: Griffin's post game is much better than he gets credit for.
From Dubin's article, last January:
Without fail, every time Blake Griffin is putting on a show, the chirpers come out of the woodwork. "All he does is dunk." "He never takes jump shots." "He has no post game." Those of us who watch closely, who have seen Griffin slowly but surely morph into one of the most powerful offensive forces in the league, know better. The truth is, Griffin has been developing his post game for years, and it's come to the point where he's now one of the toughest covers in the league on the low block.
Watching some video can help us see exactly where the disconnect is between perception of effectiveness and the reality of his efficiency.
These three possessions from a mid-November game against the Grizzlies are a microcosm of where Griffin's post game stands right now.
The first thing to notice is how aggressively he fights for position. As the Clippers bring the ball up the floor, he is usually headed right for the block to try to establish deep position before the defense has a chance to get set. He doesn't shy away from contact and is frequently able to bully his way right to the rim.
The problem is that he's often so focused on forcefully moving his defender that he begins his moves off-balance. Take a look at this image from a post-up possession against Kevin Love and the Timberwolves.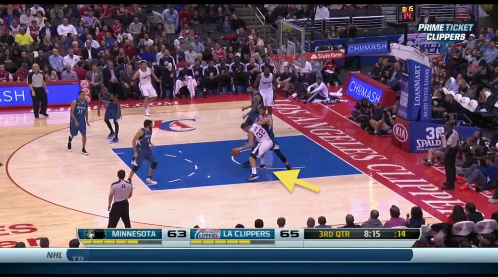 NBA.com
Griffin is about to spin back toward the baseline and his right hand. But he's so off-balance from bumping back Love that all his weight is on his pivot foot. This limits how far he can rotate back toward the baseline and means that ultimately he won't cover much ground with the spin. Here's the full possession.
There is rarely any economy to his movement in the post. Often his sequences of moves and countermoves appear to be strung together in a pre-determined fashion, rather than a series of responses to the movements of the defense. You'll often see him spinning and pump-faking several times only to find himself in the exact same position and shooting off-balance against a defender that hasn't moved.
Frequently it appears that his plan is just getting off the ground and figuring it out in the air. Here he uses a nice up-and-under fake to get his defender in the air. He's able to spin back into the lane and drop in the jump hook, but you can see that he has his back to the basket.
This would be an extremely difficult shot for a player of lesser athleticism, but Griffin makes it look easy.
When Griffin is successful in the post, it's usually a single move that obliterates the defense with his superior athleticism. Here deep position, a simple spin and his obscene vertical leap let him drop in a lefty jump hook:
Here, an up-and-under creates space for a layup as defenders bounce off him:
Here, a lightning-quick baseline spin becomes another leaping jump hook:
As impressive as these plays are, you can also see the outlines of why Griffin's post game is still constantly critiqued. His low post successes are devoid of the flash that characterizes the rest of his game. He does very simple things but with great strength and quickness.
That's vastly different from the way signature low-post scorers of the past went about their business. Hakeem Olajuwon and Kevin McHale would put defenders on a string, abusing them with an artful sequence of feints and spins before eventually relenting and dropping the ball through the hoop.
For them, post play was a cerebral and psychological battle, splendidly executed. Griffin is more brawn and brute force. It's a trite metaphor, but Olajuwon and McHale were playing chess while Griffin is jumping around a checkerboard. That's not to demean the results because, as the numbers at the beginning of this article showed, Griffin's particular style has proved to be effective.
But the criticisms will persist because numeric effectiveness doesn't usually inspire when it isn't paired with artful aesthetics. In the end what Griffin does may matter less to us than how he does it.