As Roberto Mancini's time at Manchester City was coming to an end, so too, it seemed, was Samir Nasri's. The Frenchman endured a difficult 2012/13 season and most observers felt sure a move away during the summer was the best thing for the player and the club.
Nasri was on the periphery for much of last season—struggling for form, floundering when selected, and, quite rightly, spending a lot of time on the bench. He and Mancini clashed, with City's former boss famously saying he wanted to "punch" the midfielder because of his tendency to remain on the fringes of matches rather than impose himself in the way he had done in his previous seasons in English football (via the Guardian).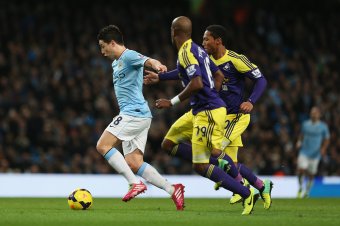 Clive Brunskill/Getty Images
Mancini was frustrated with a player he felt was extremely talented, but who wasn't trying hard enough. He sanctioned the £25 million transfer that brought Nasri to the club after his outstanding season at Arsenal (where he looked like one of the most creative players in the Premier League), and he knew a player of his ability should have been at the heart of City's attacking play.
In a revealing interview with Daniel Taylor for the Guardian, Mancini said of Nasri:
I think Samir has fantastic qualities. With his quality, he should always play well. Every game he could be the difference. A player of this quality could be one of the best players in Europe. But it's not happening.

Sometimes a player thinks it's enough what they did the year before and doesn't understand that every day they should improve. If you are a top player you know you can improve until the last day of your career but sometimes you get players who think it is not important to work and this is their worst mistake. Samir can do better than this year. He is a top player but he has not been playing at his level.
City's supporters were also critical of Nasri. After he flinched in the wall defending Robin van Persie's winning free-kick in the 3-2 defeat to Manchester United at the Etihad last season, the fans felt sure he wasn't a City player: The type who will fight for every ball and put their body on the line in search of three points.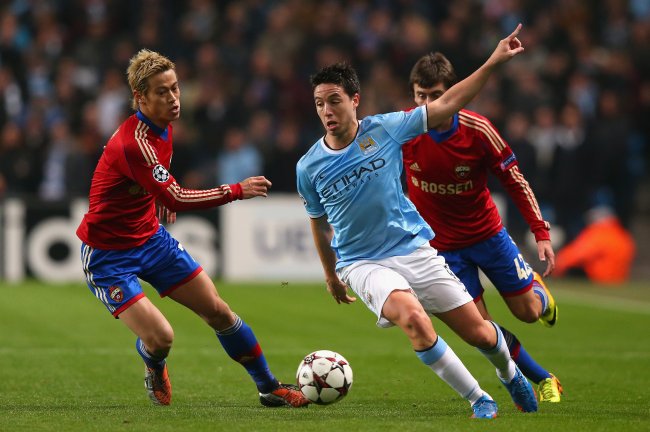 Alex Livesey/Getty Images
This season, however, has been a completely different story. Under Manuel Pellegrini, Nasri feels settled and happy, establishing himself as a first XI player, and becoming central to everything City do going forward. His touch, awareness, passing, vision, quick feet, footballing brain and, most importantly, confidence are back.
In his press conference prior to the recent Champions League match against Viktoria Plzen Nasri talked openly about his troubles last season (via the Telegraph):
Everything he [Mancini] was saying was difficult for me to accept. It wasn't his fault, it was just me because I wasn't in a good place.

I wasn't feeling myself. It was a tough season. After the Euro Championships and a beef with the French journalists, for months I refused to speak to anybody and had a lot of bad press in France and I wasn't involved in the national team.

It was a little difficult. In my head, I wasn't the same. I didn't play well for City and lost my spot in the squad and, at the end of the year, you look at your season and you realise, 'I was not myself.'

As a player, as a person, I grew up a lot. I know my mistakes now, and I know what to do to make it right.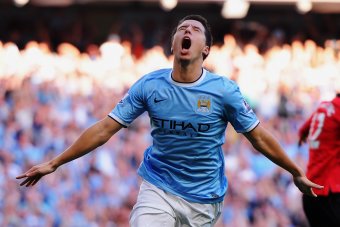 Michael Regan/Getty Images
With five goals already, and Man of the Match performances in his last two games, Nasri is having a fine season. He is working harder and influencing games in a positive way again, and his place in City's starting line-up is secure.
His two brilliant goals in Sunday's 3-0 win over Swansea were just the latest example of his growing importance to Pellegrini's City side.
Rob Pollard is Bleacher Report's lead Manchester City correspondent and will be following the club from a Manchester base throughout the 2013/14 season. Follow him on Twitter here @TypicalCity