When talk turns to the best defenses in the National Football League, the top teams mentioned are usually the same.
The Seattle Seahawks. The San Francisco 49ers. The Pittsburgh Steelers, Chicago Bears and Baltimore Ravens might even be discussed by casual fans, even though those teams have all backslid defensively in 2013.
OK, the Ravens and Steelers backslid a little. The bottom fell out in Chicago.
There's another team that has earned the right to be mentioned alongside those squads, and it's high time they got some dap.
That team? The Cincinnati Bengals.
It was the defense that carried the Bengals to a 17-10 win over the San Diego Chargers in Week 13, limiting San Diego's fifth-ranked offense to a single touchdown and holding quarterback Philip Rivers to his lowest passer rating of the season.
If Cincinnati's defensive prowess against San Diego surprised anyone, it really shouldn't have. The Bengals have been doing this all season long.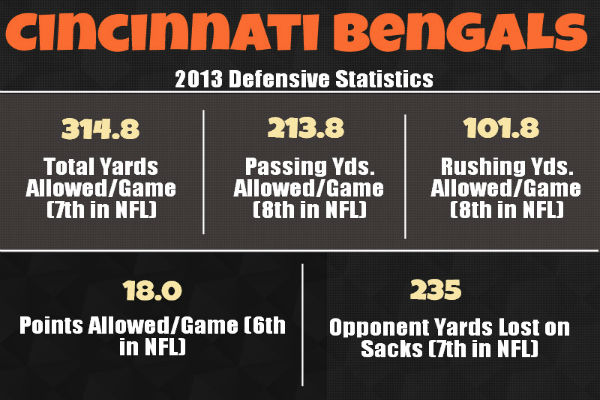 Graphic created by Gary Davenport
The Bengals rank in the top 10 in nearly every major defensive statistical category, from total yards to points allowed.
The team also ranks in the top 10 in sacks (36) and takeaways (23).
What's really remarkable is that the Bengals have accomplished this without several important players. Defensive tackle Geno Atkins, who is arguably the defense's biggest star, has been sidelined since Week 9 with a torn ACL. Top cornerback Leon Hall tore his Achilles tendon back in Week 8.
Even without Atkins, the Bengals still boast one of the better front fours in the NFL. Ends Carlos Dunlap (44 tackles, seven sacks) and Michael Johnson (39 tackles, three sacks) both rank in the top 20 at their position, according to Pro Football Focus (subscription required). They've been especially tenacious against the run, ranking third and second respectively at PFF.
The Bengals have also been remarkably successful with reclamation projects on defense. Linebacker Vontaze Burfict, who went undrafted in 2012 after a disastrous spring, has gone from the outhouse to the penthouse. Burfict's 131 tackles through 12 games leads not only the team but the entire NFL.
Burfict led the team with 13 stops against San Diego (on a bad ankle, no less), and head coach Marvin Lewis was singing the second-year pro's praises after the game, according to Jarrett Bell of USA Today.
"He's been such a joy to coach," Lewis said. "Where he got the reputation that he has, I don't know where he got it. But he's got charisma, leadership, everything. And he can play."
It hasn't just been Burfict either. Cornerback Terence Newman, who wore out his welcome in Dallas with the Cowboys, is having one of the best seasons of his 11-year NFL career in his second year in Cincy. Fellow corner Adam Jones has shed the "Pacman" moniker and is making headlines on the football field instead of in strip clubs.
Yes, Jones was cited back in September for disorderly conduct, but given his history the fact that the evening didn't end in handcuffs is progress in and of itself.
That brings us to the person who deserves most of the credit for Cincinnati's defensive success, although he very rarely gets it.
Defensive coordinator Mike Zimmer.
By any realistic measurement, Zimmer has done a phenomenal job in his five-plus seasons with the Bengals. Since taking the job in 2008, Zimmer's defenses in Cincinnati have never finished lower than 15th in the NFL, and his no-nonsense approach certainly seems to resonate with his players.
Incredible listening to Vontaze Burfict and Adam Jones talk about Mike Zimmer, who richly deserves a shot as a head coach in the NFL.

— Albert Breer (@AlbertBreer) August 21, 2013
And make no mistake, Zimmer is no-nonsense. He's an old-school coach running an old-school defense. There aren't a lot of hybrid fronts or exotic blitz packages with Zimmer's 4-3.
In fact, there isn't really a lot of blitzing period. According to PFF, the Bengals rank 19th in the NFL in blitz percentage over the past three seasons, sending an extra man (or three) 29.2 percent of the time.
Of course, some of the Bengals not blitzing can be attributed to the fact that they don't need to, and that's where an oft-maligned Bengals front office deserves some love.
The Bengals may well be cheap, but the team has done a fantastic job of finding players who fit Zimmer's scheme, often at a discount.
There's good depth as well. When starting middle linebacker Rey Maualuga went down with a knee injury earlier this year, Vincent Rey stepped in and averaged double-digit tackles over his three starts.
The Bengals had former Big Ten Defensive Player of the Year Devon Still waiting in the wings when Atkins got hurt. If Johnson leaves in free agency next year (as most expect), uber-athletic rookie Margus Hunt waits to claim his spot.
In every sense, from the players on the field to the coaching staff and decisions made regarding personnel, the Cincinnati defense is a unit. The whole truly is greater than the sum of its parts.
Mind you, all this isn't to say that the Bengals are bereft of offensive talent. Wide receiver A.J. Green may be the best player in the NFL at the position not named Calvin Johnson. Running back Gio Bernard is going to be a star.
However, much like the win over San Diego, if the Cincinnati Bengals are going to take the mythical "next step" this year and win their first playoff game since 1990, it's going to be on the backs of their defense.
A defense that's a heck of lot better than most people think.