Houston Rockets Power Rankings: Rating Every Player After First Six Weeks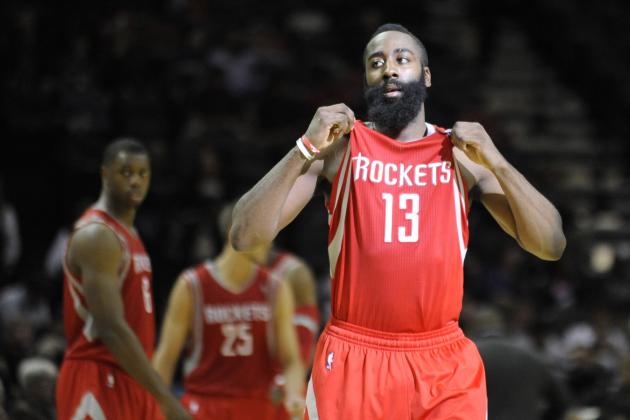 Brendan Maloney-USA TODAY Sports
James Harden and the Houston Rockets are rolling.
As the Houston Rockets continue to roll, it's time again for another edition of your Houston Rockets Player Power Rankings. As some players have gone down with injuries, others have risen to the occasion and climbed their way up the ranks.
Jeremy Lin was playing well until he went down with a knee contusion, but lucky for the Rockets Aaron Brooks is shooting the lights out. James Harden sat out a few games with that sore foot of his, but he looks back to normal since his return and led the Rockets to a statement win in San Antonio over the division rival Spurs.
Omer Asik is still a big question mark for Houston. He is back in the rotation, but it is still unclear whether he will remain a Rocket this season.
Shooters like Chandler Parsons and Francisco Garcia are finally starting to heat up, which is bad news for other teams around the league.
The Rockets are red hot. Here are the power ranks for the Houston Rockets through the first six weeks of the season.
All player stats are from ESPN.com unless otherwise noted.
Begin Slideshow

»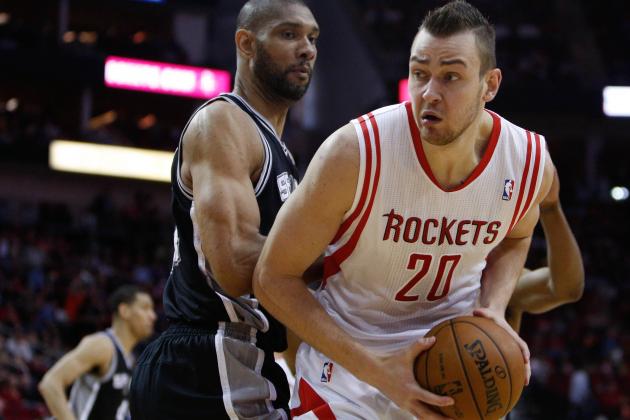 Thomas Campbell-USA TODAY Sports
Donatas Motiejunas has not seen the floor much for Houston, but has capitalized on his slim opportunities.
Isaiah Canaan and Robert Covington take up the final two spots on the roster, but they are currently playing in the D-League with the Rio Grande Vipers, and therefore won't be a part of the rankings.


13. Greg Smith
Points: 3.0
Rebounds: 2.3
Assists: 0.0
Greg Smith's season took an immediate halt before it even started. The big man has been sidelined since early November with a sprained knee.
Smith has only appeared in four games this year for Houston, and he has not done much in those appearances. Smith may still have a decent year with the Rockets, especially if the team decides to deal center Omer Asik for a stretch four, which would make Smith Dwight Howard's primary backup.
Smith showed flashes of potential near the end of last season but hasn't gotten enough chances yet this year with that hurt knee. He should return to action within the week.


12. Ronnie Brewer
Points: 0.5
Rebounds: 0.7
Assists: 0.7
At the end of the bench, Brewer hasn't done much better than injured Greg Smith. Brewer has only played in six games all season, almost always during garbage time.
The Rockets signed Brewer in the offseason to help out with perimeter defense. So far, Houston hasn't really played any recognizable defense, however they continue to score plenty.
Brewer is a defensive-minded player who is not a good fit in the Rockets' run-and-gun style offense. He is a poor shooter and does not have a knack for scoring. He may wind up on another team by the end of the season if the Rockets choose to exchange him for a shooter that would fit the system better.


11. Donatas Motiejunas
Points: 3.7
Rebounds: 1.4
Assists: 0.1
Like the other two players on this slide, D-Mo has struggled to get minutes this year. He has played in just seven games so far, which is less than expected.
Motiejunas has a decent three-point shot, which is a good fit for the Rockets, but he can be inconsistent. His rebounding and defense is also abysmal, which leaves coach Kevin McHale no choice but to stick with the hot hand Terrence Jones at power forward for the time being.
As the season progresses, D-Mo may see more time. He must continue to capitalize on his chances and show off his moves in the post.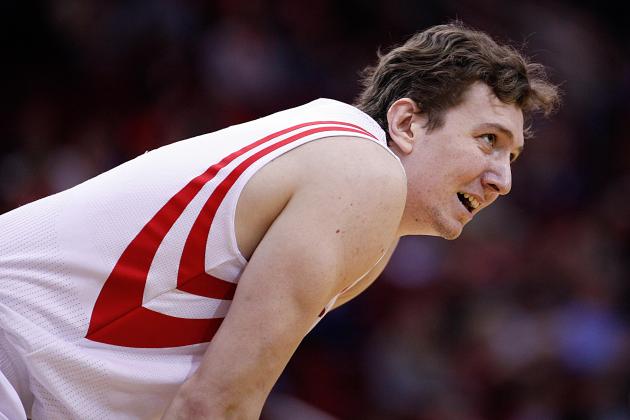 Andrew Richardson-USA TODAY Spor
It hasn't been smooth sailing for Asik this season in Houston.
Points: 4.6
Rebounds: 6.9
Assists: 0.4
Omer Asik is understandably upset with his situation in Houston. After a phenomenal year as the starter with the Rockets last season, he is now on the bench behind newly acquired superstar Dwight Howard.
Along with his minutes, Asik's stats across the board are way down. Even though he is not getting as much time on the court, his demeanor on the court is noticeably somber and, as a result, his production has been less efficient.
General manager Daryl Morey has been shopping Asik around the league, but apparently the asking price is a bit too high. The ideal solution for the Rockets would be to get Asik on the same page as everyone else and accept his new role, because Houston does need his interior defense off the bench.
In a few weeks, we'll have a better idea of what Asik's future with the Rockets will look like. For now, he needs to bring more effort as a part of the second unit.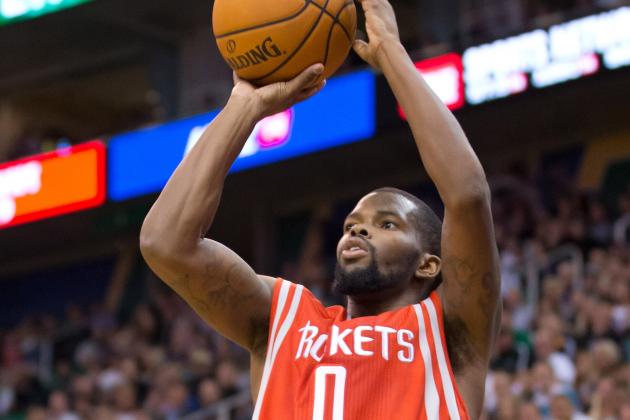 Russ Isabella-USA TODAY Sports
Aaron Brooks has stepped in amidst the injuries and has played well for the Rockets.
Points: 6.3
Rebounds: 1.3
Assists: 1.6
Brooks did not get much playing time early on in the season, but with injuries to Jeremy Lin and James Harden, he has become a big part of the Rockets rotation.
At 6'0", Brooks has blazing speed that allows him to penetrate past any defender. He also has been shooting the lights out at 48.5 percent on the year. He has provided the scoring for the injured Harden and Lin when they were unable to play.
AB is a fan favorite. He won the Most Improved Player of the Year Award a few years back with Houston, and he was the leading scorer under head coach Rick Adelman and his read-and-react offense. Brooks is no longer the leader, but his role has been significant this season for the Rockets.
Thomas Campbell-USA TODAY Sports
Omri Casspi has been a pleasant surprise for the Rockets all season long.
Points: 8.9
Rebounds: 4.1
Assists: 1.6
The Rockets signed Omri Casspi over the summer to help fill the void that Carlos Delfino left. Casspi has gone above and beyond, excelling at the stretch four in the Rockets' offense.
Casspi's ability to guard opposing power forwards has been good enough to put him in the game because of the nightmarish match-ups it creates on the offensive end. Casspi is shooting the ball well at 41.2 percent from deep. He also is an athletic slasher who can get to the paint and finish at the rim.
Casspi brings energy and scoring off the bench and can also hold his own on defense and rebounding. GM Daryl Morey struck gold with this signing, as Casspi continues to effectively produce each night for Houston.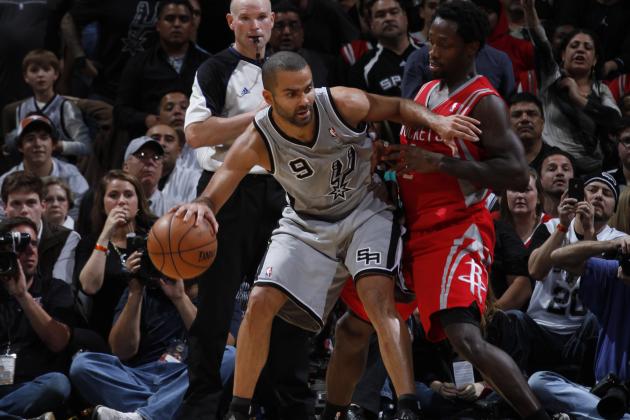 Chris Covatta/Getty Images
Beverley's defense has been vital for the Rockets this season.
Points: 9.5
Rebounds: 3.8
Assists: 2.3
Beverley won the starting job in the preseason, but almost immediately after he went down with a rib injury that he suffered in the season opener versus Charlotte. It took a few weeks for Bev to get healthy and back to 100 percent, but now he is firing on all cylinders for Houston.
Beverley is an aggressive player. He hustles hard and comes up with big plays for the Rockets. The stat sheet doesn't tell the whole story.
The biggest reasons for Beverley's significance for the Rockets is his defensive effort and his three-point shooting. On defense, he gets 1.3 steals per game and disrupts some of the top point guards in the league. In back-to-back games, he held star guards Mike Conley of Memphis and Jeff Teague of Atlanta to 2-of-14 and 0-of-5 shooting respectively.
After a slow start, Bev is now up to 35.1 percent from behind the arc. If he can continue to improve his outside shot and consistently keep opposing scoring guards in check, then Beverley should continue to start for the Rockets.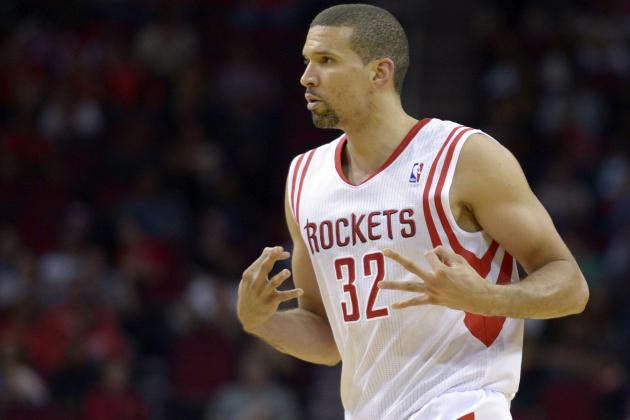 Thomas Campbell-USA TODAY Sports
Garcia's main job for Houston is to hit threes.
Points: 7.9
Rebounds: 2.4
Assists: 1.3
The Rockets brought Garcia back in the offseason after he performed well in their playoff matchup against Oklahoma City.
Garcia's main role with Houston is to drain threes. He had a minor slump for a handful of games, but he is still connecting on 38.3 percent of his tries from deep. As a part of the second unit, Garcia can put a spark in the offense by coming in and hitting a couple of quick treys.
With injuries to Harden and Lin, Garcia has gotten plenty of minutes for the Rockets at over 21 a game. Francisco is also a decent defender and can cut to the basket, but the three ball is his bread and butter. As long as the three-point stroke continues to work, the Rockets are happy.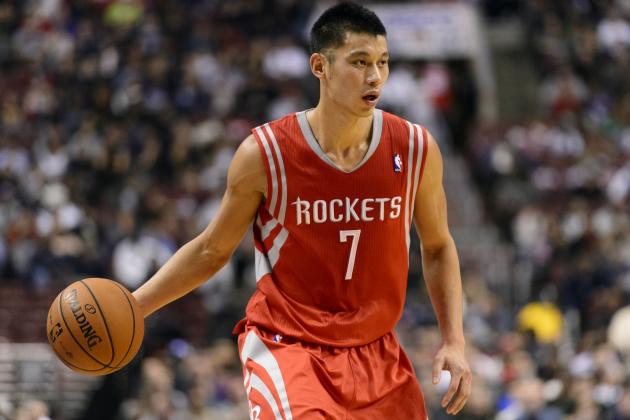 Howard Smith-USA TODAY Sports
Jeremy Lin has revitalized his career coming off the bench.
Points: 15.3
Rebounds: 2.6
Assists: 4.5
Before going down with a knee contusion against the Atlanta Hawks, Jeremy Lin was thriving as the sixth man in the Rockets' rotation. Lin was doing everything right leading that second unit for Houston.
Lin can push the tempo in the Rockets' favor and facilitate the run-and-gun offense to a tee. He is a fantastic finisher at the rim on his drives, and his shooting has improved drastically, up to 39 percent from three.
After falling from grace in a poor playoff showing against OKC, Lin has done spectacularly coming off the bench and is a legitimate early contender for sixth man of the year. He's out for a little while longer with that contused knee, but hopefully he can pick up where he left off once he gets back.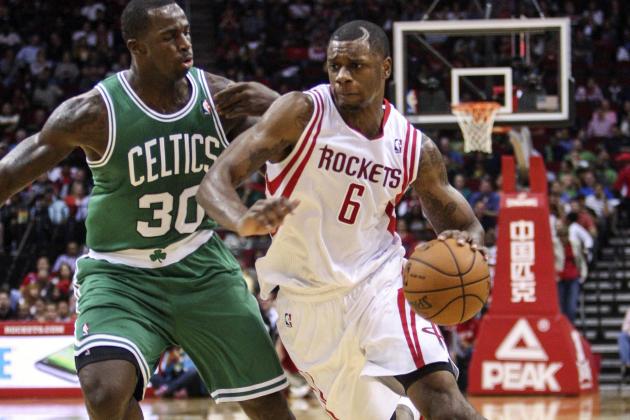 Troy Taormina-USA TODAY Sports
Terrence Jones has stepped in to the Rockets' starting lineup and has done a phenomenal job.
Points: 9.6
Rebounds: 6.3
Assists: 1.0
The day that Terrence Jones replaced Omer Asik in the starting lineup was the day the Rockets' season really began. This lineup has done wonders for Houston after the Howard-Asik experiment failed miserably.
Since he has started, Jones and the Rockets have been on a roll. He is averaging 12.5 points, 8.2 boards and 1.5 blocks as a starter. He fits in nicely next to Dwight Howard in the starting lineup, especially if he can keep up his 43.5 percent three-point shooting.
Jones' athleticism and outside shot make him the perfect fit for the Rockets alongside Dwight Howard. The Rockets may be shopping Asik and asking for a stretch four in return, but that would be a mistake because they already have their guy and his name is Terrence Jones.
Since Jones has started, the Rockets have gone 8-3. Expect to see him in the starting five for the rest of the season.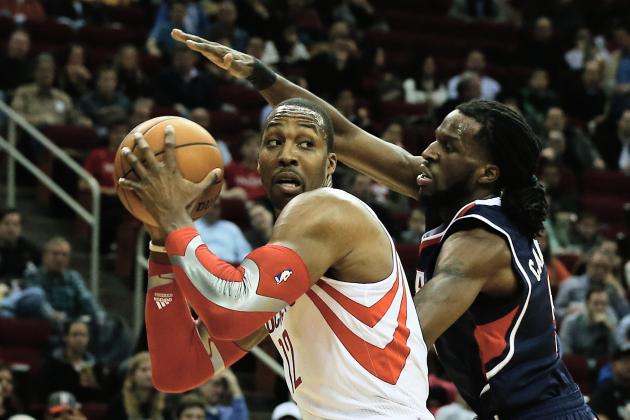 Scott Halleran/Getty Images
Howard was the biggest signing over the summer, but he has not quite lived up to expectations just yet.
Points: 16.6
Rebounds: 12.3
Assists: 1.8
The Harden-Howard era is barely underway in Houston, and already it's slightly disappointing. The Rockets are playing well, but after winning the Dwight Sweepstakes over summer, Houston fans expected more from the all-star center.
Howard has played well at times for the Rockets, but he is nowhere near the dominant player he once was in Orlando. He still affects plenty of shots in the paint and grabs a ton of boards. But his presence on the court is not as intimidating as it used to be.
Howard is playing formidably, but he is not living up to his max contract or Houston's "Legacy of Bigs" campaign.
The truth of the matter is, Dwight is still meshing with Harden and the rest of the team. The chemistry is not quite there yet, but once it is, the NBA better watch out. Howard is still getting back to 100 percent after his back and shoulder injuries over the past couple of years.
Howard can still get back to his dominant ways with the Rockets. He has two great mentors in coach McHale and former Rocket great Hakeem Olajuwon. Can Dwight live up to all the hype, prove his critics wrong, and win a championship with Houston? First, he'll need to make some free throws.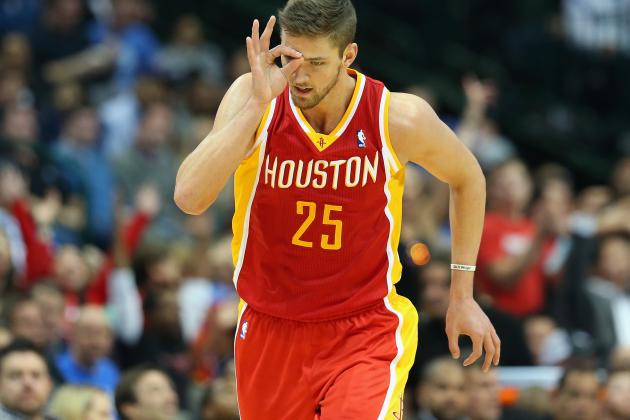 Ronald Martinez/Getty Images
Chandler Parsons has been a stud for the Rockets so far this season.
Points: 17.2
Rebounds: 5.1
Assists: 3.9
After signing Dwight Howard, the Rockets were looking for a third star to complete their Big 3. As it turns out, they already had that guy on the squad, and he's only making $850k this season.
Chandler Parsons has been terrific for the Rockets all season long, following up his spectacular playoff performance against OKC. He is the second leading scorer on the team behind Harden. Parsons is an excellent slasher to the rim, and he is also shooting 39 percent from three.
Parsons is the "glue guy" for this Rockets team, and he is an essential part of a potential championship run. He helps space the floor, which is key for the Rockets' style of offense. He also has been clutch for Houston in moments down the stretch.
Drafted 38th overall, Parsons has been proving GMs everywhere wrong. Morey really found a diamond in the rough with this pick. The Rockets will have to decide if they want to pick up Parsons' team option this year or let him become a restricted free agent and sign him to a longer extension.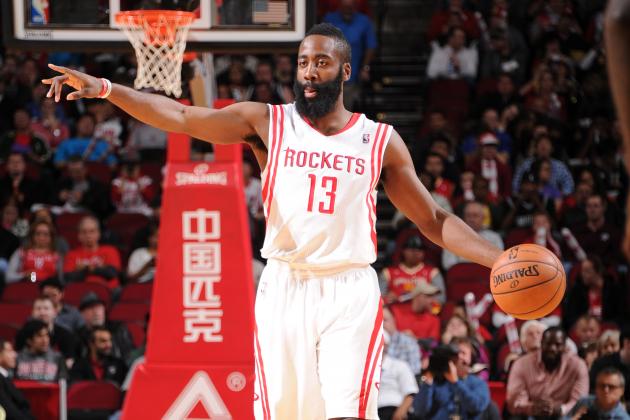 Bill Baptist/Getty Images
The Beard is running the show in Houston.
Points: 24.5
Rebounds: 4.5
Assists: 5.7
It's no surprise that the Beard takes the top spot of the countdown. He is the go-to guy in H-Town, and he is going to lead them to the promised land.
Unfortunately, Harden has been struggling with a sore left foot since training camp. He's already missed four games, but he has still been able to crack the top five in scoring. He is far and away the leading scorer on the team and has also been stuffing the stat sheet in other areas.
Across the board, many of his stats are down (except for the turnovers those have actually gone up), but the good news for Houston fans is that the Beard is still productive as ever, and he hasn't quite been himself yet with that bum foot.
His field goal percentage is nearly 46 percent, better than last year's. From behind the arc, Harden is shooting an unimpressive 32.3 percent, but that should go up as the season progresses.
Once Harden gets fully healthy, he and the Rockets will rise amongst the rankings out west.