10 Questions to Ask Jeremy Shockey
New Orleans' tight end Jeremy Shockey went through his college football career at the University of Miami where he made a name for himself as an unstoppable mismatch for opposing defenses. After college he went to the New York Giants as the fourteenth pick in the 2002 NFL Draft.
Shockey quickly lived up to the hype surrounding him and proved he was worth the Giants first-round pick by being selected to the Pro Bowl in his rookie year. However, since then Shockey's production on the field has been consistently declining. He has also had several off-field issues with coaches and teammates, not to mention serious injury problems.
Shockey is one of those players that attracts fans to him. However, one must wonder, as time goes on, whether or not those fans will be willing to stick with him as his production drops.
To pick Shockey's brain on the subject of his past with the Giants, including spending the latter part of the Giants' Super Bowl season sidelined with an injury, and his future with the Saints would be quite a privilege. What follows are ten questions I would ask Shockey about his past career in the NFL and how he sees his future playing out:
What do you say to people who believe your production has been dropping since 2002?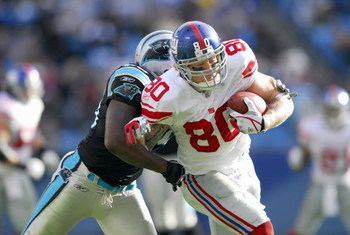 While there is no way that Shockey could refute that his statistical production as presented here: dropped. There is valuable information in his beliefs about his production. There's more to production than statistics. Was he getting doubled more? Did the Giants' scheme switch so that he focused more on blocking?
Shockey is the kind of player that is quick to speak his mind. Not only that, but he quite obviously is certain of his talent. It would be interesting to hear what he thinks of his sinking numbers seeing as he is such a confident player.
What was it like to sit out the Giants' Super Bowl win?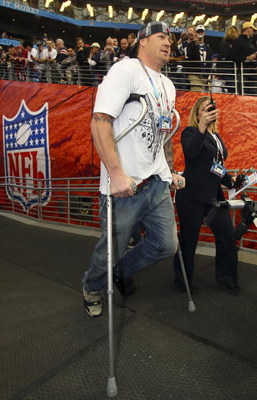 Shockey has become more and more injury prone as his career has gone on but no injury was more devastating than when he broke his left fibula in week fifteen of the 2007-2008 season. Shockey was forced to sit out the rest of the season while Kevin Boss came up huge for the Giants on their way to one of the most improbabe Super Bowl victories of all time.
Once again, with Shockey's confidence, it would be interesting to know how this situation affected him. There is no way that he simply brushed off the fact that his team was competing in the biggest game in the whole sport.
What led to your course of action after the Super Bowl?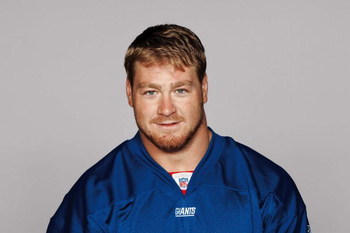 It's no secret that Shockey and the Giants had quite a falling out following the Super Bowl. Shockey decided to not attend both the team's visit to the White House and the team's blue carpet ring ceremony. Much ado was made about James Harrison skipping
Few remember Shockey's decision because it was made as a result of a falling out with the team.
The answer to this question could lead to answers for some questions that remain after the conclusion of the love/hate relationship that existed between Shockey, the Giants and the people of New York.
Is there anything left unsaid between you and the Giants?
Reports swirled around the Giants' training camp in 2008 that Shockey was unhappy with his contract and the way he was being treated. Tom Coughlin and Shockey both chose to stay relatively quiet on the matter but it was clear that both sides were disappointed with the way things played out.
It would be quite riveting to hear Shockey's take on the whole situation. Many times players wait until they are separated from their former teams to get things off of their chests. Although Shockey hasn't said anything extremely interesting about the Giants to date, he may not have been pushed yet.
5.Were you happy when news of the trade to New Orleans came out?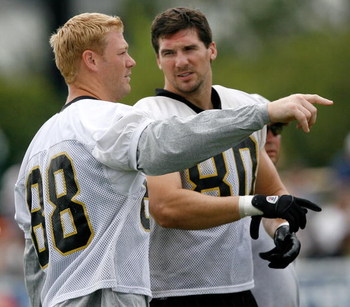 Shockey said and did all the right things when word was finally passed down that he was going to be traded to the Saints.
"I have had a relationship with Coach Payton and I appreciate what he has done as a head coach," Shockey said in a statement released by the Saints after the trade. "The Saints have a lot of weapons starting with Drew Brees and I look forward to joining my teammates at training camp. This will be a fun year."
However, was he truly happy? Is there something inside of Shockey that wishes things would have worked out in New York?
6.How did your hernia early in your first season in New Orleans affect your relationship with Saints' fans?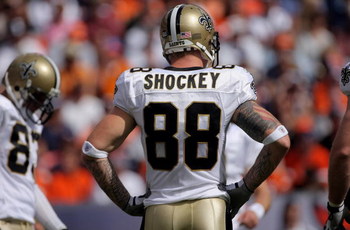 Shockey's sports hernia in week five of his first season with the Saints started things off on the wrong foot for him in New Orleans. While there isn't much that Shockey could do to reverse the injury, his reaction to the injury could certainly be changed.
Not long into his recovery process Shockey accused the Saints' training staff of misdiagnosing the injury.
Whether or not the injury was truly misdiagnosed, one must wonder whether or not Shockey wishes he could change the way that he handled the situation in order to leave a better impression on Saints' fans.
7.What happened in Las Vegas this summer that left you unconscious beside a pool?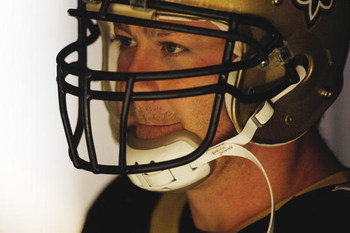 This must be a question that is running through the minds of many NFL fans. Shockey was found unconscious by a pool at 2:00 pm in Las Vegas. The Saints are sticking with the story story that Shockey was merely dehydrated and nothing more.
8.Is your heart still in football?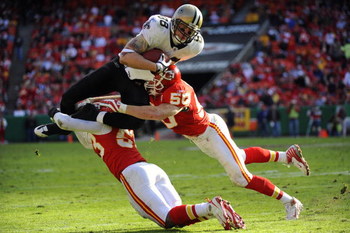 Many fans remember Shockey for his fire and passion for the game. Since his season ending injury in 2007 it has been apparent that Shockey hasn't had the fire that he once did. He has been blaming poor performances on injuries and sometimes, such as Giants' minicamp, not even performing at all. It would be unlikely that Shockey would be one hundred percent honest in answering this question but it remains a question worth asking.
9.What is one off-field action of yours that you would change if you had the chance?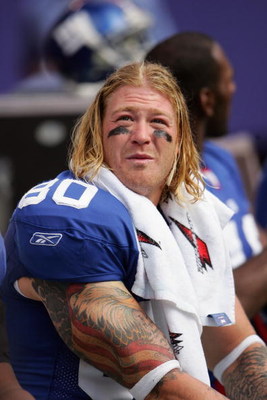 Shockey has become a polarizing figure since entering the league. Some fans love his honesty and some fans consider him to be a selfish player. It would be interesting to hear if he is happy with his perception. Shockey is just the type of guy that would claim that he wouldn't change anything and that he doesn't care what anyone thinks of him but, at the same time, one has to expect he has some desire to be appreciated by the fans.
Whether it be in New York or New Orleans, you can imagine that Shockey may wish that he had a new start.
10.How have you changed your offseason regimen to be prepared to make an impact this season?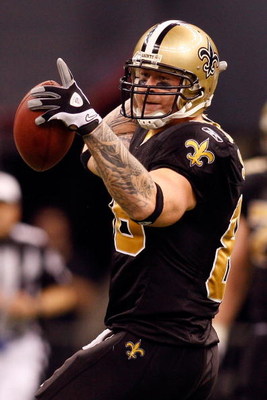 Shockey was less than impressive in his first year as a Saint. New Orleans needs him to perform better than last season's fifty catches, 483 yards and zero touchdowns. If he can he will provide another weapon for an already deadly passing attack.
Saints fans are desperate to see the Jeremy Shockey that New Orleans expected following the trade with New York.
However, injuries and an appearance of a lack of dedication has stood between Shockey and Pro Bowl-like success. Shockey must have to change something about his preparation if he expects to be successful this season.
Keep Reading

New Orleans Saints: Like this team?