LA Lakers Power Rankings: Rating Every Player After First 6 Weeks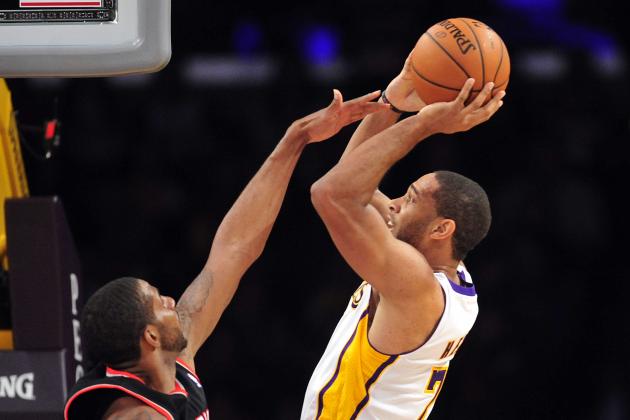 Gary A. Vasquez-USA TODAY Sports

Hovering around the .500 mark, the Los Angeles Lakers have been very competitive, despite losing a lot of talent and having to deal with Kobe Bryant's absence.
Expected to be a bottom feeder, the Lakers have been able to maximize the limited amount of talent on their team in order to remain a force in the Western Conference. Playing up-tempo basketball when they can and thriving in half-court sets with a bevy of capable ball-handlers, the Lakers' versatility has been a great asset for them.
Another key to their unexpected success thus far has been their bench production. With no apparent drop-off once they hit their bench, the Lakers are first in the league in bench points with close to 48 per game.
Almost every player on the roster has played a major role in filling in the gaping holes left by the departures of Dwight Howard, Metta World Peace, Antawn Jamison and Earl Clark.
Although the playoffs are still a stretch, the fact they are within striking distance without Bryant having played a single game shows they have the potential to be very dangerous once he does return. Each player on the roster has a defined role, and they are going about their business without any drama.
Each player will be graded on their performance based on individual expectations and ranked based on their importance to the Lakers' success thus far. Keep in mind that just because a player receives a high grade based on meeting expectations doesn't mean they will be given a high ranking based on overall important to the team's success.
Stats are accurate as of December 3, 2013.
Begin Slideshow

»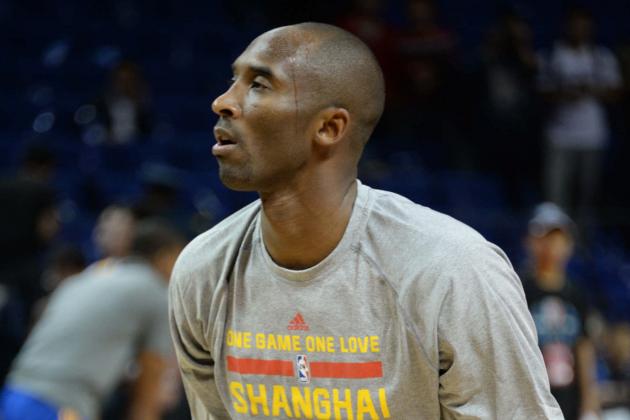 Andrew D. Bernstein/Getty Images

Without a doubt, the Los Angeles Lakers will go as far as Kobe Bryant can take them. However, the fact the Lakers have remained competitive without him shows they have taken on an identity of their own from underneath his shadow.
With Bryant increasing his workload in practice and looking very good doing so, there is still a chance he may disrupt the chemistry this scrappy team has developed. However, if his emphasis on facilitating in practice is any indication, Bryant may be more than happy to be more of a creator than a scorer like he was in stretches last season.
Regardless of the uncertainty behind his role and when he will debut, there is no doubt the Lakers will be a better squad with the Black Mamba on the court. However, how vital he is to the squad's success can't be accurately determined until he actually does play a game.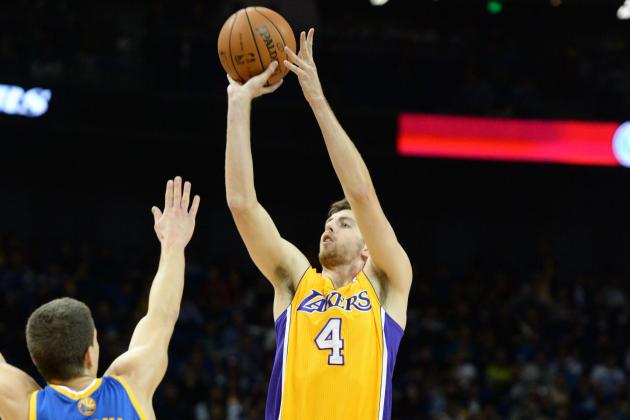 Andrew D. Bernstein/Getty Images

Appearing in two games while putting up averages of three points and one rebound per game, Ryan Kelly will continue to ride the pine.
Spending most of the season in the D-League, Kelly is a serviceable big man who can stretch the floor with his shooting to provide floor spacing for the ball-handlers on the team. However his main contributions will come in practice and in garbage minutes at the end of games.
While potential injuries to Pau Gasol or Jordan Hill may help Kelly's case for more minutes, there is no doubt he is at the bottom of the totem pole on the roster.
Andrew D. Bernstein/Getty Images

Father Time has really taken it to Steve Nash this season. Playing in only six games this season, Nash hasn't been able to stay healthy.
Expected to help Pau Gasol and the other role players stay competitive without Kobe Bryant, Nash has spent more time recuperating with the Black Mamba than contributing on the court. While this isn't a knock on Nash's efforts, it is clear that even if he does get healthy enough to play, he is but a shadow of his former self.
While his averages of close to seven points and five assists are way below what was expected of him, Nash can still dictate the pace and run an offense when he is healthy. However, being a below-average defender even in his prime, Nash could be the Lakers' greatest defensive liability among the other guards on the roster even when he does return.
All the Lakers should expect from Nash moving forward is his proficiency as a spot-up shooter and his ability to bring the ball up the court in transition.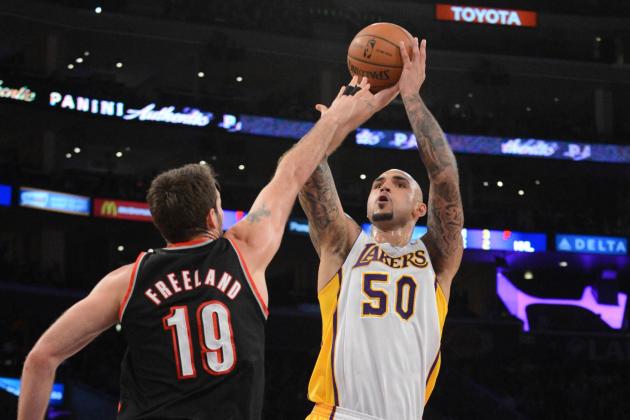 Noah Graham/Getty Images

His 12 points, seven rebounds and four assists against the Portland Trail Blazers on December 1 aside, Sacre hasn't had the chance to play a lot of minutes thus far.
While he hasn't played enough minutes to really make an impact, his size and quickness have made him a serviceable backup for short spurts.
Sacre doesn't stand out in any aspect of the game but plays with effort and is fundamentally sound in terms of rotations, box-outs, lane coverage and altering shots. His offensive showcase against the Blazers really showed off his basketball IQ and could earn him consistent minutes down the stretch.
He is a very capable pick-and-roll player who can also fill the lanes and get good position in transition. He has shown off the ability to hit short jumpers and uses his positioning to get easy baskets. While he isn't the post scorer Chris Kaman is, he could potentially usurp a lot of minutes from the veteran with his energy and hustle.
It is clear Sacre could continue to rise in the rotation if Kaman continues to underachieve and Sacre continues to make the most out of the opportunities Mike D'Antoni gives him.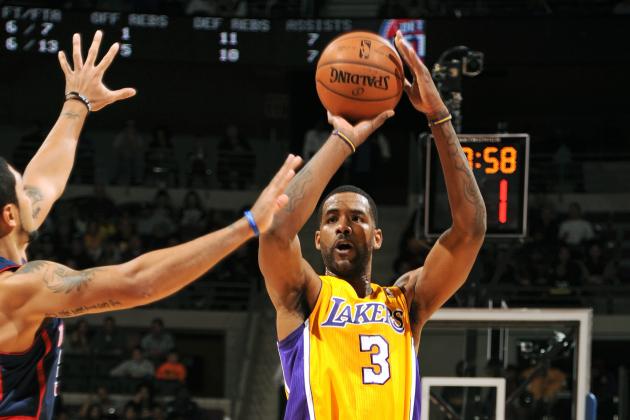 Dan Lippitt/Getty Images

Signed to fill out the roster, Shawne Williams has been a valuable contributor for the Lakers as both a bench player and a starter.
He provides everything Mike D'Antoni looks for in a role-playing big man. Williams can spread the floor with his three-point shooting, run in transition and is athletic enough to be a force on the boards when he focuses on that aspect of his game.
While he isn't an efficient scorer, shooting an abysmal 34.9 percent from the field, all the Lakers are expecting from Williams is the threat of his long-range shooting and the hustle plays that don't necessarily make it onto the box score.
Williams is averaging 19 minutes per game on the season and has played over 20 minutes in each of the last five games. Although he isn't putting up big numbers in those minutes, he is definitely still an overachiever by establishing himself as an important part of the rotation.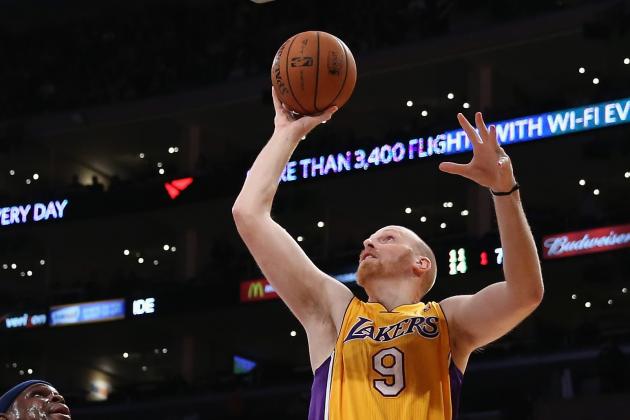 Jeff Gross/Getty Images

Expected to be the incumbent starter and a vital part of the Lakers' success this season, Chris Kaman has been riding the pine more often than not in the past few games.
First, Kaman lost his starting position to Jordan Hill, who provides superior rebounding, athleticism and can run the floor better than Kaman can. Subsequently, Kaman also began to lose minutes to Robert Sacre, who has earned D'Antoni's respect by providing good interior defense and showing improvement in athleticism.
While Kaman is a better back-to-the-basket player than both Hill and Sacre, he cannot run the floor like those two can and isn't the defensive presence Hill is. While Sacre hasn't played enough to concretely state he is a better defender than Kaman, his defensive instincts and rebounding ability were definitely highlights of his short stints on the court.
Although Kaman should still see time against slower-paced teams and against larger front courts, it appears as if his impact on the court won't be as substantial as originally anticipated.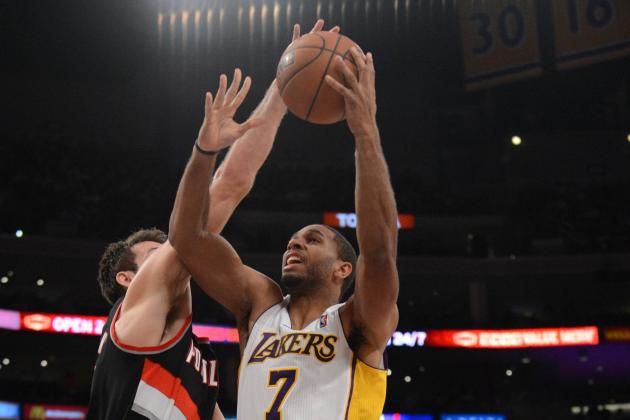 Noah Graham/Getty Images

With breakout performances in the preseason, Xavier Henry was supposed to challenge Jodie Meeks for the starting shooting guard position. While he has been mostly inconsistent, there is no doubt he provides a real spark off the bench and has been an important part of the Lakers' competitiveness to start the season.
Perhaps his most tangible contribution to the Lakers' efforts has been his scoring. Averaging over nine points in 19 minutes per game, Henry scores in a variety of ways that keep defenses guessing. His 45.2 percent shooting from beyond the arc has been a lethal weapon. He can also create his own shot, and his athletic enough to finish in the paint and via the fast break.
However, despite Henry's offensive versatility, he needs to learn how to make his teammates better. He averages less than one assist per game and hasn't been a standout defender despite his quickness and length. If Henry can cut down on questionable shot attempts and use his ability to penetrate to make his teammates better, he can continue to see more consistent minutes.
Despite his shortcomings, it is still impressive that Henry has been able to carve a niche for himself in the rotation after being underutilized in his previous years in the NBA.
Allen Einstein/Getty Images

Playing 24.6 minutes per game, Wesley Johnson has been a solid option for the Lakers, who have a lack of depth at the small forward position.
While he hasn't been the most efficient shooter, his 8.4 points on 43.6 percent shooting shows he does have a place in the offense. Getting over a third of his shots from within eight feet of the basket, Johnson's ability to attack the paint and finish in transition make him an important part of the offense.
He has also been an unexpectedly lethal shooter from beyond the arc; Johnson has shot 44.1 percent from distance and has taken 59 shots from three-point range this season.
Like Xavier Henry, Nick Young and Jodie Meeks, Johnson's offensive versatility and athleticism has helped the Lakers stay afloat in the Western Conference.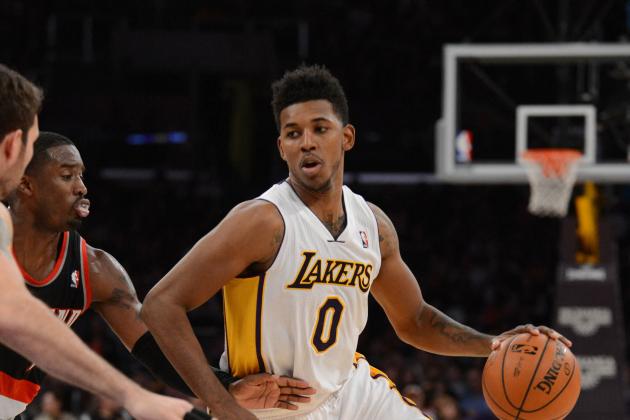 Noah Graham/Getty Images

Nick Young was brought in to be a scorer and disruptive defender. Not only has Young lived up to these expectations, he has also exceeded them by becoming the Lakers' second-leading scorer this season. Trailing Pau Gasol by a tenth of a point, Young's 14.2 points per game on 44.1 percent shooting has come from virtually every spot on the court.
While his three-point shooting isn't as efficient as some of the other guards on the roster, he is still serviceable from distance and gets most of his points by creating for himself off the dribble.
Outside of Bryant, Young may be the best at creating his own shot on this roster. This is very important for a team that has a tendency to get stagnant on offense for stretches.
Although this responsibility could lead to some inefficient shooting nights, Young has shown the mindset that most great scorers have: He always thinks he is going to make the next shot regardless of how well he is shooting that night.
Not only has he been the second-best scorer on the roster, he has also stepped up defensively. Although he isn't a great rebounder, he averages one steal per game and is very active in the passing lanes and in trying to take charges.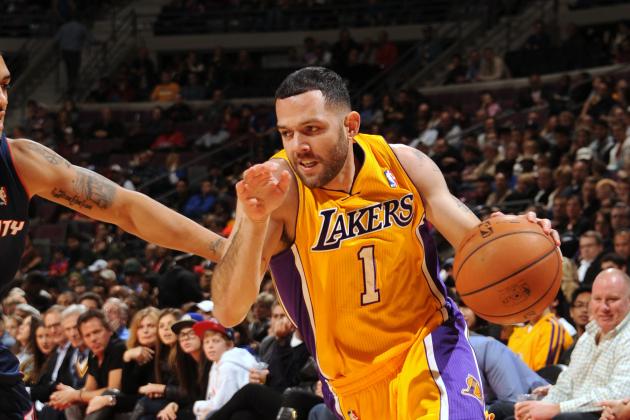 Dan Lippitt/Getty Images

Perhaps the most dynamic bench player on the roster, Jordan Farmar has been one of the most important players on the roster.
His nine points, four assists and three rebounds in 19 minutes per game show his versatility as a point guard. Not only can he score from every spot on the floor, but he can also run an offense as well as any point guard in the league.
While he isn't a flashy passer or a dominant scorer, his ability to be both a facilitator and a scorer at the 1 spot means the Lakers can have him adjust his game based on different situations and matchups.
Also, like many of the other guards on the team, Farmar is a great three-point shooter. Shooting 39.3 percent from beyond the arc, he is one of several guards who can really stretch the floor and provide great spacing for the Lakers.
He does have a tendency to be a little reckless with the ball. Averaging a little over two turnovers per game, this is almost identical to Steve Blake's average, despite Blake playing approximately 10 more minutes per game.
Maddie Meyer/Getty Images

Despite the influx of guards with very similar skills and athletic ability, Jodie Meeks has been able to maintain his starting position and has separated himself from the pack by being one of the most consistent players on the roster.
The great thing about the Lakers is the fact that they have a lot of interchangeable guards that can do the same things. Henry, Johnson, Young and Meeks are all players who can play several positions, shoot from beyond the arc and finish in transition. However, Meeks does all of these things more efficiently.
Shooting 49.1 percent from the field and 44.8 percent from three-point range, Meeks' 13.2 points per game make him the third-leading scorer on the roster. While his 0.8 assists per game does indicate he becomes a bit of a black hole, at least he is an efficient one.
Alongside his career highs in scoring and shooting percentages, Meeks still remains a tenacious defender. Using his lateral quickness and instincts, Meeks is a good man-to-man defender and remains a pest in the passing lanes.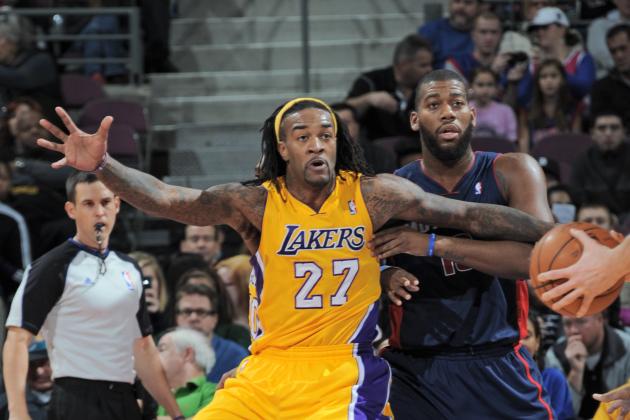 Allen Einstein/Getty Images

Despite not being a big man who can stretch the floor, Jordan Hill forced Mike D'Antoni to give him an opportunity by playing with effort and intensity.
Averaging a career-high 22 minutes per game, Hill has averaged close to nine points and nine rebounds per game while blocking close to one shot per game. While he isn't a dominant defender, Hill is a tenacious rebounder who is a threat on the boards at both ends of the court.
While he doesn't possess a fundamentally sound post game, his effort and energy on the glass allow him to scramble for second chances and to fight for good positioning.
Although he has shown flashes of this energetic style of play throughout his career, inconsistency and injuries held him back until this year.
In 10 starts this season, Hill has averaged close to 27 minutes and is putting up 11 points and 10 rebounds per game. The reason he meshes well with Pau Gasol is the fact that he is able to generate baskets without having to have a play called for him. While Gasol can remain the focal point of the offense, Hill is happy getting his buckets with his hustle and by fighting for deep position.
While he came into the year expecting to be a productive role player behind Gasol and Kaman, Hill has blossomed into perhaps the most important interior force on both ends of the court.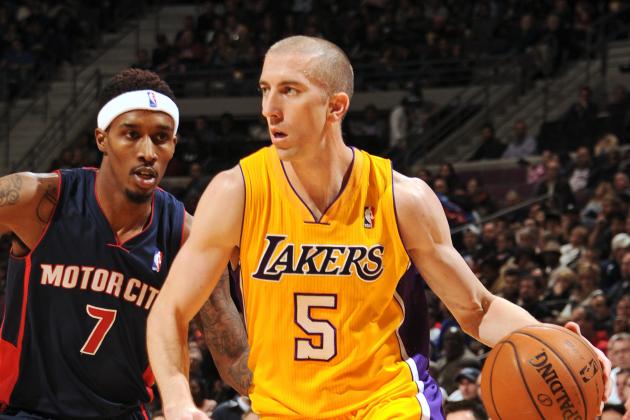 Dan Lippitt/Getty Images

Perhaps the biggest surprise on the roster has been Steve Blake. Looking like he was getting abused by Father Time last season and even during this year's preseason, Blake has been an admirable replacement for Nash.
Averaging 10 points, 7.7 assists and 3.2 boards, Blake is playing over 31 minutes per game and has been perhaps the main reason this Lakers squad has been able to develop such great team chemistry.
Not only are his 10 points per game the second-highest average of his career, Blake's assist and rebounding numbers are career highs for a veteran who looked like he was on his last legs. While he hasn't been the most efficient scorer, his 42.9 percent shooting from beyond the arc means Blake is still a viable option from distance.
While the influx of talented, young athletes have definitely given him more offensive options to facilitate to, it is quite surprising to see how good he actually is at his point-guard duties. With a career average of only four assists per game, Blake's assist numbers don't come close to showing his true value as a floor general.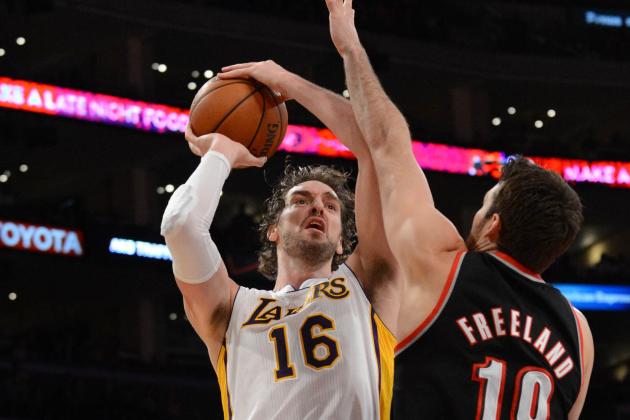 Noah Graham/Getty Images

Despite shooting only 41.9 percent from the field, Pau Gasol is still the most talented and most important player on this roster outside of Bryant.
Still a very capable back-to-the-basket player, Gasol can still generate double-teams, and his 3.1 assists per game shows his passing skills have not regressed with age. While he cannot score like he used to, he still possesses the ability to create out of the high or low posts.
His 9.9 rebounds per game are the fourth-highest in his career, and his emphasis on crashing the boards has really helped to mitigate the damage caused by Howard's departure.
While it is clear he isn't the athlete or explosive scorer he once was, he is still capable of being the focal point of the offense. While the scoring balance is spread much wider this season, Gasol is still the Lakers' go-to option in a half-court set. Like other great players, Gasol is able to make his teammates better by using the attention placed on him to facilitate his teammates' scoring opportunities.
His efficiency should increase once the Black Mamba returns and begins to command most of the attention of opposing defenses.