UNC Basketball: How Tar Heels Stack Up with Michigan State at Each Position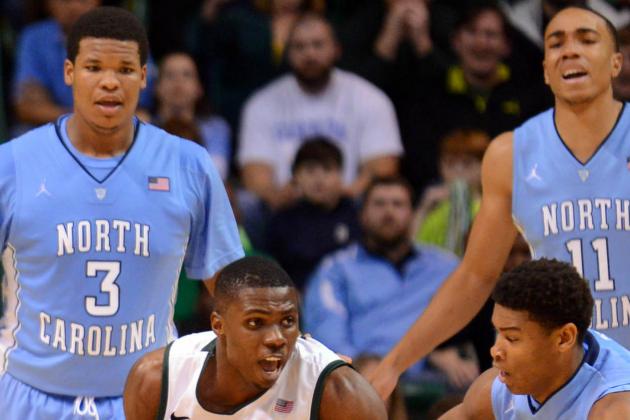 Kelly Lambert-USA TODAY Sports

The first month of North Carolina's basketball season has been rather tumultuous. Early season losses to Belmont and UAB helped to temper expectations from an upset victory over the defending national champion Louisville Cardinals.
Next on the docket for UNC are the No. 1-ranked Michigan State Spartans. MSU will host Carolina Wednesday night, with a record of 7-0 and a Final Four in its eyes.
But who holds the edge in this matchup of historic programs? On the surface it would appear as though Michigan State does, but taking a closer look, the outcome may not be so obvious.
Begin Slideshow

»
Mark L. Baer-USA TODAY Sports

North Carolina Point Guard - Nate Britt
Michigan State Point Guard - Keith Appling
While North Carolina comes into this contest with a freshman point guard running its offense, Michigan State is led by a long-time veteran of the program: Keith Appling.
Not only has Appling been a force for the Spartans for four years now, he has also gotten off to a tremendous start this season. Averaging a career-high 16.9 points per game, Appling also sports a 5.6:1.7 assist-to-turnover ratio.
In comparison, Nate Britt has struggled, failing to record even a single point in Carolina's last game. It takes time for a freshman point guard to get his bearings at this level of basketball, but this comparison is no contest.
Edge - Michigan State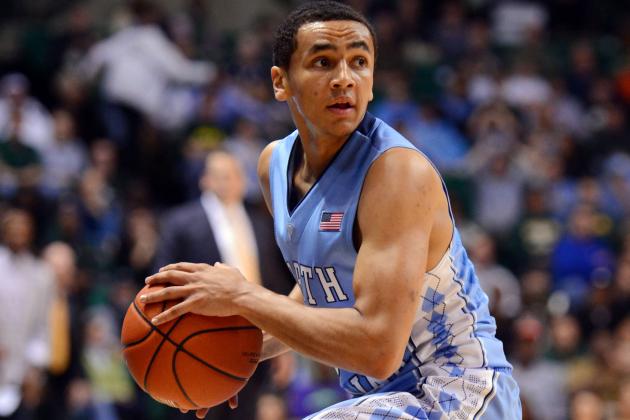 Kelly Lambert-USA TODAY Sports

North Carolina Shooting Guard - Marcus Paige
Michigan State Shooting Guard - Gary Harris
In the best positional battle of the game, two sophomores will be facing off while doubling as their respective team's best player.
For UNC, Marcus Paige has flown up radars, making a name for himself as most likely the ACC's most improved player as well as making an argument for being the conference's Player of the Year at this point. He is averaging over 20 points per game while shooting great from all over the court.
Michigan State will counter with likely NBA lottery pick and returning Big Ten Freshman of the Year Gary Harris. Harris is still scoring 17.7 points per game this season, but his shooting has been very poor. He is also a bit banged up, having missed the team's last game with an ankle injury.
While Harris' potential may be higher and he is a better defender than Paige, there is no one in the country playing much better than Marcus Paige at this point.
Edge - North Carolina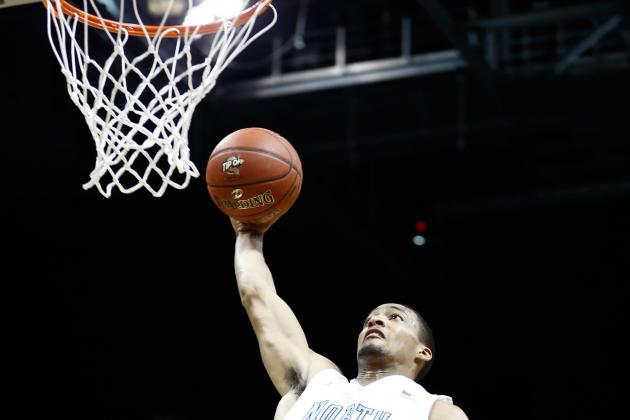 Mark L. Baer-USA TODAY Sports

North Carolina Small Forward - J.P. Tokoto
Michigan State Small Forward - Branden Dawson
For Michigan State, the return of Branden Dawson must be greatly appreciated. Although he is not a game-changing player, Dawson contributes in a lot of ways. As a freshman, he missed the final six games of the year after suffering an ACL injury. His sophomore year was then hampered by the same injury. Now, as a junior, Dawson finally looks to be back to the athlete Spartans fans were expecting.
A double-double threat every night, Dawson is averaging 10.3 points and 9.7 rebounds per game as MSU's fourth option.
The same level of expectations existed for North Carolina in regards to forward J.P. Tokoto, but he has failed to live up to those levels. As a freshman, Tokoto was a non-factor. He averaged fewer than nine minutes per game.
As a returning sophomore given the starting job because of suspensions to other players, Tokoto has been vacillating wildly between solid and unwatchable. He has also been a black hole at the free-throw line. For a team looking for consistency, Tokoto has been anything but.
Edge - Michigan State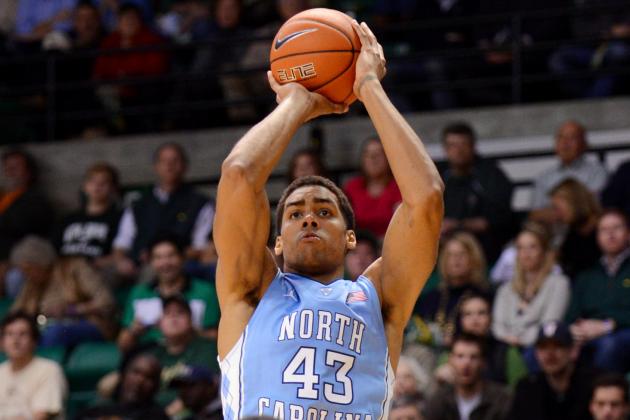 Kelly Lambert-USA TODAY Sports

North Carolina Power Forward - James Michael McAdoo
Michigan State Power Forward - Matt Costello
A part-time player, Matt Costello is more of just a body for Michigan State. He plays around 14 minutes per game and takes only two shots per contest.
On the other hand, North Carolina's James Michael McAdoo is one of the team's best players. He has been on NBA draft boards for years now, with professional scouts waiting for him to declare for the draft. Although he is off to a bit of a slow start, McAdoo has a track record of producing effective numbers. While his shooting is down this season, his shot-blocking is actually at a career-high pace.
Edge - North Carolina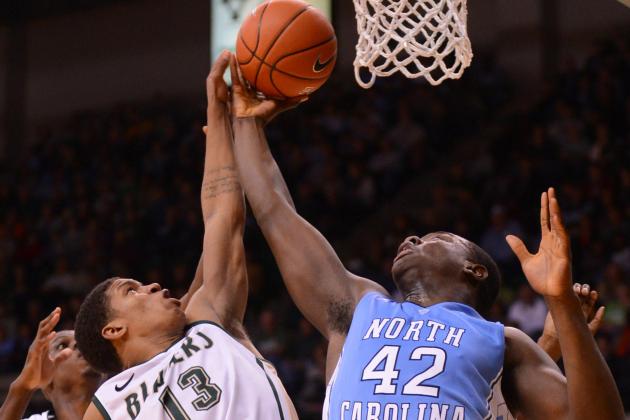 Kelly Lambert-USA TODAY Sports

North Carolina Center - Joel James
Michigan State Center - Adreian Payne
Similar to the matchup at power forward, the center position is one-sided in this game. North Carolina uses sophomore Joel James as its starting big man. He has improved greatly since his freshman season but is still more of a rotation player who is used so McAdoo is allowed to play something other than the 5.
For Michigan State, the Spartans' center is one of the best in the nation. Adreian Payne is averaging 15.9 points and 7.7 rebounds to go along with good shooting numbers. He has also tallied nine blocks in his last five games. While the senior previously had a limited offensive game, that has changed this season. Payne is knocking down just a shade under 50 percent of his long-range shots on three attempts per ballgame.
Edge - Michigan State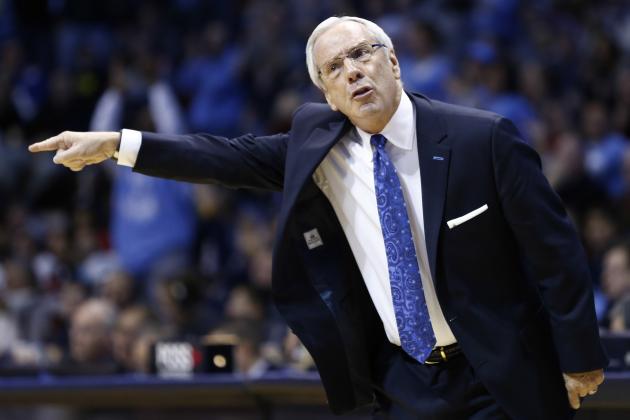 Mark L. Baer-USA TODAY Sports

North Carolina Head Coach - Roy Williams
Michigan State Head Coach - Tom Izzo
The career numbers for both of these head coaches are epic. Roy Williams and Tom Izzo are Hall of Fame head men and are some of the best of this generation.
Williams' resume is lengthy:
700-plus career victories
two national championships
seven Final Four appearances
two-time AP Coach of the Year winner
nine-time conference Coach of the Year winner
Tom Izzo has an impressive list of accomplishments as well:
approaching 450 career victories, all at one school
one national championship
six Final Four appearances
one-time winner of the AP Coach of the Year award
three-time conference Coach of the Year winner
While Izzo has been a head man since the 1995-96 season, Williams has been at this since 1988. That extra experience is key. Perhaps comparing Williams' tenure at Kansas to what Izzo has done would be fair. Adding in his current stay as the coach of the Tar Heels makes this an unfair battle.
Edge - North Carolina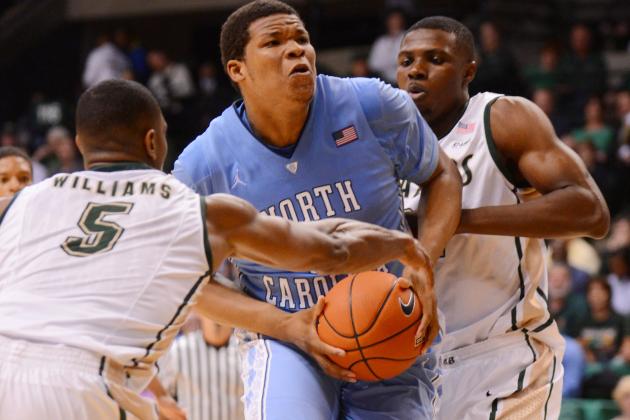 Kelly Lambert-USA TODAY Sports

North Carolina Bench - Brice Johnson, Luke Davis, Kennedy Meeks
Michigan State Bench - Denzel Valentine, Travis Trice
While both teams have been known to play a ton of guys on occasion, North Carolina has only three players off the bench averaging at least 10 minutes per game, and Michigan State has only two.
For UNC, Brice Johnson and Kennedy Meeks are young and improving forwards. Johnson is a long leaper who has been coming on in recent weeks. Averaging 13.5 points and 7.2 rebounds, Johnson is one of the team's only shot-blocking threats. Paired with Meeks, more of a grounder, mass-rebounding machine who is bringing back the art of the outlet pass, the two give North Carolina great depth for its frontcourt.
Luke Davis is the only backcourt player on Carolina getting solid action this season after the two starting guards. He is really just a fill-in ball-handler who wouldn't be playing at all if P.J. Hairston and Leslie McDonald were eligible.
For Michigan State, Denzel Valentine is really just a sixth starter. He plays much more than starter Matt Costello and can come in as a third guard in larger lineups. He is also a reliable game manager who can run the offense when Keith Appling sits. Valentine currently holds a 4.0:1.3 assist-to-turnover ratio.
The other asset off the bench for the Spartans is Travis Trice. Combined with the starters and Valentine, Trice gives MSU perhaps the best group of backcourt players in the nation. However, the depth in the frontcourt leaves something to be desired, which is only balanced out by the versatility of players like Dawson and Valentine.
Edge - Push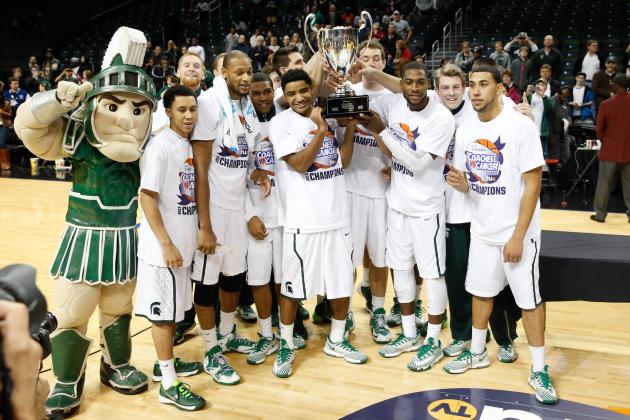 Anthony Gruppuso-USA TODAY Sport

North Carolina is not at full strength. Every college basketball fan is aware of this. The suspensions of two of the Tar Heels' better guards leaves the depth in the backcourt very thin. This is combined with the fact that their starting point guard is an inexperienced freshman. After Marcus Paige, the UNC backcourt is bare.
This is in direct opposition to Michigan State's current standing. Not only are the Spartans ranked as the best team in the country, but they are firing on all cylinders. The slight injury to Gary Harris not withstanding, the Spartans' starting lineup has no glaring weaknesses. Their sixth man also allows for changes in playing style and the ability to play with three or four guards at one time. Michigan State is also probably the best defensive team in the Big Ten; its team defense is aggressive, explosive and scary effective.
Also a factor not to be ignored, the air surrounding Sparty is much cheerier than in Chapel Hill. Michigan State is riding high; UNC is coming off of another disappointing loss to a lesser opponent. Even if Roy Williams is trying to coach the team as though P.J. Hairston will not be coming back anytime soon, the other players must be in a bit of a waiting period, at least subconsciously. It is human nature to be lagging as though he will come back to save the day.
Edge - Michigan State