The NFL playoff push is in full swing with the calendar in the early goings of December.
Week 13 revealed much about the playoff race, but it was Thanksgiving Day that did the most to sort contenders from pretenders.
Baltimore notched a major win to move to 6-6, which is good enough for a wild-card spot in the AFC. As much credit as the AFC gets for its intense playoff race (.500 teams and worse in contention is intense, after all), the NFC is even more hectic. Thanksgiving saw Dallas (7-5) and Detroit (7-5) pick up wins, but both have contenders in their respective divisions nipping at their heels.
Both NFC contenders will be in action this week, as will a variety of other playoff hopefuls with the postseason race so welcoming to most. Here are some early predictions for all 16 games this week.
NFL Week 14 Picks

| | |
| --- | --- |
| Matchup/Prediction | Comments |
| Jacksonville Jaguars 14, Houston Texans 7 | Thursday Night Football is sloppy, and this Jacksonville team believes it can win after consecutive victories—including a win over Houston in Week 12. Houston is out of gas. |
| Cincinnati Bengals 24, Indianapolis Colts 20 | Both teams put away inferior opponents in the second half in Week 13. Still, these two are supreme underachievers against quality opposition. Edge goes to Cincinnati, a team that has yet to lose at home. |
| Atlanta Falcons 30, Green Bay Packers 27 | 2013 has passed these two by. Aaron Rodgers or no, the Packers have done little to inspire confidence in recent weeks. Bet on Rodgers getting shut down for the year. |
| New England Patriots 34, Cleveland Browns 28 | No team is stopping Josh Gordon, but they don't have to in order to beat Cleveland. Just ask Jacksonville in Week 13 (32-28). New England enters riding consecutive close wins. |
| Oakland Raiders 20, New York Jets 6 | Both teams enter with losing streaks and quarterback woes. New York has scored six total points in its past two games. Matching that total would be a blessing at this point. |
| Detroit Lions 36, Philadelphia Eagles 30 | See Below |
| Pittsburgh Steelers 23, Miami Dolphins 20 | Pittsburgh has won three of four and now gets a team that has lost every other game since Week 8. Ben Roethlisberger slips by as his defense abuses the NFL's most-sacked quarterback (Ryan Tannehill, 45). |
| Tampa Bay Buccaneers 24, Buffalo Bills 17 | Buffalo has one win in its last five games. The offense looks lost, which is not a good equation against Tampa Bay at home. |
| Kansas City Chiefs 35, Washington Redskins 17 | Kansas City has lost three straight, but playing Denver twice in that time span can do that to any team. The Chiefs will have no issue moving the ball on the road against a hapless Washington defense. |
| Baltimore Ravens 23, Minnesota Vikings 20 | Adrian Peterson rushed for over 200 yards in Week 13, but asking him to do so on the road against a playoff-hungry Baltimore team that ranks in the top 10 against the rush is simply too much. Right? |
| Denver Broncos 34, Tennessee Titans 20 | Tennessee has two wins since Week 5—over St. Louis and Oakland. A top pass defense may give Peyton Manning issues, but at Mile High, the Broncos take care of business. The Titans simply cannot score enough. |
| Arizona Cardinals 27, St. Louis Rams 17 | These two met in Week 1, where St. Louis notched a victory at home, 27-24. Much has changed since then. Expect Arizona to return the favor against Kellen Clemens and Co. on the heels of a top-10 scoring defense. |
| New York Giants 20, San Diego Chargers 13 | No playoff implications here. A trip to the West Coast sees Eli Manning do just enough to win against a porous San Diego secondary that ranks in the bottom five. |
| Seattle Seahawks 17, San Francisco 49ers 10 | A Week 2, 29-3 victory for Seattle looked wildly lopsided at the time—until we found out San Francisco simply is not that good. Seattle completes the season sweep on the heels of its defense, which allows 16.3 points per game. One team does it better. |
| New Orleans Saints 17, Carolina Panthers 14 | See Below |
| Dallas Cowboys 23, Chicago Bears 21 | See Below |
-
Detroit Lions Over Philadelphia Eagles
Smack dab in the middle of the week's early games is a contest featuring two teams in first place in their divisions. Detroit owns the lead in the NFC North, but 6-6 Chicago is right behind. Philadelphia is tied atop the NFC East with Dallas at 7-5.
Forget playoff implications—an offensive-minded fan would be wise to tune into this one. Detroit ranks No. 26 in the league in pass defense with an average of 262.3 yards allowed per game. Philadelphia is even worse, as it ranks dead last in the league at 296.8.
Philadelphia quarterback Nick Foles and Matthew Stafford for Detroit are more than capable of exposing these units. Both have been on absolute fire in their last four games:
Matthew Stafford and Nick Foles Last Four Games

| | | | | | |
| --- | --- | --- | --- | --- | --- |
| Player | CMP | ATT | YDS | TD | INT |
| Matthew Stafford | 85 | 162 | 1208 | 11 | 8 |
| Nick Foles | 72 | 106 | 1169 | 13 | 0 |
ESPN
The deciding factor here is receiver Calvin Johnson. In his last three games, Johnson has recorded six or more receptions and more than 100 yards in each to go with three total touchdowns. This will open things up in the running game as well, where the Philadelphia defense ranks No. 19 (conversely, Detroit ranks No. 3 against the rush).
Philadelphia has won two games at home this year in six appearances. That tally remains the same after a visit by the Lions.
New Orleans Saints Over Carolina Panthers
No team has managed to best the New Orleans Saints at the Mercedes-Benz Superdome this year. If one team is equipped to do so, it is NFC South rival Carolina Panthers in Week 14 on Sunday Night Football.
Led by second-year linebacker Luke Kuechly, the Panthers tout the NFL's No. 1 scoring defense that allows just 13.1 points per game on average.
There is a reason this game was "flexed" to prime time—New Orleans counters that impressive stat with an offense that averages more than 27 points per game.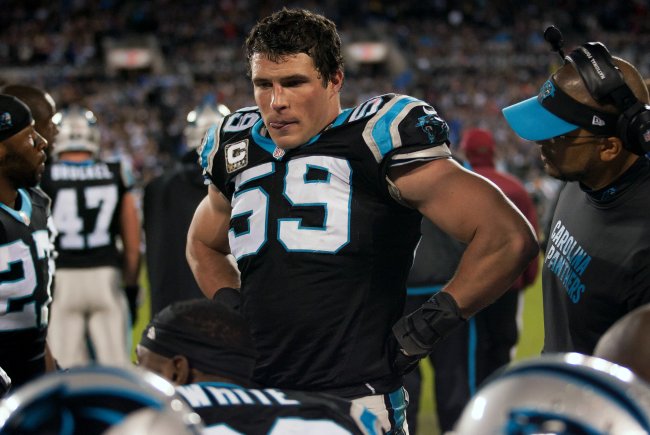 Jeremy Brevard-USA TODAY Sports
Still, Carolina has allowed just two teams to break the 20-point barrier this season, and only one team has reached 20 points during its eight-game winning streak.
Most anticipated game of Week 14?
As dominant as that sounds, New Orleans is simply too dangerous at home—Drew Brees and the offense has scored 31 or more points in four of six home appearances. In Week 11 against San Francisco, a team Carolina could score just 10 points on in an earlier win, the Saints dropped 23 for a win.
There is another issue—the Saints have a complementary defense that ranks in the top half of the league against the rush and in the top 10 against the pass. Coordinator Rob Ryan's unit is no slouch overall, either—it allows less than 18 points per game.
Much will be decided about the playoff picture between these two as they face off in two of the next three weeks, but the first encounter goes to New Orleans at home.
Dallas Cowboys Over Chicago Bears
Monday Night Football is another contest with huge playoff implications.
Regardless of the signal-caller, Marc Trestman's offense in Chicago has been impressive this season. At Soldier Field, that bodes well against a Cowboys defense that ranks in the bottom five against the pass (294.9 yards allowed on average per game) and in the bottom five against the rush (126.7).
It helps the Chicago offense has discovered a budding star in second-year receiver Alshon Jeffery. The South Carolina product caught 12 passes for 249 yards and two touchdowns in a Week 13 loss to Minnesota (he now has 70 receptions, 1,109 yards and five scores on the year).
Tim Heitman-USA TODAY Sports
One problem—Chicago touts the league's worst run defense. It's a unit that allowed Minnesota's Adrian Peterson to rush for 211 yards on 35 carries in Week 13. For those counting, that is a six-yards-per-carry average. The loss gave Minnesota its third win of the season.
Now, Dallas has no Peterson. But it does have DeMarco Murray. He carried the ball 17 times against Oakland (No. 10 rush defense) and recorded 63 yards and three scores. His running mate Lance Dunbar is out for the season, but his complementary production can be replaced by Joseph Randle and Phillip Tanner in a committee approach—especially against Chicago's defense.
Dallas will ride that rushing attack to a victory in in Week 14 to take possession of the NFC East.