With just one weekend remaining in the college football season before bowl games begin, the BCS rankings saw a huge shift at the top after a huge upset in the Iron Bowl. After Auburn's historic comeback victory, Alabama has fallen behind the Tigers and is likely out of the BCS Championship Game picture.
Meanwhile, teams like Florida State and Ohio State gladly take their seats as No. 1 and 2, respectively, in the BCS rankings. Others, including outliers Missouri, sitting at No. 5 heading into the SEC Championship, and Baylor have something to play for in the final weekend.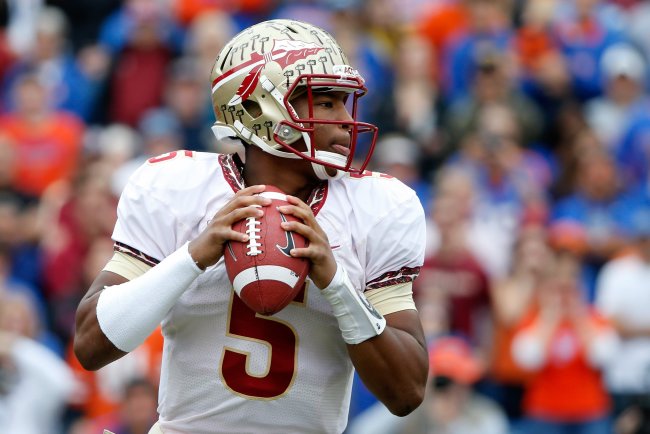 Sam Greenwood/Getty Images
No. 1 Florida State
The Seminoles have rightfully earned their place atop the BCS rankings after dominating each team they've faced this season. Jameis Winston has been playing like his normal self despite controversy surrounding the freshman signal-caller.
If there are any questions as to whether or not Florida State is the best team in the nation, it features not only the No. 1 scoring defense (11 points per game allowed) but also the No. 2 scoring offense (53.7 PPG).
The Seminoles need to defeat a surprising 10-2 Duke team that has rattled off eight straight wins to make it to the ACC Championship Game. What are the odds of No. 20 Duke pulling off the upset? Not very likely, according to Will Brinson of CBS Sports:
Florida State opens up -28.5 over Duke in ACC Championship Game at Vegas Insider.

— Will Brinson (@WillBrinson) December 1, 2013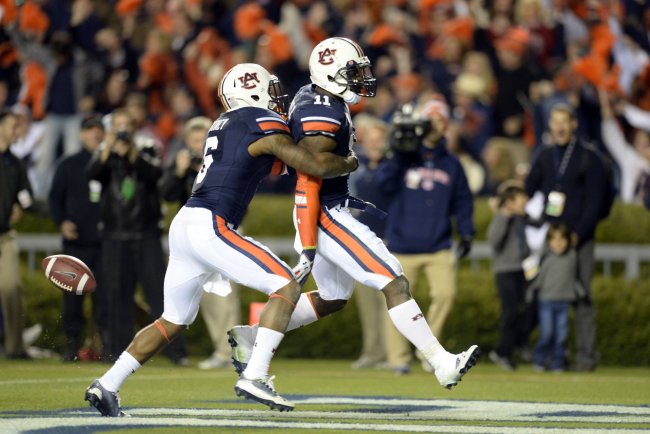 John David Mercer-USA TODAY Spor
No. 3 Auburn
Auburn's previously mentioned shock to the system has some saying that the Tigers deserve a shot at the national championship if they win the SEC Championship. Jay Jacobs, Auburn's athletics director, certainly believes so, according to Alex Byington of the Opelika-Auburn News:
"Let me just tell you this, … the winner of the SEC championship game belongs in Pasadena," Jacobs told ESPN radio host Mike Lupica. "It would be, quite frankly, un-American for us not to get a chance to go to Pasadena if we're able to beat Missouri, and I believe the same about Missouri."
You hear that? Simply un-American for an SEC team to not play for the BCS title. While the Tigers have certainly earned the right to say they deserve a shot, if both Auburn and Ohio State win in their respective championship games, it is highly unlikely that the Tigers will jump the Buckeyes.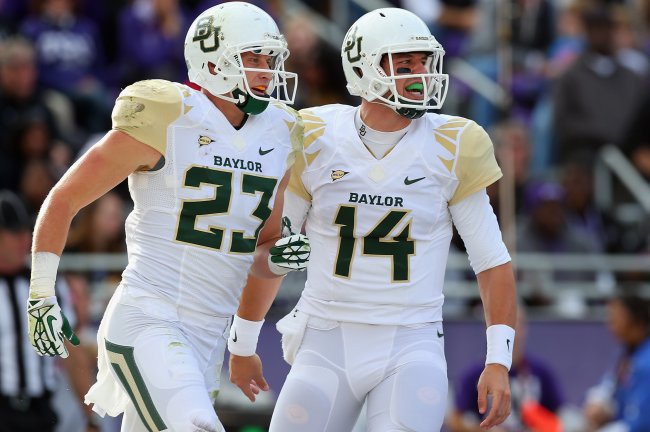 Ronald Martinez/Getty Images
No. 9 Baylor
The Bears have not looked the same over the last two weeks, but a win over No. 25 Texas could heal some wounds for a team that is barely hanging on to its Top 10 ranking. Following a 49-17 drubbing at the hands of Oklahoma State, Baylor needed two defensive touchdowns to down a 4-8 TCU team.
The Bears appear to be a fringe BCS bowl game contender, but another Top 25 win over Texas might put them over the hump against teams like UCF or Clemson.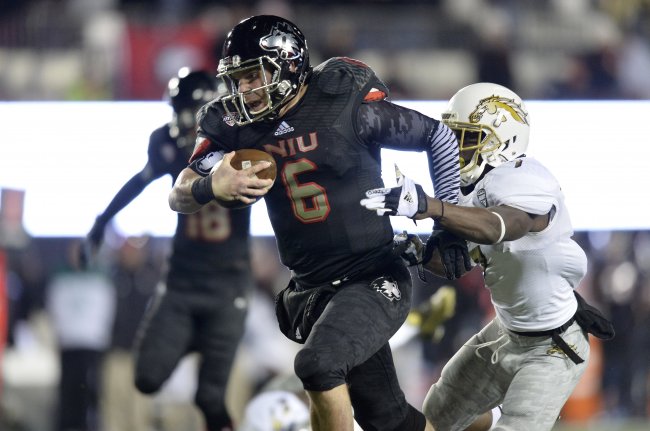 Brian Kersey/Getty Images
No. 14 Northern Illinois
Oh, Northern Illinois, you sneaky dog. Somehow, after losing their head coach, Dave Doeren, to N.C. State, the Huskies are yet again on the cusp of another BCS bowl behind quarterback Jordan Lynch.
But then there's the little issue of Bowling Green. The Falcons are 9-3 and have rattled off four straight victories against MAC opponents. Beating MAC opponents might not seem that impressive, but when you consider they've outscored those opponents by a combined 176-13 and not allowed more than a touchdown during that stretch, it doesn't seem like a cakewalk for the Huskies.
Week 15 BCS Standings

| | | | |
| --- | --- | --- | --- |
| Ranking | Team | AVG | Previous Ranking |
| 1 | Florida State | .9948 | 2 |
| 2 | Ohio State | .9503 | 3 |
| 3 | Auburn | .9233 | 4 |
| 4 | Alabama | .8539 | 1 |
| 5 | Missouri | .8428 | 5 |
| 6 | Oklahoma State | .7629 | 7 |
| 7 | Stanford | .7069 | 8 |
| 8 | South Carolina | .7037 | 10 |
| 9 | Baylor | .6623 | 9 |
| 10 | Michigan State | .6529 | 11 |
| 11 | Arizona State | .5833 | 12 |
| 12 | Oregon | .5321 | 13 |
| 13 | Clemson | .5201 | 6 |
| 14 | Northern Illinois | .4812 | 14 |
| 15 | LSU | .4213 | 17 |
| 16 | Central Florida | .3858 | 19 |
| 17 | Oklahoma | .3808 | 18 |
| 18 | UCLA | .3506 | 22 |
| 19 | Louisville | .2630 | 20 |
| 20 | Duke | .2252 | 24 |
| 21 | Wisconsin | .1988 | 15 |
| 22 | Georgia | .1143 | NR |
| 23 | Fresno State | .1006 | 16 |
| 24 | Texas A&M | .0995 | 21 |
| 25 | Texas | .0666 | NR |
ESPN.com