Twitter came alive as the New York Giants made a comeback against the Washington Redskins for a 24-17 win on Sunday night. New York struggled big time at the start of the game. Heck, the Giants struggled to even line up properly before the game began. But things slowly started going right for the team throughout the night.
They managed to pull together and literally took away the ball from Washington to end the game.
Although there were unsurprising mistakes, ahem Eli Manning ahem, there were breakout performances of the season from players. Here's looking at you, Justin Tuck. Tuck was the player of the game, recording four sacks. He looked like he was returning to his fighting form.
Overall, it was a good win for the Giants. Especially if they are still holding onto their (im)possible playoffs hope, per Tom Rock of Newsday.
Before the start of the game, fans knew that this was going to be a wacky game between the two worst teams in the NFC East.
Could not get tweet oembed code for tweet 407338084414410752
And it didn't look good for the Giants or the Redskins as they failed to line up properly at first.
Ha! Redskins and Giants were all set for the kickoff ... Then it turned out they were on the wrong sides of the field and had to switch.

— Ralph Vacchiano (@RVacchianoNYDN) December 2, 2013
The Giants offense struggled early and often. During the first quarter, Manning and Co. failed to even gain a first down.
Will Beatty had a terrible time protecting Manning from Brian Orakpo. Beatty's failure to protect the quarterback even led to a sack for the very first offensive play of the game.
Beatty having trouble with Orakpo again, forces Manning to throw early (and high). Washington in business here. #nyg

— Conor Orr (@ConorTOrr) December 2, 2013
Will Beatty had a disaster of a game here at FedEx last year. He might be having an even worse game tonight. Another sack by Orakpo #NYG

— Art Stapleton (@art_stapleton) December 2, 2013
Will Beatty has decided to try pass protecting with a new technique call NO Technique.

— Louis Riddick (@LRiddickESPN) December 2, 2013
Meanwhile, New York's defense was called for offside which ultimately led to an Alfred Morris one-yard touchdown for Washington. The defense could not hold the Redskins offense as they scored again in the second quarter, this time a 19-yard pass from Robert Griffin III to Logan Paulsen.
Giants look uncomfortable Skins look loose end of the 1st qtr still early though 2 losing teams anything can happen #justsaying

— LaVar Leap Arrington (@LaVarArrington) December 2, 2013
And that left Giants fans feeling totally discouraged on the season.
this team's season has been over for a while. they teased for a bit and then they showed you what they were really about. #soft #nyg

— William Ruben Helms (@yankee32879) December 2, 2013
New York didn't score until a 23-yard Andre Brown run with 8:46 left in the first half.
But have no fear. Manning passed the ball to Brandon Myers for a 22-yard touchdown with 30 seconds left in the second quarter. From that point, things picked up for the Giants as the game went on.
Defensively, the Giants dominated in the second half. After the hurting Griffin rushed for 88 yards, New York started applying pressure. With just a little over 11 minutes left in the third quarter, Cullen Jenkins sacked Griffin for a loss.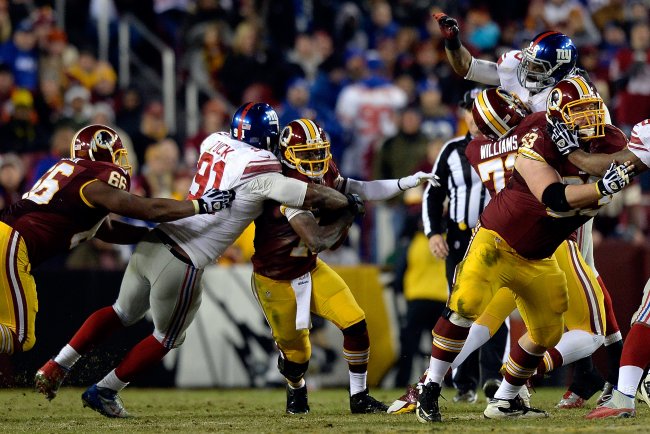 Patrick McDermott/Getty Images
The star of the game was definitely Justin Tuck. Tuck sacked Griffin four times throughout the game and completed five tackles overall. Going into the game, Tuck had only managed 2.5 sacks all season long.
Great Great TEAM win! So proud to be a @Giants I couldn't be happier for @JustinTuckNYG91 and our Defense! 4 Sacks? UNREAL! #NYG

— Steve Weatherford (@Weatherford5) December 2, 2013
Besides the sacks, Griffin did have a good game. He became the fifth Redskins quarterback to have 3,000 passing yards in back-to-back seasons.
RGIII has become the 5th QB in Redskins history to post consecutive 3,000-yard passing seasons. Joins Campbell, Rypien, Theismann, Jurgensen

— CSN Washington (@CSNwashington) December 2, 2013
Oh, Pierre Garcon was called for unsportsmanlike conduct when he kicked a dead ball into the crowd following an incomplete pass from Griffin.
Pierre Garcon will kick the ball. Pierre Garcon don't care. http://t.co/tF6bcwLYch

— BuzzFeed Sports (@BuzzFeedSports) December 2, 2013
Of course, it wouldn't be a 2013 New York Giants game without a little blip on the field. You know what I'm talking about, Manning's 18th interception of the season. Manning's pass to intended target Reuben Randle was intercepted by Brandon Meriweather with 5:15 left in the third. The interception led to a field goal.
Still, the Giants held on and fought back. Thirty seconds into the fourth quarter, Brown ran for a one-yard touchdown. The Giants went up 21-17 and increased their lead to 24-17 with 2:38 left in the game.
And luckily for the Giants, the problems did not stop for Garcon. With just 1:20 left in the game, Will Hill stripped Garcon of the ball to give the Giants the opportunity to run out the clock.
Pierre Garcon probably got his lunch money stolen in elementary school too.

— NFL Retweet (@NFLRT) December 2, 2013
The Giants went on to win the game and improve to 5-7.
New York was lucky to get the win Sunday night. It seemed like Washington was battling itself as the team earned penalty after penalty. But the Giants did play harder than in the past weeks. Giants fans can appreciate the effort this week. Although it wasn't a spectacular game for Manning, he still managed 22 complete passes out of 28 attempts and tossed 235 yards.
The rushing game showed some wear and tear, but there were also some bright spots. Peyton Hillis and Brown started to even out their rush after being contained by the Washington defense. They combined for a total 80 yards rushing.
Going forward, they definitely need a repeat of Tuck's four-sack performance. Sunday night, there was some light shone on the struggling defensive line that normally dominates and intimidates quarterbacks during seasons past.
The Giants need that energy for the rest of the season.
New York can use Tuck and Jenkins next week when it plays Philip Rivers and the San Diego Chargers.
The Chargers, who are also sitting at a 5-7 record, have just come off a 17-10 defeat by the Cincinnati Bengals. It was their fourth loss in five games. If the Giants defense can apply pressure to Rivers and even force some turnovers, there is a good chance that they can win this upcoming game as well.