There was a time in the not-so-distant past when the NFC North was widely considered one of the NFL's heavyweight divisions.
The Green Bay Packers and Minnesota Vikings were each coming off playoff appearances, and both the Chicago Bears and Detroit Lions had rosters capable of flipping the script and making a postseason run. All four franchises entered the 2013 season with a first-round quarterback and big-name players surrounding them.
As recently as six weeks ago, the rough-and-tough NFC North looked very likely to carry two playoff teams. The Packers, Bears and Lions each got off to impressive starts. Now the division is shaping up to be a race to the bottom, with the Lions looking like the best bet to catch enough breaks to win the nine or 10 games necessary to claim the title.
NFC North Standings, Through Week 13

| | | | |
| --- | --- | --- | --- |
| | Overall | Division | Conference |
| Detroit Lions* | 7-5 | 4-1 | 6-3 |
| Chicago Bears | 6-6 | 2-3 | 3-6 |
| Green Bay Packers | 5-6-1 | 2-2-1 | 3-5-1 |
| Minnesota Vikings | 3-8-1 | 1-3-1 | 2-7-1 |
*Owns head-to-head tiebreaker
Two playoff teams? Forget it. No longer are pundits giving the NFC North much consideration among the toughest divisions in football. And for good reason.
This past week, which was capped off by Chicago's overtime loss in Minnesota on Sunday, highlighted just how messy the division has suddenly become over the second half of this season.
On Thursday, the Lions abused an Aaron Rodgers-less Packers team to snap a nine-game losing streak on the Thanksgiving holiday. Detroit improved to 7-5 and ensured that no matter what happened on Sunday in Minnesota, it would be division leaders.
In the meantime, the Packers failed to win for the fifth straight game since Rodgers suffered his fractured collarbone on Nov. 4. Once 5-2 and in control of the division, Green Bay now finds itself 5-6-1 and on the shakiest of ground to stay alive in the postseason race.
Three days later, the Bears made sure that the unpredictability of the division would live on. Chicago got a franchise-record 249 receiving yards from Alshon Jeffery, and Josh McCown threw for 355 yards, two touchdowns and zero turnovers. The Bears took a 20-10 lead deep into the fourth quarter, but still found a way to lose a game they almost had to win.
Chicago's much-maligned run defense was once again rocked, as the now three-win Vikings rushed for 246 yards and averaged over six yards per carry. Overall, Minnesota overcame a mid-game quarterback switch to nearly tally a 500-yard day on offense.
The Vikings even threw away a go-ahead touchdown on Matt Cassel's late interception and faced fourth-and-long inside two minutes.
The Bears still couldn't hold on.
Cassel converted the late fourth down, marched Minnesota down the field and later sent the game to overtime. The Vikings again tried to give away the game during the extra period when a penalty negated Blair Walsh's first game winner, but Robbie Gould's 47-yard kick went wide right before Walsh connected on a 34-yarder to win it.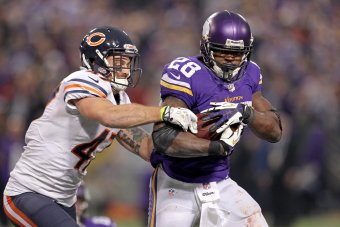 Brace Hemmelgarn-USA TODAY Sport
The defeat could be a decisive blow to the 6-6 Bears.
While Chicago remains only one game back in the division standings, that deficit is actually two thanks to Detroit's head-to-head tiebreaker over the Bears. Chicago now needs to make up two games over the final four to leapfrog Detroit for first place.
"We know Detroit won, and we know what our record is," Bears head coach Marc Trestman said, via Michael Wright of ESPN. "There's certainly a lot of football to be played. I think our guys will come back on Monday night excited to play and ready to go."
Considering how poorly the Bears are playing on defense, and especially against the run, it seems hard to fathom that Chicago will win more than eight or nine games. In the past two weeks alone, the Bears have allowed an NFL-worst 504 rushing yards. And in each game, they fell to a backup quarterback on the road.
The Packers have learned their own lesson on the backup quarterback position.
Without Rodgers under center, Green Bay has dropped from one of the NFL's elite to a class with the Houston Texans, Atlanta Falcons and the rest of the league's current cellar dwellers. Detroit's 40-10 rout of the Packers exposed this beat-up bunch as the merely average football team they currently are.
Soft on defense and incapable of moving the football with any consistency while Matt Flynn or Scott Tolzien commands the offense, Green Bay might be one loss away from falling completely out of the postseason hunt.
To sneak into the playoffs, the Packers will likely need to return Rodgers by next Sunday, win four straight games with their MVP quarterback back and then get Detroit to lose two of its final four games. It's a possible but still unlikely scenario.
Lions now just need to win three of their last four (@PHI, BAL, NYG, @MIN) to win the NFC North even if Bears win out.

— Michael David Smith (@MichaelDavSmith) December 1, 2013
The Lions, who won just four games last season, are now the heavy front-runners to go from worst to first. But even Detroit has battled fits of inconsistency, and losses to a three-win Steelers team and a two-win Buccaneers club in the last three weeks prove that the Lions are still capable of losing their hold.
By virtue of Chicago's upset loss Sunday, the Lions now have a magic number of just three to win the NFC North. Any combination of Detroit wins and losses from Green Bay or Chicago (taken separately) will give the Lions their first division title in two decades.
The prize waiting at the end? A home playoff game, and the title of winning arguably the most disappointing division in the NFL this season.