Potential Impact MLB Free Agents That No One Is Talking About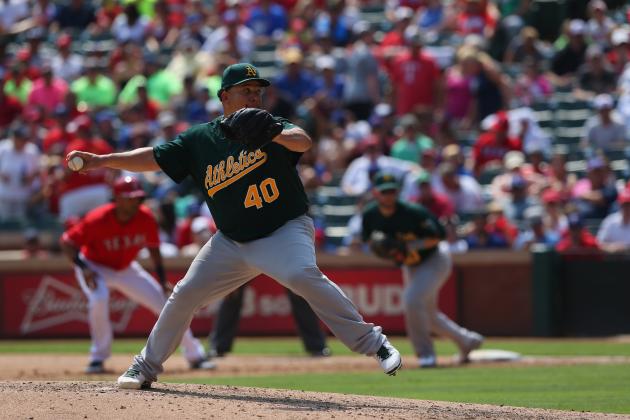 Ronald Martinez/Getty Images

While the big-name stars grab all the headlines during the hot stove season, there are plenty of potential impact MLB free agents who no one is even bothering to talk about.
These forgotten free agents fall into a variety of groups. Some were solid contributors in 2013 who simply got lost in the shuffle due to a lack of a track record or a national profile. Then there are the former All-Stars and Cy Young Award winners who come with all sorts of potential, but also with major injury concerns.
Finally, there is a group of savvy veterans who defy logic and just keep on producing despite the fact that most of their peers have long since retired.
With these categories in mind, here's a look at 10 potential impact MLB free agents who no one is talking about this winter.
Note: All stats courtesy of MLB.com and Baseball-Reference.com.
Begin Slideshow

»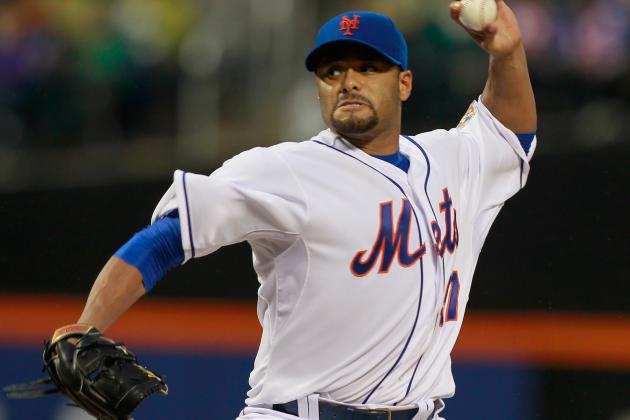 Mike Stobe/Getty Images

A big shoutout to Kevin Youkilis, Johan Santana and Justin Morneau before moving on to the list of 10 potential impact MLB free agents that nobody is talking about.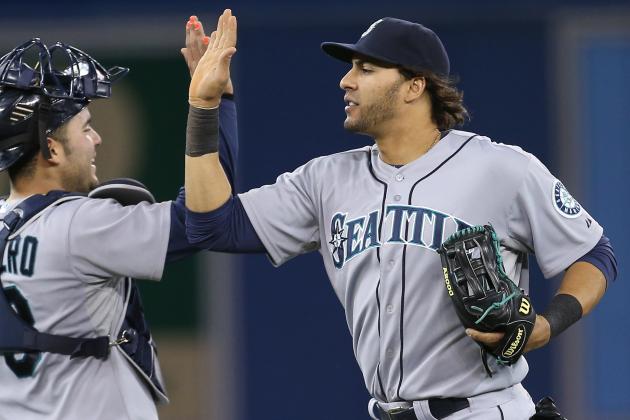 Tom Szczerbowski/Getty Images

Mike Morse has 30-home run potential. The big question is whether he will ever rediscover that pop.
In 2013, Morse split time between the Seattle Mariners and the Baltimore Orioles and didn't enjoy much success in either stop. Last year, he hit .215/.270/.381, but his power didn't desert him altogether.
Morse went without a home run during his brief stay in Baltimore, but in less than 300 at-bats for Seattle he cracked 13 home runs. That type of production suggests that he might be able to approach the 31 home runs he totaled back in 2011.
For that to happen, however, the slugger will need to do a far better job of staying on the field. Morse's impressive 2009 campaign was also the only time that he has tallied 500 at-bats in a single season.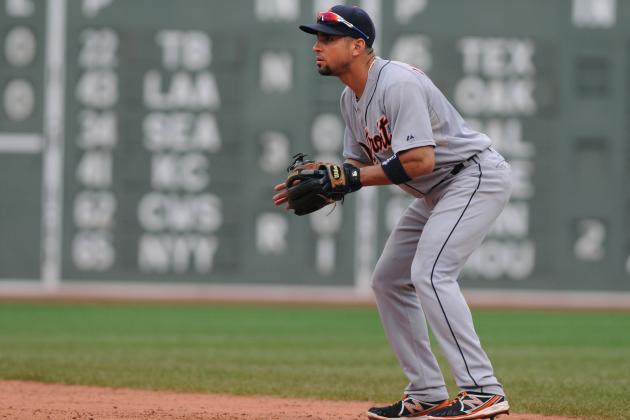 Darren McCollester/Getty Images

Omar Infante had an excellent contract year. In fact, the second baseman's 2013 season was arguably better than that of the player replacing him in Detroit—Ian Kinsler.
Check out Infante's stats from 2013 in comparison to Kinsler's:
Infante: .318/.345/.450, 10 home runs, 113 OPS+
Kinsler: .277/.344/.413, 13 home runs, 105 OPS+
Despite his solid campaign, Infante has been overshadowed on the free-agent front by Robinson Cano. Plus, with veteran second basemen like Brandon Phillips, Dan Uggla, Howie Kendrick and Rickie Weeks available on the trade block, there has been little attention left for Infante.
With the exception of Cano, Infante is likely to outplay every player on that list in 2014. He's also likely to do so at a lower price.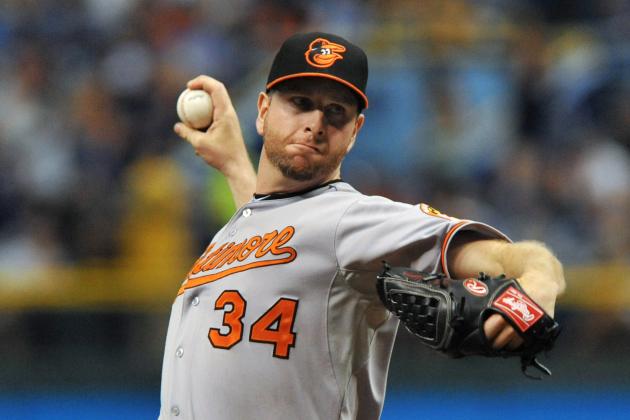 Al Messerschmidt/Getty Images

While splitting time between the Chicago Cubs and Baltimore Orioles in 2013, Scott Feldman quietly had a solid season.
The tall right-hander turned in a 12-12 record and posted a 3.86 ERA for numbers that compared favorably to the stats of Ricky Nolasco and Matt Garza. While Nolasco recently signed a four-year, $49 million deal, Feldman will command far less than that.
The downside with Feldman is his lack of a track record. Before last season, the only other time that the right-hander had won double-digit games was back in 2009. That season was also the only other occasion when Feldman made 30 starts in a single campaign.
There are far bigger names available on the market this offseason, but Feldman represents an excellent choice for a team looking for an innings-eater.
Bob Levey/Getty Images

Corey Hart missed all of this past season after undergoing surgeries on both of his knees.
However, in the previous three years, Hart was a very productive player. From 2010-12, he averaged 29 home runs allowed. If he had been able to replicate those numbers in 2013, he would be on the verge of signing a massive multi-year contract.
Instead, Hart will have to settle for a one-year deal to prove that his knees are healthy and his power remains. While health concerns limit him to first base, he is still an excellent candidate to have a bounce-back year in 2014. If he does, he will be in line to receive a major payday next offseason.
John Sommers II/Getty Images

In eight of the past nine seasons, Bronson Arroyo has pitched at least 200 innings. What's more, he only missed that mark by a single frame in 2011.
Suffice to say that Arroyo is a workhorse. He's been effective as well, reeling off a sub-4.00 ERA and at least 12 wins in four of the last five seasons.
According to Adam Rubin of ESPN New York, the right-hander is in the market for a deal for two or three years. That makes Arroyo an ideal option for a club looking to upgrade its rotation—especially for clubs priced out of the bidding for pitchers like Ervin Santana and Ubaldo Jimenez.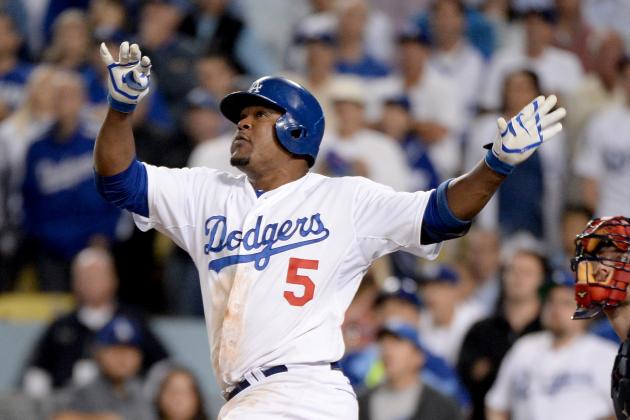 Harry How/Getty Images

There's not a lot of buzz surrounding Juan Uribe.
Considering that Michael Young is the second-best option at third base on the free-agent front, however, there probably should be. Last season for the Los Angeles Dodgers, Uribe hit .278 with a .769 OPS. The infielder also brings a steady glove, which made him the Wilson Defensive Player of the Year for the Dodgers, per Ken Gurnick of MLB.com.
Wherever he goes, Uribe has brought a winning habit to his teams. The veteran picked up World Series rings with the Chicago White Sox and San Francisco Giants and then reached the postseason with the Dodgers.
Due to the scarcity of third basemen on the market, the price will not be cheap for Uribe. Still, with a solid glove, a knack for timely hits and postseason experience, Uribe will be a strong addition wherever he lands.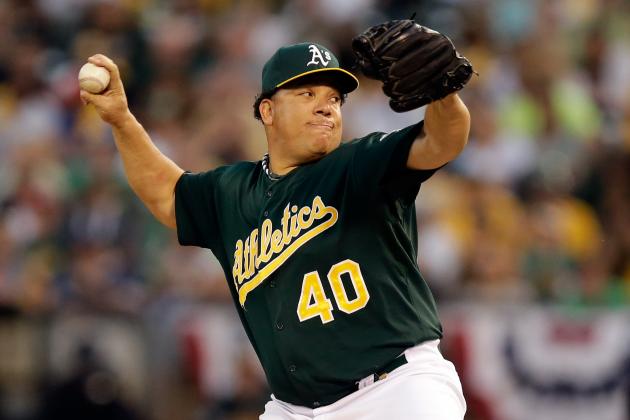 Ezra Shaw/Getty Images

It's hard to know what the market value is for a starting pitcher who will soon turn 41 and is coming off an 18-win campaign.
Quite simply, that doesn't happen too often. However, that's exactly the situation that Bartolo Colon finds himself in. The right-hander posted a 2.65 ERA in 2013 for the second-best mark in the AL. Colon also earned an All-Star nod and finished sixth on the ballot for the AL Cy Young Award.
It was his remarkable command, however, that was arguably the most impressive part of Colon's 2013 season. In 190.1 innings of work, the All-Star issued just 29 walks.
Expecting Colon to replicate last season is a lot to ask. As long as he maintains his pinpoint control, though, he will continue to be a highly effective starter.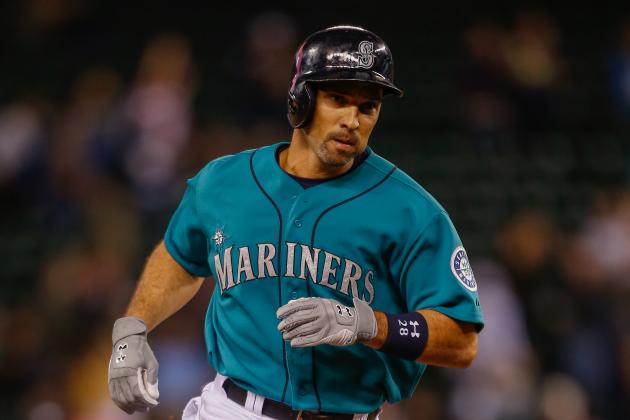 Otto Greule Jr/Getty Images

Raul Ibanez led all of this winter's free agents with 29 home runs in 2013.
The catch with the 41-year-old, however, is that 24 of his long balls came before the All-Star Break. In the second half of the season, Ibanez hit just .203 after batting .267 in the first half. Despite that drop-off in the closing months of the season, he is still an intriguing option for any club in need of more power in the corner outfield spots and the designated hitter's role.
While there's certainly a chance that age has finally caught up to the 18-year veteran, the upside is that Ibanez is available for a one-year deal at a reasonable price.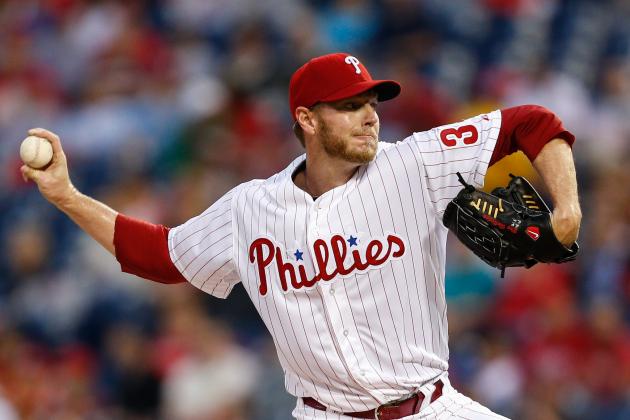 Brian Garfinkel/Getty Images

Roy Halladay endured a rough 2013.
The two-time Cy Young Award winner made just 13 starts, which was his lowest total since the 2005 season. The right-hander missed extensive time last year while recovering from shoulder surgery and there are serious concerns about his ability to rebound in 2014.
As Tom Verducci of Sports Illustrated notes, it doesn't get much worse than a shoulder injury for a pitcher:
Shoulder surgeries remain the most ominous of procedures for a pitcher. Halladay's prospective value depends largely on a review of his medical records, perhaps an avenue best explored late in the winter after he has had a chance to continue his rehab. In any case, Halladay's pitching smarts and work ethic make him an attractive bet.
As Verducci points out, Halladay will have to be patient this offseason. If the starter can demonstrate that his shoulder is healthy once again, though, Halladay will have an array of incentive-based, one-year deals to choose from.
Thomas B. Shea/Getty Images

Before the Mariners even gave Kendrys Morales a qualifying offer, his agent, Scott Boras, made it perfectly clear that his client would not be accepting one.
Boras explained to Jon Heyman of CBS Sports, "Twenty-three [home runs] and 80 [RBI] is the new 30 [home runs] and 100 [RBI]."
Those numbers just so happen to match the stats that Morales posted in 2013, but still, Boras is absolutely correct that power is down around the game. Morales has hit 45 home runs over the past two seasons combined, but he has drawn next to zero interest this offseason.
There are a couple of key factors which help explain why the market has been so slow to develop for Morales. The first issue is that he is likely limited to the AL, as he has only played in 59 games at first base in the past two seasons. More importantly, the team that signs him will have to surrender a draft pick since the slugger rejected the Mariners' qualifying offer.
If you want to talk baseball find me on Twitter @KarlBuscheck.