College Football Picks: Week 15 Predictions for Every Game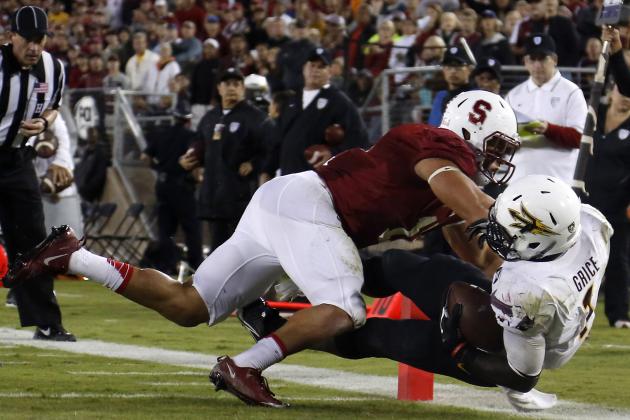 Stephen Lam/Getty Images

Fourteen weeks of upsets and blowouts.
Fourteen weeks of breakout performances, star-studded failures, injuries and oh-my-gosh moments.
For 14 weeks, the 2013 college football season has given us so many great games and storylines, more than enough to make this year one of the best ever. But it ain't over.
Not including the 17 days' worth of nearly nonstop bowl game action (which is like a season in itself), the final slate of regular-season games comes to us Thursday through Saturday night.
Though there are only 14 games, all but two of them will go a long way toward clearing up the national title picture, not to mention sorting out the entire bowl picture.
Last week's wild and crazy weekend resulted in a less-than-stellar 37-21 record picks-wise, though we correctly picked Auburn over Alabama (yet not exactly in the manner it played out). How will we fare this time around? Check out the slideshow to see our projections, then contribute to the comments section with your thoughts.
(Note: All rankings used are based on the latest BCS standings.)
Begin Slideshow

»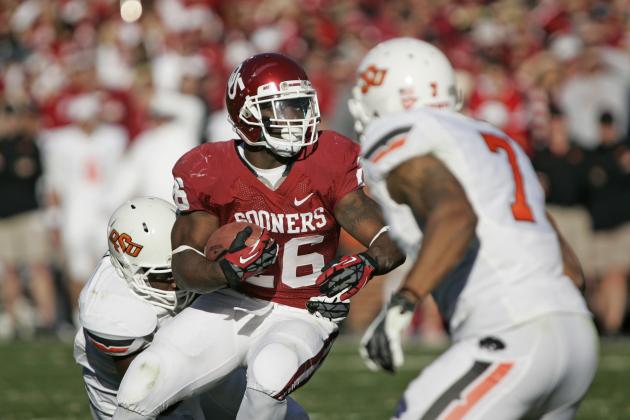 Brett Deering/Getty Images

When: Saturday, Dec. 7, 12 p.m. ET
Last meeting: Oklahoma beat Oklahoma State 51-48 in overtime last season.
What's at stake: Beyond Bedlam bragging rights, Oklahoma State can clinch the Big 12 title and a trip to the Fiesta Bowl.
Oklahoma (9-2, 6-2 Big 12) has had as disappointing a season as you can have with its record, mostly because the Sooners fell far short in their two biggest games against Texas and at Baylor. Win either, and they're still in the BCS discussion. Instead, OU is just looking to play spoiler to its rival.
Oklahoma State (10-1, 7-1) has the most inexplicable loss of any potential BCS participant, falling to 4-8 West Virginia. But that was on Sept. 28, and the Cowboys team that's showed up the last month has been far different. And much better, now that quarterback Clint Chelf has settled in and complemented a vastly improved defense.
Cowboys fans will party in preparation for next month's fiesta.
Prediction: Oklahoma State 37, Oklahoma 24
Final: Oklahoma 33, Oklahoma State 24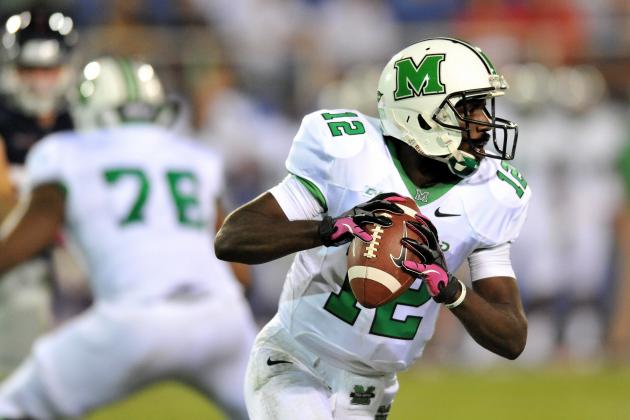 Steve Mitchell-USA TODAY Sports

When: Saturday, Dec. 7, 12 p.m. ET
Last meeting: Marshall beat Rice 54-51 in overtime last season.
What's at stake: The Conference USA champ would likely go to the Liberty Bowl in Memphis, while the loser would probably only get a trip to Honolulu for the Hawaii Bowl.
Marshall (9-3) has three losses by a total of 11 points, all on the road to teams that are bowl-eligible. The Thundering Herd blasted C-USA front-runner East Carolina last week behind the overworked arm of three-year starting QB Rakeem Cato.
Rice (9-3) has losses to a trio of Texas schools, all of whom will play in a bowl. The Owls use a spread attack that isn't as flashy as ones like Oregon or Texas A&M, but it gets the job done and has them vying for their first league title since sharing the Southwest Conference crown in 1994.
Even as the visiting team, though, Marshall looks like the better team.
Prediction: Marshall 33, Rice 27
Final: Rice 41, Marshall 24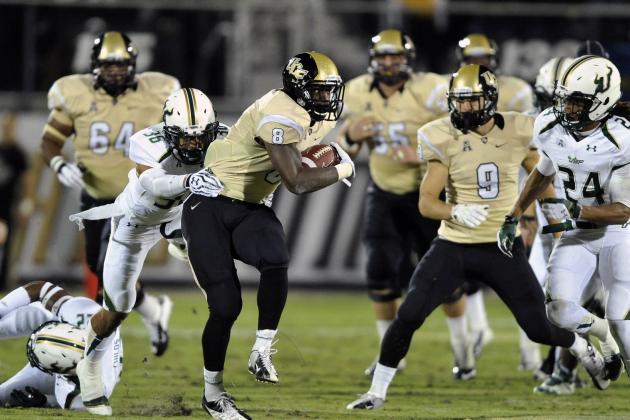 Brad Barr-USA TODAY Sports

When: Saturday, Dec. 7, 12 p.m. ET
Last meeting: Central Florida beat SMU 42-17 last season when both teams were in Conference USA.
What's at stake: A BCS bid is on the line for UCF, while SMU must win to become bowl-eligible.
Central Florida (10-1, 7-0 AAC) has been the big winner in last year's realignment free-for-all, parlaying a move from Conference USA to the chance at playing in the Orange Bowl. The Knights have an NFL-type quarterback in Blake Bortles and a defense that's done enough to keep the wins coming.
SMU (5-6, 4-3) hasn't benefited from the move to the AAC. The Mustangs will have their first bowl-less season since June Jones' initial year in Dallas if they can't pull off the upset. QB Garrett Gilbert missed last week's game with a knee injury, resulting in a 34-0 loss at Houston.
Even if Gilbert plays, though, SMU doesn't have enough to win.
Prediction: Central Florida 28, SMU 20
Final: Central Florida 21, SMU 17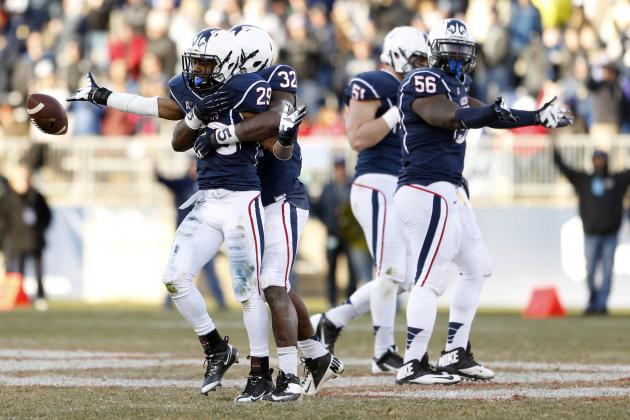 David Butler II-USA TODAY Sports

When: Saturday, Dec. 7, 1 p.m. ET
Last meeting: None
What's at stake: Pride? A launch point for 2014? Sorry, I've got nothing.
Memphis (3-8, 1-6 AAC) has put together such a woeful effort on offense it's masked what has been a pretty decent defense. The Tigers have reached 30 points once this season.
Connecticut (2-9, 2-5) has won two straight, showing the kind of late-season effort that whichever coach takes over can hopefully build on. Otherwise, it's been a lost year for the Huskies, even with the diminished league.
A pair of 3-9 teams will leave the stadium.
Prediction: Connecticut 23, Memphis 14
Final: Connecticut 45, Memphis 10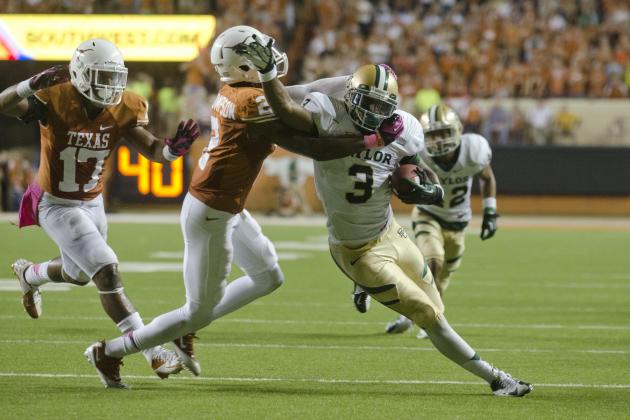 Brendan Maloney-USA TODAY Sports

When: Saturday, Dec. 7, 3:30 p.m. ET
Last meeting: Texas beat Baylor 56-50 last season.
What's at stake: Statewide supremacy and longshot BCS hopes.
Texas (8-3, 7-1 Big 12) can still win the conference if it takes this one and Oklahoma State loses. Even without that scenario, though, getting to nine wins would help ease the pain of early-season letdowns and a somewhat inconsistent offense.
Baylor (10-1, 7-1) can also get the Big 12's BCS bid with a win and an OSU loss, but the Bears are also an at-large candidate, so the impressiveness of the victory is as important as the win itself. Baylor has looked off the last two weeks, so getting the groove back will aid its attractiveness.
Baylor does its part. Will it be enough?
Prediction: Baylor 40, Texas 24
Final: Baylor 30, Texas 10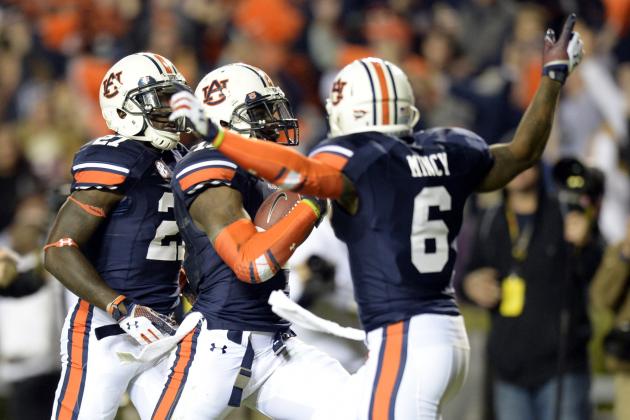 John David Mercer-USA TODAY Spor

When: Saturday, Dec. 7, 4 p.m. ET
Last meeting: Missouri beat Auburn 34-17 to win the 1973 Sun Bowl.
What's at stake: A Sugar Bowl berth at the very least and possibly a BCS title spot if there's an upset or a desire to be "un-American."
Missouri (11-1) is seeking its first outright league title since 1960, but the fact it could also lead to a spot in the national championship makes the Tigers' rise from a losing team in their first year of the SEC to this point simply remarkable. Mizzou is a second-half/overtime collapse to South Carolina away from perfection.
Auburn (11-1) is two fluke plays away from being completely out of the BCS picture, but sometimes lucky bounces are what the best teams need to truly rise to the top. Even without a tipped TD pass and a missed field goal return, the Tigers are having a whale of a season after going 3-9 in 2012.
No luck-fueled plays needed for Auburn this time. Just a solid win over a solid opponent.
Prediction: Auburn 33, Missouri 28
Final: Auburn 59, Missouri 42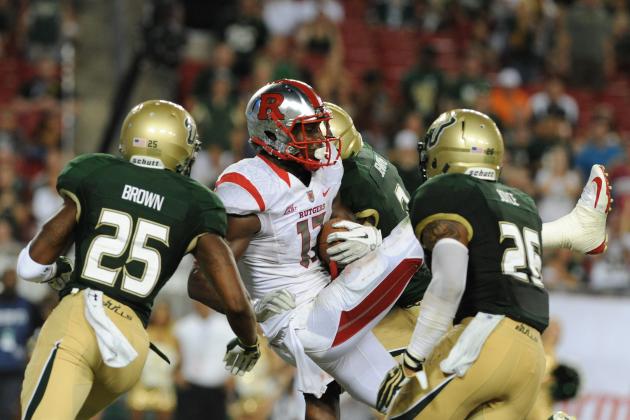 Al Messerschmidt/Getty Images

When: Saturday, Dec. 7, 7:30 p.m. ET
Last meeting: Rutgers beat South Florida 23-13 last season.
What's at stake: Salvaging a lost season for one, preventing it from being ruined for the other.
South Florida (2-9, 2-5 AAC) has had one of the most dreadful offensive seasons of any BCS conference team, and save for a two-game win streak in the middle has done nothing of any substance. The Bulls have been through more quarterbacks than uniform combinations.
Rutgers (5-6, 2-5) is a last-minute touchdown over Temple from riding a six-game losing streak and squashed bowl hopes. Instead, the sputtering Scarlet Knights are facing try No. 4 to become bowl-eligible, and with three wins by four points or less, it's amazing they're still alive for the postseason.
Somehow, Rutgers finds a way, and some poor AAC-affiliated bowl groans.
Prediction: Rutgers 27, South Florida 20
Final: Rutgers 31, South Florida 6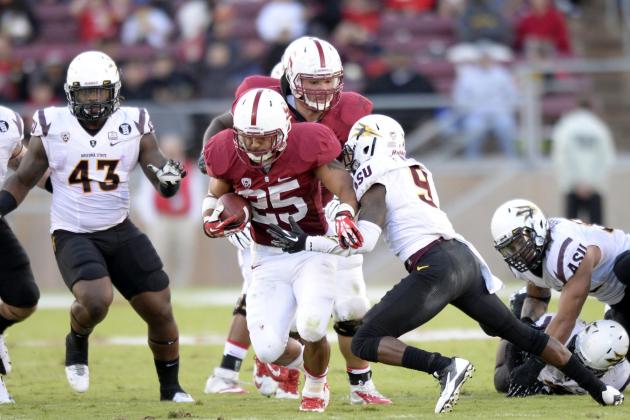 Bob Stanton-USA TODAY Sports

When: Saturday, Dec. 7, 7:45 p.m. ET
Last meeting: Stanford jumped out to a 29-0 halftime lead en route to a 42-28 home win over Arizona State in September.
What's at stake: The Rose Bowl, plain and simple. Stanford was there last year; ASU hasn't gone since 1996.
Stanford (10-2) was a rolling juggernaut when it last faced ASU, and despite a lackluster second half that let the Sun Devils come back, the Cardinal were clearly the better team. But over the final two months of the season Stanford has morphed into more of a methodical, wear-you-down foe, one without any flash but plenty of success.
Arizona State (10-2) is leaps and bounds ahead of where it was during the previous meeting with Stanford, blending a wildly efficient offense with a ball-hawking defense that flips the field like no other. Even with RB Marion Grice down with a leg injury, the Sun Devils have many weapons.
Playing at home adds a huge advantage, as Stanford can attest to as host (and winner) of last year's Pac-12 final.
Prediction: Arizona State 31, Stanford 23
Final: Stanford 38, Arizona State 14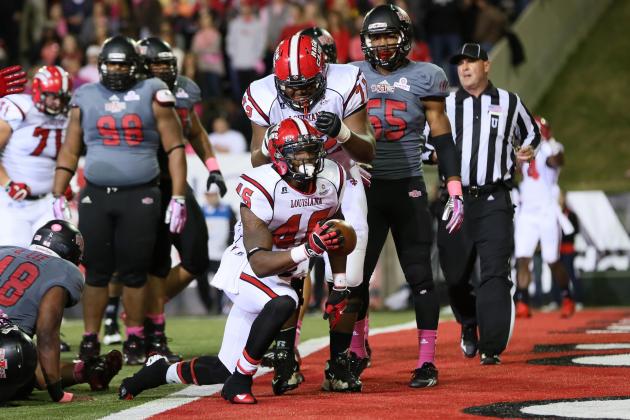 Nelson Chenault-USA TODAY Sports

When: Saturday, Dec. 7, 8 p.m. ET
Last meeting: Louisiana-Lafayette beat South Alabama 52-30 last season.
What's at stake: Bowl momentum for ULL, a landmark win for USA.
Louisiana-Lafayette (8-3, 5-1 Sun Belt) has already clinched the league title, and with that has already accepted a bid to face Tulane in the New Orleans Bowl. It will be the Ragin' Cajuns' third straight trip to that game.
South Alabama (5-6, 3-3) went 2-11 in its first FBS season last year, so this fall's performance has been a vast improvement that has included wins over Tulane and Western Kentucky. Getting to .500 would just be gravy for the Jaguars.
Maybe next year.
Prediction: Louisiana-Lafayette 30, South Alabama 21
Final: South Alabama 30, Louisiana-Lafayette 8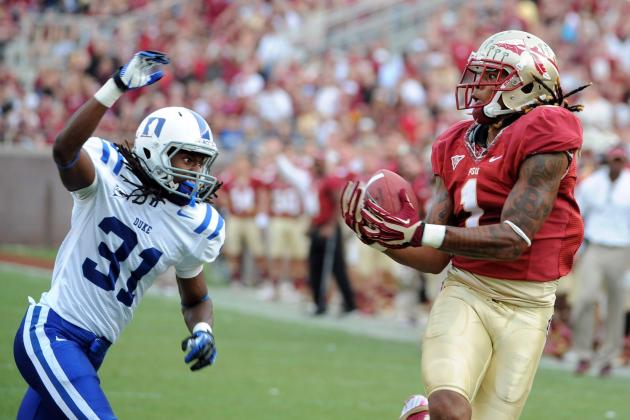 Melina Vastola-USA TODAY Sports

When: Saturday, Dec. 7, 8 p.m. ET
Last meeting: Florida State beat Duke 48-7 last season.
What's at stake: A chance at the biggest win in school history for Duke, while FSU is trying to hold onto a spot in the BCS National Championship Game.
Duke (10-2) is the biggest surprise of 2013, with the most wins ever for the program and a chance at its first full ACC title since 1962 and a trip to the Orange Bowl. Getting to a bowl game used to be the ultimate goal for the Blue Devils, but David Cutcliffe has them believing much loftier goals.
Florida State (12-0) is in the driver's seat to play for its first national title since 2000. Since crushing Clemson in October, it has been nothing but blowouts for the Seminoles who haven't been challenged but also haven't let up one bit.
The Seminoles keep on rolling.
Prediction: Florida State 38, Duke 17
Final: Florida State 45, Duke 7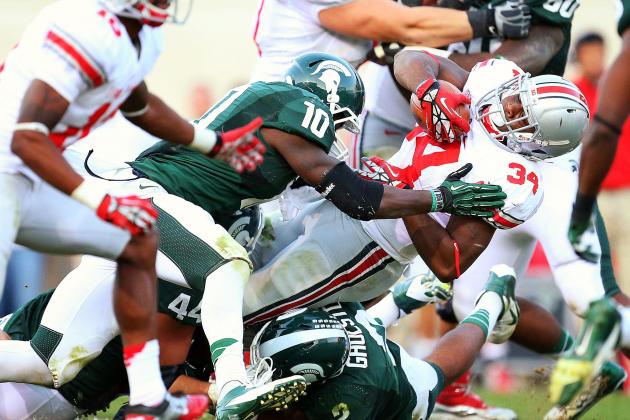 Mike Carter-USA TODAY Sports

When: Saturday, Dec. 7, 8:17 p.m. ET
Last meeting: Ohio State beat Michigan State 17-16 last season.
What's at stake: Nothing short of a national title bid for OSU, while MSU is seeking its first Rose Bowl since 1988.
Ohio State (12-0) has spent the past two years doing nothing but winning and hoping someone would notice. Now that Alabama and others have lost, the Buckeyes have that shot at a title that critics and skeptics say they don't deserve.
Michigan State (11-1) has been one of the most impressive defensive teams around, and at times the Spartans have shown a little offense, too. Enough of both and MSU might be the one to end Ohio State's run.
There won't be enough, but it will be close, adding intrigue to the final BCS rankings.
Prediction: Ohio State 23, Michigan State 16
Final: Michigan State 34, Ohio State 24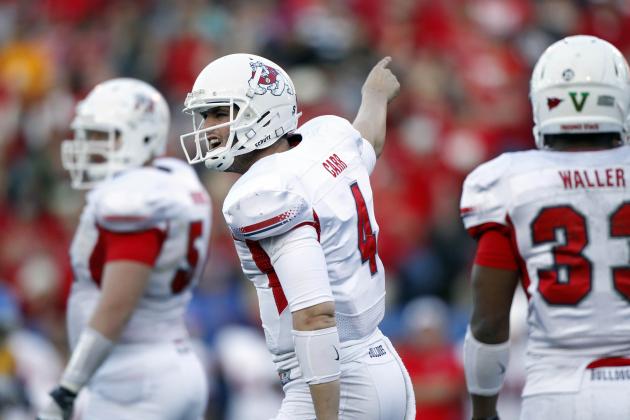 Cary Edmondson-USA TODAY Sports

When: Saturday, Dec. 7, 10 p.m. ET
Last meeting: Fresno State beat Utah State 31-21 in 2011.
What's at stake: A Vegas vacation, which doesn't sound as good as a BCS bid (sorry, Fresno).
Utah State (8-4) hasn't won back-to-back conference titles since 1996-97, and for many years since then the Aggies were lucky to win four games. But even with Gary Andersen leaving for Wisconsin, USU has looked just as good, if not better this year.
Fresno State (10-1) lost out on its chance to be a BCS buster last week against San Jose State, so getting to host this game has to feel like a huge letdown after that. But the Bulldogs have still had a great season and put up truly remarkable offensive numbers.
This won't be as crazy a high-scoring game as FSU is used to, but points will be had.
Prediction: Fresno State 37, Utah State 28
Final: Fresno State 24, Utah State 17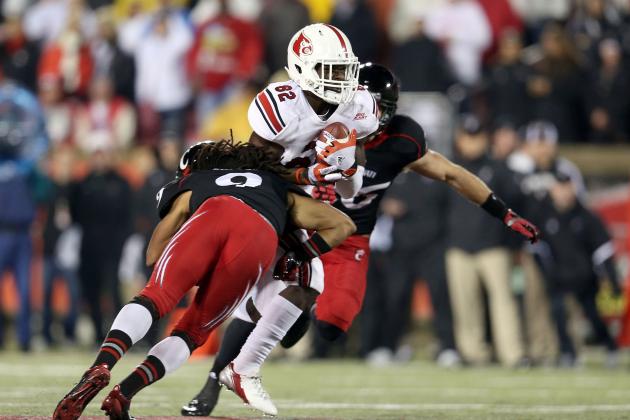 Andy Lyons/Getty Images

When: Thursday, Dec. 5, 7:30 p.m. ET
Last meeting: Louisville beat Cincinnati 34-31 in overtime last season.
What's at stake: The winner has a chance to share the American Athletic Conference title, but only if Central Florida loses on Saturday.
Louisville (10-1, 6-1 AAC) hasn't skipped a beat since its lone loss of the season at home to UCF in October. That defeat plummeted the Cardinals down the rankings, and no amount of Teddy Bridgewater offensive efficiency or ironclad defense has helped them to move up much.
Cincinnati (9-2, 6-1) has been one of the quietest standout teams all year. It was left for dead in terms of attention after inexplicable early losses to Illinois and South Florida. But the Bearcats have been stellar the last two months, making Tommy Tuberville's surprise move there from Texas Tech much more understandable.
First one to 20 wins.
Prediction: Cincinnati 20, Louisville 17
Final: Louisville 31, Cincinnati 24 (OT)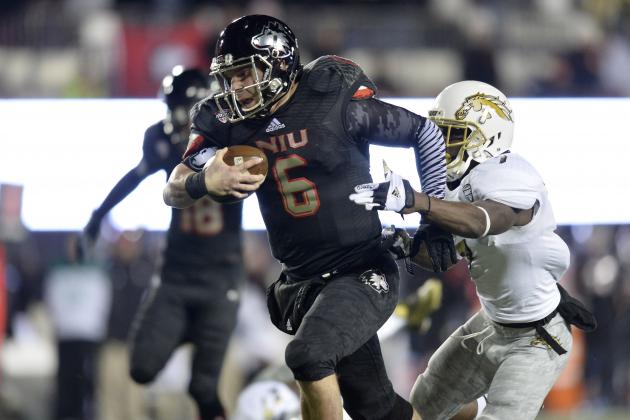 Brian Kersey/Getty Images

When: Friday, Dec. 6, 8 p.m. ET
Last meeting: Northern Illinois beat Bowling Green 45-14 in 2011.
What's at stake: NIU can improve its chances of receiving an invite to the BCS, while Bowling Green is seeking its first MAC title since 1992.
Bowling Green (9-3) has allowed just 17 points in its last four games, displaying a defense that looks to be one of the best in the country. The Falcons also have a 1,400-yard rusher in sophomore Travis Greene to complement their fifth-rated team defense.
Northern Illinois (12-0) hasn't lost to a MAC opponent since its league opener in October 2011 and is playing in the MAC title game for the fifth straight year. Senior Jordan Lynch is surpassing what he did in his breakout junior season. He broke his own FBS record for rushing yards by a quarterback in a game this season.
As good as Bowling Green's defense has looked, it hasn't had to spot someone like Lynch. And it won't be able to.
Prediction: Northern Illinois 27, Bowling Green 17
Final: Bowling Green 47, Northern Illinois 27