A top-tier opponent. A high-profile venue. A national television audience. And Dick Vitale.
Put all of those things together, and it's easy to see how big Arizona's 72-66 win over Duke in last Friday's NIT Season Tip-Off championship game was.
In Sean Miller's fifth season running the Wildcats, he's fully embraced the longstanding approach that Lute Olson employed for non-conference play: that willingness to roll up the sleeves and face the toughest possible competition before the rigors of the league schedule kicked in.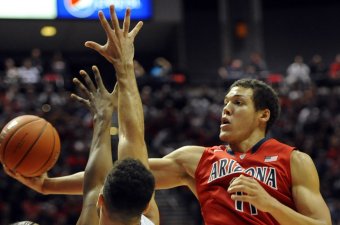 Christopher Hanewinckel-USA TODA
Arizona has already played at (and beaten) San Diego State, and on Dec. 14 the Wildcats will go into Ann Arbor to face Michigan.
In between, though, was the cherry on top of the preseason slate: getting to face Duke, at Madison Square Garden, on ESPN, with unapologetic Duke worshipper Dick Vitale working the game.
The Blue Devils came in with their usual aura of invincibility, despite having already lost to Kansas and looking shaky in other games. But it's Duke, and that's just how it is when Duke is on television.
Arizona could care less about any of that, instead sticking to its plan of being a basketball team instead of one that has a bunch of big-time names and an iconic coach. And by beating Duke, and rather convincingly despite just a six-point margin, the Wildcats ascended to No. 2 in both the Associated Press and USA Today polls.
Many preseason projections included Arizona as a Final Four contender, and the win over Duke has solidified those expectations. The Wildcats are now a known entity beyond just the Pac-12 Conference and the West Coast, in general.
Even Vitale had to swallow his pride and give Arizona some love:
Congrats to Arizona - a big time team !NIT tip off champs - super W over Duke!

— Dick Vitale (@DickieV) November 30, 2013
So now this means Arizona won't be able to sneak up on anybody, as it did last season en route to a 14-0 start. No one paid much attention to the Wildcats early, and even after knocking off Florida in mid-December they were still under the radar.
It took superlatives like Nick Johnson's game-saving block to beat San Diego State in Hawaii—a game very few "experts" or voters saw because it was on far too late for the decision-makers on the East Coast—or the controversial three-pointer-that-was-good-but-ended-up-not-being-good by Colorado to get people to notice Arizona.
That won't be the case this season. Now at No. 2 in the nation and with a Blue Devil scalp to put up on the mantle, every game the Wildcats play in will get national attention. And scrutiny.
Heading into the season, it looked like Arizona was going to get noticed as much for the presence of one player (uber-freshman Aaron Gordon) as for anything it did as a team. Not anymore.