Marquette Basketball: Stock Watch for Golden Eagles Starters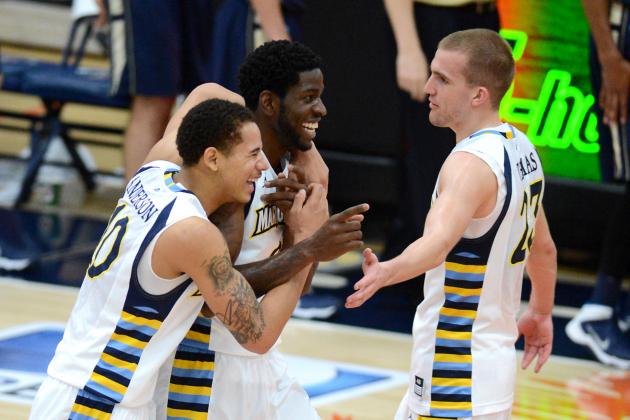 Jayne Kamin-Oncea-USA TODAY Sports

Marquette, a consensus top-20 team in the college basketball preseason polls, has not gotten off to the hot start the team had hoped for in the 2013-14 season.
Instead, the Golden Eagles stand 5-3 and are no longer receiving votes in the AP Poll after a pair of losses last week.
Marquette's three losses have come to Ohio State, Arizona State and San Diego State, two of whom are ranked. Their best wins so far were against George Washington and Southern. Marquette's offense has been its downfall, ranking 230th in the nation in scoring at 71.0 points per game.
Without Vander Blue, who decided to forego his senior season for a shot at the NBA, Marquette is without a clear go-to guy. Davante Gardner is the team's top offensive option, although he comes off head coach Buzz Williams' bench.
In fact, of Marquette's 12 players who have seen the court this season, 11 are averaging over 10 minutes of playing time, with only walk-on Dylan Flood below that mark. While the following may not be Marquette's best players, Williams has made it clear that they will start for the Golden Eagles.
Begin Slideshow

»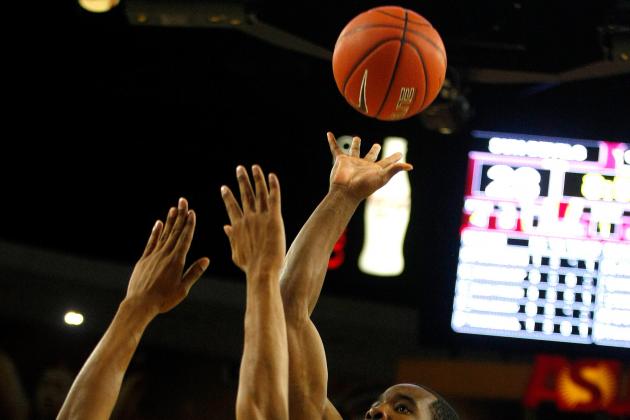 Rick Scuteri-USA TODAY Sports

A junior from Anchorage, Alaska, Derrick Wilson is a first-year starter for Buzz Williams.
Wilson was a solid backup for Junior Cadougan during his underclassmen years, but has stepped into his new role, helped by a leg injury to point guard Duane Wilson that has kept the freshman from playing a collegiate game to this point.
In Marquette's first four games, Wilson combined to score a grand total of four points. He had made only one of 10 shot attempts and was 2-of-8 from the free-throw line. Sure, Wilson isn't known as a scorer, but anyone playing extended minutes could surpass his point totals.
Over the last four games, Wilson has scored 40 points to average 10 points. For the season, he is averaging 5.5 points, 4.3 rebounds and 4.4 assists in 30.1 minutes of action. Until Duane Wilson returns, Derrick will be relied upon to play nearly all the minutes at point guard.
Stock: Up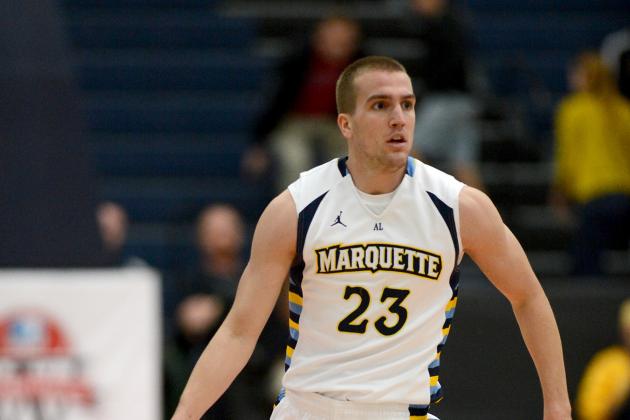 Jayne Kamin-Oncea-USA TODAY Spor

After flirting with the idea of transferring following last season, Jake Thomas decided it was in his best interest to return to Milwaukee for his redshirt senior season. Thomas' role has greatly expanded from a year ago. He is now playing 25.4 minutes per night as the team's best shooting threat from long distance.
The 6'3" guard from Racine, Wis., has been streaky from the perimeter, but has upped his three-point percentage from 28 percent a year ago to 37 percent through eight games this season. Over the last four games, Thomas has made 10 of his 23 looks from deep, including five treys at Arizona State.
Besides his 7.3 points per game, Thomas is also averaging two rebounds and 1.5 assists. Thomas has only made one two-point basket on the season, proving he is only a long-distance bomber at this point. Still, Thomas' confidence shooting the rock has soared and he is underrated as a defender.
Stock: Up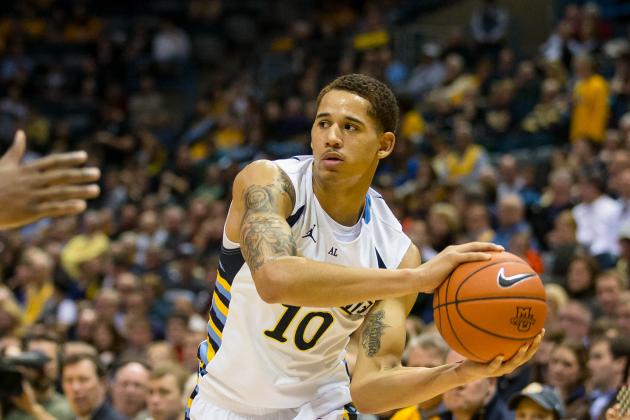 Jeff Hanisch-USA TODAY Sports

Like Jake Thomas, Juan Anderson also contemplated leaving Marquette after last season, but instead returned as a starter for the Golden Eagles. Anderson is averaging 4.4 points, five rebounds and 1.1 assists, although he is only averaging 15.3 minutes each night.
While Anderson's numbers are up from a year ago, he remains reluctant to shoot the ball. He is 1-of-9 on three-pointers, but is capable of hitting the open three, especially from the top of the key. Anderson has twice scored in double figures, while he has scored two points or less on five occasions.
Anderson also brings effort and energy to the court—more than his stats may show. As a 6'6" junior, Anderson will likely return in 2014-15 as a three-year starter, showing great improvement from a freshman campaign where he rarely saw the court.
Stock: Down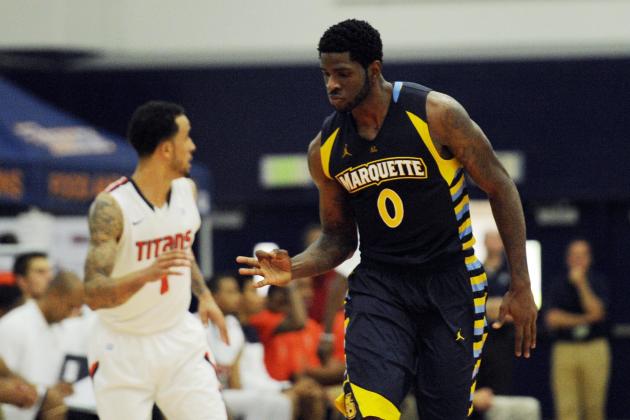 Kelvin Kuo-USA TODAY Sports

Another native of Racine, Wis., Jamil Wilson is a fifth-year senior leader for the Golden Eagles. Wilson is second on the team in scoring, averaging 10.5 points, 5.3 rebounds and two assists.
After an embarrassing 35-point team effort against Ohio State in which Wilson shot 1-of-9 from the field, he has apparently turned the corner and become more assertive with the ball. Wilson averaged 12.8 points in four games last week, including a 24-point, nine-rebound effort against Cal State Fullerton.
Wilson is only connecting on 31 percent of his three-point attempts after leading Marquette in shooting from deep last season at a 36 percent clip. After transferring from Oregon following his freshman season, Wilson would love nothing more than to beat Wisconsin for a third straight season when the two rivals battle this Saturday.
Stock: Up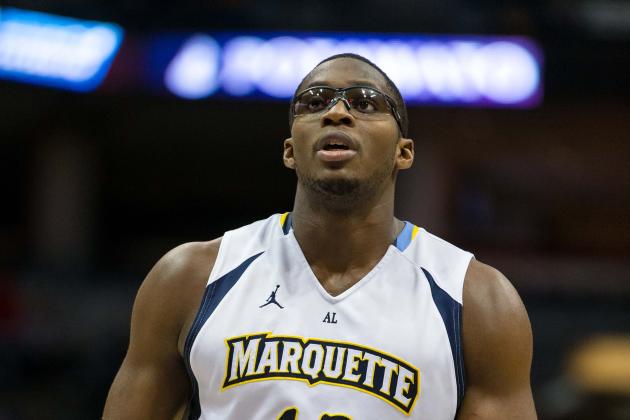 Jeff Hanisch-USA TODAY Sports

A sixth-year senior, Chris Otule adds to an already-experienced starting lineup for Marquette. In fact, Otule has been on campus as long as Buzz Williams has been the head coach of the Golden Eagles. The 6'11", 275-pound big man has played the best basketball of his career in the early going this season.
While his playing time has been nearly the same over the past four seasons, Otule has increased his production averages to 7.4 points and 4.9 rebounds per game while shooting 65 percent from the floor. Williams has played Otule and Davante Gardner together more this season in the past, utilizing a big lineup up front.
After scoring 17 and 16 points against Grambling State and New Hampshire, respectively, Otule has come back down to earth with 20 points combined over Marquette's last four contests. While Otule can always be counted on for solid defense and strong rebounding, look for his minutes to fluctuate depending on the opposing matchups.
Stock: Down