For the 12th time in 13 years, Georgia bested its in-state rival, Georgia Tech, winning 41-34 in double overtime Saturday night in Atlanta.
Although this rivalry is dubbed "Clean, Old-Fashioned Hate," the Yellow Jackets had tasted nothing but clean, old-fashioned defeat for much of the 2000s. The Bulldogs have asserted themselves as the dominant football team in the state of Georgia. Mark Richt is now 12-1 against Tech, per Georgia athletics.
Georgia is now 12-1 vs @GTAthletics under @MarkRicht! Dawgs improve to 8-4 on the season. #UGAvsGT

— Georgia Bulldogs (@UGAAthletics) December 1, 2013
It took Tech all of two minutes to upend the balance of power, at least for the time being.
The Yellow Jackets went 76 yards in five plays and 1:59 to take a 7-0 lead. Quarterback Vad Lee punched it in from three yards out. The bigger play of the drive was wideout Darren Waller's 68-yard reception that got the ball down to the Georgia 6-yard line. It was academic from there.
When Georgia fans saw Lee beating them through the air, they must have known it was going to be a long day. Prior to Saturday, the sophomore QB had just 66 completions for 1,182 yards and eight touchdowns.
Georgia Tech held firm on the Bulldogs' first drive of the game, giving the ball back to Lee and the Tech offense.
This time, Paul Johnson opted for the more methodical approach. Slowly but surely, Georgia Tech advanced the ball down the field. It took a little over six minutes to go 60 yards, with Harrison Butker nailing a 37-yard field goal for a 10-0 lead with a little over three minutes left in the first quarter.
Following Aaron Murray's torn ACL last week, Hutson Mason was tasked with the starting quarterback duties for Georgia, and it was clear in the first quarter that he would have some growing pains. The junior threw an interception on the Bulldogs' next drive to give the ball right back to the Georgia Tech offense, which had a short field to work with.
A facemask penalty on Georgia moved to the ball to the Bulldogs' 26-yard line. That was all the help Lee would need, as he hooked up with wide receiver DeAndre Smelter to give Georgia Tech a massive 17-0 lead, per ESPN CollegeFootball.
Georgia Tech averaged 119.6 passing yards/gm this season. GT already has 137 & 17-0 lead on UGA after 1Q: http://t.co/DQJBKbypdy #UGAvsGT

— ESPN CollegeFootball (@ESPNCFB) November 30, 2013
Matt Chernoff of 680 The Fan in Atlanta thought the usually grounded Lee was instead mirroring former Yellow Jacket Joe Hamilton.
Vad Lee has turned into Joe Hamilon today. Kid is wingin it. Btw Georgia d-line has gotten absolutely no pressure.

— Matt Chernoff (@RealMattlanta) November 30, 2013
The first quarter would end with Tech on top, 17-0, and it was a first quarter it dominated from start to finish, per Marc Weiszer of the Athens Banner-Herald.
First quarter ends with Hutson Mason being sacked. Total offense: Georgia Tech 162, Georgia 45. Bulldogs trail 17-0.

— Marc Weiszer (@marcweiszer) November 30, 2013
Things only got worse for Georgia when Butker hit a 22-yard field goal to put the Yellow Jackets on top 20-0 after another long, time-consuming drive.
Georgia got on the board with 34 seconds left in the half. Mason completed all five of his passes on a seven-play drive, eventually hitting running back Todd Gurley for a nine-yard touchdown.
It was a great way to end the half for the Bulldogs. After being dominated for much of the game, they built some positive momentum, and they would get the ball to start the second half.
Georgia cut the deficit to 10 points when Marshall Morgan hit a 40-yard field goal with a little under 10 minutes to go in the third quarter. It was a great drive for the Bulldogs, as they worked the clock and systematically broke down the Yellow Jackets defense. Although the drive ended with just three points, Georgia continued chipping away at the lead.
Following a missed field goal for Georgia Tech, the Bulldogs pulled to within three, 20-17. Mason hit wideout Michael Bennett for a nine-yard touchdown pass with a little over two minutes to go in the third quarter.
#SilverBritches comeback! Hutson Mason connects w/ Michael Bennett. #UGa w/in 20-17 of GaTech, end 3rdQ. #UGAvsGT: http://t.co/YpniSnPPAn

— ESPN CollegeFootball (@ESPNCFB) November 30, 2013
Mason had firmly put that interception behind him, as he displayed great poise on the drive, going 4-of-5 for 67 yards.
It was quite the momentum swing headed into the fourth quarter, as it looked to be a matter of time before the Bulldogs would take the lead.
However, Georgia Tech increased its lead to 27-17 when Lee hit Smelter for his second touchdown reception of the game.
Not to be outdone, Georgia answered with yet another touchdown.
Mark Richt took a major gamble on the drive, going for it on 4th-and-6. The ball was on the Bulldogs' 39-yard line, so failing to get the first down could very well have ended the game right then and there.
But Mason hit Bennett for 11 yards and the first down, prolonging the drive and keeping Georgia in the game.
Gurley capped off the drive with a two-yard touchdown run to make it a 27-24 game in favor of Tech.
Georgia would need a quick defensive stop, though, if it had any chance of winning the game. The Yellow Jackets could kill off more than enough time with that rushing attack to leave little chance for the Bulldogs to come back.
However, Lee demonstrated exactly why he's not regarded as much of a thrower when he unleashed a very poor pass off his back foot that Georgia's Josh Harvey-Clemons stepped in front of and intercepted. Rather than Joe Hamilton, Football Outsiders' Matt Hinton thought Lee was emulating another former Yellow Jackets QB.
Vad Lee paying homage to Reggie Ball.

— Matt Hinton (@MattRHinton) November 30, 2013
It was a huge play for the Bulldogs, as it came on the second play of Tech's drive, giving the Dawgs a great chance to take the lead.
They would have to settle for a field goal, though, and tied the game at 27-27 when Morgan nailed a 32-yarder with 4:17 left in the game.
Georgia Tech failed to get close enough for a field goal on its next drive, and the ensuing punt left Georgia with little option but to kill off the final 37 seconds of regulation and head to overtime.
Lee and Gurley matched rushing touchdowns in the first overtime period.
On the first play of the second overtime period, it was Gurley going 25 yards to give Georgia a 41-34 lead.
The Yellow Jackets got down to the Georgia 3-yard line, but they couldn't find the end zone.
Key Player Grades
Hutson Mason, Georgia: B
It's always difficult when you're replacing one of the best quarterbacks in school history.
Although Mason came in for an injured Aaron Murray last week, this was his first start of the season, and it came in a rivalry game. The junior had plenty of pressure resting on his shoulders.
You could see that early on Mason was feeling out everything. He didn't look confident in the pocket at times, with the early interception being the best example.
As the game went on, though, he became more and more comfortable. It wasn't a spectacular performance from Mason, but 22-of-36 for 299 yards, two touchdowns and one interception is solid.
Todd Gurley, Georgia: A-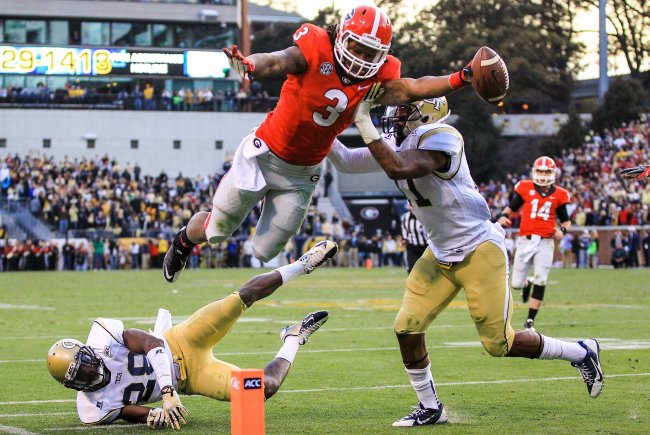 Daniel Shirey-USA TODAY Sports
Once again, Gurley was a workhorse. He carried the ball 20 times for 122 yards and three touchdowns, with another 36 yards and a touchdown receiving.
Gurley is the kind of back who'll take the ball up the middle, punish the defense and get positive yards. He did exactly that on Saturday.
The overtime period was everything you'd expect from Gurley. Richt gave him the ball on just about every play, and the Bulldogs were able to find the end zone on both of their drives.
Vad Lee, Georgia Tech: B+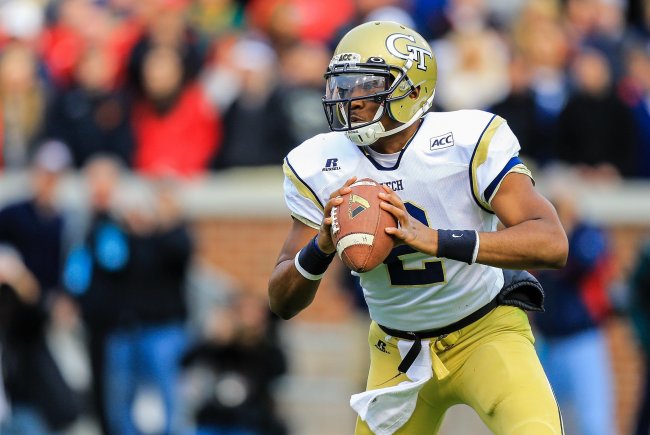 Daniel Shirey-USA TODAY Sports
You can't be surprised all that much by Lee's two picks. He's not a great passer and demonstrated exactly why with those two turnovers.
Still, the sophomore was able to beat Georgia over the top, and that allowed the running game to be more successful. The Bulldogs couldn't afford to load the box on every play, or Lee would kill them.
Lee finished the game with 232 yards passing, 63 yards rushing and four combined touchdowns.
Jeremiah Attaochu, Georgia Tech: A-
Jeremiah Attaochu was one of the best players on the field for Georgia Tech. The senior defensive end was a constant nuisance in the pocket for Mason. Pressuring an inexperienced quarterback can be such a boost. You force him into mistakes and quick throws even if you don't get a hit on him.
What's Next
This is the regular-season finale for both teams, and neither is eligible for its conference championship game. Georgia and Georgia Tech are bowl-eligible, though, so it's just a matter of where they'll end up.