The FIFA series is easily the most popular sports video game franchise in the world. Madden takes over the lives of millions of Americans, but FIFA captivates gamers worldwide. The current-generation version of the game was solid, deep and bolstered a few visual improvements. I rated it a nine out of 10, so the next-gen version will really have to deliver the goods to impress me.
My first brush with the game came at the Sony PlayStation 4 event in New York on Nov. 14. I had an opportunity to play game mode's producer, Santiago Jaramillo in two spirited matches. I'll humbly, but proudly admit I beat him both times.
The first match shouldn't really count. I played with my hometown Chicago Fire of Major League Soccer and he chose the Vancouver Whitecaps. I won 2-0, but in Santiago's defense, he was talking to a lot of people during the match.
In the second match, he was plugged in and I guided Manchester City to a thrilling 2-1 win in extra time. Santiago went with Chelsea. Joe Hart played out of his mind the entire match for me and I must admit, I had a lot of fun. Winning helps, of course.
I had an urge to play more next-gen FIFA 14 later that night, but unfortunately, I had to wait until I got back home. Since then, I've played and explored the game to deliver my take on the series' first next-gen effort. Take a look at my full breakdown of expectations and reality below.
Graphics and Animation
What Was Expected
There wasn't a ton of mystery involved with the quality of FIFA 14's graphics and animation. The trailers had already shown off some pretty solid visuals, but you don't get the full gist of a game like this until you have it at it home.
What We Got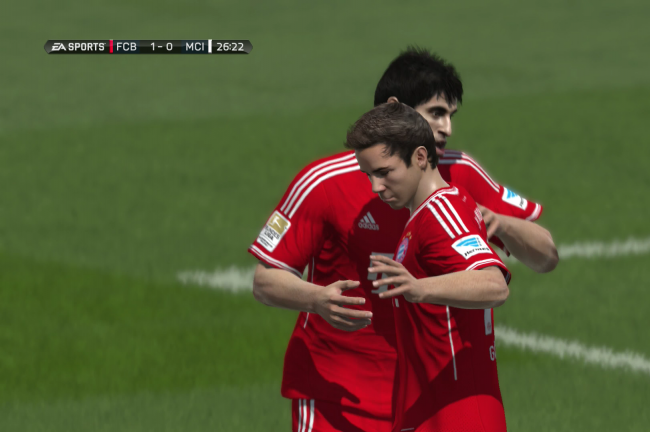 image from FIFA 14
Much like Madden 25 on next-gen consoles, the player models and environments are almost identical, but they pop more on the screen than they ever have. The primary difference is clarity and color. The animations have been improved as player movement simply looks more natural. This is isn't a monumental leap forward in graphics, but the enhancements are definitely noticeable.
It'll be interesting to see what improvements will take place with FIFA 15.
Quite obviously, there is nothing to dislike about the way the game looks on next-gen consoles, but if one is looking for a game on their PlayStation 4 or Xbox One that will really show what the new machine can do, FIFA 14 only gives you a taste of the power.
Gameplay and Realism
What Was Expected
The gameplay in this series has consistently improved over the last seven years. It has become one of the series' biggest strong suits along with the game's substantial licensing power. Could the gameplay on next-gen consoles be even better than the awesomely executed gameplay on current-gen?
What We Got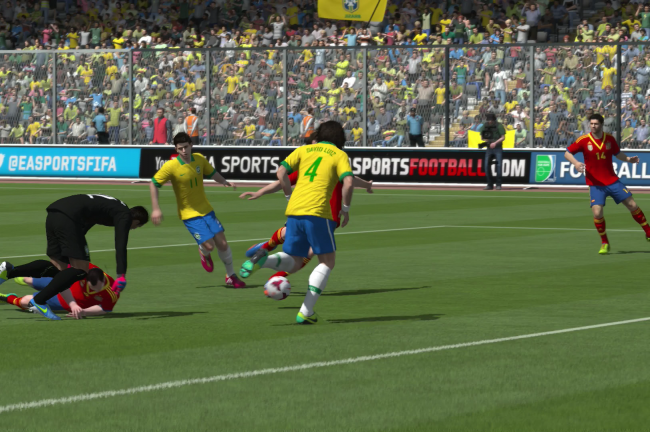 image from FIFA 14 on PS4
As good and fun as the game is for Playstation 3 and Xbox 360, it plays even better on PS4 and Xbox One. The overall physics engine has been improved and you can quickly see the added realism that has been spawned from the Ignite engine.
The collisions and overall gameplay are more layered. The flight of the ball is more realistic, especially as it relates to headers. This was an aspect of the game that many found fault with in previous versions.
It seemed shots off the dome were overpowered and disobeyed the game's otherwise solid laws of physics. That isn't the case on next-gen.
The world football title that already boasted the best gameplay just got even better.
Sound and Presentation
What Was Expected
For the past three years, the FIFA series has impressed with not one, but multiple commentary teams to appease its massive fanbase. As cool as many of the voice options are, it is about time the series take the next step in regard to sound presentation.
The visual presentation has also had some shiny moments of late, but even more TV-style broadcast wouldn't hurt. It is probably too soon to expect these improvements, but a fan can wish.
What We Got
On PS4 and Xbox One, the commentary is really no different than the current-gen versions. There's still a very large amount of names in the database for the commentators to reference, and there are still in-match lines that are relevant to real world occurrences and your current career mode.
Because things were solid in that regard to begin with, we can't come down too hard on FIFA 14 for holding steady. That said, next year's version must see an upgrade here to remain satisfactory in this category.
Game Modes and Options
What Was Expected
With a plethora of options available for the current-gen versions, one would expect to at least have the same tool chest to choose from on a next-gen system.
What We Got
There is some good and bad here.
Career modes? Check. Ultimate Team? Check, (although the Xbox One version benefits from the legends exclusive that is not present on PS4). Pro Clubs, Online Friendlies, Skill Games and Seasons are all there.
That's a good number of options, so I won't pretend FIFA 14 on next-gen has left us high and dry, but there are a few notable missing features that I will miss..
The following modes have been removed; the latter two are the ones that put a divot in my pitch: Tournaments, FIFA Interactive World Cup, Be a Pro and the Creation Centre.
I am a creation nut, so I loved the Team Builder feature in NCAA Football and the Creation Centre option in FIFA. It'll hurt my experience a bit not to have the freedom and options that feature delivered. Be a Pro was always fun, but the series does need to upgrade it's single-player campaign experience. Perhaps removing it and rebooting it is the best way to go.
The career mode and Ultimate Team should provide a lot of longevity, but fans never like to see features omitted—even the ones they barely use.
Overall
This is the best world football title available, but the question is: Does that make it worth a purchase for those who already have the nearly as stellar current-gen version?
I'd say yes it is, especially if you take Gamestop up on the $10 upgrade offers for games that exist on current-gen consoles.
Even apart from that, if you're a gamer that wants to play the best version of a sport every year like me, this is a game you're going to want to own.
Graphics and Animation—8.5
Gameplay and Realism—9.25
Sound and Presentation—8.5
Modes and Options—8
Overall—8.5
Follow me for news and musings on FIFA 14 and other sports video games.