Bears vs. Vikings: Full Roster Report Card Grades for Minnesota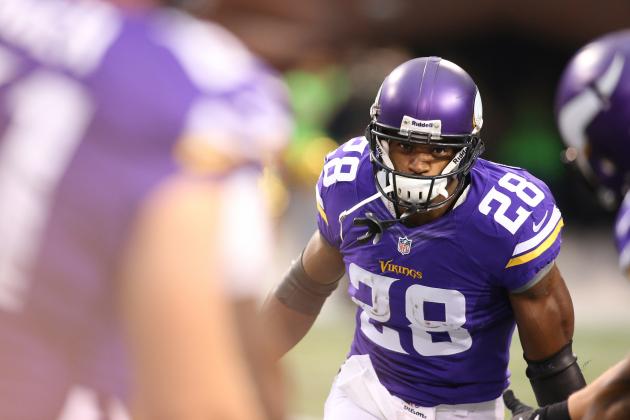 Adam Bettcher/Getty Images
Running back Adrian Peterson led the Minnesota Vikings to victory with 211 rushing yards.
The Minnesota Vikings' 23-20 overtime win over the Chicago Bears was certainly a roller-coaster ride there at the end. First, the Vikings win the game with a 39-yard field goal by kicker Blair Walsh, but a personal foul negated the play and pushed the Vikings back 15 yards.
Then the Bears had a shot to win the game when kicker Robbie Gould lined up for a 47-yard field goal. Coming into the game, Gould was a perfect 5-of-5 on field goals between 40 and 49 yards. He had made all seven attempts greater than 40 yards this season. This time, his attempt missed wide right.
It gave the Vikings another shot, and Adrian Peterson was not going to let it escape the Vikings again. He gained 30 of his 211 yards on the Vikings' final drive. A drive that ended with a 34-yard, game-winning field goal by Walsh.
The win gives the Vikings a 3-8-1 record and prevents them from losing as many games as they did in 2011.
After finishing with a tie against the Packers last week, the Vikings found a way to pull out the win.
There were some great performances for the Vikings as they came back from a 10-point deficit in the fourth quarter.
Here are the full roster grades for the Vikings.
Begin Slideshow

»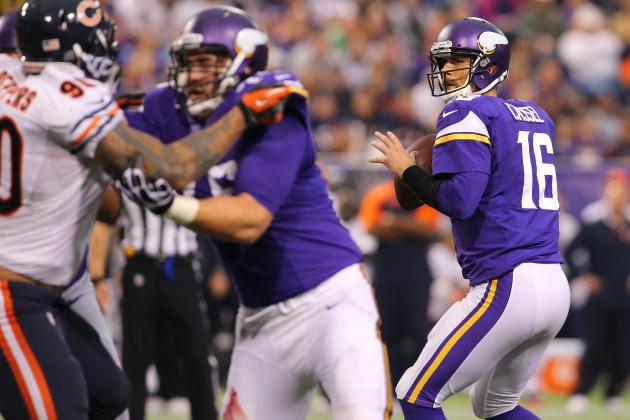 Adam Bettcher/Getty Images

Christian Ponder: F
Christian Ponder was ineffective in the first half of the game. The Vikings' first three drives ended in sacks, as Ponder hesitated to find a receiver. He finished 3-of-8 passing for only 40 yards. The three sacks he took gave the Vikings only 16 net passing yards in the first half.
Matt Cassel: B+
After taking over for Ponder in the second half, Matt Cassel finished 20-of-33 for 243 yards with a touchdown and an interception. His rating for the game was only 80.7. His 243 passing yards were the second most on the season. Cassel had 248 passing yards against the Steelers—another win for the Vikings.
Overall: B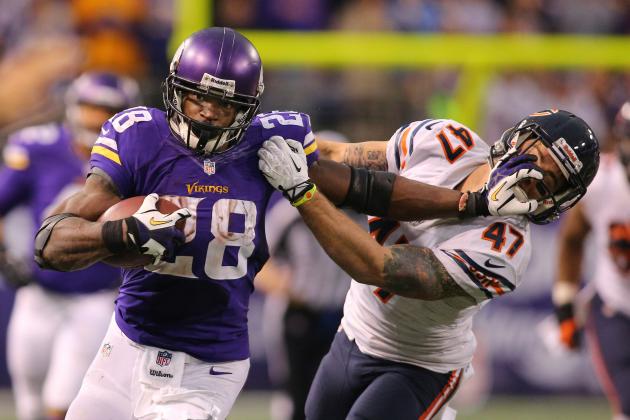 Adam Bettcher/Getty Images
Adrian Peterson was not to be stopped by the Bears on Sunday.
Adrian Peterson: A-
Peterson finished with 211 yards on 35 carries—the highest totals this season. It was his first 200-yard rushing game this season, and it pushed his career rushing total to over 10,000 yards. He has 10,057 yards in his seven-year career. The only thing he didn't do was score a touchdown.
Toby Gerhart: C-
After a 91-yard rushing game against the Packers, Toby Gerhart had only eight yards on two carries. It wasn't his fault that Peterson's success limited his involvement.
Cordarrelle Patterson: B+
Cordarrelle Patterson lined up as the running back on exactly one play against the Bears. He turned that one play into a 33-yard touchdown.
Overall grade: A-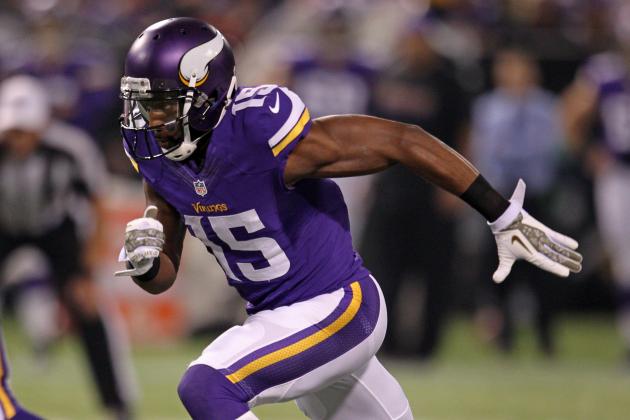 Brace Hemmelgarn-USA TODAY Sport

Greg Jennings led the Vikings with seven catches for 78 yards. He was targeted nine times, and scored only his third touchdown of the season.
Jerome Simpson: C+
Jerome Simpson continues to be Minnesota's deep threat. He caught three passes for 76 yards—an average of 25.3 yards per catch. The problem is he was targeted nine times. He did not come up with a catch in the end zone with only 0:33 left in the game and the Vikings down by three points.
Jarius Wright: B
Jarius Wright caught all three passes thrown to him for 53 yards. The biggest came with 0:40 left in the game. He made a sliding, 21-yard catch as he was going out of bounds. It gave the Vikings the ball on the Bears' 12-yard line.
Cordarrelle Patterson: C-
As a running back, Patterson had 33 yards and a touchdown. As a wide receiver, he was targeted four times but only had one catch for four yards.
Joe Webb: Incomplete
Joe Webb did not have a pass thrown in his direction in the game.
Overall grade: C+
The Vikings wide receivers combined for 14 catches and 211 yards. Bears wide receiver Alshon Jeffery had 12 catches and 249 yards against the Vikings.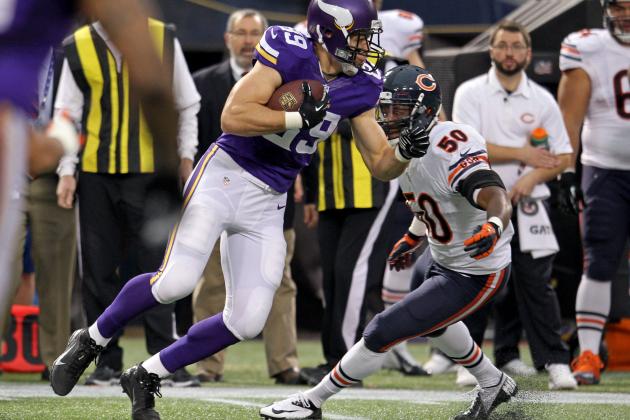 Brace Hemmelgarn-USA TODAY Sport

John Carlson: B
John Carlson had four catches for 61 yards. His biggest came with 1:04 left in the game when he caught a 17-yard pass from Cassel that put the ball on the Bears' 33-yard line.
Rhett Ellison: D
On the only pass he was targeted, Rhett Ellison had the ball bounce off his hands as he was crossing the goal line with 4:51 left in the game and the Vikings down by three. The ball landed in the hands of Chicago linebacker Khaseem Greene, who returned it to the 50-yard line. Fortunately, the Vikings defense was able to force the Bears to punt.
Overall grade: B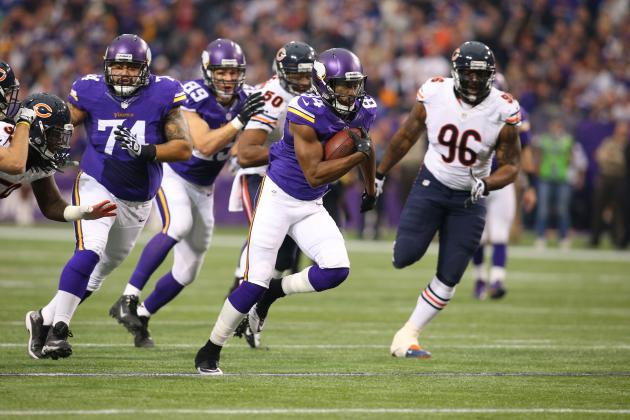 Adam Bettcher/Getty Images

Run Blocking: A
According to NFL.com, the Minnesota Vikings finished with 246 net rushing yards—the most this season. The only thing keeping this from being a perfect grade, is that the Vikings only scored one rushing touchdown.
Pass Blocking: B
Although not completely the offensive line's fault, the Vikings quarterbacks were sacked a total of five times for a loss of 33 yards. Combined, quarterbacks Ponder and Cassel passed for 250 net yards—the most passing yards this season.
Overall grade: A-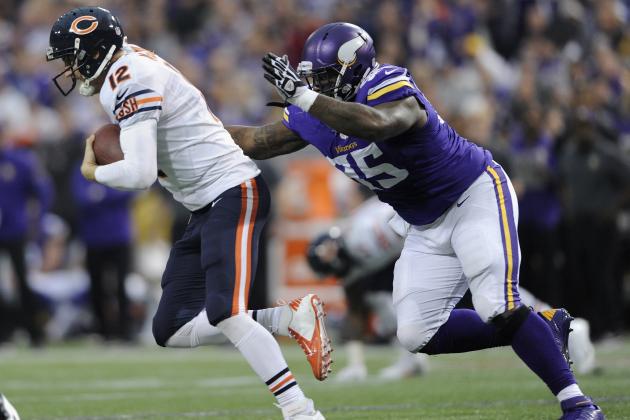 Hannah Foslien/Getty Images

Jared Allen: C+
Jared Allen finished with four tackles, a sack and a quarterback hit. His sack caused quarterback Josh McCown to fumble the football.
Kevin Williams: C-
Kevin Williams did not record a tackle in the game. He only had one quarterback hit on McCown.
Letroy Guion: C
Letroy Guion finished with only two tackles in the game.
Brian Robison: C+
Brian Robison had a crucial sack with 0:14 left in the game that prevented the Bears from getting into field-goal range. He finished with one tackle and knocked down one pass at the line of scrimmage.
Sharrif Floyd: C+
The Vikings' top draft pick finished with two tackles, one for a loss, a sack and a quarterback hit.
Everson Griffen: D
Everson Griffen finished with only one tackle and one quarterback hit.
Fred Evans: C-
Fred Evans finished with only two tackles.
Overall grade: C+
The Bears offense was able to rack up a total of 480 yards on offense, including 135 net rushing yards.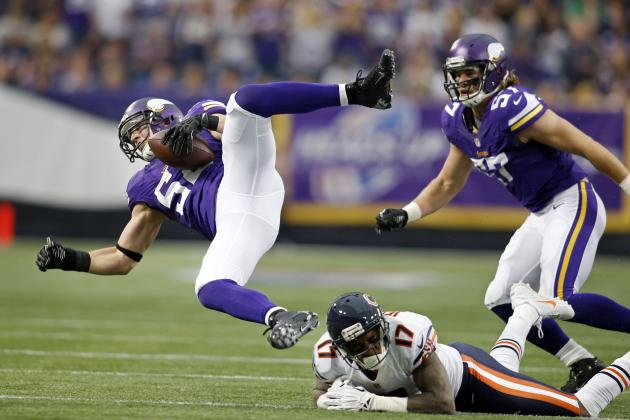 Bruce Kluckhohn-USA TODAY Sports
Linebacker Chad Greenway had an interception called back because of a penalty.
Chad Greenway: B+
Chad Greenway finally had a game where he led the Vikings in tackles again. He finished with 10 tackles, three for a loss, a sack and a quarterback hit. He had an interception that was negated on an offside penalty.
Audie Cole: B-
Audie Cole finished with nine tackles and defended one pass.
Erin Henderson: Incomplete
Erin Henderson was active but did not play in the game.
Marvin Mitchell: D
Marvin Mitchell finished with only one tackle in the game.
Overall grade: C+
Just like the grade for the defensive line was knocked down because the Bears were able to amass 480 yards of total offense, the grade for the linebackers is affected.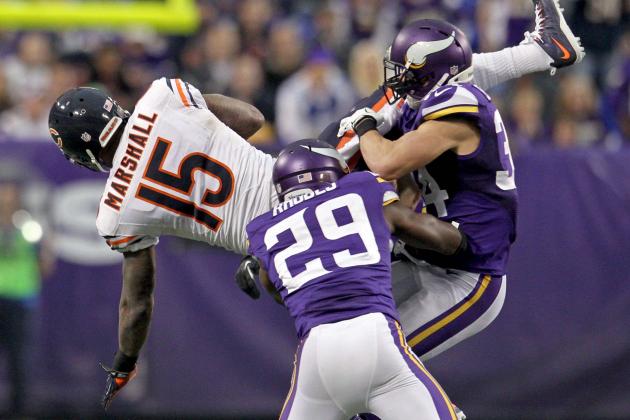 Brace Hemmelgarn-USA TODAY Sport

Chris Cook: F
The two catches by Chicago wide receiver Alshon Jeffery in the third quarter says it all. Jeffery caught two touchdown passes for 126 yards—Cook had the coverage on both plays. Following the second, he made contact with an official that allowed him to hit the showers early.
Xavier Rhodes: A-
Xavier Rhodes broke up another pass in the end zone this week. He is playing like expected when the Vikings drafted him in the first round. He limited Brandon Marshall to only four catches for 45 yards. It was the fewest catches for Marshall in a game against the Vikings.
Marcus Sherels: C+
Taking over after Cook was ejected, Marcus Sherels was part of a defense that held Jeffery to only three catches for 34 yards after he scored his second touchdown.
Shaun Prater: Incomplete
Shaun Prater did not play on defense
Overall grade: C
The defense allowed 345 net passing yards, enough said.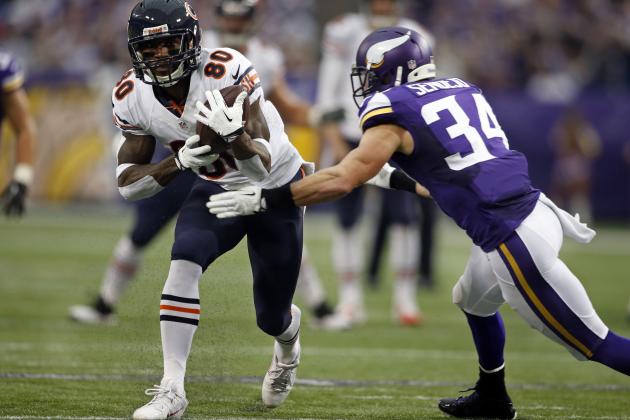 Bruce Kluckhohn-USA TODAY Sports

Jamarca Sanford: C-
Jamarca Sanford finished with only two tackles in the game.
Andrew Sendejo: B-
Andrew Sendejo finished tied with linebacker Chad Greenway with 10 tackles in the game.
Robert Blanton: D+
Robert Blanton finished with five tackles, but his offside penalty negated an interception by Greenway.
Overall grade: C
The Vikings really miss the leadership of Harrison Smith in the defensive backfield.
Bruce Kluckhohn-USA TODAY Sports

Blair Walsh: A-
The only kick Blair Walsh missed was a 57-yard attempt in overtime. It would have been a career long if Walsh made it. He finished with three field goals and two PATs to finish with 11 points. After tying the game at 20 in regulation, Devin Hester was able to return a kick for 57 yards. It put the ball on the 50-yard line with with 0:14 left in the game.
Jeff Locke: A-
Jeff Locke punted six times for an average of 44.0 yards per punt. He did have two of them downed inside the 20-yard line and allowed Hester to return only two of them for a total of eight yards.
Cordarrelle Patterson: Incomplete
The Bears were very good at preventing Patterson from doing any damage returning kicks. Patterson did not get a chance to return even one in the game as Chicago kicker Robbie Gould either kicked the ball high and short, or drilled along the ground.
Marcus Sherels: C
Sherels had two punt returns for a total of 13 yards.
Overall grade: A-