Gruden's Raiders and Building a Team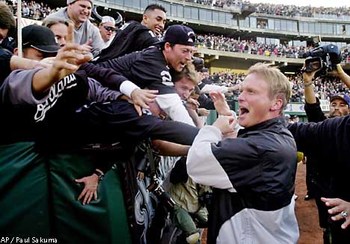 This slideshow is data-intensive and I try to comment minimally, but still, whenever I feel like it. I encourage the reader to make their own inferences.
Despite his short stay, and his two initial 8-8 seasons, Gruden's final product was a Superbowl team.
I'm attempting to show a successful Raiders rebuild. This slideshow is focused not on coaching personnel, but only player personnel.
The focus is on player personnel only. My conclusions about Gruden's success are at the end.
bugel, 1997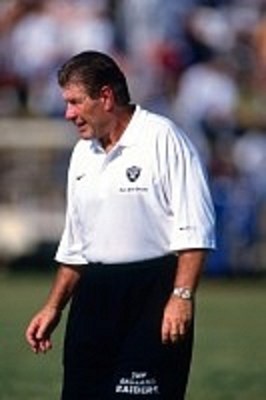 Al Davis hired John Gruden to replace Coach Joe Bugel (architect of the glory days Redskins, Az Cards head coach among things on resume).
With Bugel the Raiders went 4-12 in 1997.
Raiders 4th in division.
324 points scored (ranked 17) and 419 points given up (rank 28th).
Bugel was fired after this season.
Jeff George, the starting Raiders QB, for the season, went 290/521 with 29 TD's with only 9 picks.
My own contention--in the simplest in crudest terms--is Jeff George is accurate with a cannon arm. But 4-12 is the result. Only 9 picks for those numbers is astounding.
gruden, backup qb hollas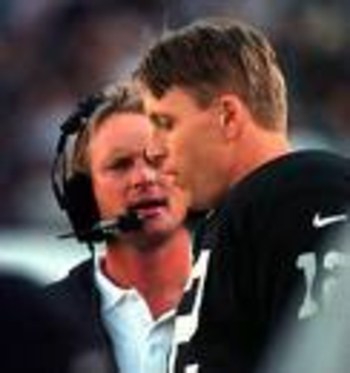 In 1998 Gruden coached his first season.
Because of Jeff George's injuries, QB duty was shared with Donald Hollas, the 90th pick of the Bengals in 1991. Respectively they split the season with George 93/169 for 1186 yards, 4 tds and 5 picks, and Hollas with 135/260, 1750 yds, 10 tds and 16 picks.
It would appear quarterback play under Gruden tanked. 288 points was all they put up. But the Raiders did go 2nd in the division.
Gruden's defense improved to a 20th ranking with 356 points given up.
ritchie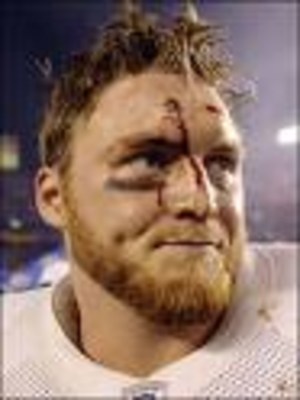 Rookie fullback John Ritchie was drafted 3rd pick. He played immediately for Gruden. 9 rushes, 23 yards, 2 td's, and 29 catches for 225 yards in his first season.
First pick of the draft under Bugel was Charles Woodson who paid immediate dividends for Gruden. No tackles that season but 5 picks.
10 year veteran from the Eagles, a free agent, Eric Allen also had 5 picks that season.
napolean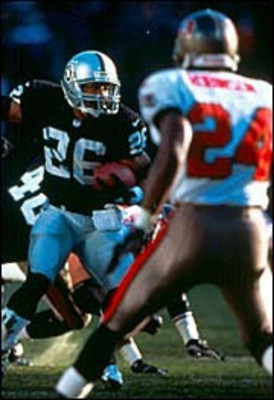 Napolean Kaufman was a good RB. His stats under Bugel and Gruden were basically the same. 217 rushes for 921 yards and 2 td's. 25 catches for 191 yards and no td's. He was the Raiders 1st pick in '95.
The receiving corps played slightly better for Bugel than Gruden. In Gruden's first season:
Jett: 45/882 yards,6 tds.
Dudley: 36/549 yards, 5 tds.
Tim Brown: 81/1012, 9 tds.
Tim Brown was the workhorse.
wis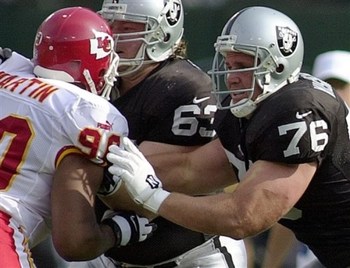 At left guard, 9 year vet Steve Wisniewski was a dominating, consistent, and aggressive offensive prescence. He alone is probably responsible for Jeff George's snazzy numbers.
The Seattle vet Lincoln Kennedy also dominated the line as well as 3rd year center Barrett Robbins, who, saldy, melted down before the superbowl.
biekert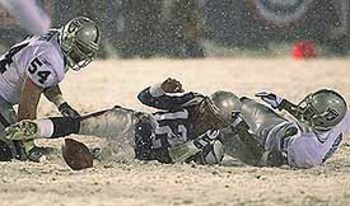 On the defensive side Gruden appeared to be shoring up. The defense was coming together with some superstars, and it was the defense that seemed to respond better to new hire Gruden in his first year.
The photo need not be revisited. THis is Woodson and MLB Biekert taking down Tom Brady. Biekert's consistent, aggressive play is legendary of 90's Raiders. That season he had 3 sacks and a fumble recovery.
LDT Darrell Russell, RDT Russell Maryland and RDE Lance Johnstone pulled the the weight into what was shaping up to be a stout defense.
Russell had 10 sacks in 98, Johnstone 11 sacks with a fumble recovery.
gannon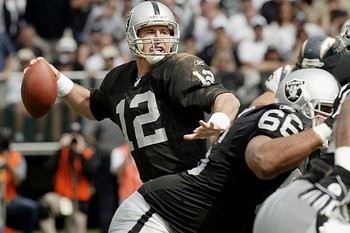 In 99, another 8-8 season for Gruden, he fires both QB's, Jeff George and Donald Hollas, and picks up Kansas City fan favorite, backup Chiefs QB Rich Gannon.
In 1999 the Raiders scored 390 points (ranked 8th) and allowed 329 points (ranked 10th).
Gannon threw for 304/515 for an incredible 3840 yards and 24 tds. He was picked 14 times.
Tim Brown responded with 90 catches for 1344 yards and 6 tds. Jett and Dudley's production decreased slightly as Brown's increased.
FB Jon Ritchie had a vanilla 5 rushes for 12 yards but look at this Raider sleight of hand: Ritchie had 408 yards in 45 catches. He could block consistently and catch.
Defensively Johnstone and Russell and Johnstone had 20 sacks between them. Eric Allen and Woodson split 4 picks.
Napolean Kaufman's role diminished as second banana to the Giants 1st round pick in 95: Tyrone Wheatley.
tyrone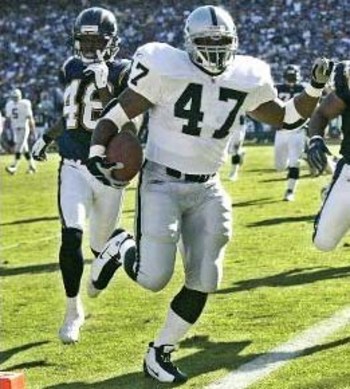 Tyrone Wheatley came on as a free agent and dazzled. Kaufman left the following year.
In Gruden's second year, 1999, he rushed 242 times for 936 yards and 8 tds. Good eh? He caught 21/196 for 3tds, too.
Kaufman split duty, but was no longer the featured back.
Gruden's 1st Draft--99 Roster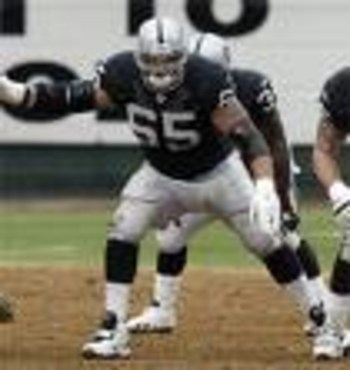 Barry Sims played for the Raiders as right guard and left tackle til 2007. He was a rookie and played right away as starter.
I remember Sims well.
Others drafted:
LLB Sam Sword
LLB KD Williams
TE Jeremy Brigham
LB Eric Barton
LB Bobby Brooks
DT Rodney Coleman
WR Kenny Shedd
DB Johnnie Harris
My contention is if you walk away from the draft with 1-2 impact players, who may be starters, then you succeeded.
Barton and Coleman were impact players. No one else on this list I remember or care to remember (Brigham, Shedd).
OAKLAND RAIDERS 2000 AFC WEST DIVISION CHAMPIONS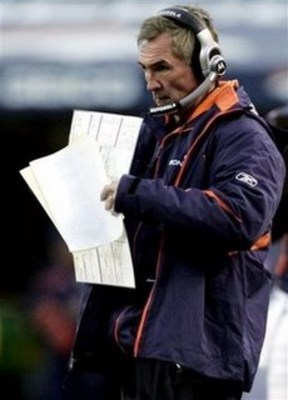 It was my desire to find a picture of Mike Shanahan weeping, crying, or in the fetal position. Such brings me great joy as I hate the Broncos more than I can honestly tell you. Honestly. But I had no luck finding such a picture.
Gruden improved from 8-8 to 12-4. Winning the division and radical improvement to the team were immesurable.
Consider:
1st in Div
479 points scored (ranked 3rd)
Points allowed 299 (ninth).
Tim Brown: 76 catches 1128, 11 tds.
Tyrone Wheatley: 232 rushes for 1046 and 9 tds.
Jon Ritchie: 26 catches, 173 yards.
Rich Gannon: 284/273 for 3430 yards, 28 tds, 11 picks. Rushes 89 times for 529 yards and 4 more td's.
Newcomer Matt Stinchcomb joins the O-Line as LT with Barry Sims.
Defensively Gruden tampered a little more to make us 9th best.
Three year LDT Grady Jackson finally started and made 8 sacks. He replaced Russell Maryland.
Marquez Pope from the Chargers started SS and made 2 picks and 5 fumble recoveries.
Darell Russell and Lance Johnstone still anchor the line with 7 sacks between them.
Eric Allen has 6 picks.
Biekert continues to dominate as middle linebacker. His reputation for dominating the line continues.
2001-Chinks in the Armor?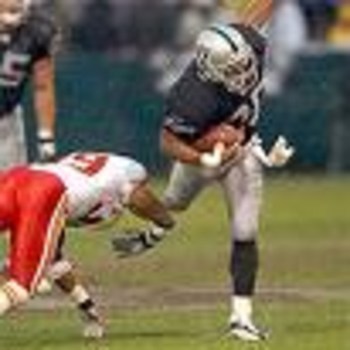 There seems to be no turmoil. But Jon Gruden wants out, it's no secret
We are still division winners and 10-6.
Offense and defense fall off since 2000.
399 points scored, undramatic since we slipped from 3rd to 4th.
327 points allowed, however, we fall from 9th to 19th in the league.
Offense first:
Gannon is consistent. 361/549 for 3828, 27 tds (!) and 9 picks. Gannon rushes 63 times for 231 yards and 2 tds.
Jerry Rice is Tim Brown's sidekick this year. He catches 83 passes for 1139 yards and 9 tds right off the bat.
Tim Brown has 91 for 1165 and 39 yards.
Two Raiders recievers with 1000+ yard seasons!
Tyrone Wheatley is sent packing as we pick up Charlie Garner (pictured above) from the Eagles who picked him in the second round in 1994.
FOr the Raiders Garner runs 211 times for 839 yards and 1 td. He catches for 578 and 2 tds.
Nowhere in the neighborhood of Wheatley but great.
Defensively, a good thing is shaken as the line is flooded with newcomers:
LDE Regan Upshaw
RDE Tony Bryant
LLB William Thomas
RLB Elijah Alexander
FS Anthony Dorsett
The successful defense of 2000 had such success that free agency cost us some players. Gruden re-stocks with competent names but the result goes backwards by 10 rankings.
We had a wildcard game beating the Jets 38-24 unmercifully.
For the division we lost to you know who because of you know what (not going there.)
Gruden is dealt to the Bucs for picks, his era over.
Balance of Gruden's Draft and Free Agency
Jerry Rice is a free agent acqusition that can't be knocked. Production and talent were undeniable. He stole no time or glory from TIm Brown: Brown's numbers improved.....
Charlie Garner...no Wheatley, but the man at RB.
Players that made this team that were Bugel-era holdovers:
Biekert
Wisniewski
Darrell Russell
Johnstone
Gruden impact defensive acquisitions: Grady Jackson, Roderick Coleman, Eric Allen.
Good mix.
Rooks from Gruden's last two drafts:
DT Chris Cooper
DE DeLawrence Grant
DT Junior Ioane
WR Marcus Knight
With an offense like ours why bother? Shore up the D. Cooper lasted a while as I recall but not HOF material....
SUPERBOWL, CALLAHAN--WELCOME TO HELL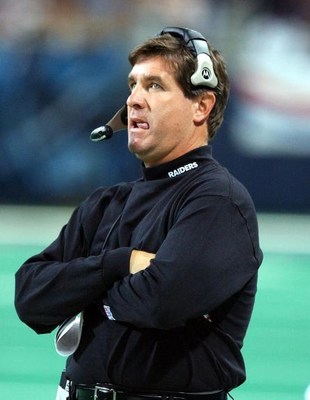 This was a normal look for Coach Callahan, who inherited a WEALTH of talent from Gruden and forgot to come up with a game plan when it mattered.
Callahan went 4-12 the next season and was fired.
Does this look like a proactive man?
The Raiders succeeded in spite of him--they knew who their real boss was.
So many personal bests that season. Where do I start?
No Gruden, Davis Makes SB run anyway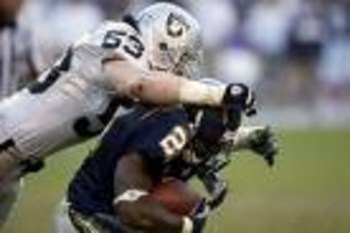 Note the brutal and nasty Bill Romanowski above.
Note picture of Callahan previous slide.
Who do you think called Romanowski. Prolly Big Al. Who benched Marquez Pope and got free agent Tory James from Denver? Prolly big Al.
On the quest for the superbowl vicious animal and born Raider Romanowski had 4 sacks and a pick. His presence was felt on every play.
Tory James had 4 picks as RCB with Charles Woodson as LCB.
Ron Woodson. An aggressive Callahan move? Prolly not. Free agent FS Ron Woodson had 8 picks, 3 fumble recoveries.
With no Gruden Davis would sail his ship alone. I think he trusted sheepish and loopy Callahan to just figure out how to beat the NFC team when we got down the stretch.
Callahan was clueless. To me, not having a game plan was tantamount to sabotage.
Anyway......Big Al got his puzzle pieces to plow through a difficult schedule to make it 11-5.
And Gannon? An incredible 418/619 for 4689 yards, 26 tds, 10 picks. Rushed 50 times for 156 yards and 3 more tds.
Restored t 2nd in NFL with 450 points scored.
Catapulted to 6th in the NFL with points allowed: 304.
Garner 182 rushes for 962 yards and 7 tds. Still no Wheately.
Tim Brown decreased, Jerry Rice increased with the numbers of a 28 year old WR in his prime.
Rice: 92 for 1211 and 7 tds. Timmy: 81/930 and 3 tds.
Jerry Porter, on the bench for two years is worked into the rotation for 51 catches and 688 yards and 9 tds. What a great weapon he was. ONCE...
Guards are Mo Collins and Frank Middleton, a competent journeyman. Lincoln Kennedy is still here still productive.
Rookie LDE DeLawrence is OK. Sam Adams from the Seahawks is our LDT. Bills leftover Jon Parella playing RDT, Tony Bryant remains at RDE.
Napolean Harris, a Callahan pick, starts as a rookie playing MLB. He registered half a sack.
Corners and safeties, mentioned at beginning are solid.
Conclusions on Jon Gruden and Team Building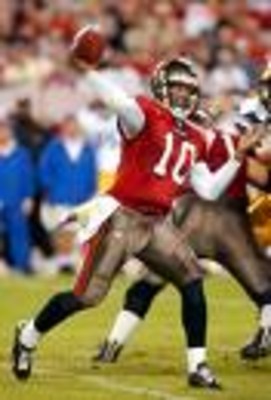 In the Superbowl, with a Gruden-built, Callahan-coached Raiders we were beat soundly by this hack pictured above, Rob Johnson.
With no game plan, no confidence, no professional ability to make adjustments, Bill Callahan was beat. He went 4-12 the next season. I give him no credit for this run.
How did Gruden assemble a Superbowl team?
OFFENSE:
*It's all about the QB. Take a loser overacheiver Jeff George and show him the door for winning underachiever vet Rich Gannon, who can hurt as a running QB.
*You already start with reliable, spectacular 1000 yard a season Tim Brown as WR. Give him help. A once enthusiastic Jerry Porter, for instance. Sign the greatest reciever of all time, Jerry Rice for help.
*MORE BIZZARE: Gruden liked 3 WRs....after Dudley left early the TE position was a non-factor with non-producers (Brigham, Roland Williams) and it didn't matter....
*Send a good runner (N. Kaufman) packing if a better one comes along (Wheatley). If Wheatley doesn't last go back to Kaufman clone Garner (in numbers I mean).
*Draft: Gruden's offensive picks had immediate impact: Barry Sims, Jon Ritchie, Matt Stinchcomb.
*MOST IMPORTANT: Gruden motivated offensive players who were vets and Bugel-era benchwarmers and underachieing starters to play their best: Lincoln Kennedy, Steve Wisniewski, Barret Robbins, even Napolean Kaufman.
Conclsions-Defense, Building a Team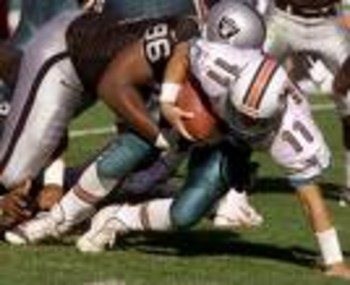 Darrel Russell, pictured, was RDT and had 10 sacks in 99. He was a Bugel holdover.
In the previous caption I stressed the key to Gruden's offensive success, aside from FA's and draftees, was ability to motivate exisiting personnel.
Nowhere was that more important that with his mighty defense.
Holdovers from Bugel that were benched or overlooked and played their hearts out for Gruden:
Greg Biekert
Lance Johnstone
Rob Frederickson
Chester McGlockton
Gruden's drafts with immediate impact: Charles Woodson, Eric Barton, Derrick Gibson, Grady Jackson
Gruden's free agents: Eric Allen, Eric Turner, Anthony Newman, and Trace Armstrong.
The End--Final Thoughts on Building a Team Today
Tom Cable is in a much different circumstance than Gruden.
What they have similar is good instincts in free agents and draft picks. Those player's are Gruden's as they are Cable's.
Gruden didn't have to clean house entirely. Just in two key positions: QB and RB.
Cable has his QB and awesome RBs.
This is where I don't know if Cable has strength like Gruden had:
ability to motivate offensive and defensive players who were either benched vets, overlooked, underachieving, or holdovers and loyal to previous regimes.
Gruden's best talent, in my opinion, was walking in and finding the gems/underrated players on an existing roster and bringing out the best in him.
Cable is not facing a situation like that, but he does have vets to motivate or ship out.
Gruden, to me, after doing this report was not a bad drafter. Al Davis may be pulling the strings more at key FA positions during Gruden....nowhere more evident that Romanowski, Sam Adams, and John Parella after Gruden left.
Gruden didn't have Cable's benefit of having more players as new as the coach, or comfortable with them.
How big a part is Cable's motivation of vets from Shell2/Kiffin eras going to be a factor?
Keep Reading

Oakland Raiders: Like this team?