The New York Knicks limped into Colorado lugging a seven-game losing streak as they faced the Denver Nuggets Friday night. The Knicks trailed the entire game but had a chance to win or tie on the final possession. Carmelo Anthony posted up Randy Foye and got his shot stuffed for a crushing 97-95 defeat.
Of Melo's 15 game-tying/game-winning attempts over the past yr, his 14 misses were all jumpers. The one make was a layup vs ATL last yr

— Chris Herring (@HerringWSJ) November 30, 2013
Anthony led all scorers with 27 points but shot 8-of-22 from the field. Andrea Bargnani added 22, but their 6-of-22 night from three-point range crippled their offense. Ty Lawson had 22 points and eight dimes for Denver, while J.J. Hickson notched a double-double with 13 points and 11 boards.
The Knicks trailed by as many as 13 points in the first half but trailed just 51-45 at the break. They hung around for the entire game but never managed to grab the lead. They trailed by just one point with 19 seconds remaining and could not get the timely buckets.
Nuggets forward Kenneth Faried missed a large chunk of the second half with a bruised quad, and the Knicks very nearly capitalized. Then Randy Foye went into beast mode with some fantastic defense and pulled a Roy Hibbert imitation on Melo.
NJURY UPDATE: #Nuggets F @KennethFaried35 has a bruised right quad. Return questionable.

— Denver Nuggets (@denvernuggets) November 30, 2013
It was a brutal loss for the Knicks who head home licking their wounds. Too bad Andre Miller's lucky shot went down at the end of the first quarter in this two-point defeat for New York.
Let's give out our player grades for every Knick in this heartbreaking loss.
Key Player Grades
Carmelo Anthony, Small Forward
Carmelo Anthony got to the line with regularity and made 11-of-13 free throws, which should quiet some of the griping about foul calls. Then again, some fans on Twitter seemed to think Anthony got fouled on his final shot. Unfortunately, none of those tweets are "safe for work."
Melo on fouls: "You see the way some guys get their calls, me, I got to get cut, you've got to see blood for me to get a call down there."

— Ian Begley (@IanBegley) November 15, 2013
While Melo did lead all scorers in the game with 27, he did not seem like an offensive force when the Knicks needed him. He was just 1-of-15 in the fourth quarter, in part thanks to the defensive prowess of the 6'4" Randy Foye.
Did Foye just shut down Melo's potential game trying shot? Randy Foye?

— J. O. Applegate (@Bouncex3) November 30, 2013
For the record, Anthony is 6'8", and he waved everyone off on the final play. He isolated Foye in the post and no other Nugget came to double him. He just got dominated by Foye's disciplined defense for an embarrassing rejection.
Randy Foye blocks Carmelo Anthony game-tying shot attempt GIF http://t.co/DMF5hDmpti

— gifdsports (@gifdsports) November 30, 2013
It was not a good fourth quarter for Anthony. He was late in closing out on Wilson Chandler's three-pointer with 3:31 left. It stretched Denver's lead to five points and took the wind out of New York's sails. Then Anthony got called for traveling on an ensuing possession, and the Knicks ran out of time.
Grade: B-
Andrea Bargnani, Center
Andrea Bargnani had another efficient offensive game and played 39 big minutes. He shot 7-of-11 from the field and showed aggressiveness with the ball. He converted 7-of-8 from the charity stripe to finish with 22 points while adding five boards, two assists and a steal.
Bargnani played serviceable defense as the Knicks were only outrebounded 44-42 and outscored in the paint 38-36
Grade: B+
Raymond Felton, Point Guard
Raymond Felton played in his second contest since returning from a four-game absence. His defense was not something to be admired, as he got gashed by Ty Lawson and Nate Robinson who totaled 38 points between them.
Felton drained a big three-pointer that trimmed the deficit to three with 31 seconds remaining, and it made for a thrilling finish. Though it ended in heartbreak, Felton played well in the fourth quarter alongside Shumpert.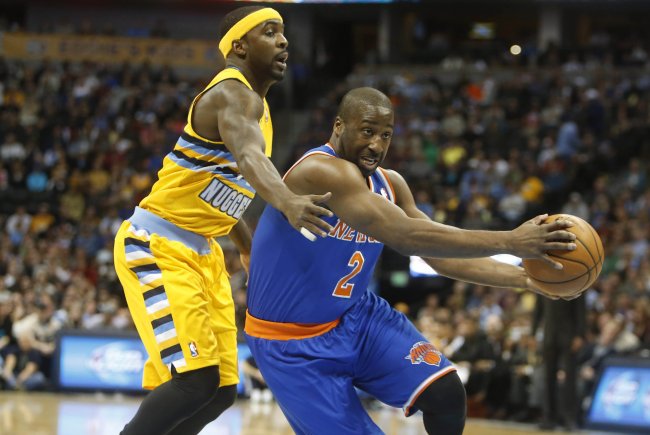 Chris Humphreys-USA TODAY Sports
He shot just 3-of-9 overall for eight points, but he dished seven assists and blocked a shot. He may not be at 100 percent, but the Knicks are glad to have him back.
Grade: B-
Amar'e Stoudemire, Power Forward
Stoudemire didn't have his mojo against the Nuggets' athletic frontcourt. He shot just 2-of-7 from the field and had three shots blocked. Stoudemire did reel in four rebounds and grab a steal, but this effort just confirmed the inconsistent production that should be expected from him.
Grade: C+
J.R. Smith, Shooting Guard
J.R. Smith simply has not looked like the player he was last season when he won Sixth Man of the Year. Perhaps it's due to the offseason knee surgery or simply an inexplicable lack of motivation. Then again, nothing about Smith is explicable.
Smith was ice cold from long distance. He bricked a great look at a triple that would have cut the deficit to one, and he chucked up an airball from 15 feet just before the two-minute mark. He sunk a late three-pointer, but the Knicks were down by nine at that point.
J.R. Smith finally hit his first 3-point basket of game - but way, way too late. Typical.

— Marc Berman (@NYPost_Berman) November 30, 2013
Smith ended the night with 11 points on 5-of-13 shooting from the field. He chipped in some hustle stats with six boards, two steals and three dimes.
Smith also threw a boneheaded pass on the potential game-tying possession with under 30 seconds to play. Luckily the ball bounced back to the Knicks and ended with an Iman Shumpert layup.
Grade: B-
Iman Shumpert, Small Forward
Iman Shumpert had been struggling to score the ball lately and had shot just 4-of-18 over his last four games, but he looked effective in Denver, finishing with 11 points, seven rebounds and a steal.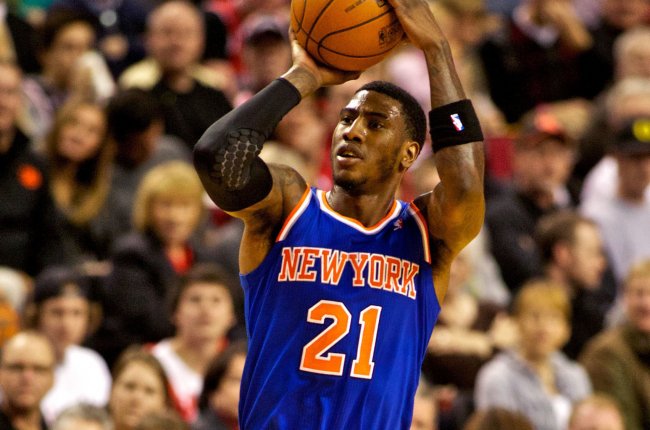 Craig Mitchelldyer-USA TODAY Spo
Shumpert's defense was critical against Denver's speedy point guards, as Felton and Beno Udrih couldn't keep up with Lawson or Robinson. Though he has not taken the leap forward that coaches were hoping to see, Shumpert was a steady presence down the stretch in this close loss.

Shumpert also corralled the ball in a panicky sequence after a bad J.R. Smith pass then drove the lane for a clutch layup. He was a big reason the game was so close until the end.
Grade: B+
Good run here by the Knicks' starters. Have done a better job with Shump on Lawson.

— Hardwood Paroxysm (@HPbasketball) November 30, 2013
Kenyon Martin, Power Forward/Center
Kenyon Martin looked a little gassed in Denver's thin air, and he failed to make an impact on the boards with two rebounds. Though he started the game, he played just under 14 minutes. He scored four points and recorded a steal.
Hopefully he can contribute a little more against Anthony Davis and the New Orleans Pelicans in the Knicks' next game.
Grade: C-
Rest of Bench
Over a five-second span in the third quarter, Tim Hardaway Jr. blocked shots by center Timofey Mozgov and then by power forward Darrell Arthur. It took me at least a minute to pick my jaw up from the floor.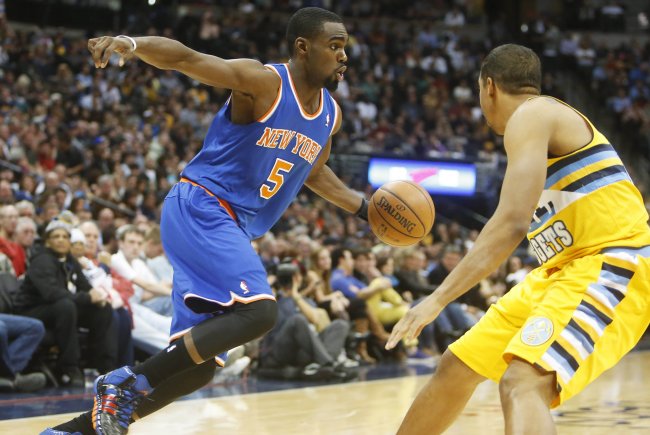 Chris Humphreys-USA TODAY Sports
Hardaway also knocked down a pair of treys early in the fourth quarter to spur a Knicks run. He finished with eight points and brings nice athleticism as well as lethal long-range shooting.
The East is bad, but at 3-12, can the Knicks still make the playoffs?
Beno Udrih moved back to the bench and went way to the end next to Cole Aldrich and Toure' Murry. Udrih played only five minutes after a spell as the starting point guard. He missed a shot, grabbed a rebound, dished a dime and committed a turnover. Nice all-around effort!
Metta World Peace saw just over four minutes and missed two shots in the time. He did tally an assist and a block, but his knees may be acting up again as he barely saw the court.
Pablo Prigioni saw his first minutes in the latter half of the third quarter. He played a little more than five minutes and recorded one assist along with three rebounds.
Grade: C+
What's Next?
The road-weary Knicks finally return home to play the New Orleans Pelicans on Sunday night. The Knicks are just 1-6 at the "transformed" Madison Square Garden, with their only home win coming way back on Oct. 30 in the season opener. They need this one desperately to snap their shameful eight-game skid.