After Being Benched, Devils' Damien Brunner Back in Lineup Friday Night
Use your ← → (arrow) keys to browse more stories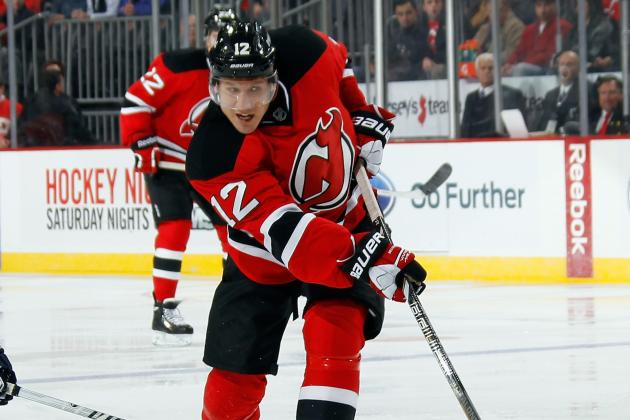 Bruce Bennett/Getty Images
Damien Brunner is scoreless in his last 12 games with the Devils.
New Jersey Devils forward Damien Brunner wasn't exactly a happy camper this Thanksgiving.
The Swiss import stated that he was not pleased to have been a healthy scratch for the Devils' 4-3 loss to the Carolina Hurricanes Wednesday night at the Prudential Center. The problem is Brunner, who was brought aboard for his scoring touch, hasn't put up a point in his last dozen outings.
He is expected to be in the in the lineup Friday night when the Devils visit Carolina to close out their home-and-home series with the 'Canes, according to an NJ.com article that also states that Cory Schneider will start in goal for New Jersey.
"After all the games I've played this season it's a surprise that I'm out after the last game," said Brunner to NJ.com the day before. "I had good jump. My legs were underneath me. I was skating the right way. I generated a lot of speed through the neutral zone. We had a lot of O-zone (offensive) time."
The effort has been there; he just hadn't put anything on the scoresheet.
It's not like Brunner is Cam Janssen when it comes to offense, although Janssen has a career–high two goals so far this season. Janssen, though, is there to crash, bash and occasionally fight, while Brunner was signed to score goals and/or set them up. Brunner has four goals and three assists for seven points in his first 22 games with the Devils; however, he's put up nothing since before Halloween.
He missed one game last month against the Rangers after getting banged up in a previous game against Winnipeg, according to the Fire and Ice blog, before his scoring touch dried up, so who knows if injury has played any factor in his slump.
Brunner does know what to do with a puck. He notched 12 goals and 26 points in his first 44 NHL contests with the Detroit Red Wings in the lockout-shortened 2012-13 campaign. Prior to that, he put up 106 points over three seasons back home with EV Zug of National League A in Switzerland.
Scoring success in Europe or at the minor league level isn't always an indicator of future offensive prowess in the NHL, but Brunner played decently enough last year with the Red Wings, showing a nose for the net and chipping in with some timely goals, including one in the playoffs against the eventual Stanley Cup champion Chicago Blackhawks.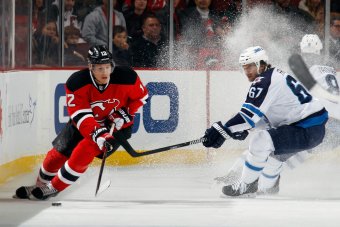 Bruce Bennett/Getty Images
He tried out with the Devils after Detroit didn't meet his contract demands and looked to be a good acquisition for the Garden State's only namesake major pro sports team when he posted three goals and two assists in his first five games with New Jersey to assume the team scoring lead.
Things cooled quickly after that hot start, though. Brunner, 27, went scoreless in four straight games before getting a goal and an assist Oct. 26 against the Boston Bruins. Just over a month later, he hasn't recorded a single point since.
"We're 22-23 games in," said Devils head coach Pete DeBoer in the same NJ.com article that discussed Brunner's benching. "He's one of those guys that has to generate scoring chances and shots. When the stat line reads zeroes across the board, you're not doing enough."
It hasn't been for lack of trying, at least on the goal-scoring end. Following the Boston game, where he had five shots on net, Brunner took 20 shots on goal over the next nine games and had two or more shots in a game on all but one of those occasions, as related at NHL.com. It's not readily apparent how many of those were quality chances, nor is there a simple way to tell if his teammates failed to convert any of his passes into goals.
"I can't change anything, other than hard work and my attitude," said Brunner. "Keep my head up and try to make the best out of it even if it's not the best situation I'm in right now."
Likely compounding Brunner's offensive woes is the fact that the Devils (still) don't score all that much—just 53 goals so far in 25 games as a team, or just over two goals per outing. That lack of production has left them mired in a three-game losing streak, dropping them to 9-11-5 overall (12th place in the Eastern Conference) following three straight wins.
Brunner isn't the only Devil in a point-scoring slump. Michael Ryder, who won a Stanley Cup with Boston two years ago and has 218 career NHL goals, has just five goals and eight points in 25 games since joining New Jersey and none since Nov. 8. Travis Zajac has four goals and five assists for nine points in 25 contests this season and only five points in his last 10 appearances.
Topping the New Jersey scoring scroll with 10 goals and 19 points is 41-year-old Jaromir Jagr, followed by 37-year old Patrik Elias with 14 points and 36-year-old Marek Zidlicky with 13 points.
The Devils could certainly use more scoring from their younger players, including Brunner. Once he puts a puck home or sets someone else up to score, the floodgates could open for him and perhaps some other teammates. But he needs to be in the lineup to do that.
Now he'll have his chance again.
"I had a little extra workout and I'm ready to go," said Brunner in the Schneider piece.
The up-and-down Devils could surely use him.