20 Epic Football Fails to Laugh at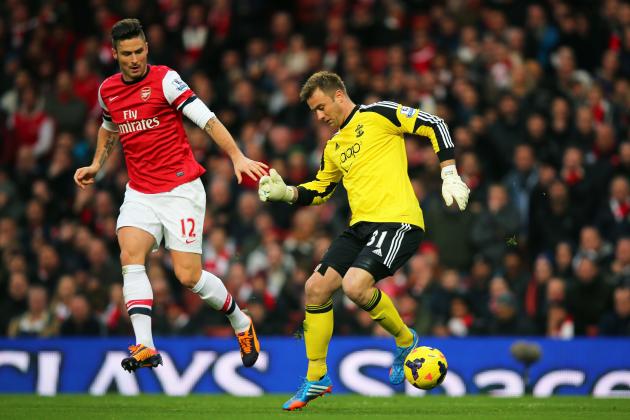 Clive Rose/Getty Images

Sometimes, we like watching professional footballers make a right mess of things.
For as much as we watch in awe as players pull off some truly spectacular feats, there's nothing quite like when it all goes wrong for a particular individual and, rather than feel their pain, you simply choose to laugh at them.
These football fails come in all shapes and sizes, at various different standards, all across the globe.
Here are a look at 20 of the funniest/worst/most disastrous that we've come across.
Do help us collect more by adding to the comments section below and let us know your favourite football fails.
Enjoy.
Begin Slideshow

»
If you are going to attempt a rabona, just make sure you do it right.
Do not go all David Dunn about it.
A rabona isn't the sort of trick you'd associate with former Manchester United defender John O'Shea. Neither are shots from distance.
After this effort at Upton Park, we can see why.
The Chilean is one of world football's best box-to-box midfielders. Of that there can be no doubt.
But sometimes, when he isn't dominating from the middle of the park, he does some quite bizarre things.
Sometimes, some things are just too embarrassing for words, this Rocky Baptiste effort being one of those things.
Pretty good way to make up for it after, mind.
But we aren't even sure Rocky's miss is the most embarrassing ever.
Step forward Ilija Sivonjic.
Then again, Sivonjic's side went on to get themselves a point.
Khalfan Fahad's Qatar on the other hand went out at the quarter-final stage of the 2010 Asian Games, after he proved that his right foot should be for more than merely standing upon.
Of course, you can't look at dreadful footballing misses without this Yakubu effort.
Sometimes though, it's goalkeepers who become slightly befuddled and fail to see the job through.
Just ask Khalid Askri.
Or in the case of Southampton's Artur Boruc, they try a little too hard to prove that they can play elsewhere on the field.
And where would we be without referees getting things wrong. There will always be space for a good refereeing blunder.
Honestly, yellow Howard!?
Howard Webb had nothing on a certain Dutch referee from some 28 years previously however.
No cards, no fouls, nothing whatsoever from Charles Korver following Harold Schumacher's almost assault on Patrick Battiston.
A guillotine wouldn't have done as much damage.
Horrendous penalties blasted miles over the crossbar are always funny.
Unless you happen to be English.
Or Sergio Ramos.
Of course, while Ramos missed in the Champions League semi-finals, he didn't have the weight of an entire continent resting on his shoulders at a World Cup.
Unlike Ghana striker Asamoah Gyan back in South Africa.
Speaking of the South Africa World Cup, Rob Green knows exactly how it feels to make a mess on the international stage.
We hate to think what then-England boss Fabio Capello was thinking.
Four years prior to Rob Green's error, though, Australia brought us Zeljko Kalac.
He's just lucky that game was remembered for other reasons...
From the same 2006 World Cup group game between Australia and Croatia, we have Graham "three card" Poll.
Sometimes, it isn't enough for just one person to make a fool of themselves.
Occasionally it takes two to tango.
On this occasion, the attempts of Messrs. Lehmann and Drogba to get the other in trouble were nothing short of pathetic.
Where footballing fails are concerned however, the originals still hold as the best.
The 1974 Zaire team are proof of that.
Back in his pre-Middlesbrough days, the tough-tackling French left-back played for Lens in Ligue 1.
He also scored this quite breathtaking own goal.
As far as own goals and aesthetic beauty though, Quedrue couldn't hold a candle to former Manchester City captain Jamie Pollock.
Perhaps City could use this sort of touch and composure away from the Etihad Stadium these days.