Iowa took advantage of a turnover-prone Nebraska offense and pulled out a 38-17 victory on the road to win the Heroes Game Trophy.
Neither team proved able to put up points early on in the contest despite some successful drives. Each of the game's first three possessions reached the opponent's territory before stalling.
It was the fourth drive of the game that resulted in the first points, but not for the offense. Nebraska quarterback Ron Kellogg III threw his second interception of just the first quarter deep in his own territory to give the Hawkeyes good field position.
Jake Rudock did the rest. The Iowa quarterback marched the Hawkeyes into the red zone and got his team on the board with a 10-yard touchdown to C.J. Fiedorowicz to put them up 7-0 late in the first quarter.
With two early picks and the second one proving costly, ESPN Big Ten noted the turnover issue as a microcosm of Nebraska's recent seasons:
Symptomatic of this team for years "@BTNTomDienhart: The #Huskers' propensity for turnovers is uncanny and vexing."

— ESPN Big Ten (@ESPN_BigTen) November 29, 2013
The stagnant offenses emerged again after Iowa's score, but the road team was able to flip the field position, and that allowed for a short drive to extend the lead.
After starting a drive at the Nebraska 41-yard line, Rudock went deep to running back Jordan Canzeri for 29 yards. Mark Weisman looked to get in the end zone from 11 yards out on the next play, before a review overturned it.
It didn't make a difference, as Weisman was able to plunge in from the goal line to put Iowa up 14-0.
With the life seemingly sucked out of Memorial Stadium and Bo Pelini's squad on the ropes, the Cornhuskers got some much-needed points just before half. An 11-play, 59-yard drive got Nebraska on the doorstep of a touchdown before they settled for a chip-shot field goal just before half.
Iowa entered half with a 14-3 lead, but Nebraska held the momentum. And quickly in the second half, it showed.
The 'Huskers got the ball to start the third quarter and immediately went on a 75-yard scoring drive behind the rushing of Ameer Abdullah, who scored from five yards out to trim the deficit to 14-10.
Their opponent took notice of the newfound offensive success, as the Hawkeyes marched right back into the red zone. Fueled by an unsportsmanlike conduct penalty to the typically wild-spirited Pelini, Iowa got in position for a field goal to go up 17-10.
As B/R's Adam Kramer summarized, Pelini did not look happy:
PELINI RAGE.

— Adam Kramer (@KegsnEggs) November 29, 2013
Those emotions may have gotten the best of his team in the next drive. Looking for a spark, Nebraska attempted a fake punt at its own 32-yard line and Iowa blew it up in the backfield.
ESPN caught a highlight of the failed attempt:
Hawkeyes on a roll! Iowa sniffs out fake punt (http://t.co/vB9mOz6jvk) and scores TD on next play to increase lead over Nebraska. #IOWAvsNEB

— SportsCenter (@SportsCenter) November 29, 2013
On the very next play, Iowa's Rudock hit Kevonte Martin-Manley for a spectacular touchdown grab to put the Hawkeyes up 24-10.
In retrospect, it wasn't the smartest decision in the world for Pelini as 247Sports Nebraska beat writer Andrew Kulha said:
#Nebraska just lost ALL the momentum in this game. Poor decision from Pelini on the fake punt.

— Andrew Kulha (@AKonSports) November 29, 2013
Nebraska looked to have an answer as it entered the Iowa red zone again and failed to score after two sacks pushed the team back. On the next drive, Kellogg got going through the air.
On 4th-and-3 inside the Iowa 15, the 'Huskers had one play to stay in the game and Kellogg connected with Quincy Enunwa for a 15-yard touchdown to make it a one-possession game, 24-17.
The Cornhuskers defense stiffened up to force a three-and-out and give them the ball in Iowa territory, but Abdullah got crunched on the resulting possession and fumbled to give Nebraska its third turnover of the ballgame.
Like it did early on in the game, Iowa capitalized on the Nebraska mishap. On the next play, Canzeri bustled forward for 37 yards to the goal line and set up Weisman's second touchdown of the contest.
Nebraska was one play away from tying the game and suddenly faced a 14-point deficit with nine minutes left. The 'Huskers turned the ball over on downs on the next possession, which seemingly ended their hopes of winning.
However, Iowa received some bad news late as Rudock wasn't able to finish off the win, per the Cedar Rapids Gazette's Marc Morehouse:
Double braces for Rudock. He's not able to go, off to the locker room.

— marcmorehouse (@marcmorehouse) November 29, 2013
Fortunately for the Hawkeyes, C.J. Beathard continued Iowa's roll as he padded their lead with a bootleg touchdown to go up 38-17 with three minutes left.
Grades
Jake Rudock, QB, Iowa: B+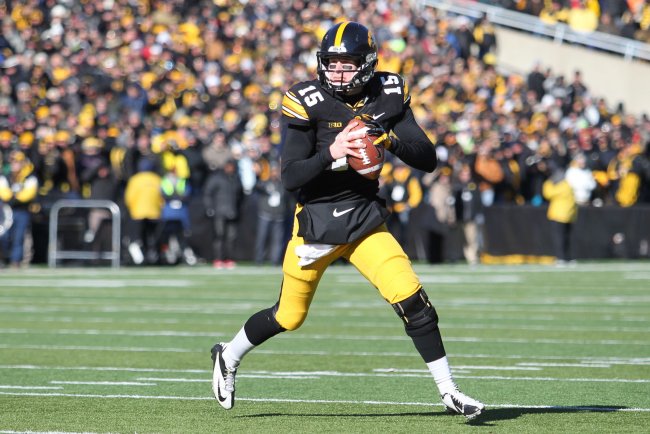 Reese Strickland-USA TODAY Sport
With a formidable running game, Rudock didn't have to do much but took the chances when he needed to, which paid off big time.
Rudock finished 9-for-15 with 126 yards and two touchdowns, while avoiding an interception all game and connecting on a couple of big plays that swayed the momentum in the Hawkeyes' favor.
It's been a season of ups and downs for the talented sophomore, but he'll enter bowl season on a high note, assuming his injury isn't serious.
Ron Kellogg III, QB, Nebraska: C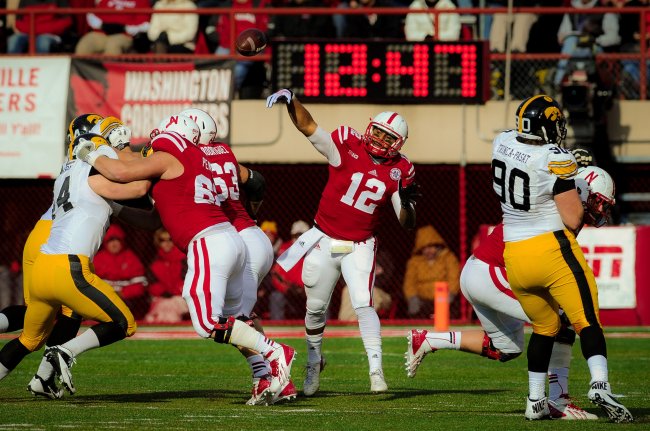 Eric Francis/Getty Images
It's been a quarterback carousel at Nebraska this season, but Kellogg didn't do enough to keep that from spinning further out of control.
Two first-quarter interceptions seemingly sealed Kellogg's fate, although he battled back from those early lapses to put his team into a decent position to win the game. His 19-for-37 passing performance for 199 yards and a touchdown was overshadowed by those two early mistakes.
Kellogg finished better than he started, but they simply needed more production in the first half to win this game.
Mark Weisman, FB, Iowa: A-
Despite being listed as a fullback, Iowa's Weisman was the feature back in the Hawkeyes' offense, and his burly running style allowed his team to gain an edge against a strong Nebraska defense.
Weisman carried the ball 25 times for 73 yards, but his two touchdowns proved to be the difference in the game.
Ameer Abdullah, RB, Nebraska: B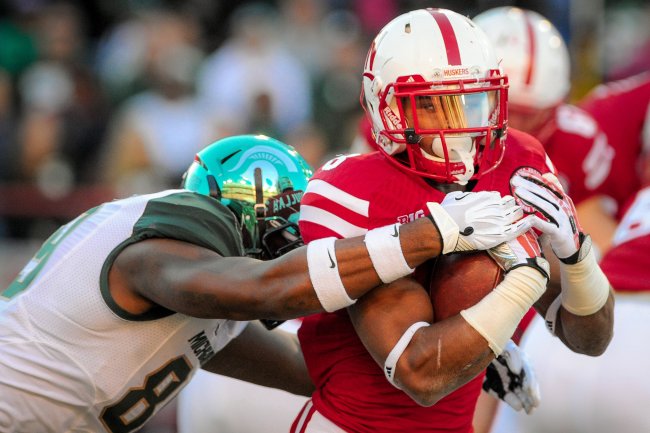 Eric Francis/Getty Images
Nebraska's offense didn't boast nearly enough solid plays to win the game, but it wasn't the fault of its running back.
Abdullah was a workhorse, carrying 23 times for 85 yards and a touchdown and also catching one pass for 19 yards. He was a flash of explosiveness on an offense that sorely needs it.
Who deserves a better bowl?
However, his late fumble proved costly as it came when Nebraska was one drive away from tying the game and resulted in an Iowa touchdown.
What's Next
After a deflating loss at home to finish the season, Nebraska will post an 8-4 record and await bowl season. Iowa will do the same, improving to 8-4 after this impressive victory.
With the two teams hailing from the same conference and boasting the same record, it'll be interesting to see which team receives a more attractive bowl bid.