Miami Dolphins Training Camp: Five Position Battles to Watch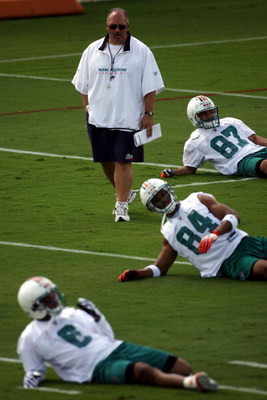 The Miami Dolphins are coming off a suprise season in which they were one of the most improved teams in NFL history.
Behind the golden-arm of Chad Pennington and the fleet feet of running back Ronnie Brown, the Dolphins shocked the football world with an impressive 11-5 record and earned themselves a playoff berth against the Baltimore Ravens.
That was the 2008-2009 season and this is now.
Head Coach Tony Sparano and the Dolphins organization know that in the 2009-2010 they will be a marked team. Opposing defenses will have studied the famed "Wildcat" formation much more and be ready for the Dolphins' "razzle-dazzle".
If the Dolphins wish to make it back to the playoffs, they will have to improve in many areas, especially in their secondary. They will also need a "go-to" number one wide receiver to emerge from training camp.
There are plenty of other areas that will be addressed with the training camp battles--which are bound to draw plenty of interest from Dolphins fans. Here are five different training camp battles for Dolphins' fans to keep their eye on heading into the 2009-2010 season.
Defensive backs: Vontae Davis vs. Sean Smith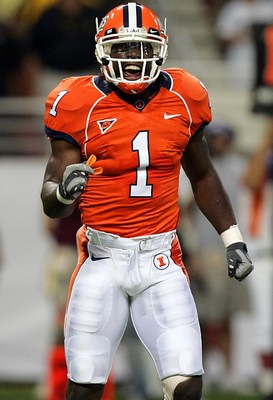 The AFC East is a division that shows no mercy for rookie defensive backs.
First, you have to bust your tail to even get on the field for playing time. Then, when you strap on the pads and get between the lines, there you are staring Randy Moss or Terrell Owens straight in the eyes. Wes Welker is another receiver that would be a nightmare to face. Did I mention that one of the best quarterbacks of all-time also is coming back this season(Tom Brady)?
Cornerback Vontae Davis faces such a task. Although he was drafted in the first round by the Dolphins, he will have to earn his spot as a nickel-back, alongside starting cornerbacks Will Allen and veteran Eric Green.
Allen just recently signed a two-year extension worth $10 million in guaranteed money, so there's no way his job is at stake.
The Dolphins recently acquired Green in free agency in the off-season from the Arizona Cardinals. He's already played four seasons in the league and it isn't likely that he'll be giving up his job anytime soon either.
Vontae Davis was an immensely talented cornerback coming out of Illinois. During the 2008 season, he led all Big Ten cornerbacks with 78 tackles, 10 pass breakups, and two interceptions. He was twice named a semifinalist for the Thorpe Award, given to the nation's best cornerback.
Since he's a brother of Vernon Davis, it shouldn't be surprising that the two-time first-team All-Big Ten selection also happens to be a freakish athlete as well. His 40 yard dash time has been clocked at 4.49 and he bench pressed 225 lbs 25 times at the NFL Combine.
He will need all the strength and speed he can get going up against freaks like Randy Moss and Terrell Owens in the future.
Davis' talent has never been questioned, although his lack of effort and coachability were definitely questioned by Illinois head coach Ron Zook. During the 2008 season, he reportedly benched Davis for the start of the Iowa game. Zook said, "What may be acceptable for somebody else may not be acceptable for him."
According to the Sun-Sentinel, Davis has been working with the first team defense as a nickel back in OTAs. If Davis can keep his head on straight and work hard for the coaches, then things should stay that way.
If not, well fellow rookie Sean Smith will battle Davis out for the spot. A converted receiver, the 6'3, 214 lb. Smith will likely be one of the biggest cornerbacks in NFL history. Many people doubt Smith can play the cornerback position in the NFL, because of his height, but he's bent on proving them wrong.
One of the better cornerbacks in Mountain West Conference history, Smith tallied 14 passes defended(nine pass breakups, four interceptions) for the surprising Utah Utes in the 2008 season.
He posted one of his best performances against the Utes' best competition: Alabama in the 2009 Sugar Bowl. Smith racked up six tackles, one pass breakup, one sack, and a forced fumble that led to a Utah field goal.
His extraordinary size and ball skills will be something that could cause big-time problems for opposing receivers in the NFL. It's unbelievably rare that you hear about an NFL corner being 6'3--so Smith's size alone could cause headaches for receivers.
If Vontae Davis doesn't work hard and loses focus like he did at times under Zook, then look for fellow rookie Sean Smith to step in at nickel-back for the 'Phins.
Safety: Yeremiah Bell/Gibril Wilson vs. Chris Clemons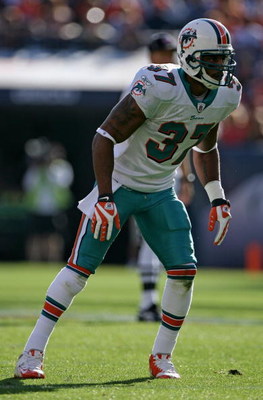 Not surprisingly yet another one of the Dolphins most interesting position battles will be at free safety and strong safety--where seasoned veterans Gibril Wilson and Yeremiah Bell both have a safety position locked up, but there is a talented rookie lurking in the shadows that they should be aware of--former Clemson Tiger Chris Clemons.
Wilson has played both strong safety and free safety throughout his NFL career. The five year veteran was released in February by the Oakland Raiders. The Dolphins signed him to a $27.5 million-five year deal. He'll receive $8 million guaranteed and $16.5 million in the first three years of his contract.
Wilson will likely end up at free safety, since Bell started all 16 games for the 'Phins last season at strong safety.
Wilson posted impressive numbers for a porous Raiders defense, racking up 133 tackles with two sacks and two interceptions in 2008. Wilson will take over for departed free safety Renaldo Hill, who left for the Denver Broncos in free agency.
The ultra-talented Yeremiah Bell will complement Wilson and help to improve the Dolphins' generous pass defense. "We should not miss one tackle back there," Wilson said. "We can both blitz, we can both tackle, we can both run. We can complement each other. We have to be able to move around and disguise it well, they don't know who is coming, what we're doing."
Last season Bell corralled an astonishing 120 tackles, forced three fumbles, and racked up ten pass breakups! His impressive numbers landed him a big-time contract in the off-season. Bell signed a four-year deal worth $20 million and it's well deserved.
If Bell or Wilson fail to meet up to expectations or get injured, look for rookie Chris Clemons to step in and possibly play a role for the 'Phins. It's going to take him some time to learn the defense, but Clemons is super-talented and could do some damage in the years to come for the 'Phins.
Clemons made a name for himself at the NFL Combine, when he ran a blistering 4.41 40 yard dash time in front of NFL scouts. He established himself as one of the best safeties in ACC history while at Clemson, he racked up 323 tackles, 20 pass breakups, and five interceptions.
Clemons has fought through alot of adversity in his life, his home in Arcadia, Florida, was destroyed by Hurricane Charley in August of 2004. His mother, Lillie Gulledge was attacked by a patient while working at a mental hospital.
The injuries left her disabled and is still walking with a cane after two surgeries. He also worked two jobs in high school to help support his family--McDonald's and at a factory.
You can read more of the story here, written by Paul Strelow of The State: http://www.thestate.com/tigers/story/758549.html
A player that has been through the trials and tribulations that Clemons has been through will be working extremely hard for his opportunity and I wouldn't count him out.
Either way, it will be interesting to see how well Clemons performs during his rookie campaign and if he can compete for playing time against two very talented veterans.
Top Wide Receiver: Ted Ginn, Jr. vs. Davone Bess vs. Greg Camarillo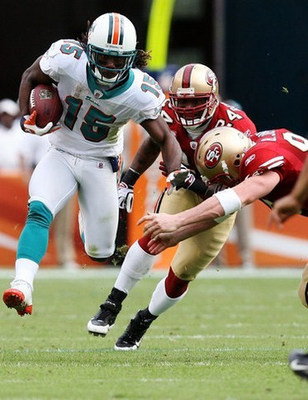 Every quarterbacks wants it. Let's be honest here. A "go-to" receiver. A guy that, regardless of the down and distance, you know is going to get open, snatch the pigskin, and move the sticks.
The Miami Dolphins have plenty of talent at wide receiver, there is no disputing that. They have three extremely gifted receivers that have yet to separate themselves from the pack. They've posted similar stats and one of the biggest question Dolphins fans, players, and coaches, want to know is "Who will be our go-to-receiver?" Here are the candidates:
Ted Ginn, Jr. is an extremely gifted playmaker who showed flashes of the talent that many believed he had all along in 2008. He's blessed with world-class straight ahead speed and even better acceleration. In 2008, he hauled in 56 catches for 790 yards and two touchdowns. Very solid numbers, but 'Phins fans are certainly expecting more from a player who was a top-10 draft pick two years ago.
Ginn has showed flashes of brilliance, but has been plagued by drops throughout his career and has yet to turn into the consistent, dominant number one receiver that many believed he could be. He also fumbled three times last year and turnovers have got to be limited if you want to be the "go-to" receiver.
One of Ginn's biggest weaknesses ever since he came out of college has been an unwillingness to go across the middle. He also needs to improve how he attacks defensive coverages with his route running and improve his football IQ if he wants to become the "go-to" guy.
Another favorite target of Chad Pennington's last season was former Hawaii receiver Davone Bess. Anybody who watched this guy in college shouldn't be surprised to see him succeed as he did last season for the Dolphins.
Bess, coming out of college was a miniature version of Larry Fitzgerald. Blessed with excellent hands, leaping ability, and body control, it was tough to find a ball within the same zip code that Bess couldn't bring down at Hawaii.
Bess made a living off the "bubble-screen" last season for the Dolphins, with Chad Pennington zipping the ball to him out in the flat, and then Bess making defenders miss in the open field after the catch.
In 2008, he snagged 54 catches for 554 yards and one touchdown. He was one of Pennington's most reliable targets on third downs. One of Bess's biggest hurdles in becoming a "go-to" receiver is his size. Generously listed at 5'10, Bess might have trouble outmuscling bigger cornerbacks and he might have trouble getting open near the sidelines on deeper routes.
That said, I'd still look for Bess to make serious noise for the Dolphins once again this season as he makes his case for the top receiver on the squad.
The final candidate for the Dolphins' top receiver is Greg Camarillo, a fourth-year receiver out of Stanford. Every year in the NFL there seems to be a variety of players that come out of nowhere. Well, last year, Camarillo was one such player for the 'Phins.
The guy has only had 63 catches for his CAREER and he manages to haul in 55 last year! Hello, Greg, so good to see ya buddy. Quarterback Chad Pennington certainly wasn't complaining after the Stanford product snatched 55 catches for 613 yards and two touchdowns.
One thing that Camarillo has going for him is he put up nearly the same numbers as Bess and Ginn and did it with less playing time.
However, the fact that he tore his left ACL on November 24th is one of the factors working against him. He should be recovered and ready to go by fall camp, but hopefully he doesn't suffer any setbacks.
Still, as fullback Casey Cramer said of Camarillo: "He's a very, very consistent player."
He's still being held out of certain drills in OTAs according to cbssports.com(May 28), but if he can return back from his injury 100 percent, then Camarillo's consistency could help him become the 'Phins "go-to" receiver.
Best Rookie Wide Receiver: Brian Hartline vs. Brennan Marion vs. Patrick Turner vs. Chris Williams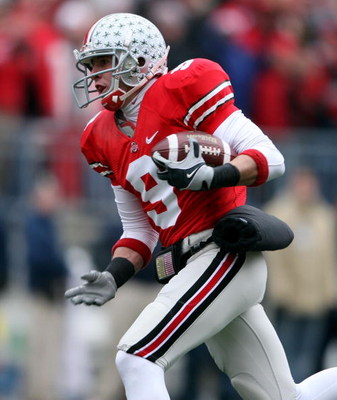 After taking one look at this list, it makes me realize how cut-throat the competition in the NFL must be.
Two of these receivers were among the most prolific receivers in NCAA history(Chris Williams and Brennan Marion) and went undrafted. One was an extremely reliable and dependable receiver for his team throughout his career(Brian Hartline) was drafted in the second round. The final one had an excellent senior campaign for his team(Patrick Turner) and was drafted in the third round.
If you think these guys are competing for playing time, you better think again. Try simply making the Dolphins roster. They might be able to play eventually, but this season playing time at wide receiver looks extremely slim.
The Dolphins are already loaded with a plethora of targets, not to mention there are running backs like Ricky Williams, Ronnie Brown, and Patrick Cobbs that catch passes out of the backfield extremely often.
Wide receiver Chris Williams out of New Mexico State was one of my favorite receivers in the draft. Sure, the Aggies aren't on television that much but I've read about the tandem of Williams and QB Chase Holbrook for years at New Mexico State.
During his four-year career with the Aggies, Williams hauled in an eyebrow-raising 246 catches for 3,555 yards and 32 touchdowns. He was helped by the fact that New Mexico State and head coach Hal Mumme love to pass the football(think Texas Tech), but Williams still left his mark as one of the most decorated receivers in NCAA football history.
The one factor that might make Williams struggle is his size. Listed at a miniscule 5'8, 157 lbs. it will be tough to for the smallish Williams to survive against most corners in the NFL.
Another receiver that was a treat to watch was Tulsa Golden Hurricane wide receiver Brennan Marion. He thrived in offensive coordinator Guz Malzahn's "spread-offense" attack in which the ball was very evenly distributed to a wide variety of players. It didn't hurt that he had the golden-armed quarterback, David Johnson, tossing him the pigskin either.
In two years, all Marion did was set Conference USA and the college football world on fire, snagging 82 catches for 2,356 yards and 19 touchdowns. He established himself as one of the best big play threats in college football, shredding opposing secondaries for over 25.9 yards per catch during his two-year career.
The third receiver is the one who is catching onto the team's offense the quickest, according to the Sun-Sentinel(May 28). Brian Hartline was a very reliable and sure-handed receiver for the Ohio State Buckeyes over the past few years.
He never posted eye-popping stats for the Buckeyes, but his reliable hands cannot be disputed. During his three years with the Buckeyes he snatched 90 catches for 1,429 yards and 12 touchdowns.
Those numbers are definitely down a bit, because in 2008 he had a true freshman quarterback who was a below average passer at best in Terrelle Pryor.
Since he seems to be picking up the offense rather quickly, I'd look for Hartline to lock up his roster spot for the 'Phins before the season starts. The recently married Buckeye hopes that his marriage with the Dolphins turns out to be a long and healthy relationship as well.
Wide receiver Patrick Turner out of USC was one of the most decorated receivers in the country coming out of high school. College football recruiting fanatics will remember him as the player who was rated ahead of DeSean Jackson for the honor as the nation's top receiver.
Then after Jackson set the U.S. Army All-American Bowl on fire, Jackson was moved up to the nation's top receiver and Turner was moved down to second.
Many people were wondering when, if Turner would ever break out. He was named to the 2008 All-Pac 10 second team, after he put up decent numbers, snagging 47 passes for 741 yards and ten touchdowns.
His size(6'5, 221 lbs.) will surely give him a leg up on the rest of the receivers on this list and make him an attractive red-zone target for Chad Pennington.
Who will rise to the cream of the crop out of these receivers? Only time will tell, but it sounds like Brian Hartline has an early advantage on the competition. It should be a very interesting position battle!
"Wildcat Pat"--Former West Virginia QB Pat White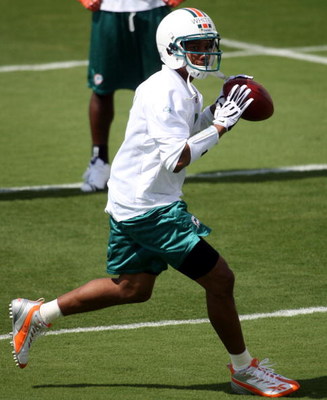 Ever since coach David Lee became the quarterbacks coach at the Miami Dolphins and brought the famed "Wildcat" formation with him to the Dolphins, he's made me love the Dolphins that much more.
For years, I'd been screaming about how bland the offenses in the NFL are and how they never show enough creativity or trick plays. David Lee and Dolphins' offensive coordinator Dan Henning changed all of that last season and in a big way.
The "wildcat" formation with running backs Ronnie Brown and Ricky Williams blew away opposing defenses in the NFL and confused them all season long.
The premise of the wildcat is to have an excellent runner who can also pass the football. When the receiver(Ricky Williams) motions across the formation, Brown takes the snap from the shotgun and can either fake it and keep it, fake it and throw it, or hand it off to a full speed Williams.
The offensive formation keeps opposing defenses on their heels and causes alot of hesitation.
Enter Pat White. As a quarterback for the West Virginia Mountaineers he left his mark on Big East and college football history as one of the best scrambling quarterbacks ever to play the game.
He owns the NCAA record for most rushing yardage by a quarterback(4,385 yards). He also became only the fourth player in NCAA history to rack up 40 rushing touchdowns and 40 passing touchdowns in his career.
His weakness as a quarterback is without a doubt his passing accuracy. White struggled mightily throughout his career when teams would force him to attack the field vertically and throw the football down the field.
He completed over 64 percent of his passes throughout his career, but if you look at the majority of those passes, there are shorter throws like bubble screens and slant passes.
That said, you'd be lying to yourself if you thought that Pat White wasn't a big-time performer. He had his ups and downs throughout his career at West Virginia--with two of his high moments coming in his bowl games, the Sugar Bowl and the Fiesta Bowl.
In 2008, he stunned the fourth ranked Oklahoma Sooners in the Fiesta Bowl, throttling them 48-28. He earned MVP honors of the game after he passed for 176 yards and two touchdowns, while also rushing for 150 yards.
With the Dolphins' "Wildcat" formation, it seems that Pat White is the perfect fit and I think many Dolphins fans should be excited and intrigued.
I think all Dolphins fans are interested to see where exactly White will fit into the playbook. Will he line up at wide receiver? Will he line up beside of Ronnie Brown at running and perhaps run a flea-flicker? Surely he will line up as the QB in the shotgun, a formation extremely familiar to him from his days at West Virginia.
The biggest thing he'll have going for him is he has worked in a "zone-read" scheme at West Virginia and his handoffs will be much smoother than Ronnie Brown's. He also knows what defenders to read when he's deciding whether or not to hand the football off.
It might not be a positional battle, but Dolphins fans are plenty excited to see where "Wildcat Pat" will fit into this exciting and creative scheme!
Keep Reading

Miami Dolphins: Like this team?